Yankees Magazine: The road to immortality
At first there was a plan. Then came discipline. What followed was the legendary career of Derek Jeter.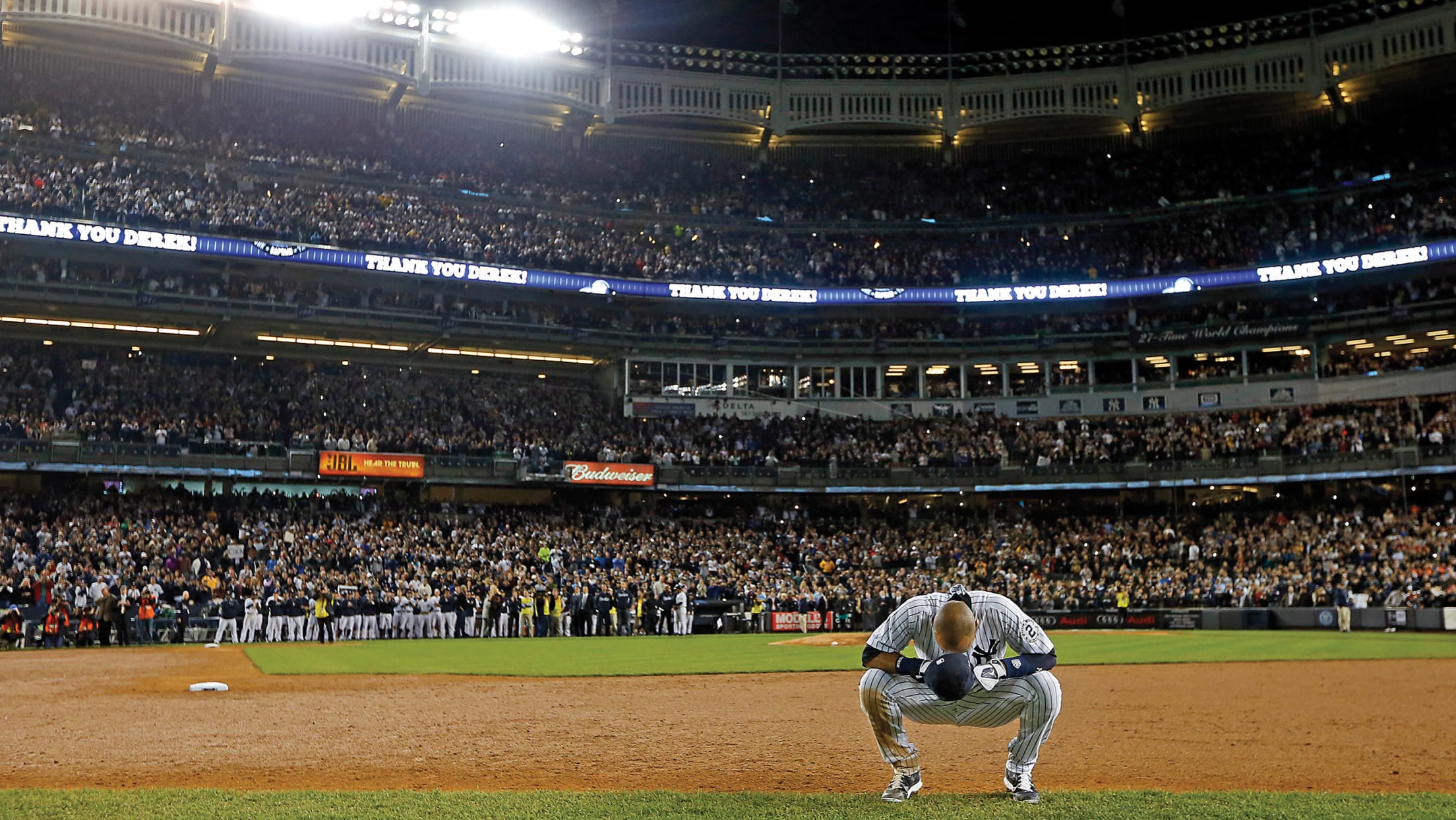 It was a Wednesday afternoon in the middle of February when we received the crushing, yet inevitable news. In a 735-word letter posted on Facebook that was as pitch-perfect as his Hall-of-Fame career, Derek Jeter announced that the 2014 season would be his last. In it, he talked about living
It was a Wednesday afternoon in the middle of February when we received the crushing, yet inevitable news. In a 735-word letter posted on Facebook that was as pitch-perfect as his Hall-of-Fame career, Derek Jeter announced that the 2014 season would be his last. In it, he talked about living out a dream, a year-round focus on helping the Yankees win, and a desire to start a new chapter in his life.
"But before that," he wrote, "I want to soak in every moment of every day this year, so I can remember it for the rest of my life."
With Jeter's final season reaching its end, Yankee Stadium -- as well as every other ballpark he plays in -- buzzed with emotion as fans from all walks of life and all corners of the globe made the pilgrimage to see The Captain one last time.
We traveled from foreign lands and outer boroughs, from across the country and across the Hudson. We recalled our favorite Jeter moments, reflecting on how much happened in our own lives since he burst onto the scene as the 1996 American League Rookie of the Year.


Some of us brought our young children so that when they're old enough to understand, we could tell them that they saw Jeter play. After all, we've known for a while now that we will never see another like him.
When those conversations come up 10, 20, 50 years from now, how will we remember him? For those of us who have watched him grow up over the last two decades, what will we say when we reminisce about the Derek Jeter era?
Where do you begin describing a legend?
***
His records range from the unbreakable -- most hits at the original Yankee Stadium -- to the monumental -- most seasons, 20, in a Yankees uniform. Most of his work took place in the old building, which he closed out in memorable fashion not with a bat in his hand, but a microphone.
"For all of us up here, it's a huge honor to put this uniform on every day and come out here and play," he told the crowd after the final game in The House That Ruth Built on Sept. 21, 2008. "So on behalf of the entire organization, we just want to take this moment to salute you -- the greatest fans in the world."
We'll remember, of course, his knack for coming up with momentum-shifting plays in huge spots, such as his famous "flip play" against Oakland to save the 2001 American League Division Series and his home run to lead off Game 4 of the 2000 World Series against the Mets. But those are just the brightest stars in a galaxy full of them. To understand the whole story, you have to read every page.
In 20 years, he was never once ejected from a game. Even the dimpled, all-American hero Lou Gehrig got into it with the umps every now and then, earning an early trip to the showers at least six times in his career.
Anytime we saw Jeter in the field, he was at shortstop -- more than 2,600 regular-season games, plus a full season's worth of postseason action. Of the more than 18,300 men who have played Major League Baseball, no one played more games at one defensive position without ever appearing at another than Jeter. He won five Gold Glove Awards, the last coming in 2010, when he led all shortstops with a .989 fielding percentage. Not bad for a guy who made 56 errors at the position in his first full professional season.
He showed us 20 years of toughness. Everyone remembers the dive into the stands against the Red Sox on July 1, 2004. What gets lost is the fact that he was in the starting lineup at Shea Stadium the next day.
"He's played hurt [in] many, many games that nobody even knows about," said Rob Thomson, who has been a coach in the Yankees organization since 1990. "He says, 'If I'm able to play, then I'm playing.' And there's no excuses."
For 20 years, Jeter came to the park ready to hit. He never seriously challenged Joe DiMaggio's record 56-game streak -- 25 was Jeter's best, set in 2006, when he hit .343 and finished second in the AL MVP voting -- but he did become the Yankees' all-time hits leader when he passed Gehrig with No. 2,722 on Sept. 11, 2009. Less than two years later, he authored another signature Jeter moment when he crushed a home run at Yankee Stadium for hit No. 3,000 -- part of a 5-for-5 day.
For the dyed-in-the-wool Jeter fans at Yankee Stadium that day -- and there were tens of thousands -- it was both a blessing and a curse. A blessing because we'll never see a better regular-season game. A curse because we'll never see a better regular-season game.
"When he got his 3,000th hit, hitting the ball out of the ballpark, tears jumped out of my eyes," said Gene Monahan, the longtime Yankees trainer who had a front-row seat to nearly every one of Jeter's biggest moments. "It was like, 'Oh, my God! Who could have written anything like this?' Because this guy is not a big home run hitter. But there it was."
*
From day one, he was a model of leadership and accountability. Joe Torre arrived as manager prior to the '96 season and installed the 21-year-old as his everyday shortstop. Jeter mostly batted ninth to begin that season, but when Torre penciled him in atop the lineup for a two-week stretch in August, Jeter raised his average from .296 to .313. He would finish at .314, then bat .361 in the postseason en route to his first of five world championships.
"[At] 21 years old, he was certainly older than his years in the way he went about his business," said Torre, who managed Jeter through 2007. "Not that he didn't make mistakes, but when he made a mistake, he wasn't pointing at anybody or having an excuse and all that stuff. And that really is refreshing."
Twenty years of life in the public eye, without a misstep. Media members have remarked on occasion that Jeter has never said much. What they really mean to say is that he has never said anything controversial. But he has always been professional and forthright. If he couldn't fulfill an interview request, he'd give an unequivocal no rather than string a reporter along.
"I don't think Derek gets enough credit for being so accountable his entire career," said Tom Verducci, who rounded up Jeter and his Core Four mates Jorge Posada, Andy Pettitte and Mariano Rivera for a Sports Illustrated cover story in 2010. "Win, lose or draw, he knows his responsibility, and he's virtually always there to answer questions. … He's just, to me, the epitome, the definition, of a franchise player -- on and off the field. People say he doesn't say anything, but I've found him to be insightful and always truthful."
Twenty years of clutch. There are far too many examples to list here, but scroll through the play-by-play of any big Yankees win over the last two decades, and more often than not, Jeter's name will be there in bold as part of a key rally or play. Sometimes, it was a huge hit, such as the walk-off homer in Game 4 of the 2001 World Series, which earned him the moniker "Mr. November." More frequently, though, it was a base hit, or a hit-by-pitch, or a sacrifice bunt, or a stolen base; he made the pitcher throw more pitches than he wanted, and he was terrific on the basepaths -- smart, aggressive and fast.
"In crunch time, to throw an at-bat at a pitcher like Derek can do, I've never seen another player be able to do that like he can," said Pettitte. "I've seen some players come close and get around there, but he's the best that I've ever seen as far as that goes."
Twenty years. There are recent college graduates who cannot recall a summer without watching Jeter and the Yankees. For his fellow 40-year-olds, it's been half a lifetime, but it feels like eons. Careers. Families. Ups. Downs. Good times. Bad times. While we lived our lives, he dedicated his to helping the Yankees win, year in and year out.
For 20 years, Jeter strived for consistency. He brought his A-game every day, which was mirrored in his idiosyncrasies: touching the Joe D quote as he made his way from the clubhouse to the dugout, crouching down during the national anthem in a moment of private reflection, tapping the opposing catcher's shin guards as he stepped to the plate, subconsciously raising his right arm as he settled in to the batter's box, subtly tipping his cap to the pitcher -- a sign of respect that inspired one of the most memorable commercials in recent years.
*
We'll remember all those moments, big and small, because they happened on one of the biggest stages in sports. And even as the years pass and those memories start to lose some of their high-definition quality, we'll still remember how we felt watching Jeter play. No matter what was going on in the Yankees Universe, he made us feel proud to be fans. When it came to representing the organization with class, few would argue that he's the all-time leader in that, too.
The fact that Jeter's legacy unfolded beneath the bright lights of Yankee Stadium and during the rise of social media makes it even more impressive. Yet, it was forged in near solitude: in the subterranean workout rooms of Major League ballparks, on quiet winter days on the back fields of the Yankees' Florida training complex. Those are the places where Jeter truly distinguished himself.
Having grown up a Yankees fan, Jeter knew all about the team's reputation for making changes under the stewardship of George Steinbrenner. So from the time the Yankees selected him with the sixth pick in the 1992 Draft, he was intent on not becoming a casualty of the regime.
"I came up in a culture where, if you didn't do your job, they'll get someone else to do it," Jeter said. "We had an owner that was known for getting rid of people, so I always felt as though I was preparing to try to win a job. I never assumed that if I showed up, I'd be playing. I felt like I had to earn the right to play."
That mindset never wavered. After each season, Jeter would give himself three, maybe four, weeks off, "and then it's back at it," he said. He'd be up at dawn to work out with a personal trainer five days a week. Soon after the new year, he'd meet up with Thomson and his own personal hitting guru, Gary Denbo, in Tampa, Fla., to start working on hitting and fielding drills. Jeter always paid close attention to what he put in his body, particularly as he got older.
"You only get a small portion of your life to do this -- I've been fortunate to do it for a long time -- so you should make the most out of it," he said. "I've always felt as though, for me to do my job, I had to be disciplined, I had to come in [to Spring Training] in the best shape possible, and I had to take care of myself. And that's what I've done."
That dedication stems from his upbringing, and it stems from the fact that he lived out a dream. (When he was in fourth grade, he announced to his classmates that he planned on playing shortstop for the Yankees.) But it also is a result of being an ultracompetitive athlete who fell in love with the national pastime. There was simply nothing he'd rather be doing.
"He had that hop in his step and that gleam in his eye every day," Monahan said. "It was a bright eye. The eyebrows were up. The head was never down. You never saw, 'I'm tired. I'm weak. I've got a lot on my mind. I'm not in a good mood.' You never saw it! He loved coming to the ballpark. He loved interacting with everybody. He loved to come early. And he just enjoyed every minute of it."
When asked what makes baseball the greatest sport, Jeter didn't hesitate to answer.
"It's every day; it's the daily grind," he said. "It's almost like life: You have ups and downs, there's good times and there's bad times, but you have another game the next day. I like that."
***
Now, there is no more next game. Jeter walked away on top, a rarity among athletes. In his retirement announcement, he talked about having new dreams and aspirations, wanting new challenges, and he expressed a desire to start a family of his own. If he brings the same dedication to fatherhood as he has to baseball, the world will undoubtedly be a richer place for it.
So with his career nonpareil coming to an end, ask yourself: How will you remember The Captain? What will be the first thing that pops into your head?
Maybe what we tell our children and grandchildren isn't as important as the fact that we'll still be talking about him all those years later. Major Leaguers will come and go. Some will create lasting memories; others will become footnotes in history. Few -- if any -- will have the impact that Jeter has had.
From the Big Leaguers who wear No. 2 in his honor, to the high schoolers working on their opposite-field "Jeterian" swing as Yankees radio announcer John Sterling liked to call it, to the sandlot shortstops leaping to make jump throws from the hole, Jeter's influence on the game will continue to be felt far and wide.
Of even greater importance are the millions of kids who looked up to Jeter as a role model, who saw that working hard, acting respectfully and carrying yourself with dignity is cool. He never once let them down.
In the same way that we still talk about Ruth and Gehrig regularly, in the same way that you still hear the "DiMaggio or Mantle?" argument, you will hear Jeter's name come up constantly. The next great Yankees shortstop will inevitably hear the comparisons. Only there will be no argument: There's only one greatest shortstop in Yankees history.
That's what happens when you combine sheer athletic ability with discipline, tenacity, toughness and heart. Derek Jeter gave half his life to the New York Yankees, and he built a legacy that will last forever.
Nathan Maciborski is the executive editor of Yankees Magazine. This article appears in the Derek Jeter Commemorative Edition of Yankees Magazine. Get more articles like this delivered to your doorstep by purchasing a subscription to Yankees Magazine at yankees.com/publications.