Mesoraco, Bruce, Schebler homer in Reds' win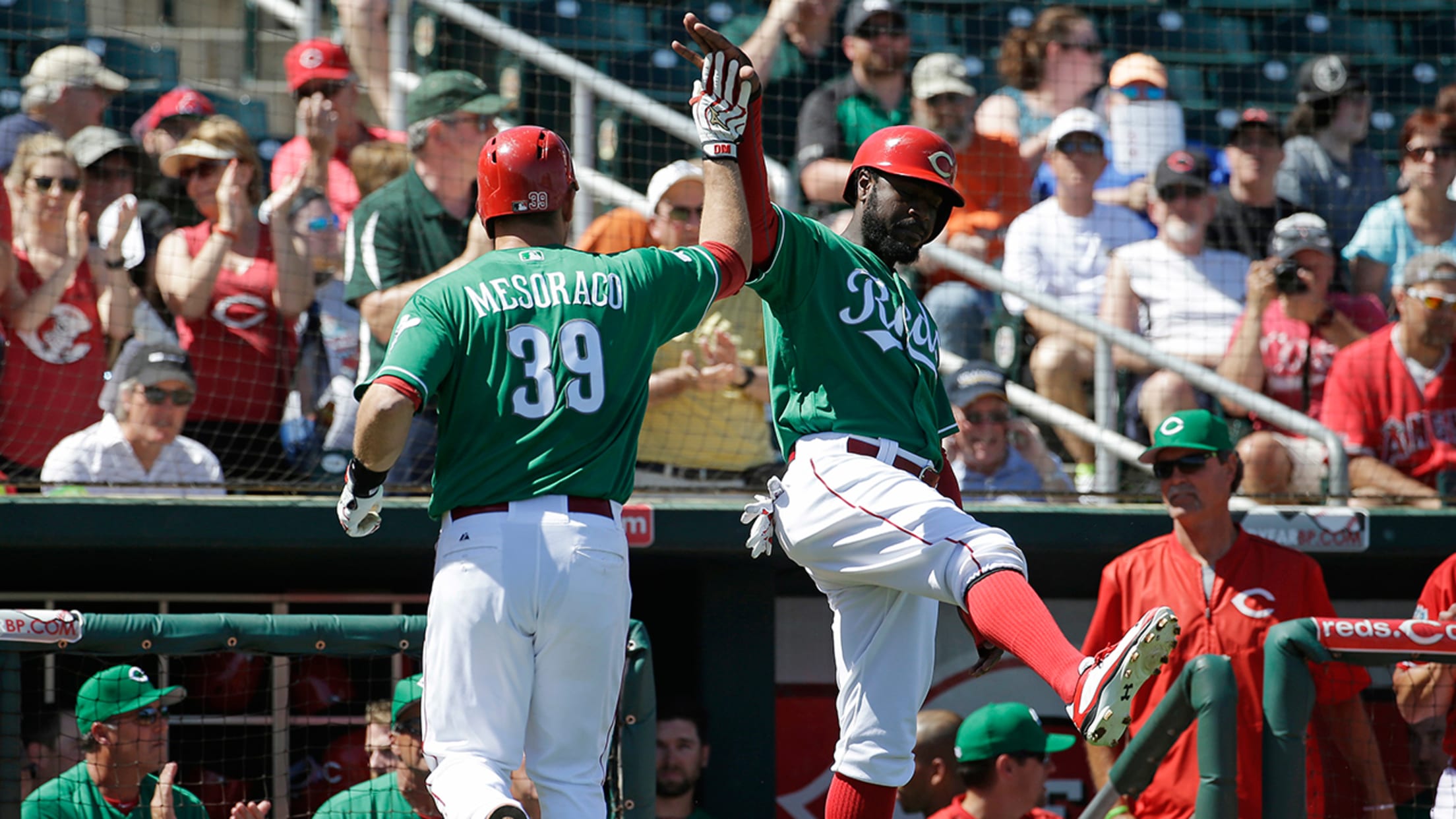 Devin Mesoraco and Brandon Phillips celebrate after Mesoraco drove in Phillips with a first-inning homer. (AP)
GOODYEAR, Ariz. -- Jason Kipnis homered for the Indians while Devin Mesoraco, Jay Bruce and Scott Schebler hit home runs for the Reds. Amid the slugfest, it was the Reds who emerged with the 8-6 victory Thursday at Goodyear Ballpark.Indians starter Danny Salazar gave up five earned runs and five
GOODYEAR, Ariz. -- Jason Kipnis homered for the Indians while Devin Mesoraco, Jay Bruce and Scott Schebler hit home runs for the Reds. Amid the slugfest, it was the Reds who emerged with the 8-6 victory Thursday at Goodyear Ballpark.
Indians starter Danny Salazar gave up five earned runs and five hits -- including three homers -- with one walk and four strikeouts.
"I thought he was up. He made some mistakes up that he paid for," Indians manager Terry Francona said of Salazar's outing. "I thought the ball was coming out good. He just made mistakes and he paid for it."
Reds starter and rotation candidate Robert Stephenson also labored in his outing with six runs (five earned) and six hits allowed over 2 1/3 innings. Stephenson also walked a batter, hit a batter and struck out two.
"He wasn't locked in," Reds manager Bryan Price said of Stephenson. "His previous two outings were much cleaner. It just wasn't his best stuff. The fastball was up. It's pretty special when his fastball is down in the zone. But as you've seen this spring with all of our hard throwers, if they don't locate the fastball - especially when they're behind - it doesn't matter if it's 95 [mph] or better, they still get hit and they get hit hard."
In his first game back from June hip surgery, Mesoraco crushed a 1-1 Salazar pitch for a two-run homer and a 2-1 Reds lead. Cleveland scored an unearned run in the second inning after Cincinnati committed two errors. A four-run Cleveland third inning chased Stephenson and featured a three-run long ball by Kipnis, who has homered on back-to-back days.
Trouble found Salazar again just after he was nailed in the left forearm by a Joey Votto line drive. Next was Bruce, who hit a first-pitch two-run homer to center field. Eugenio Suarez was hit by a pitch after Bruce's at-bat, and Schebler began the bottom of the fourth with a homer to right field.
"I don't even feel my arm right now," Salazar said. "But after that I came back. I came throwing strikes again. I know I'm going to feel it tonight."
In a three-run bottom of the fifth against reliever Shawn Armstrong, Ramon Cabrera hit an RBI double and Suarez hit a two-run double against Tom Gorzelanny to give Cincinnati an 8-6 lead.
Reds bullpen candidates Dayan Diaz, Jumbo Diaz and Jonathan Sanchez combined to follow Stephenson with 4 2/3 scoreless innings. Indians lefty Joe Thatcher and righty Ross Detwiler each worked one scoreless inning of relief.
Up next for the Indians: Right-hander Josh Tomlin is scheduled to make his fifth Cactus League appearance of the spring on Friday, when the Indians host the A's in a 4:05 p.m. ET tilt at Goodyear Ballpark. Tomlin is up against righty Cody Anderson for the lone vacancy in Cleveland's rotation.
Up next for the Reds: In another positive sign for his surgically-repaired right shoulder after an early setback, Billy Hamilton will make his first start of spring as a center fielder when the Reds face the Brewers at 4:05 p.m. ET Friday in Maryvale. Votto and Bruce are also expected to be in the lineup while Anthony DeSclafani will be the starting pitcher.