Tabbed for Futures Game, Williams eyeing MLB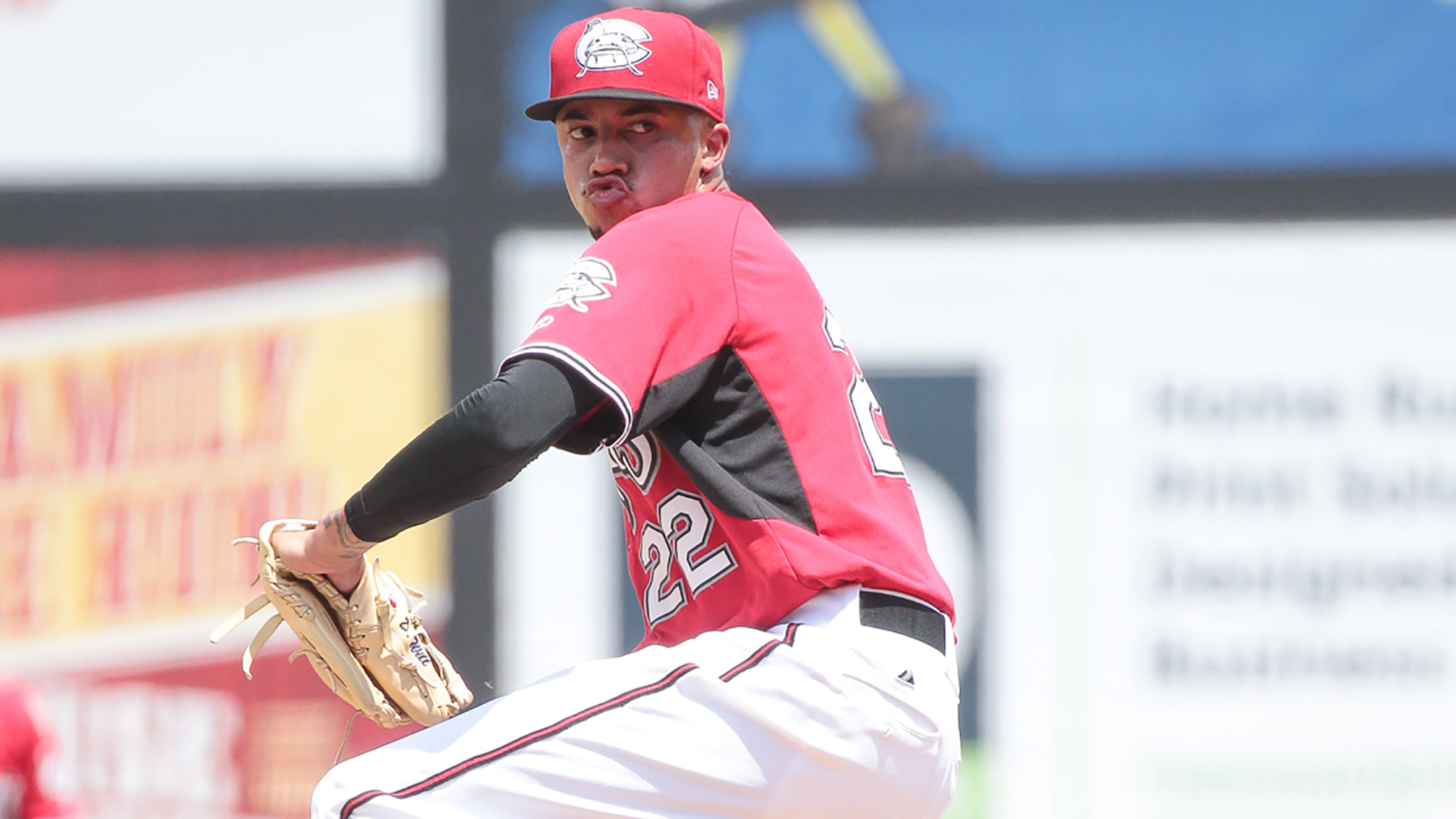 MILWAUKEE -- Current Brewers pitchers Zach Davies, Josh Hader and Jimmy Nelson all made stops at the SiriusXM All-Star Futures Game on the way to the Major Leagues, and now Devin Williams is hoping to do the same. After navigating a tough road back from Tommy John surgery, Williams is
MILWAUKEE -- Current Brewers pitchers Zach Davies, Josh Hader and Jimmy Nelson all made stops at the SiriusXM All-Star Futures Game on the way to the Major Leagues, and now Devin Williams is hoping to do the same.
After navigating a tough road back from Tommy John surgery, Williams is aiming to get there quick.
"During rehab and last year, I definitely was questioning if I would ever be back where I wanted to be again," Williams said. "But I do feel like that's the path I'm on now. I hope I'll be there [in Milwaukee] and able to contribute to the team before this season's over. The earlier the better."
First things first. Williams, 25, is the lone Brewers farmhand on the National League roster for the Futures Game, which takes place Sunday, July 7 as part of All-Star Week at Progressive Field in Cleveland. It's a hard-earned honor for Williams, Milwaukee's top Draft pick in 2013 as a second-rounder, after missing all of 2017 following elbow surgery. He labored through '18 as a starter before finding success this year for Double-A Biloxi in relief.
In his first 25 appearances for the Shuckers, 19 of them spanning more than one inning, Williams had a 2.70 ERA and a career-best 12 strikeouts per nine innings.
Williams is back to sitting at 95-98 mph, and he said he touched 100 for the first time this week in a game against the Mississippi Braves.
"Last year was a really tough year for me," Williams said. "I didn't feel like I could do what I wanted on the mound yet. About the end of Spring Training, I started to feel pretty confident I was back where I needed to be. It was the ability to repeat pitches. In 2018, I would spot up a fastball, and then throw three balls in a row. Then come back for another strike, then end up walking the guy. Now, I'm pretty consistently in the zone. I still lose it once in a while, but I definitely have confidence in the command of all three of my pitches now."
Like Hader, Williams has embraced the role of a multi-inning bullpen weapon. He sees that as his future.
"I like the pressure of being in the game when it's on the line," Williams said. "I definitely think that's where I feel I can be most effective. Two or three innings, just let it go and max out my stuff."
One factor working in Williams' favor as he eyes the Major Leagues: The Brewers will have to add him to the 40-man roster this fall or he will be eligible for the Rule 5 Draft.
Asking more of Arcia
Friday's roster shakeup cost Travis Shaw and Hernan Perez their spots on Milwaukee's active roster, but it has also impacted shortstop Orlando Arcia.
Tyler Saladino, called up along with second baseman Keston Hiura, made a second straight start at shortstop on Saturday in place of Arcia, who has been hitting well this season but whose defensive metrics are down. That bears out in his ultimate zone rating, defensive runs saved and raw errors.
Manager Craig Counsell said Saladino and Arcia would split the positon for the foreseeable future. Counsell wouldn't commit to one player getting more starts than the other.
"I think it's uncharacteristic," Counsell said of Arcia's defense. "He's been a very good defender in this league, so it's very reasonable to expect it to improve. But at this point, the way that we look at it [analytically] and by our eyes, it's been not to the level that we've seen in the past."
Here's how Craig Counsell answered when asked whether bringing up Tyler Saladino to share shortstop could be seen as a wake-up call to Orlando Arcia. The Brewers have been unhappy with Arcia's defense. pic.twitter.com/bJCLnrRfkF

— Adam McCalvy (@AdamMcCalvy) June 29, 2019
Saladino got the nod over the Brewers' top shortstop prospect, Mauricio Dubon, because of performance, Counsell said. Saladino posted a .943 OPS at Triple-A San Antonio.
"When we look at areas that we can try to get better at, this is a place where we're going to try to see if there's another player who can help us from time to time," Counsell said.
Draft signings
The Brewers have been busy in recent days signing Draft picks, including a handful of players who had been active in the College World Series. MLB.com's Jim Callis reported that eighth-round pick David Hamilton, a shortstop from the University of Texas, signed for $400,000 (the value for Pick No. 253 was $162,000), and that ninth-round pick Darrien Miller, a prep catcher, signed for $297,500 (Pick No. 283 value was $149,500). Fifth-round pick Thomas Dillard, a catcher/outfielder from Ole Miss, also signed, per Callis, for $400,000 (Pick No. 163 value was $315,400).
Dream come true @Brewers excited for this next part of my life! pic.twitter.com/rgVapayxo2

— Thomas Dillard (@thomas_dillard7) June 29, 2019
That left two of the Brewers' picks in the first 10 rounds unaccounted for. Both are out of Texas Tech and are expected to sign -- outfielder Gabe Holt (seventh round) and reliever Taylor Floyd (10th round).
Suter stops by
Left-hander Brent Suter is spending the weekend with the Brewers and will travel with them to Cincinnati, where he's scheduled for a checkup with the doctor (Timothy Kremchek) who performed his Tommy John surgery last July 31.
Suter, who has been throwing bullpen sessions three days per week and just resumed throwing curveballs, expects to get clearance from Kremchek to begin facing hitters a week or so after his visit. He has a chance to make it back to the Brewers before the end of the season, but he first must get back to game shape, which will include a Minor League rehab assignment.
"I had a couple of guys stand in the other day for 'pens, and it was pretty cool," Suter said.