Fowler receives affirmation from Bonds
All-time HR leader offered insight to Cards RF in offseason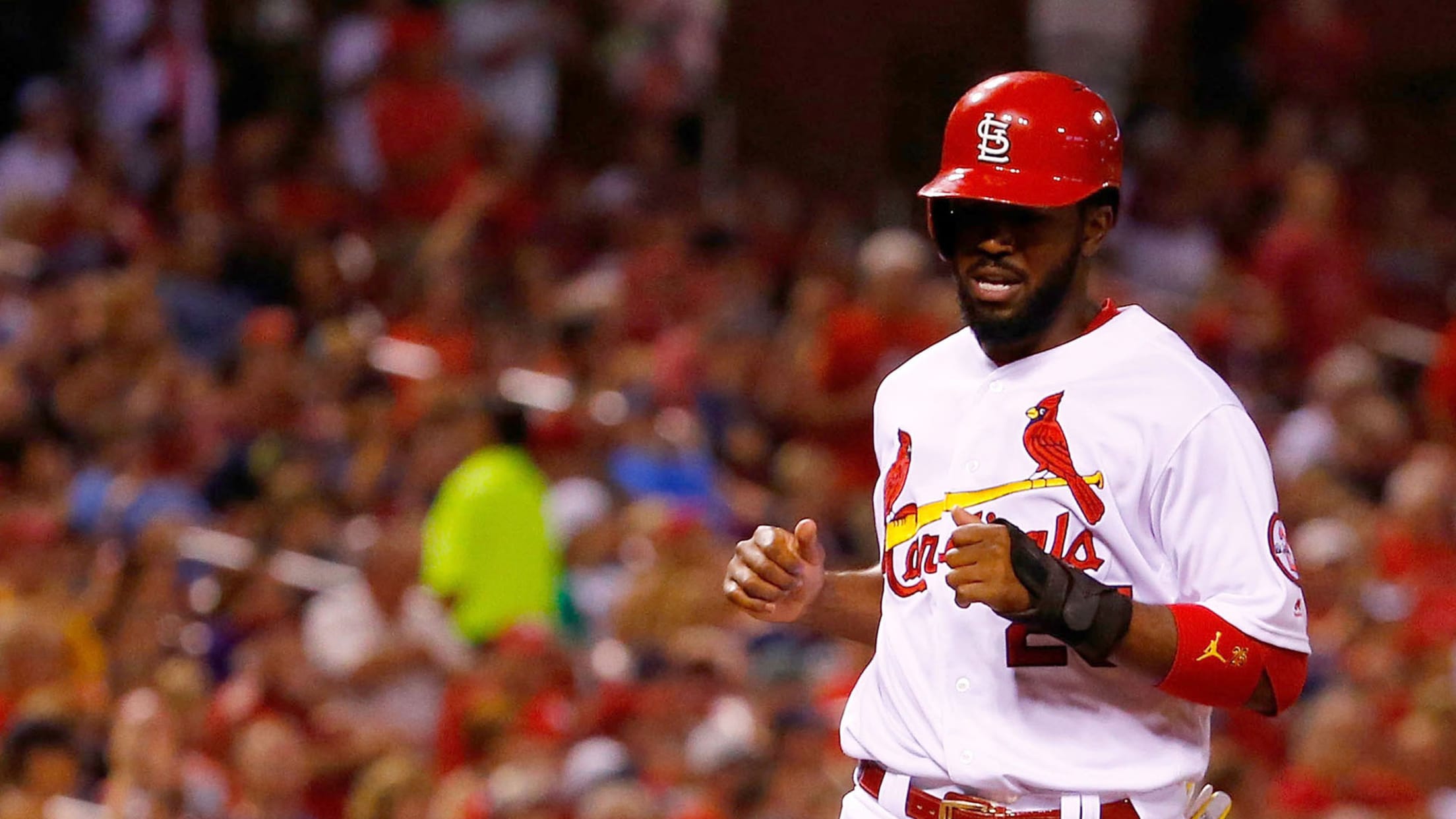 ST. LOUIS, MO - JUNE 25: Dexter Fowler #25 of the St. Louis Cardinals scores a run against the Cleveland Indians in the eighth inning at Busch Stadium on June 25, 2018 in St. Louis, Missouri. (Photo by Dilip Vishwanat/Getty Images) (Dilip Vishwanat/Getty Images)
JUPITER, Fla. -- It was in early January, not long after Dexter Fowler had received full medical clearance to reengage in baseball activities, that he sent video of his swing to longtime mentor Barry Bonds.The two, connected some six years earlier by mutual friend Glenallen Hill, had already been conversing
JUPITER, Fla. -- It was in early January, not long after Dexter Fowler had received full medical clearance to reengage in baseball activities, that he sent video of his swing to longtime mentor Barry Bonds.
The two, connected some six years earlier by mutual friend Glenallen Hill, had already been conversing regularly throughout the offseason -- sometimes on the phone, other times via video chat. The latter allowed Bonds to stand up and demonstrate as he spoke.
:: Spring Training coverage presented by Camping World ::
Occasionally, Fowler noted, the conversations lasted for hours.
This one, though, still resonates, not for its duration, but rather the substance. After Bonds watched clips of Fowler's swing, his feedback took the form of affirmation.
"That's perfect," Fowler recalled Bonds telling him.
"He hadn't said it like that before," Fowler went on to explain. "Right now, he said, that's right where you need to be."
What Bonds saw, Fowler feels. A self-described kinesthetic learner, Fowler believes he's found a simpler swing, one that is easy to repeat and offers him a little more room for error. He's out of his own mind now after spending a season searching for what he may have once taken for granted.
"It's definitely different," Fowler said. "You realize you don't have to do too much to get what you need out of hitting a ball."
• Cardinals Spring Training information
That could speak to Fowler's broader perspective, too, as he enters what he hopes will be a rebound year. He intends to avoid cluttering his mind with anything that could drag him down and is ready to again enjoy a game that didn't feel like one for much of last season.
Fowler began working out at the team's Jupiter complex five days before the team's first official full-squad workout. It's given him a chance to get back on the field for the first time since last August, when Fowler broke his left foot playing at PNC Park. The injury, which required surgery, abruptly ended a season in which Fowler slashed .180/.278/.298 with a 56 OPS+.
Through it, he battled depression, endured friction with former manager Mike Matheny and was cast into a platoon role after a slow start.
The Cardinals nevertheless reaffirmed their commitment to Fowler this winter. The messaging came publicly and privately, including during a face-to-face visit with president of baseball operations John Mozeliak in Las Vegas. It was also reiterated by the club's decision not to pursue another everyday outfielder.
"It's no secret that we'd like Dex to be our right fielder," Mozeliak said. "I do think he had a very good offseason. Medically, he's been cleared to do anything. I do think you're going to see a bounce in his step."
How Fowler fares in Grapefruit League play won't directly alter those plans. Spring numbers aren't often a true indicator of regular-season performance, and thus the Cardinals won't make any rash decisions about Fowler's fit based on game statistics. Instead, they will evaluate process and health.
Fowler dismissed the characterization that he is coming in fighting for a job. He sees this, rather, as an opportunity to play up to his own expectations once again.
"If I am myself, I think everything will take care of itself," Fowler said. "This is my 11th [full] year in the big leagues. I don't think you play that long if you're not confident in your tools. I never think I'm playing for a job, man. I'm playing for myself. That outweighs any job."