Cabrera, Diesel Bros. team up for custom truck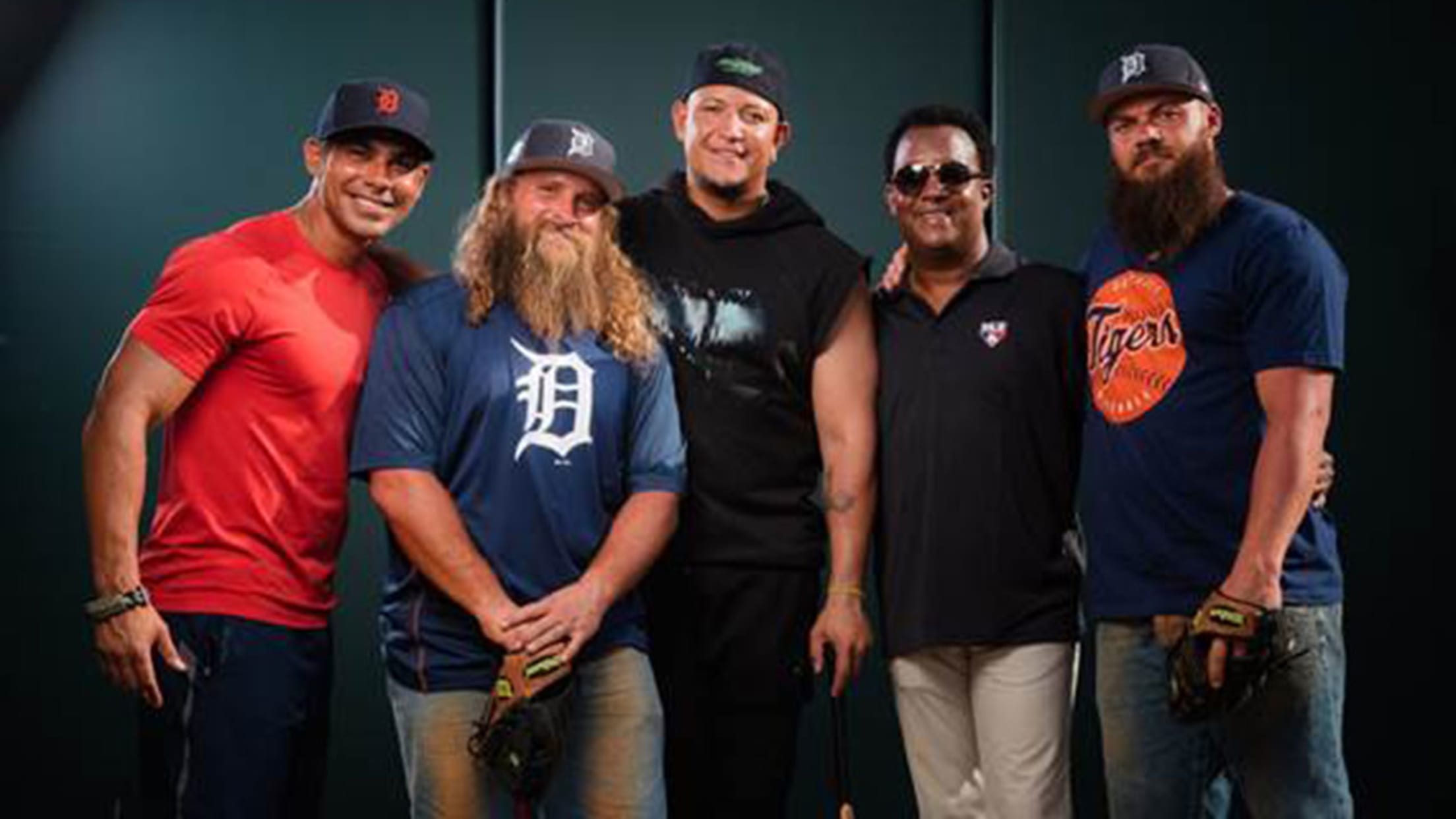 Miguel Cabrera, center, with Carlos Pena, left, Pedro Martinez, second from right, and the Diesel Brothers. (MLB Network)
DETROIT -- Jose Cabrera has spent nearly a decade making the spacious Comerica Park look small. The Diesel Brothers built him a truck that made it look even smaller.The look on Cabrera's face when he saw his custom off-road rig was priceless when they wheeled it onto the infield last
DETROIT -- Jose Cabrera has spent nearly a decade making the spacious Comerica Park look small. The Diesel Brothers built him a truck that made it look even smaller.
The look on Cabrera's face when he saw his custom off-road rig was priceless when they wheeled it onto the infield last month. The public will finally get to see it when the new All-Star episode of Diesel Brothers airs this week on Discovery Channel. The first episode airs Monday at 9 p.m. ET, right before the Tigers take on the Mariners in Seattle. The conclusion airs Thursday at the same time.
It was a new adventure for Cabrera, a noted car enthusiast.
"I like old cars because my grandfather used to be a mechanic in Venezuela," he said in Spring Training, where the first scenes were filmed. "I like to build cars and trucks."
It was also a new venture in the sports world for the Diesel Brothers, who knew about Cabrera but had never met him. It didn't take them long to realize what he had in mind.
"The original hardest part was trying to figure out what to do," said Heavy D, who along with Diesel Dave headlines the Diesel Brothers, "because we've done a lot of cool stuff, and typically these builds can quickly go from street-legal, to full-on show trucks that nobody should be driving. So it was keeping it under the bar without going completely crazy. We ended up blending two different GM vehicles into one, and it's not an easy thing to do, especially with the two vehicles that we chose. There's a lot of custom body work done, but if you look at it, you'd probably think it came straight from the factory that way."
The ideas came out of a conversation they had in the spring. While Heavy D, Diesel Dave and Diesel Brothers crewmember Redbeard had a chance to take the field at Joker Marchant Stadium, and Heavy D pitched off the mound, they also talked trucks.
"He's got a busy schedule. We've got a busy schedule. We had to build something based off of a 10-minute conversation," Heavy D said. "The nice thing is, he's an easy guy to read, talking to him. He kept on using the word bestia."
That's beast in Spanish.
"That conversation turned into a huge landslide of ideas that we had," Heavy D continued. "We went back and forth. The truck was going to be orange, and then it was going to be blue, and then it was going to have colored suspension parts. And then it just hit us one day."
From there, the gang went to work at their shop in Utah. The result was a massive 2016 Chevy Silverado 2500 HD, outfitted with a Cadillac Escalade front clip and custom detailing. The truck borders on monster size; massive but still street-legal. The custom suspension was fitting for the Michigan roads. They didn't get to drive it to Detroit, but they drove it around town.
"We put a huge lift on it, probably bigger than most trucks we ever lift, and it rides smoother than a stock truck," Heavy D said. "We found a couple potholes."
Cabrera will put the truck on display during his annual Keeping Kids in the Game charity event at Comerica Park on July 27. There, he'll auction the truck, with proceeds supporting the Miguel Cabrera Foundation, the Children's Hospital of Michigan Foundation, the University of Michigan C.S. Mott Children's Hospital, and the Detroit Tigers Foundation, an affiliate of Ilitch Charities. Live bids will be accepted at the auction, but interested bidders unable to attend the event can contact the Detroit Tigers Foundation to place a bid.