Herrera returns to Majors for first time since '15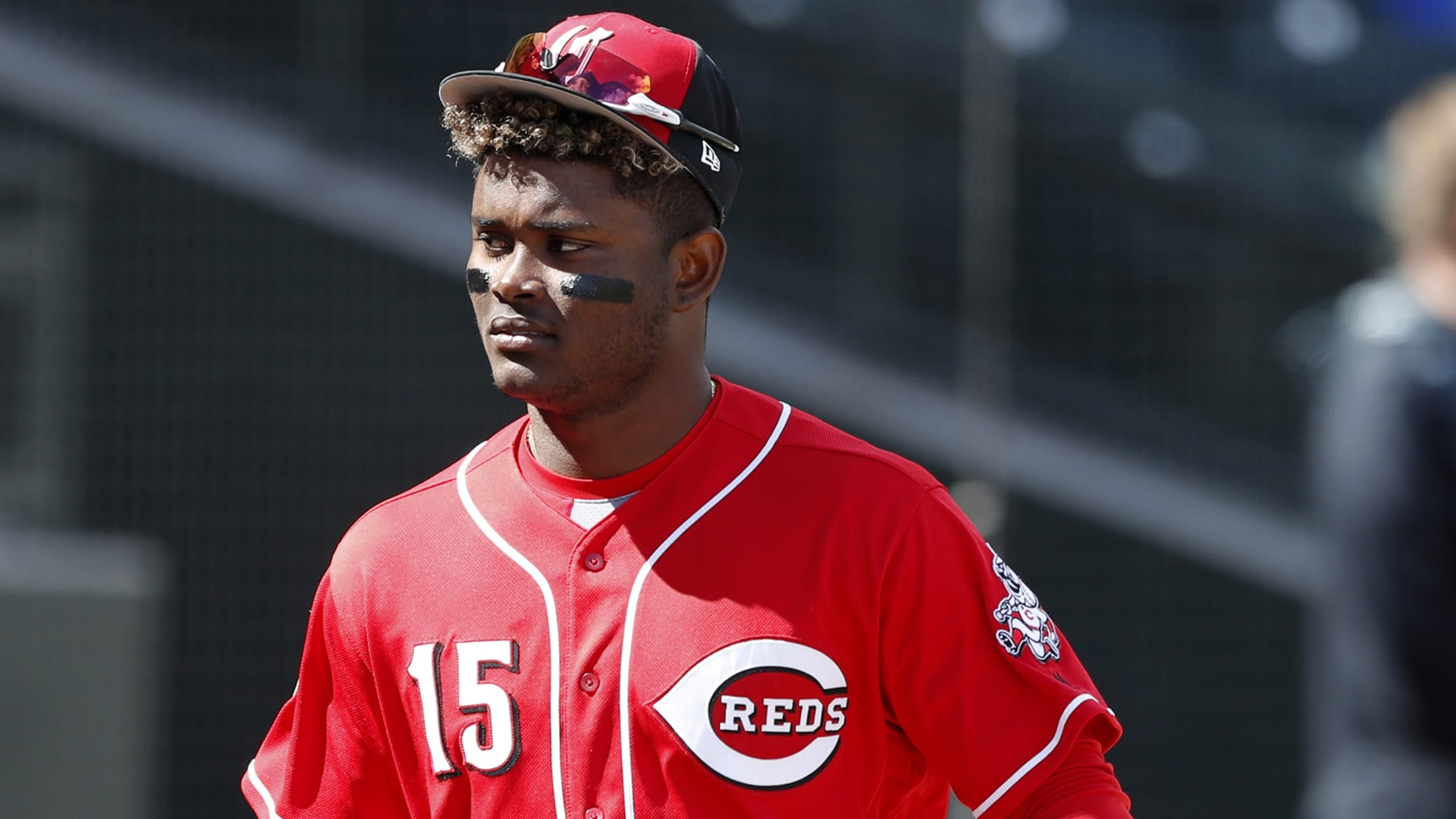 Cincinnati Reds' Dilson Herrera walks on the field before a spring training baseball game against the Kansas City Royals, Wednesday, Feb. 28, 2018, in Surprise, Ariz. (AP Photo/Charlie Neibergall) (Charlie Neibergall/AP)
CHICAGO -- When Triple-A Louisville manager Dick Schofield gave Dilson Herrera a day off on Thursday, the infielder didn't think anything of it. After the game, Herrera found out why."I didn't realize I was going to come up here," Herrera said via interpreter Julio Morillo.Herrera was told after Louisville's game
CHICAGO -- When Triple-A Louisville manager Dick Schofield gave Dilson Herrera a day off on Thursday, the infielder didn't think anything of it. After the game, Herrera found out why.
"I didn't realize I was going to come up here," Herrera said via interpreter Julio Morillo.
Herrera was told after Louisville's game that he was going back to the Major Leagues for the first time since 2015, with his first callup with Cincinnati. The Reds selected his contract ahead of Friday's series opener against the Cubs at Wrigley Field.
"It was a lot of sacrifice and a lot of motivation," Herrera said. "I was not allowed to lose the motivation. I just work as hard as I can work and thanks to God again I have this opportunity, and I'm not going to waste it."
Herrera, 24, hit .297/.367/.465 with seven homers and 27 RBIs over 50 games with Louisville. He last played for the Mets three seasons ago and was traded to the Reds for right fielder Jay Bruce on Aug. 1, 2016. Since then, he has been derailed by right shoulder injuries, including surgery last year, that has prevented him from competing for a big league roster spot the last two springs.
"He's a professional hitter," Reds interim manager Jim Riggleman said. "A few years ago when we acquired him in a trade, he was a guy that John Morris, one of our scouts, really identified. 'Hey, this guy can really hit.' So we've had a high regard for his ability to hit. He's had the shoulder issues that didn't allow him to do a lot the last year. Hopefully he's past all of that."
During this year's Spring Training, the Reds outrighted Herrera to Louisville after he cleared waivers. It took him off Cincinnati's 40-man roster.
"There were moments where I thought about it and said, 'Oh man, am I going to get another shot or not?' You just have to be strong," Herrera said. "You just have to be consistent on the work you put in to get this opportunity."
When Herrera fully recovered, the Reds sent him to Class A Advanced Daytona to begin his season before he returned to Louisville on May 3.
"That was all a part of my motivation," Herrera said. "I said, 'I did it before and I'm going to do it again this year.' Daytona wasn't as bad as people think it was."
The Reds were down to three position players on the bench for Wednesday's game against the White Sox after optioning Brandon Dixon to Louisville. A 40-man roster spot opened up when reliever Dylan Floro was dealt to the Dodgers for two Minor League pitchers. The Reds also optioned lefty Cody Reed to Louisville on Thursday, clearing a 25-man roster spot for Herrera.
"It's a combination of wanting him here and wanting to get Brandon Dixon some at-bats," Riggleman said. "He went a long stretch here without getting any playing time, and Dilson was doing well."
Greene, Trammell named to Futures Game
Rosters for the 2018 Sirius-XM All-Star Futures Game were announced on Friday and two Reds prospects -- right-hander Hunter Greene and outfielder Taylor Trammell -- were named to the U.S. squad. The Futures Game will be played at 4 p.m. ET on July 15 at Nationals Park.
Greene, the No. 2 pick in the 2017 Draft, is the Reds' No. 2 prospect and No. 18 overall per MLB Pipeline. He is pitching for Dayton. Trammell, the organization's No. 3 prospect and No. 34 overall, is also playing with Daytona.
The All-Star Futures Game, now in its 20th year, features the top Minor League prospects that play in a U.S. vs. World squad exhibition. Major League Baseball, in conjunction with MLB.com, Baseball America and the 30 clubs, selected the rosters for both teams.