DiMaggio's monumental hit streak ends at 56 games
Yankee Clipper's 8th-inning double-play grounder in final at-bat stuns enormous crowd in Cleveland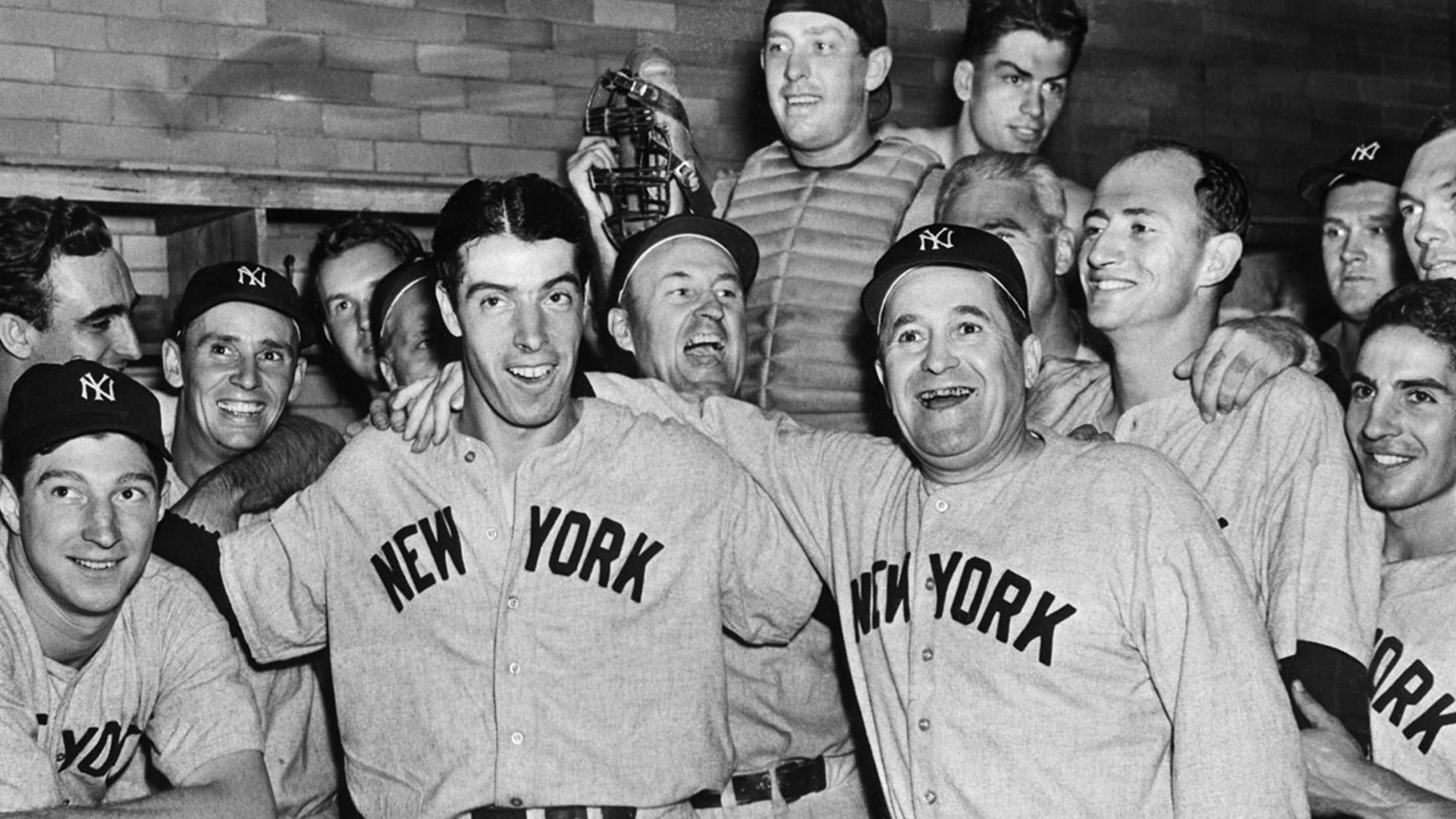 CLEVELAND, July 17, 1941 -- It began innocently enough, with a first-inning single off White Sox pitcher Eddie Smith on May 15 in Yankee Stadium.It ended here, two months and two days later, in the eighth inning at Municipal Stadium on Thursday night.Joe DiMaggio grounded into a double play, shortstop
CLEVELAND, July 17, 1941 -- It began innocently enough, with a first-inning single off White Sox pitcher Eddie Smith on May 15 in Yankee Stadium.
It ended here, two months and two days later, in the eighth inning at Municipal Stadium on Thursday night.
Joe DiMaggio grounded into a double play, shortstop to second to first, and when the last out had been made in the Yankees' 4-3 victory over the Indians, one of the greatest displays of hitting in baseball history had been squelched before a stunned, quieted crowd of 67,468 persons.
• Joe DiMaggio's run to 56: Rewriting the record
The Great DiMag went 0-for-3, sealing his Major League record of consecutive games with a hit at 56. It took 44 years for someone to break Wee Willie Keeler's previous mark of 44 set in 1897 with the Baltimore Orioles, and DiMaggio did it by 12 games. One wonders if this milestone will ever be matched.
One also wonders what might have happened and how long the streak might have continued if not for the cruel glove of Indians third baseman Ken Keltner. In the first inning, while facing left-hander Al Smith, the sensational Yankees center fielder hit the second pitch he saw hard down the third-base line. It looked like a quick hit to get to 57 and relax for the rest of the evening.
But Keltner, playing deep, backhanded the grounder and threw DiMaggio out by a step.
Smith walked DiMaggio in his next plate appearance, which came in the fourth inning, and the crowd booed. They wanted to see the streak continue. They would leave the ballpark disappointed.
In the seventh inning, with the game tied, 1-1, Keltner got in the way of history again, backhanding another hard grounder down the third base line and throwing DiMaggio out for a second time.
• Follow @TheStreak
And in the eighth, with two more Yankees runs already in and New York holding a 4-1 lead, DiMaggio strode to the plate against relief pitcher Jim Bagby Jr. and grounded into the 6-4-3 double play that ended the inning.
There was outside hope, a lingering shred of a chance that Joltin' Joe would get one more chance to do what he had done for so long, particularly after Cleveland's Larry Rosenthal tripled in two runs in the bottom of the ninth to cut New York's advantage to 4-3. But Rosenthal stayed at third base when Yankees reliever Johnny Murphy retired the side, and the streak had finally come to a close.
The baseball world will now look back at these 56 games, from May 15 to July 16, 1941, as a piece of history, perhaps for eternity.
Fans and historians of the game likely will recall the 30th game of the streak, which accounted for the Yankees' team record, on June 17 at Yankee Stadium. That's when DiMaggio's lone hit was a ground ball to White Sox shortstop Luke Appling that took a tricky hop and resulted in DiMaggio being safe at first base and safe from an error call because official scorer Dan Daniel ruled it a base hit.
There were low points along the way, such as Game 20 on June 3 in Detroit, when the Yankees played with heavy hearts because the night before they had learned of the death of their friend, former teammate and inspiration, Lou Gehrig.
There were moments where DiMaggio's genius with the bat reached the near-sublime, such as June 8 in Games 23 and 24 of the streak, when he keyed a double-header pummeling of the hapless St. Louis Browns in Sportsman's Park by hitting three home runs, driving in seven and scoring five.
Take June 29, a doubleheader in Washington and Games 41 and 42 of the streak, when DiMaggio tied and then exceeded George Sisler's 19-year-old American League record for hitting in consecutive games.
Or take July 2, Game 45 of the streak, when he homered off Red Sox right-hander Dick Newsome into the lower left-field stands of Yankee Stadium to break Keeler's big-league record.
In the course of the 56 games, DiMaggio not only captivated a baseball-crazy nation. He also dramatically improved his own statistics while powering his team to the top of the AL standings. Heading into the May 15 game, the Yankees slugger had a batting average of .306, and his club had a season's record of 14-14 and a 5 1/2-game deficit behind Cleveland in the standings.
But over the course of the next two months and two days' worth of ballgames, DiMaggio's 56 consecutive games with a hit yielded a streak's average of .408 with 15 home runs and 55 runs batted in, and the Yankees went 41-13-2 over that span. DiMaggio entered Thursday night batting .375 and leading the AL in home runs and RBIs. The Yankees exited Thursday's victory with a record of 56-27, good for a commanding seven-game lead over Cleveland.
The Yankees season continues even as the spectacular, famous, unforgettable Joe DiMaggio streak has died. There's only one thing left to do.
See if he starts another one.

On May 15, 1941, Joe DiMaggio began his legendary 56-game hitting streak. In celebration of the 75th anniversary of that seemingly unbreakable record, we did a day-by-day account of the momentous feat.