LA ballgirls back to work after Vegas tragedy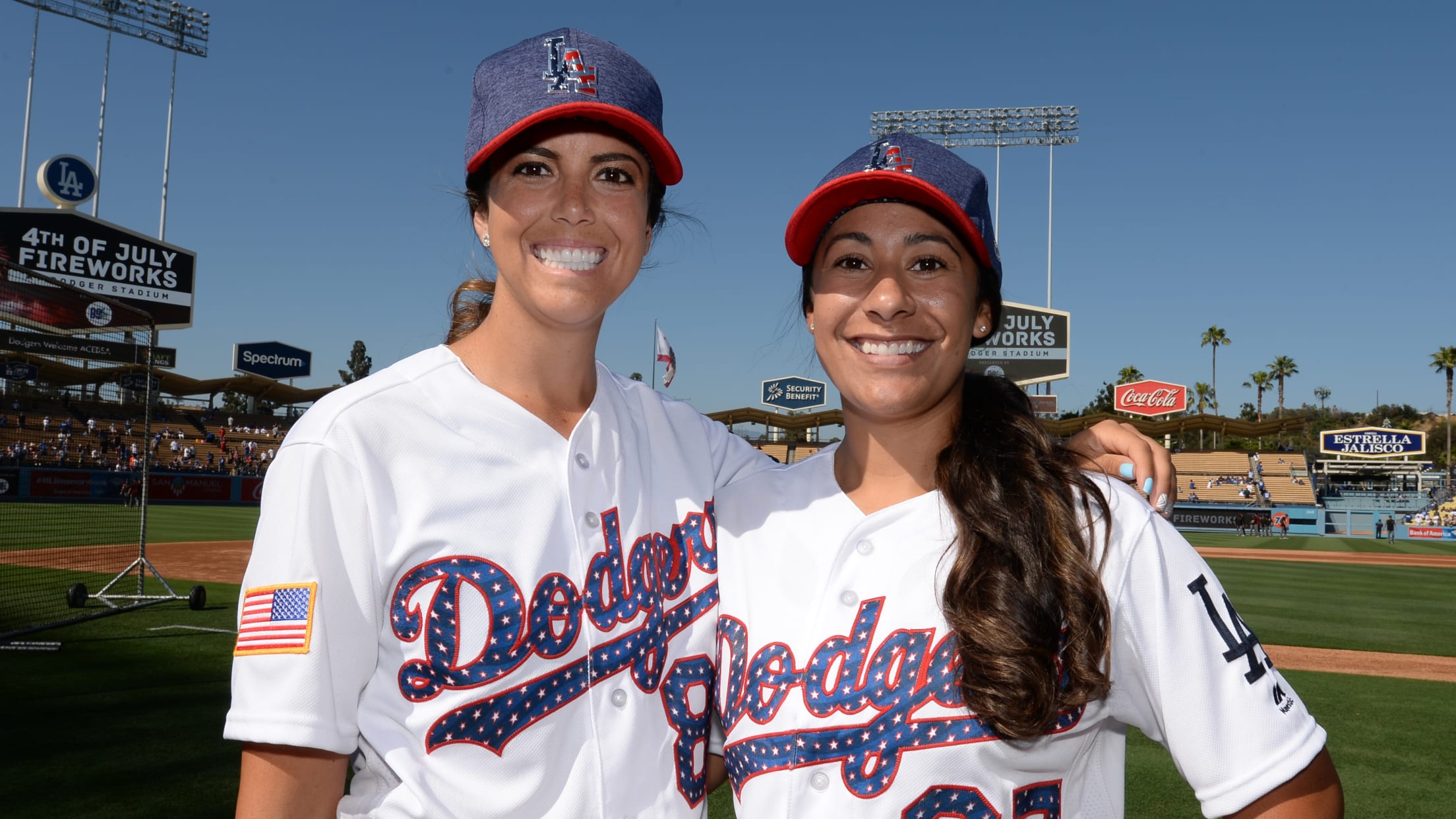 Dodgers ballgirls Amy Moore, left, and Christina Zambrana were back at work for Game 2 of the NLCS against the Cubs. (Jill Weisleder/Dodgers). (Jill Weisleder)
LOS ANGELES -- Tucked down the baselines of Dodger Stadium, you'll find Christina Zambrana and Amy Moore sitting on buckets during a Dodgers game.• NLCS Game 3: Tuesday, 9 p.m. ET/6 PT on TBSIn between innings, you'll see them playing catch with Dodgers outfielders, opposing outfielders and also interacting with
LOS ANGELES -- Tucked down the baselines of Dodger Stadium, you'll find Christina Zambrana and Amy Moore sitting on buckets during a Dodgers game.
• NLCS Game 3: Tuesday, 9 p.m. ET/6 PT on TBS
In between innings, you'll see them playing catch with Dodgers outfielders, opposing outfielders and also interacting with fans.
:: NLCS schedule and coverage ::
These two friends, who spent their youth playing softball against each other in Southern California, have been reunited as co-workers as ballgirls for the Dodgers.
"It's been incredible ... just being welcomed into this Dodger family," Zambrana said. "Everyone's been really nice and supportive of everything we've done."
That's all in a day's work for Zambrana, 27, and Moore, 26, who were at work for Game 2 of the National League Championship Series on Sunday. It's also a return to normalcy for both.
On Oct. 1, Moore and Zambrana were among the survivors of the tragic shooting at the Route 91 Harvest Music Festival in Las Vegas.
Zambrana and Moore were caught in the crossfire, and sought shelter in a tent and hiding under a table. They later escaped, clutching onto each other's hands, amid rapid gunfire.
At one point, Moore lost her shoes, as Zambrana picked her up and hoisted her on her back. Together, they navigated their way to safety.
Zambrana and Moore later found their phones flooded with messages from family members, social media notifications and messages from Dodgers employees.
"Overwhelming is a word, but in a good way," Moore said about the messages. "It was really nice to know that we were cared about so much. The photographers, the people at the old office and even our old boss who now works on the Lakers, were contacting us just making sure we were OK. It was nice to know that they were behind us and we were OK."
Zambrana and Moore returned to Dodger Stadium last week for Game 2 of the NL Division Series, but as fans. The club told them to take some time off and instead they were given tickets to the game.
"It was great," Moore said. "Fans were awesome. The energy here was great."
The two have enjoyed their first season with the Dodgers, getting to know the players on the team and even coming up with special handshakes with utility specialist Enrique Hernandez.
"[He's] really fun," Zambrana said. "He has little handshakes with us and he keeps everybody light in the dugout and he always has a smile on his face and makes us smile."
Zambrana and Moore are hoping for the Dodgers to make a run to World Series and end their 29-year championship drought. And now, they can return to Dodger Stadium and watch their beloved Dodgers postseason run.
"This is basically getting back to normal for us," Zambrana said. "Our final step of normalcy. We've just been taking it each day and trying to recover and trying to get back to where we were before everything happened in Vegas."