Dodgers break ground on 50th Dreamfield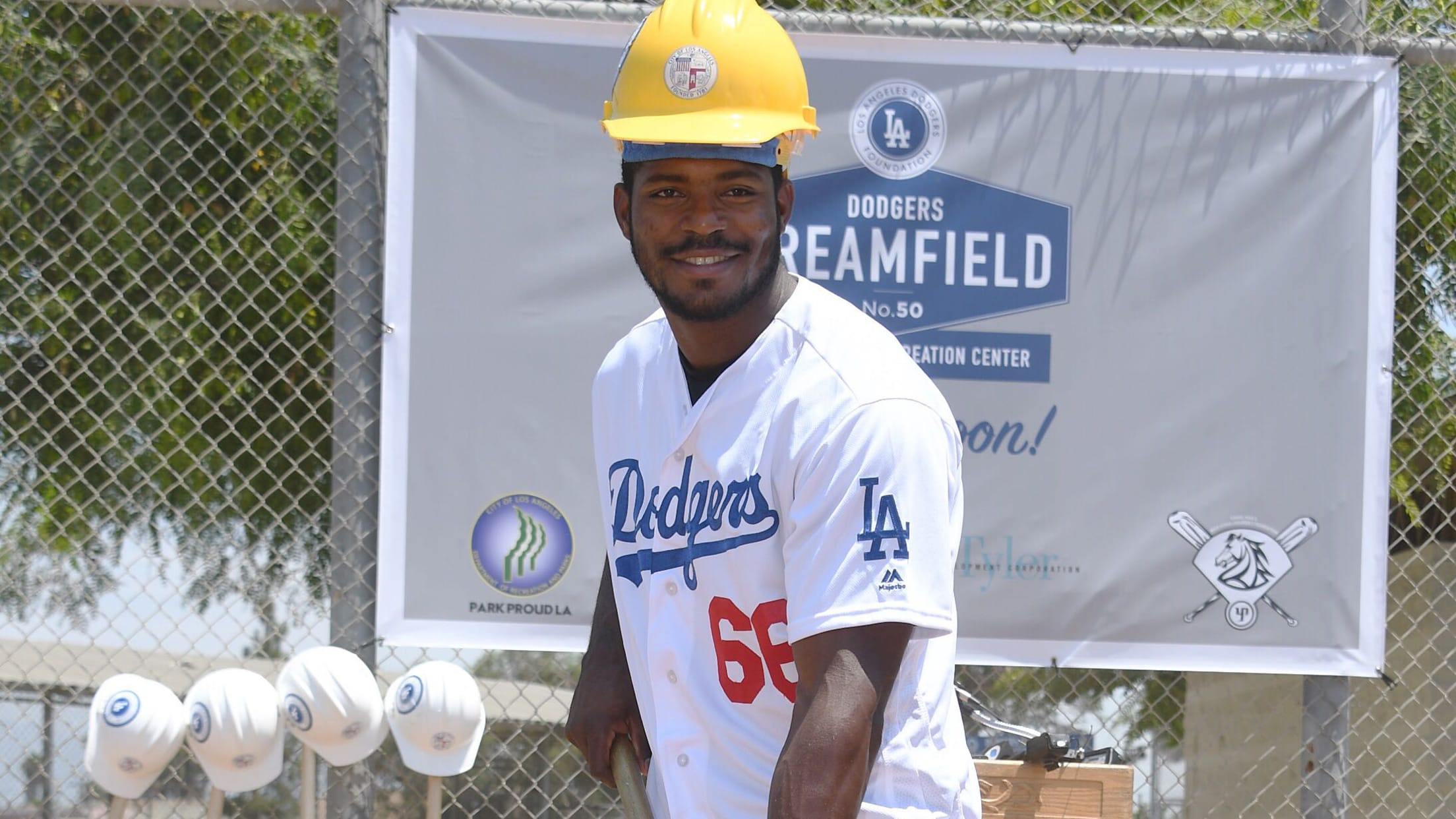 LOS ANGELES -- Fifteen years ago, the Los Angeles Dodgers Foundation and its partners constructed the first Dodgers Dreamfield in an effort to increase baseball and softball access for young athletes in underserved communities throughout the Los Angeles area.On Monday, the program came full circle with the groundbreaking ceremony for
LOS ANGELES -- Fifteen years ago, the Los Angeles Dodgers Foundation and its partners constructed the first Dodgers Dreamfield in an effort to increase baseball and softball access for young athletes in underserved communities throughout the Los Angeles area.
On Monday, the program came full circle with the groundbreaking ceremony for a milestone 50th Dreamfield at Algin Sutton Recreation Center, the home the very first Dreamfield in 2003.
"In 2003, we made a promise to the city of Los Angeles that we would build these 50 fields, and today is really a celebration," said Nichol Whiteman, executive director of the Los Angeles Dodgers Foundation. "It's really special to be able to provide these places, these positive recreational spaces, to children in underserved communities. There's a real impact on children's lives not just on the field, but from programming that we've been able to provide off the field."
The latest Dreamfield is a $300,000 baseball and softball playing field that is partially funded by donations from the City of Los Angeles Department of Recreation and Parks, the Tyler Development Corporation, the LA84 Foundation and Dodgers outfielder Yasiel Puig. Since 2003, more than $10 million has been invested in the Dodgers Dreamfield program.
Puig, Dodgers alumnus Manny Mota, former professional softball player and Olympian Natasha Watley and "Queen Sugar" actor Dondre Whitfield were on hand for Monday's ceremony.
"This community, this beautiful city goes every night to the stadium to support my teammates and support myself to play baseball," Puig said. "That's the reason I opened my charity foundation -- to try to help the community back. ... Doing these things for the kids makes me happy. Now I can go to the stadium with a smile."
Monday's event was the latest example in a tradition of community work done by the Dodgers organization and its players. Puig himself gives back through his charitable nonprofit, The Wild Horse Foundation, which aims to support children and families both locally and in the Dominican Republic. Its marquee event is an annual charity poker tournament at Dodger Stadium.
"It's a special bond and a special culture built amongst our players, amongst our executive team, the foundation, our community relations staff, where everyone wants to give back to those fans who give to us all year long," Whiteman said. "We have such a legacy, when you think about the phenominals like Jackie Robinson, and even Manny Mota, who was here today -- alumni and players who gave so much to Los Angeles, to society in general, that it's our duty to continue on those legacies."
The location of the 50th Dreamfield is notable beyond just sharing a space with the very first. Algin Sutton Recreation Center -- named after the longtime Los Angeles recreation supervisor -- is also the birthplace of Dodgers RBI, a youth development program founded in 1989 by John Young, and home to the City of Los Angeles' Girls Play LA Initiative and the Natasha Watley Foundation softball league. After Young died in 2016, the area adjacent to the new field was renamed John Young Square in his memory.
"Mr. Young was my mentor. He got me to start my nonprofit, and I just feel like it's my responsibility to honor his legacy," said Watley, a decorated softball star who earned gold and silver medals with Team USA in the 2004 and 2008 Olympics.
"I had parents that gave me opportunities, exposure, access, and it's so important to give that back to young kids," she said. "Sports have provided me a lifetime of opportunities; I've been able to go to UCLA, receive a scholarship, play professionally, so I want to be able to give that to another young kid that's out there just wanting something to get into."
Youth softball and baseball players representing the Algin Sutton community, Dodgers RBI, Watley's Foundation and Puig's 66ers baseball team also participated in the groundbreaking. Many had the opportunity to meet and take photos with Puig, Mota, Watley and Whitfield.
"All of these kids, they represent me," said Whitfield, whose grandfather, John Henry Whitfield, played in the Negro Leagues. "If I didn't have baseball in my life, I probably could have turned to some negative things growing up. These fields, these are just places where we're allowing our kids to have a canvas to be able to express themselves.
"Who knows? We could be creating a space to produce the future Yasiel Puigs of the world."