Lasorda vs. Phanatic and funniest LA moments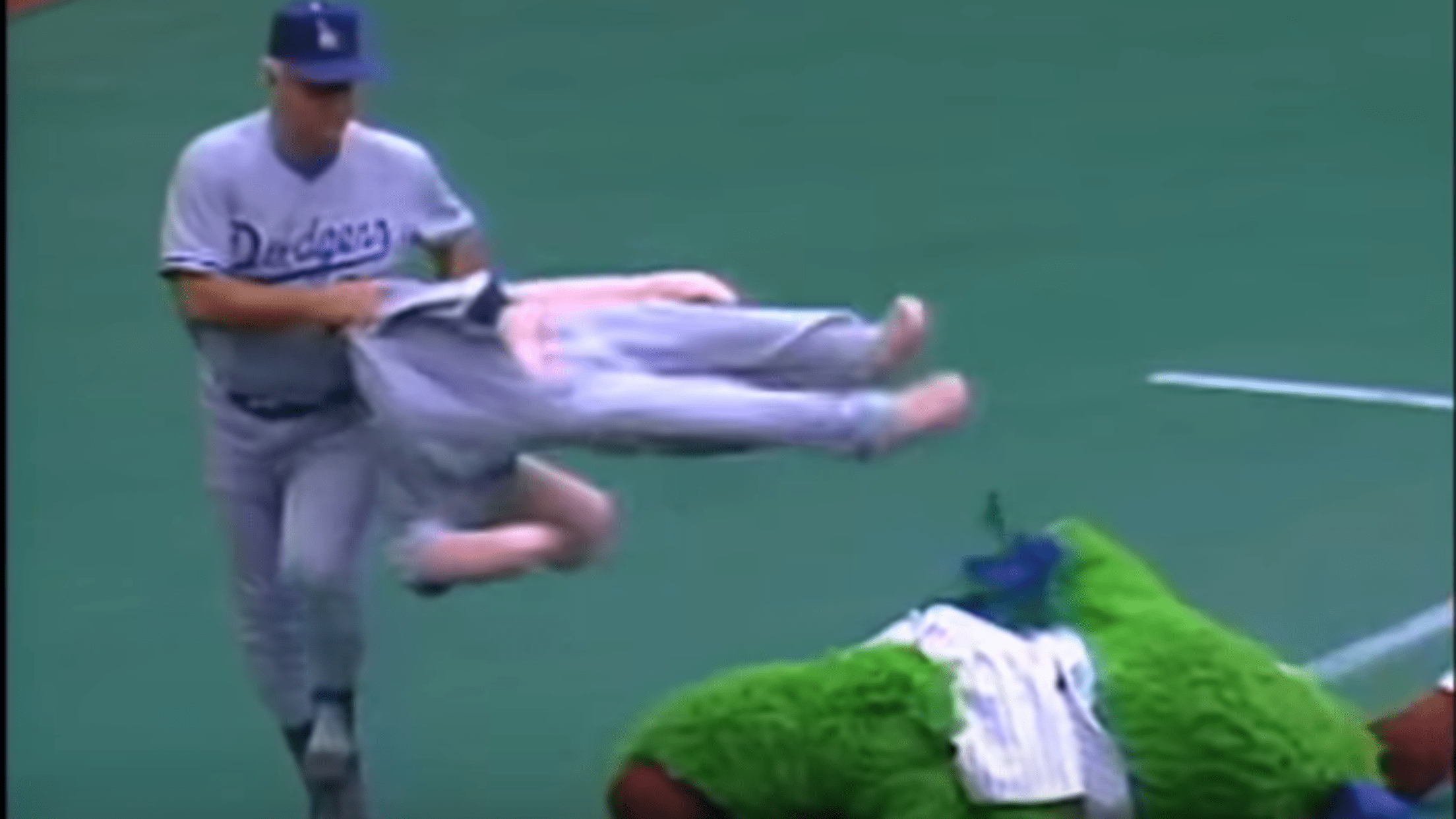 LOS ANGELES -- Baseball can be funny as well as fun, and over the years the Dodgers have enjoyed their share of comical moments. We only wish we had video of the Daffy Dodgers and the time they had three runners arrive together at third base. That said, we do
LOS ANGELES -- Baseball can be funny as well as fun, and over the years the Dodgers have enjoyed their share of comical moments. We only wish we had video of the Daffy Dodgers and the time they had three runners arrive together at third base.
That said, we do have video (or at least audio) of some of the funniest moments in recent Dodgers history.
1. Tom Lasorda's Midsummer Classic somersault
July 10, 2001
At age 73 and five years after retiring because of a heart attack, Lasorda was honorary manager for the All-Star Game in Seattle. He was on the field as guest third-base coach when Vladimir Guerrero's bat broke and the bulk of it came spinning Lasorda's way. He was struck by the bat on the hip, lost his balance and nearly somersaulted, though Lasorda avoided injury.
2. What's Lasorda's opinion of Kingman's performance?
May 14, 1978
A question from Paul Olden about what Lasorda thought of Dave Kingman's three-homer day in a Mother's Day win for the Cubs over the Dodgers prompted a truly legendary tirade from Lasorda.
3. Tom Lasorda vs. Phillie Phanatic
Aug. 28, 1988
Taunted by the Phillies' mascot, the Dodgers manager went berserk in retaliation.
4. Dodgers forfeit to Cardinals
Aug. 10, 1995
Questionable calls and souvenir balls led to MLB's most recent forfeit when Dodger Stadium fans responded to the ejections of Eric Karros and Raul Mondesi with a shower of Ball Night giveaways.
5. Joc Pederson goes full Postmates in uniform at Starbucks
Sept. 19, 2014
Dodgers outfielder Joc Pederson is known for delivering in the clutch, but during his rookie season he was spotted delivering the coffee.
6. Mattingly's gaffe results in forced pitching change
July 20, 2010
Don Mattingly, having taken over following the ejection of manager Joe Torre, went to the mound to speak with reliever Jonathan Broxton. As he was headed back to the dugout, Mattingly stepped back on the mound to speak with first baseman James Loney. Giants manager Bruce Bochy argued that constituted a second trip, and the umpires agreed. The resulting bullpen chaos turned a one-run lead into a three-run ninth inning and a 7-5 loss to San Francisco.
7. Three errors on one play
Sept. 8, 2014
When Vin Scully asks, "Are you kidding?" it must be pretty bad. On a popup to center fielder Yasiel Puig, the Dodgers committed three throwing errors and allowed two runs to score. The errors went to Puig, catcher A.J. Ellis and shortstop Hanley Ramirez.
8. Cody Bellinger loses his pants
Aug. 21, 2019
A belt didn't do much to help Cody Bellinger on this headfirst slide into third base on a triple. At least he'll always remember reaching that 100-RBI mark.
9. Enrique Hernández wears banana rally suit
August 31, 2015
He's not easily embarrassed, so when the Dodgers utility man was ordered to wear a banana rally suit by club president Andrew Friedman, Hernández followed orders.
10. Yasiel Puig's greatest reaction
Oct. 6, 2017
In Game 1 of the NLDS, Yasiel Puig's triple was followed by one of the most amusing and ridiculous celebrations you've ever seen.
Ken Gurnick has covered the Dodgers for MLB.com since 2001.