Dodgers host So. Cal. firefighters for BP, lunch
Community Tour takes time to tip caps to first responders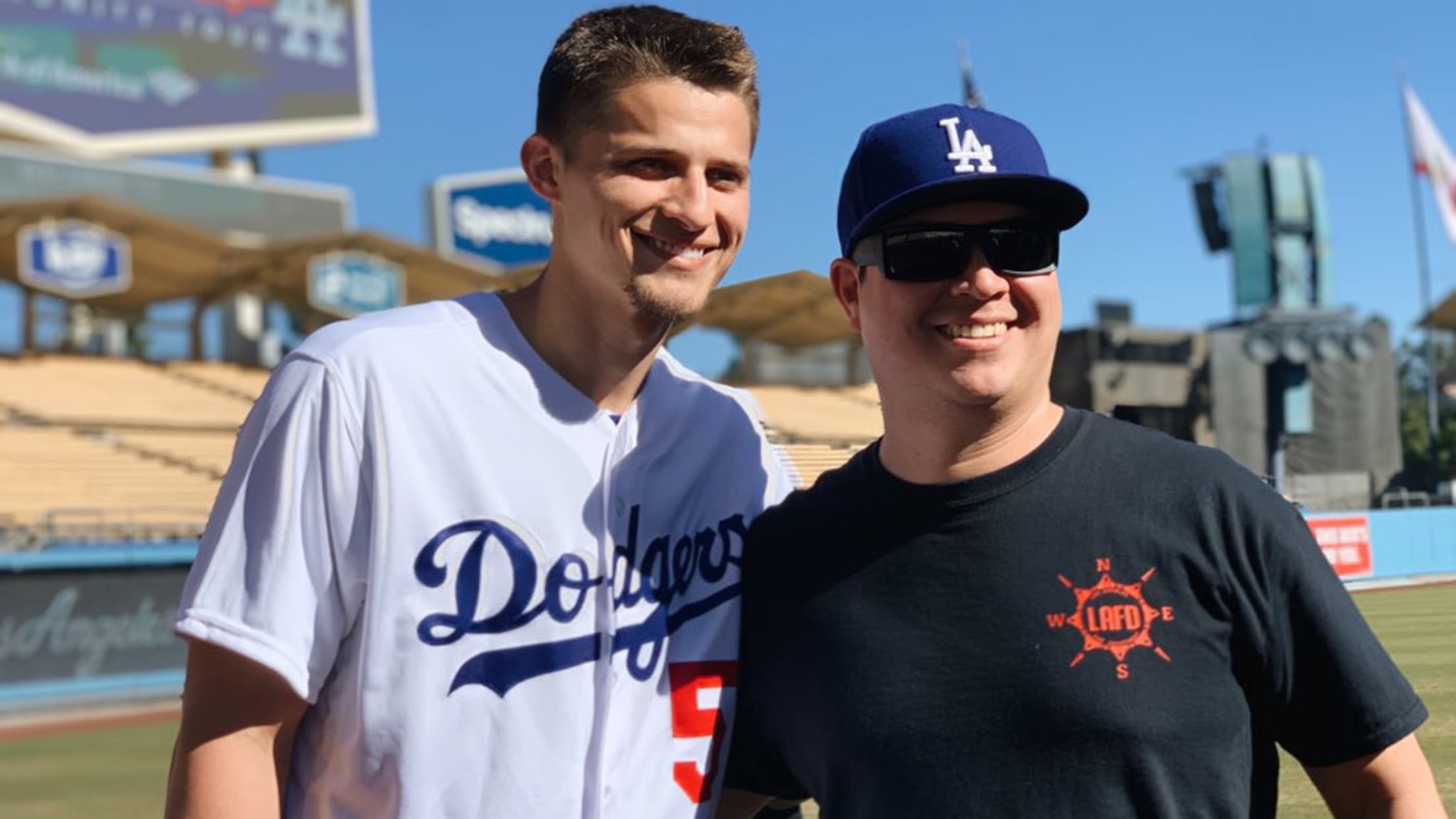 LOS ANGELES -- Southern California firefighters have borne a heavy load over the past few years, most recently with the devastating Hill and Woolsey Fires of late 2018. The Dodgers took some time to recognize that sacrifice on Wednesday.The 2019 Dodgers Love L.A. Community Tour continued with the team hosting
LOS ANGELES -- Southern California firefighters have borne a heavy load over the past few years, most recently with the devastating Hill and Woolsey Fires of late 2018. The Dodgers took some time to recognize that sacrifice on Wednesday.
The 2019 Dodgers Love L.A. Community Tour continued with the team hosting batting practice and a luncheon at Dodger Stadium for nearly 350 Southern California firefighters, an event presented by Bank of America. It's the second straight year the Dodgers have held such a function, and the second year it's come on the heels of deadly and destructive wildfires in the region.
"We had those fires going on [in 2017]," said Naomi Rodriguez, Dodgers vice president of external affairs and community relations. "We felt like we wanted to do something for [the first responders], [so] we held the batting practice. And this year ... with the backdrop of the [Hill and Woolsey] fires that happened in our community ... we said [to the first responders], 'We want to do something for you again to thank you.' Overwhelmingly, they said, 'Can we come back for batting practice?'
"We've opened our field, we've opened our home to them to say, 'Thank you. Thank you for your service, thank you for protecting our community.'"
The Dodgers held batting practice this morning for 350 Southern California firefighters who fought the Woolsey and Hill wildfires as part of the #DodgersLoveLA Community Tour presented by @BankofAmerica. pic.twitter.com/nRgVKiSvxs

— Los Angeles Dodgers (@Dodgers) January 23, 2019
Corey Seager, Justin Turner, Enrique Hernandez and the recently acquired Joe Kelly made appearances to pose for photos and sign autographs for participants. A group of Minor Leaguers, headlined by the Dodgers' No. 9 prospect (per MLB Pipeline) DJ Peters, were on hand as well.
Turner and Kelly, Southern California natives with strong ties to the area, relished the opportunity to spend some time with a group that has done so much for their shared community.
"The Dodgers are doing an unbelievable job of recognizing all the men and women out here," Turner said. "And we wanted to come out and give a little bit of our time and tell them thank you for everything that they do."
"I had buddies that came here last year that took BP on the field that are firefighters," said Kelly, donning a Dodgers jersey for the first time since joining the team. "I know it means a lot to them."
Attendees had the opportunity to pitch in the bullpen, visit the Dodgers' trophy room and take pictures with the National League Championship Series trophy. It's the organization's way of showing first responders that their efforts are in no way taken for granted.
"We are part of the fabric in Los Angeles. We know that these firefighters and first responders love us, and we love them right back," Rodriguez said. "We're part of each other's story. ... We're just as much a part of their story as they are ours. And so it's part of our responsibility to say thank you and to say, 'This is your home, too. You're not alone.'"
"It's special," Hernandez said. "These guys are risking their lives. What they do is way more important than what we do, and for us to be able to put out an event like this, and be here for them, hang out with them a bit, spend some time with them and show our support, it means the world to us."
That's a wrap on the First Responders BP! #DodgersLoveLA pic.twitter.com/NjSrqAnnCA

— Los Angeles Dodgers (@Dodgers) January 23, 2019
The first responders batting practice is a tradition the Dodgers hope to continue for some time.
"We're gonna do it every year," Rodriguez said. "Hopefully next year, it's not with the backdrop of the fire, because they do serve us every day."
The Community Tour will make several more stops over the next few days, concluding with the team's FanFest presented by Coca-Cola and San Manuel Casino on Saturday at Dodger Stadium.
Sarah Wexler is a contributor to MLB.com based in Southern California.