Maeda to stake claim among Japanese arms
Right-hander off to strong start in Spring Training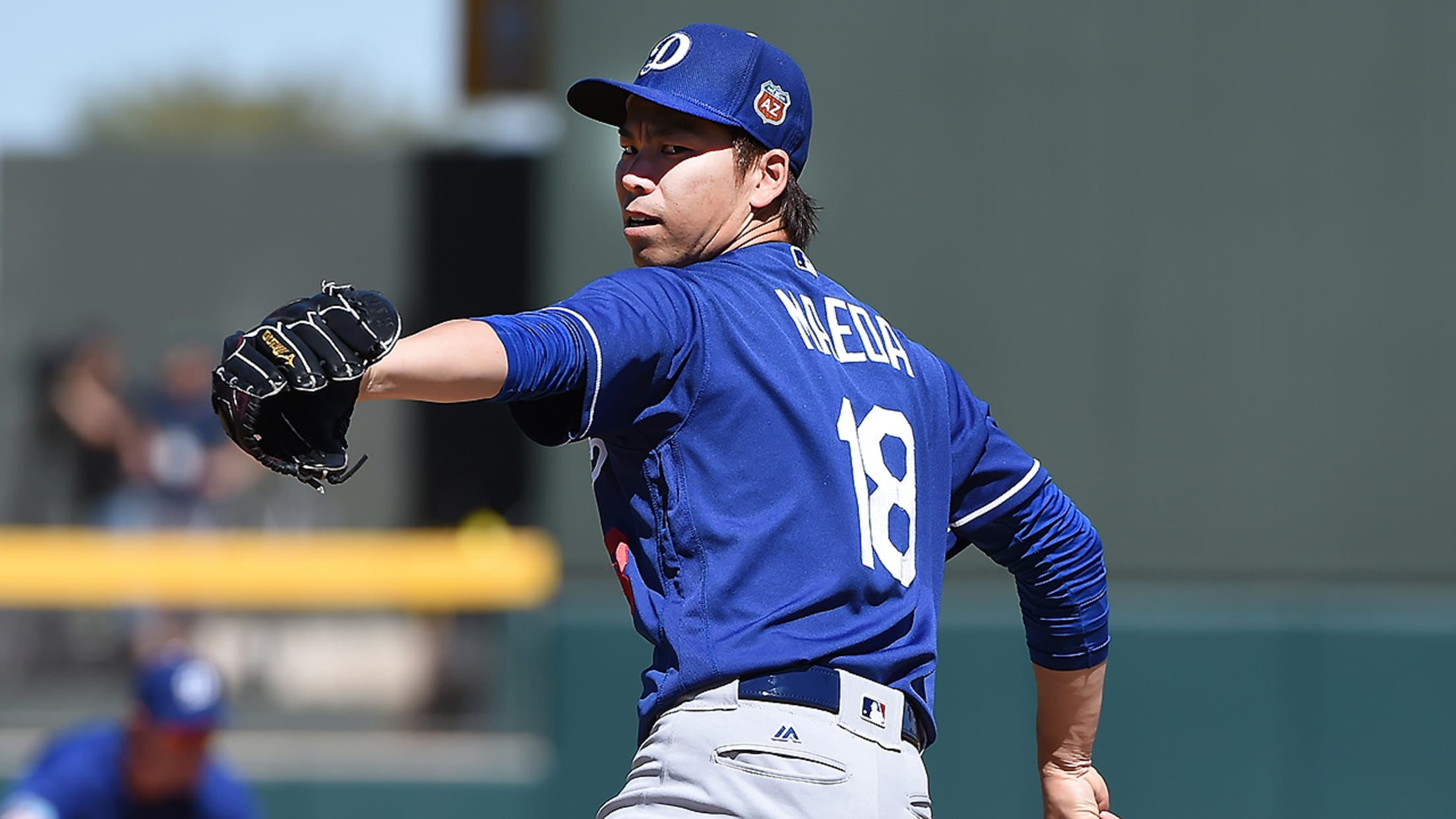 Kenta Maeda has pitched five scoreless innings in two Spring Training starts. (Photo by Norm Hall/Getty Images) (Norm Hall/Getty Images)
MESA, Ariz. -- In the grand tradition of all the great Japanese starters that came before him in the Dodgers organization, Kenta Maeda is beginning to stake his claim to that august lineage.From Hideo Nomo to Kazuhisa Ishii to Hiroki Kuroda, the Dodgers have blazed this trail since signing the
MESA, Ariz. -- In the grand tradition of all the great Japanese starters that came before him in the Dodgers organization, Kenta Maeda is beginning to stake his claim to that august lineage.
From Hideo Nomo to Kazuhisa Ishii to Hiroki Kuroda, the Dodgers have blazed this trail since signing the incomparable Nomo in 1995. That trio combined to win 158 games while dressed in Dodgers blue.
No small feat. Now Maeda has arrived.
"They were all successful and loved by the fans," Maeda said on Thursday after making his second successful start this spring in an 8-3 victory over the A's at Hohokam Stadium. "I want to be able to be that."
Maeda won 97 games for the Hiroshima Carp in Japan's Central League during his eight-year career, and he comes to the Major Leagues at 27 years old after having had a 15-8 season with a 2.09 ERA in 29 starts in 2015.
"He was clearly the best pitcher the last few years over there," new Dodgers manager Dave Roberts said before the game.
In the day and age of the oversized power pitcher, Maeda has the similar body type of Tim Lincecum and is listed at a lithe 6-feet, 154 pounds. Unlike Lincecum, Maeda has a right-handed motion that comes across his body rather than over the top like a whip as "The Freak" threw when still in his salad days pitching for the Giants.
Maeda mixed up four pitches and finessed three innings of scoreless ball, walking two, whiffing three and allowing just two Oakland singles. There was one quick moment of angst in the opening inning when Coco Crisp lined a leadoff shot back to the box. Maeda said he knocked it down with his fielder's glove and recovered in time to throw Crisp out at first.
Dodgers infielders and catcher A.J. Ellis gathered around Maeda to see what happened in a flash. When it became evident no harm had befallen him, the game resumed.
"It wasn't good, but I heard it hit leather right in the palm," Roberts said. "I was kind of watching his face and looking for the grimace and he seemed to be OK."
Maeda said later that he was fine.
"I wasn't scared," he said, a beaming smile on his face.
Maeda has reason to be happy and has now made two Cactus League starts since signing an eight-year deal with a guaranteed $25 million on Jan. 7 that is so packed with performance incentives, it could soar above $100 million over the life of the contract.
The Dodgers structured the deal because Maeda has had a problematic right elbow, that issue coming up in his pre-signing physical.
"That was their decision, it wasn't mine," Maeda said.
Be that as it may, Maeda has now thrown five innings this spring without allowing a run. He's given up only three hits, while walking two and striking out five.
It's still early, but on a Dodgers starting staff racked by defection and injury, so far, so good. Roberts, who is part Japanese, believes that Maeda is going to make his mark on Dodgers history.
"He's going to fit in very nicely," Roberts said. "For him to be in his prime, he's excited to be here and we're excited to have him. All we want is for him to be himself. He can't be Hideo or Kuroda and Kazuhisa. He has to be himself and that's all we want."
Maeda seems to be adjusting well to Major League life. Like most starters in Japan, he was used to pitching every six days, during the shorter 146-game schedule. Now it's every five days and 162. Maeda said, though he has only been pitching against Major League hitters for such a short period of time, he has noticed that "their bat speed is much faster."
Roberts has noticed that Maeda has an easygoing personality, and despite the language barrier, the manager said the Dodgers' latest Japanese pitcher is funny.
"It's good to be known as funny," Maeda said.
When asked how he conveyed his sense of humor to the manager, Maeda added: "Dave Roberts' mother is Japanese. We had a long talk. I think that helped."
There's also the matter of Maeda's famous warmup routine that was dubbed in Japan as the MaeKen dance, a derivative of his name. Maeda warms up by spinning his arms forward like a windmill.
Roberts asked him to do the dance at a morning team meeting only a few days ago. Maeda obliged, but said he was pretty sheepish about it.
"I was a little bit ashamed doing it in front of everybody," Maeda said. "But I'm glad that my teammates started copying that and making fun of it."
Roberts, who played three seasons in the outfield for the Dodgers and retired as a player in 2008, is not so far removed from the game that he doesn't still enjoy a good laugh. He watched Maeda's routine before his first start against the D-backs at Salt River Fields five days ago and figured it was fodder to pull the team together.
"I like that routine. I like it," Roberts said. "It's called the MaeKen. I'm sure he'll do it before every game. I'm not sure if he'll do it in between innings."
Asked if he would try it in public, Roberts answered with a bemused look on his face.
"Oh, me?" Roberts said. "If he gets a win, I might do anything."
And that's how legends are made.