Dodgers set for community outreach in annual tour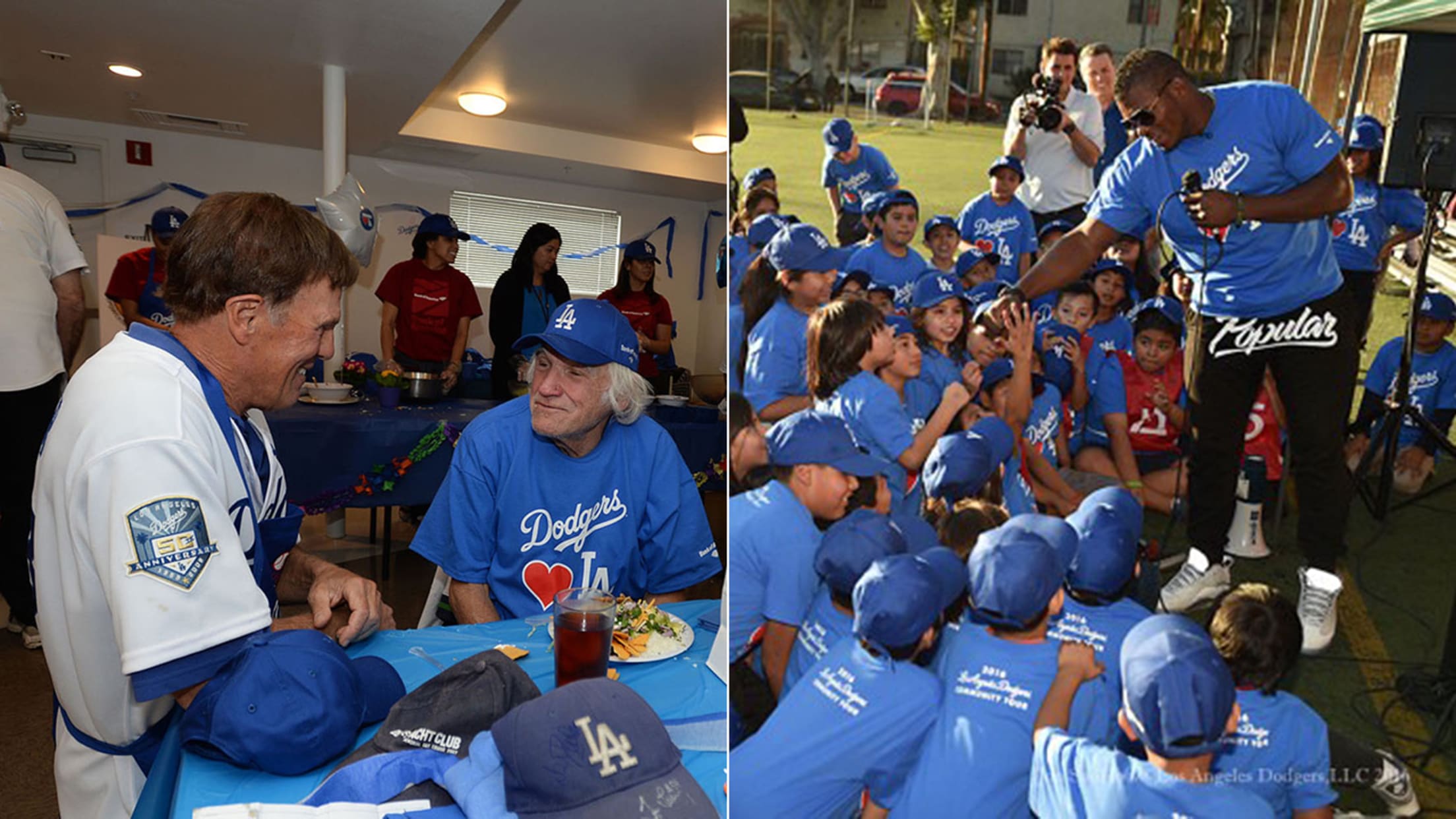 Dodgers alumni and players will participate in community outreach and fan appreciation events. (Jill Weisleder, Jon SooHoo/Dodgers)
LOS ANGELES -- The Dodgers on Friday unveiled a nearly week-long "Dodgers Love L.A." community tour that culminates with FanFest on Jan. 28 at Dodger Stadium.The 14th annual week of community outreach and fan appreciation will feature Dodgers players, coaches, alumni and employees and Bank of America volunteers making visits
LOS ANGELES -- The Dodgers on Friday unveiled a nearly week-long "Dodgers Love L.A." community tour that culminates with FanFest on Jan. 28 at Dodger Stadium.
The 14th annual week of community outreach and fan appreciation will feature Dodgers players, coaches, alumni and employees and Bank of America volunteers making visits throughout the Southland.
Dodgers Luis Avilan, Austin Barnes, Grant Dayton, Chase De Jong, Jose De Leon, Andre Ethier, James Farmer, Yasmani Grandal, Chris Hatcher, Kiké Hernandez, Rich Hill, Adam Liberatore, Kenta Maeda, Vidal Nuno, Joc Pederson, Yasiel Puig, Josh Ravin, Jacob Rhame, Darin Ruf, Corey Seager, Rob Segedin, Brock Stewart, Thomas Stripling, Chris Taylor, Trayce Thompson, Alvin Toles, Justin Turner, Scott Van Slyke, Alex Wood, Dodgers manager Dave Roberts and strength and conditioning coaches Brandon McDaniel, Travis Smith and Shaun Alexander are scheduled to participate.
Dodgers alumni Ron Cey, Al Ferrara, Dennis Powell and Maury Wills, Hall of Fame manager Tommy Lasorda and Dodgers broadcasters Joe Davis, Alanna Rizzo and Fernando Valenzuela will also participate.
Dodgers fans who are present throughout the Dodgers Love L.A. community tour presented by Bank of America can receive a voucher for 50 percent off three promotional games this season. The offer will be limited and distributed to fans at tour stops open to the public.
On Monday, Puig and Turner will participate at a morning coffee event, while Pederson will host a family pet photo opportunity at the Los Angeles Recreation and Parks' Silverlake Dog Park at 3 p.m. PT.
On Tuesday, a fitness and health clinic for 100 underserved young women from the New Village Girls Academy will be conducted by McDaniel, Smith and Alexander in conjunction with Nike. On Tuesday night, Thompson and the Dodgers host a movie night in the Dodger Lexus Dugout Club for Cedars-Sinai pediatric patients and their families.
On Wednesday, Ethier will host a clinic using softball drills, bocce ball and other activities for more than 20 Special Olympics of Southern California athletes at the universally accessible Dodgers Dreamfield at Baldwin Hills Recreation Center. At City Hall, city councilman Gil Cedillo will make a presentation to 2016 National League Manager of the Year Dave Roberts, after which Roberts and Ethier will lunch with members of the L.A. Police and Fire departments. Liberatore, Cey, Ferraro and Powell will promote literacy with reading sessions at four community libraries.
On Thursday, Valenzuela will make a surprise visit and Kiké Hernandez and Rob Segedin will make a surprise pizza delivery to city employees.
On Friday, there will be two simultaneous caravans, one ending with a rally at the Westfield Topanga Shopping Center, the other finishing with a Blessings in Backpacks program at the Los Angeles Boys & Girls Club. And Maeda will also visit fans in the Japanese community at the Japanese American National Museum.
Ken Gurnick has covered the Dodgers since 1989, and for MLB.com since 2001.