Notes: LA's rotation order coming into focus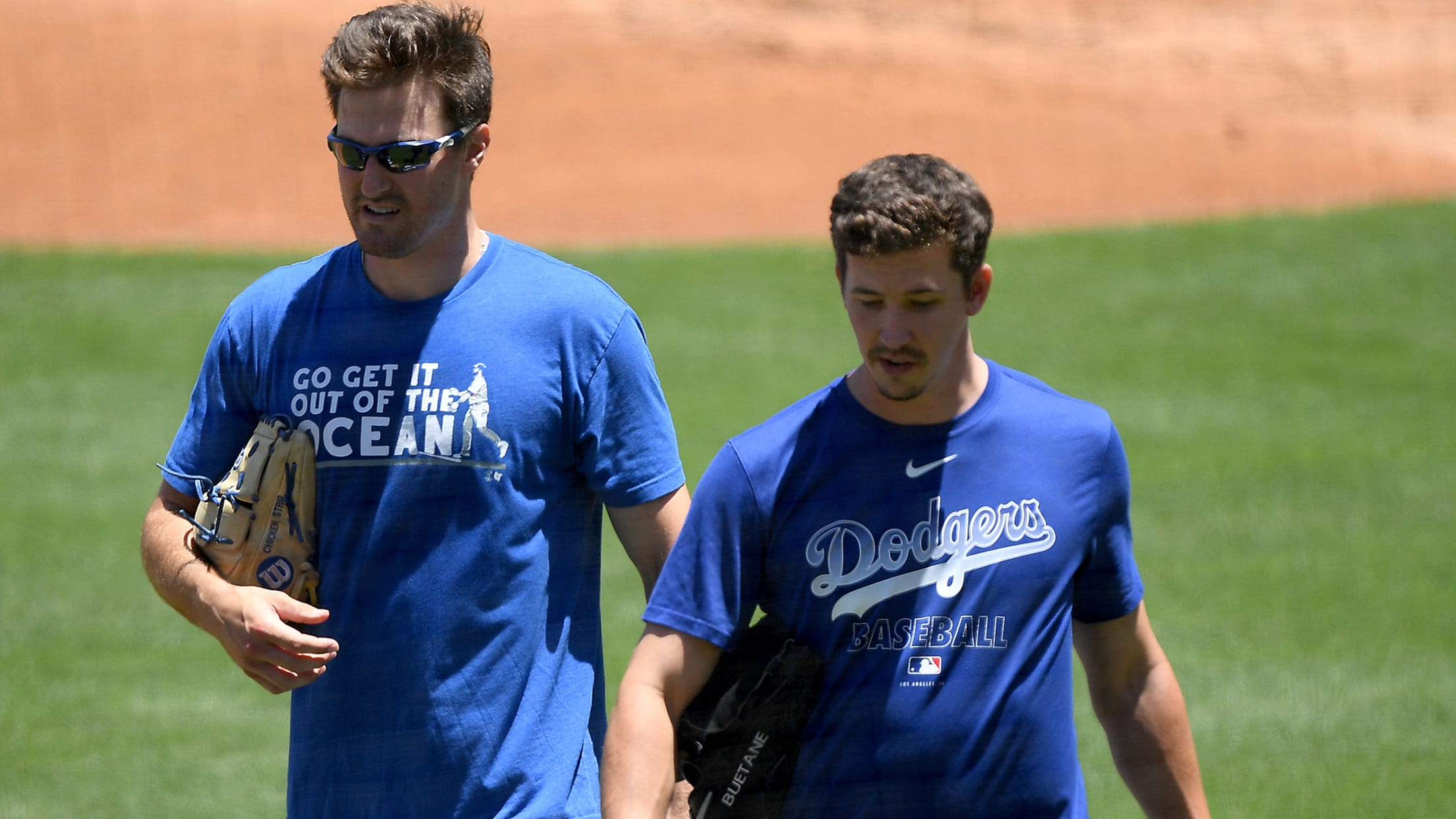 LOS ANGELES -- Although manager Dave Roberts has named only Opening Day starter Clayton Kershaw, the rest of the Dodgers' rotation order is coming into focus. Kershaw pitched in an intrasquad game on Friday and Ross Stripling is scheduled to throw a simulated game on Saturday, lining up Stripling to
LOS ANGELES -- Although manager Dave Roberts has named only Opening Day starter Clayton Kershaw, the rest of the Dodgers' rotation order is coming into focus.
Kershaw pitched in an intrasquad game on Friday and Ross Stripling is scheduled to throw a simulated game on Saturday, lining up Stripling to start Game 2 of the regular season against San Francisco this coming Friday night. Stripling apparently takes the rotation slot open after David Price elected not to play the season.
Julio Urías will start against Arizona in the second exhibition game on Monday, with Alex Wood throwing in a simulated game on the same day. Urías and Wood would then start the remaining games against the Giants in the first regular-season series Saturday and Sunday in some order.
That leaves Walker Buehler, who retired all seven batters he faced Friday night opposing Kershaw. The wiry Buehler has been given the kid-glove treatment again coming off the quarantine break and isn't built up. Roberts said Buehler will throw a three-inning simulated game against Dodgers hitters on Wednesday and is "certainly a possibility" to start on Tuesday, July 28, in Houston. Monday, July 27, is a travel off-day.
Assuming Stripling is in the rotation, and with Tony Gonsolin optioned to the alternative training camp, Stripling's usual long-relief role figures to fall to Dustin May. Imagine a piggyback situation with May following Buehler for a formidable tandem against the slugging Astros, with Kershaw starting the second game of that set.
Gonsolin would have been in the mix for Price's starting job had he not reported late to Summer Camp. The Dodgers gave no explanation for his absence from camp, but sending him down appears meant to prepare him to be the first starter recalled when one is needed.
"Tony will have an opportunity to throw more innings after his late arrival to Summer Camp," said Roberts. "This year, starting pitching and length in the 'pen, you've got to have depth. We want to get him built up because, without a doubt, he's going to impact us."
Stripling's return to the rotation would mark yet another twist in a meandering career. An All-Star as an emergency starter in 2018, he was sent back to the bullpen when injured pitchers returned. He made 15 starts last year, and after starters Hyun Jin Ryu, Kenta Maeda and Rich Hill left the club over the offseason, Stripling was dismayed to learn he lost out to Urías and Wood for a rotation spot during Spring Training.
Worth noting
• Pedro Báez, another late arrival to Summer Camp, has not pitched in an intrasquad game yet, but Roberts said he threw a bullpen session on Friday. He will throw in a simulated game against Dodgers hitters, but Roberts said Báez is healthy and expected to be active for Opening Day.
• Mitch White will start for the Dodgers on Sunday against the D-backs in the first of three exhibition games.
• Roberts said outfielder Mookie Betts, who appeared to tweak his left hand on a swing Friday night but remained in the game, was not injured.
Ken Gurnick has covered the Dodgers for MLB.com since 2001.