Rangers blaze trail with co-pitching coaches
Mathis, Sagara to share responsibilities on big league staff
ARLINGTON -- The job of being a Major League pitching coach might have become too big for one person to handle. In the Rangers' situation, that may be an understatement. That's why the Rangers will have not one but two pitching coaches next season, with Doug Mathis and Brendan Sagara
ARLINGTON -- The job of being a Major League pitching coach might have become too big for one person to handle. In the Rangers' situation, that may be an understatement.
That's why the Rangers will have not one but two pitching coaches next season, with Doug Mathis and Brendan Sagara sharing the duties. They will be in charge of fixing a pitching staff that had a 5.02 team ERA last season, 11th among the American League's 15 teams.
Mathis, who was the Rangers' bullpen coach, will be in the dugout next to manager Chris Woodard. Sagara, who was the Triple-A pitching coach and a special assistant for player development, will be in the bullpen. Sagara spent last summer working at the Rangers' alternate training site.
"It's almost unfair to put it on one guy," Woodward said. "There's so much that's involved. There's so many people that are involved. There's so much information and ideas that are involved. There is a lot of work to do."
• Much to monitor on mound for new coaches
Mathis will be in charge of Spring Training, and Sagara will oversee offseason pitching programs. Both will be involved heavily in game preparation, as will Brett Hayes, who is returning for his third season as coordinator of run prevention.
"It's a different kind of look," Woodward said. "Traditionally, you usually have a pitching coach and a bullpen coach. We look at it as a dual role, where they're going to work to solve issues with pitchers and try to figure out the solutions for these guys. Clearly, Doug being in the dugout with me resembles more of the traditional pitching coach, but at the same time, Sags is going to have a huge responsibility in making our players better.
"It's not one guy working with the starters and one guy working with the relievers. These guys are going to work together to make Lance Lynn better, they are going to work together to make Kyle Gibson better."
Mathis and Sagara are in their second seasons in the Rangers' organization. Mathis had three years of Minor League coaching experience in the Mariners' and Blue Jays' organizations before joining Woodward's staff last offseason.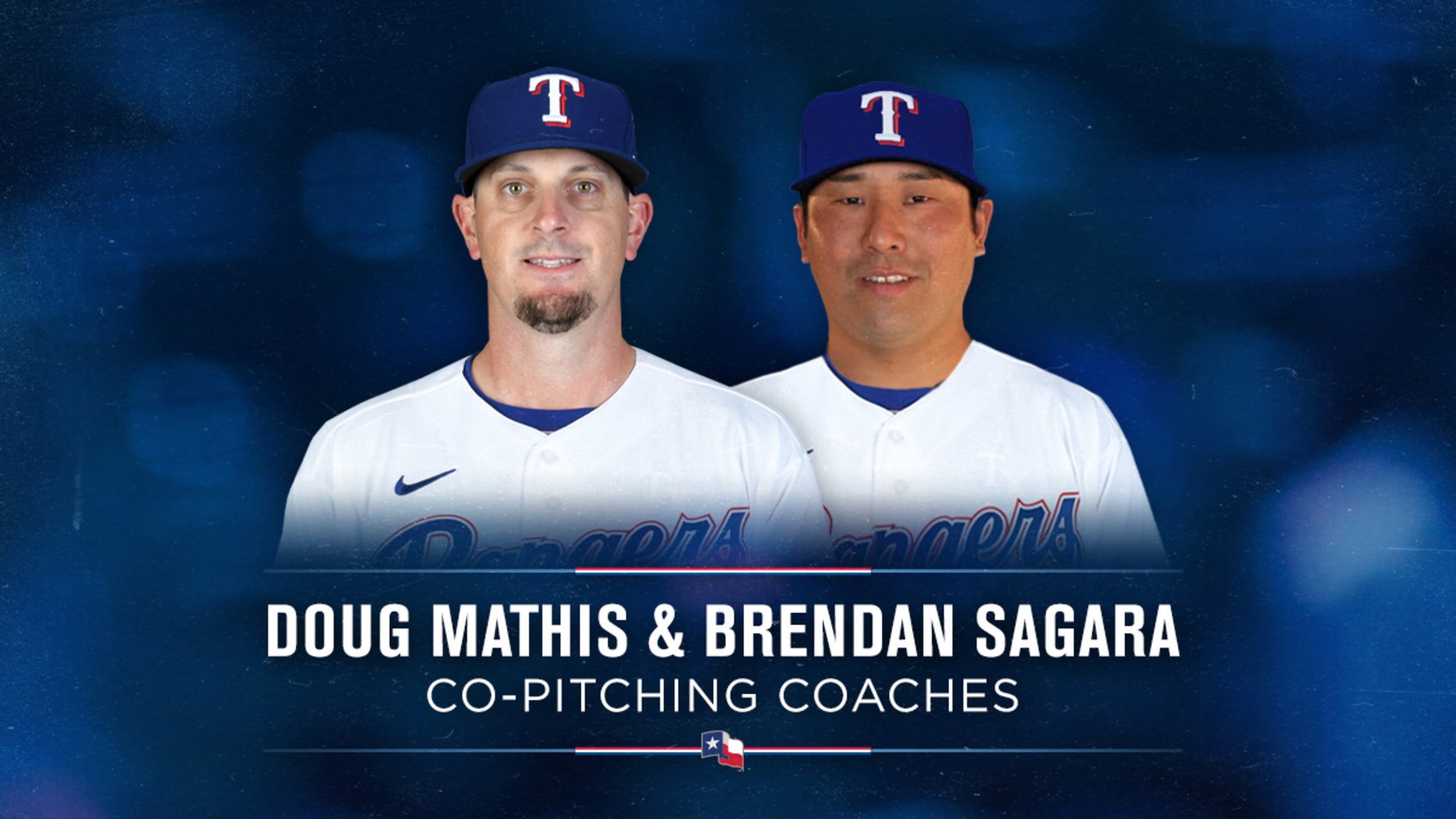 Mathis, 37 pitched for 11 seasons professionally from 2005-15, including parts of three seasons with the Rangers from 2008-10. He also pitched in South Korea, Japan and Taiwan.
Sagara, 45, a native of Hawaii, will be entering his 21st season of professional baseball but his first in any role at the big league level. His first pitching coach assignment came in 2001 with the Dubois County Dragons in the Frontier League in 2001. He was Minor League pitching coordinator for the Cubs from 2018-19 before joining the Rangers.
In deciding to go with Mathis and Sagara, the Rangers felt the relationships those two developed with their pitchers during an unusual season weighed strongly in their favor.
"The lack of experience is an issue until it is not," Woodard said. "I am comfortable with that. I thought a lot about that and decided to go in this direction. I know there are going to be learning moments for all of us, but most important is, 'Can they make our players better?' They both, in my opinion, are really good at that. "
Julio Rangel was the Rangers' pitching coach last season but did not have his contract renewed. General manager Jon Daniels said the Rangers spoke with and considered external candidates when hiring Rangel two years ago and Mathis before last season. This time, the Rangers focused on the candidates within.
"This is such a unique year, we didn't feel a whole lot had changed, as far as who was out there," Daniels said. "Both Doug and Brendan came highly recommended; both helped a number of guys improve. They both made positive impressions on how they communicate, how they handle different problems and solving those problems.
"We felt that is the direction we wanted to go. They know our players, and they know our people. While they do lack experience at the Major League level, we feel good about both of them."
The Rangers also announced former Major League catcher Bobby Wilson is being added to Woodward's staff as catching instructor. Wilson was hired last season to be the Double-A manager but ended up working at the alternate training site. He replaces Hector Ortiz, who is expected to stay in the organization on the Minor League side.
In addition, the Rangers announced bench coach Don Wakamatsu, first-base coach/field coordinator Corey Ragsdale, third-base coach Tony Beasley, hitting coach Luis Ortiz and assistant hitting coach Callix Crabbe are returning next season.
"We're excited about this group," Daniels said. "In our exit interviews with the coaches -- I speak for Woody and myself -- we were both really encouraged by the openness and desire to get better. Each of the coaches understand adjustments have to be made. There is a lot of work to be done, and getting the staff is the first step in the right direction."