Before starting career, Yerzy spends time with big club
From Toronto area, second-round Draft pick visits with D-backs at Rogers Centre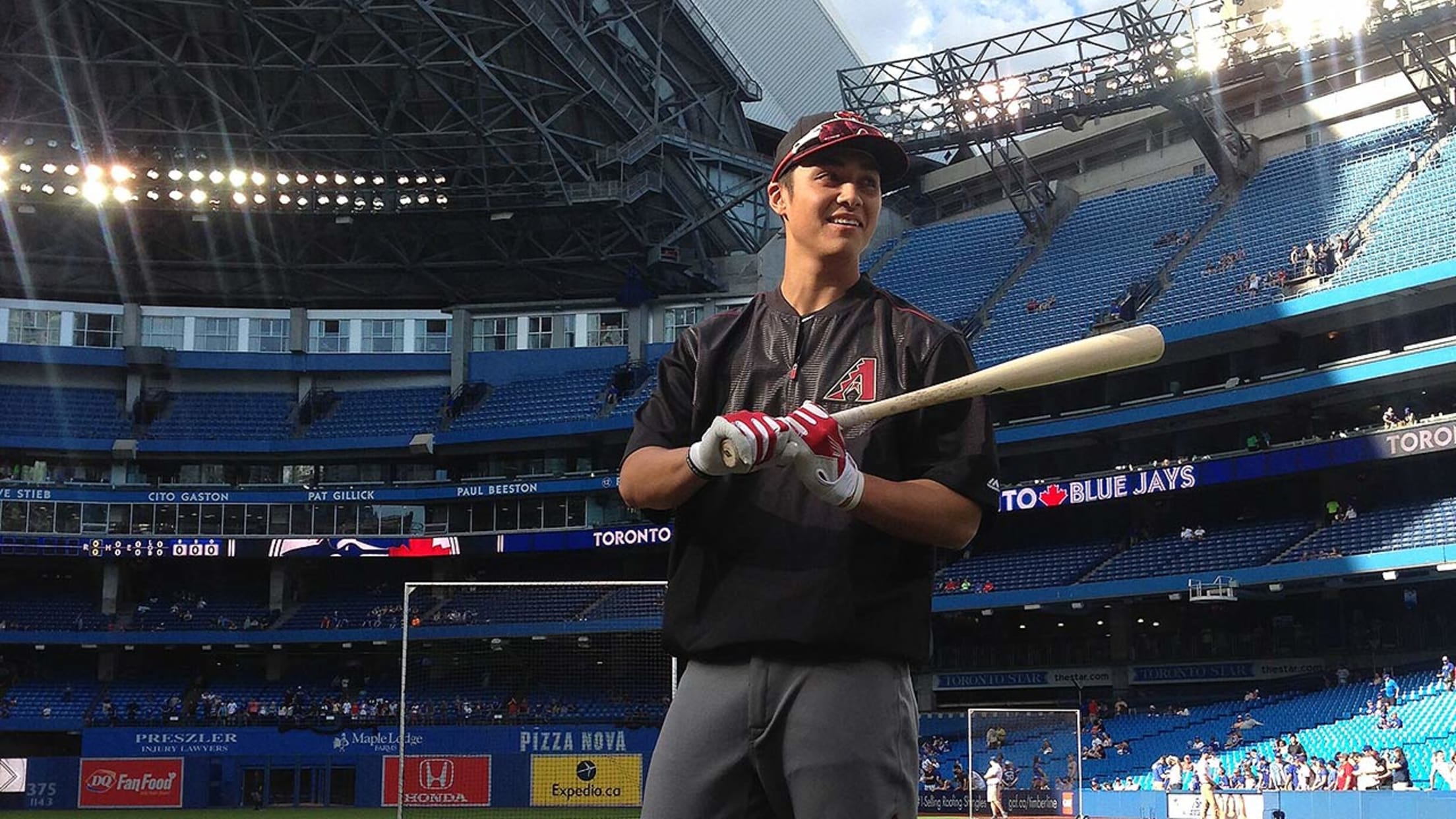 "[Andy Yerzy] hung out with the club, took BP, looked great," Chip Hale said. (Casey Wilcox/D-backs)
TORONTO -- Andy Yerzy has yet to play his first professional baseball game, but the D-backs' second-round selection in this year's Draft got a taste of the big league lifestyle on Tuesday night.Yerzy, the 52nd overall pick on June 9, joined the club for batting practice ahead of Arizona's series
TORONTO -- Andy Yerzy has yet to play his first professional baseball game, but the D-backs' second-round selection in this year's Draft got a taste of the big league lifestyle on Tuesday night.
Yerzy, the 52nd overall pick on June 9, joined the club for batting practice ahead of Arizona's series opener with the Blue Jays at Rogers Centre.
• 2016 Draft signing and bonus tracker
"That was awesome just being able to go out there and seeing what it's like being in a pro atmosphere, what it's like in the locker room, and just picking the brain of some of those players was just an amazing experience," Yerzy said.
D-backs catcher Chris Herrmann said the biggest thing for a young player like Yerzy to understand is that it's a long season.
"You see a lot of good players will struggle for a long time just because of one bad week," Herrmann said. "These young guys need to learn -- the sooner the better -- that one game isn't going to make your season.
"Just overcome the failure part of the game and just try to be the best player you could possibly be. As long as Yerzy prepares himself to be good every day, he's going to play with confidence and he's going to have a good career."
The 17-year-old grew up in the Toronto suburb of North York and was committed to attend Notre Dame, where he was going to study business, but the D-backs came with an offer he couldn't refuse.
Yerzy, a left-handed-hitting catcher, signed for $1.2 million on Monday.
"With where they took me, and the money that's being offered, and the organization, everything pretty much lined up correctly, so it was a pretty easy decision to sign with the Diamondbacks," Yerzy said.
Yerzy is the third-highest MLB Draft pick from the Toronto area. Joey Votto was taken 44th overall in 2002 by the Cincinnati Reds, and Josh Naylor went 12th overall to the Miami Marlins in 2015.
The 6-foot-3, 215-pound Yerzy has been with the Under-18 Canadian Junior National Team since he was 15. This season, he was a Rawlings-Perfect Game Third Team All-American, and was the co-champion of MLB's Jr. Home Run Derby at the 2015 All-Star Game.
"[Yerzy] hung out with the club, took BP, looked great," D-backs manager Chip Hale said. "Now he's just got to graduate high school and get up to [Rookie league] Missoula and start his career.
"He's a great kid, very, very soft spoken. It looks like he has a little confidence to him, but you know it's going to be a tough road, but he's got the body, he's as good looking of a 17-year-old as I've seen."
Yerzy is expected to join the Missoula Osprey of the Pioneer League on Thursday.
There have been questions about his ability behind the plate, and as Yerzy gets set to make his pro debut, he knows exactly what he needs to work on.
"Probably just staying flexible and agile behind the plate," he said. "I know there have been some people that have said that about me, and it's a little behind my offense right now, but I think I'll be able to work hard and stick behind the plate."
Yerzy, who turns 18 in two weeks, already knows what his first purchase will be after his new contract.
"I'm heading out to Missoula on Thursday to hopefully start the season soon, and the first purchase will probably be a car once I get my first paycheck," he said. "I know an SUV, I'm not sure which one yet though."
Dhiren Mahiban is a contributor to MLB.com and covered the D-backs on Wednesday.