All-time Top 10 prospects draft: 4 teams - who won?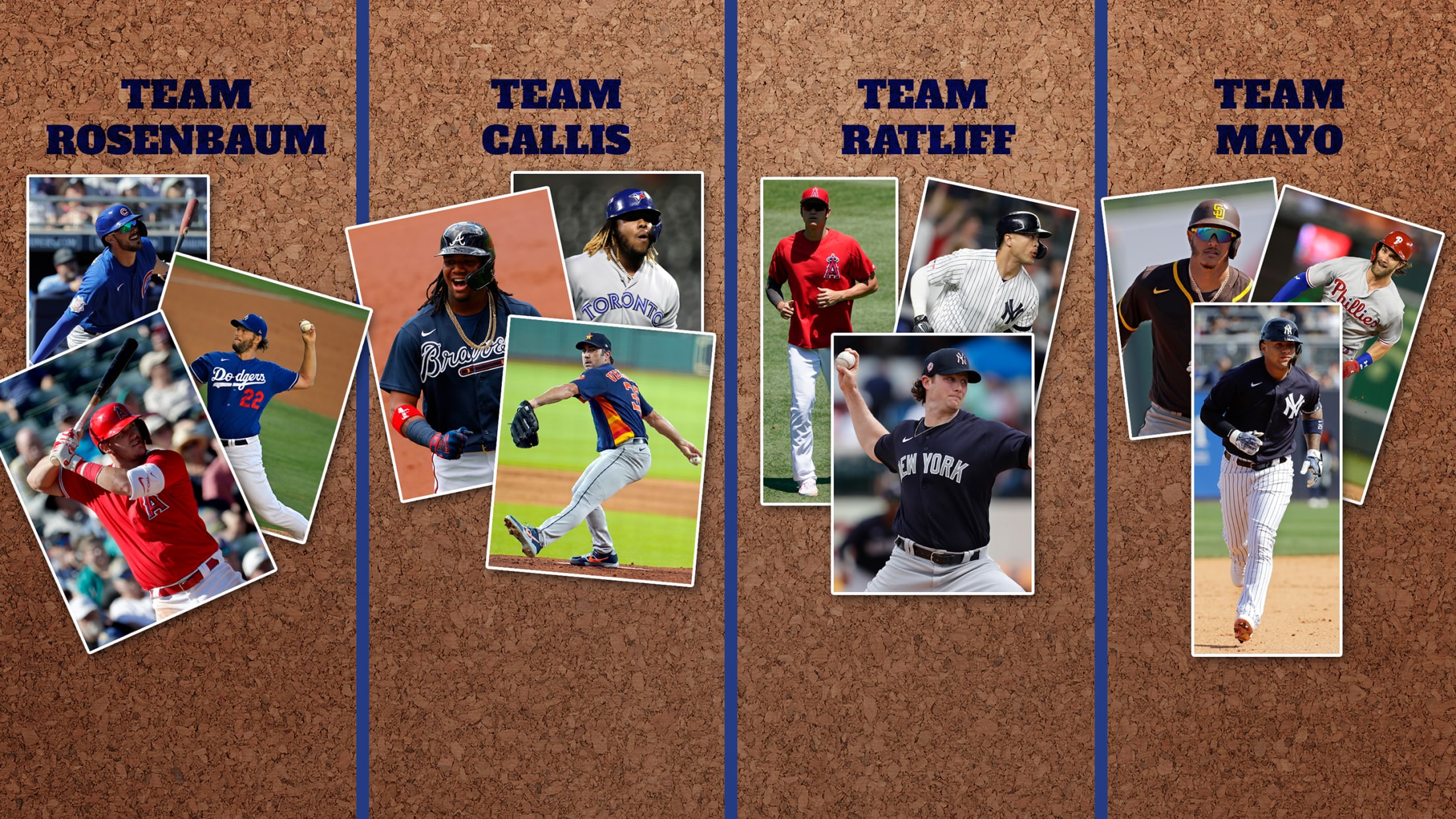 After previously staging drafts for top-10-overall picks and draftees from the last two decades using their bonuses and a $10 million bonus pool, the MLB Pipeline crew is at it again. This time, we're choosing among prospects whom we've rated among the 10 best in baseball dating back to 2004.
After previously staging drafts for top-10-overall picks and draftees from the last two decades using their bonuses and a $10 million bonus pool, the MLB Pipeline crew is at it again. This time, we're choosing among prospects whom we've rated among the 10 best in baseball dating back to 2004.
We each had 10 positions to fill (including three outfielders and both a left-handed and right-handed pitcher) and could use each prospect slot only once. We all agreed that this was the strangest draft we've conducted yet, in large part because of the limited amount of players at certain positions, including just four first basemen for our four teams.
Here's how it played out: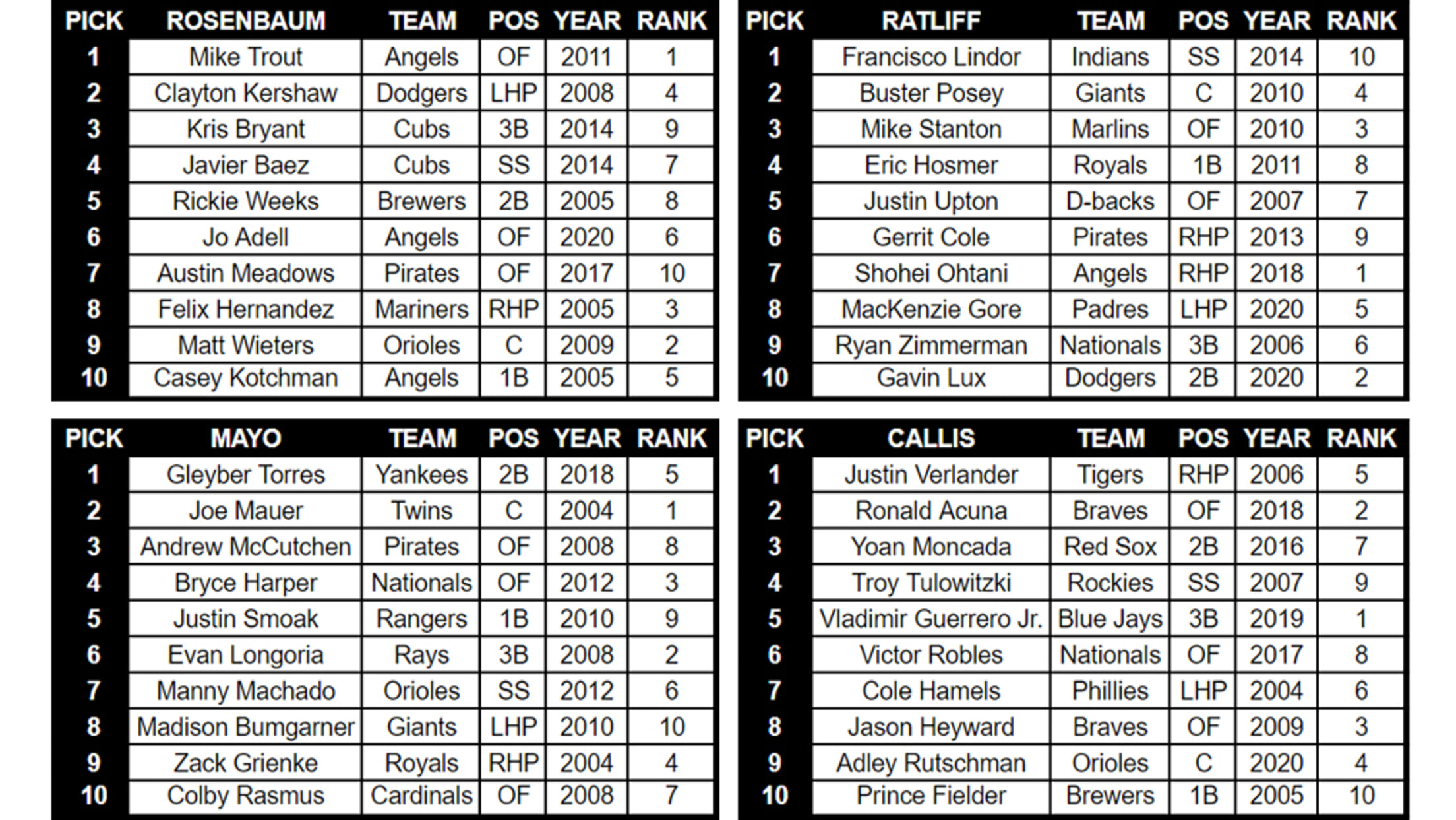 Round 1
1. Rosenbaum: Mike Trout, OF, No. 1 in 2011
2. Callis: Justin Verlander, RHP, No. 5 in 2006
3. Ratliff: Francisco Lindor, SS, No. 10 in 2014
4. Mayo: Gleyber Torres, 2B, No. 5 in 2018
Rosenbaum: After turning down multiple trade requests from Jim -- he semi-fleeced me with a trade in our last group draft -- I went with baseball's best player in Trout (72.5 WAR), who also had some round flexibility as a former No. 1 and No. 3 overall prospect.
Callis: My strategy throughout was to take the best players relative to their position and ranking slot. Trout was +79 WAR (as a No. 1 prospect) and +76 WAR (as a No. 3), and after him Verlander (+45 WAR) was the clear second-best player because the No. 5 slot was relatively weak.
Ratliff: While shortstop was the deepest position (seven players with projected career WAR of 50+), after Trout and Verlander were taken 1-2, the No. 10 slot had by far the biggest disparity between the top player (Lindor, 80 PWAR) and the rest (Madison Bumgarner, 54; Julio Teheran, 37; Noah Syndergaard, 34.5).
Mayo: This was all about position scarcity for me as Torres was the best second baseman available. The No. 5 spot also didn't offer a lot of options, making this make more sense after Jim nabbed Verlander. The fact Torres could qualify at three different positions and two different spots in the top 10 made him an even more attractive pick.
Round 2
5. Mayo: Joe Mauer, C, No. 1 in 2004
6. Ratliff: Buster Posey, C, No. 4 in 2010
7. Callis: Ronald Acuña, OF, No. 2 in 2018
8. Rosenbaum: Clayton Kershaw, LHP, No. 4 in 2008
Mayo: More position scarcity for me here. Not only was Mauer the best catcher (according to WAR), but he's also the second-best, believe it or not, among No. 1 prospects, behind Mike Trout.
Ratliff: I wanted Mauer here because there were better options in the No. 4 slot (Kershaw, Zack Greinke) than there were in the No. 1 slot, but after Jonathan took him, Posey was the clear pick since there was such a massive dropoff at catcher.
Callis: I'm all about how good these guys will be when all is said and done, so I don't care that Acuña has less than 10 WAR right now. He'll have 60 by the time his career is over, and finding three outfielders is hard.
Rosenbaum: Shifting my focus to position scarcity, I decided to grab Kershaw, whose 68 WAR was the highest among a relatively thin crop of left-handed pitchers. I did consider waiting a few rounds to try to get Bumgarner, but given his multi-rank (6 and 10) eligibility, I came to the conclusion that he likely would be gone by the time my fourth-round pick rolled around.
Round 3
9. Rosenbaum: Kris Bryant, 3B, No. 9 in 2014
10. Callis: Yoan Moncada, 2B, No. 7 in 2016
11. Ratliff: Giancarlo Stanton, OF, No. 3 in 2010
12. Mayo: Andrew McCutchen, OF, No. 8 in 2008
Rosenbaum: With the best outfielder (Trout) and southpaw (Kershaw) already on my team, I kicked off the third round by taking another multi-rank player in Bryant (25.1 WAR), hoping that the roster flexibility would help me land better players in later rounds.
Callis: To me, much of this draft was about playing defense and not getting boxed into taking less desirable players. My second-base options already are narrowed because I couldn't hope for Torres after taking Verlander (both No. 5s) and I can't grab Gavin Lux after taking Acuña (both No. 2s). So I'll opt for Moncada, the best No. 7 in the draft and the best second baseman I can take.
Ratliff: Likely would have taken Moncada here had Jim not, but was happy to get Stanton, whom I had as the third-best outfield option behind Trout and Acuña.
Mayo: While there's always talk about great outfield prospects, the selection wasn't fantastic, so I decided I wanted to jump in with my back-to-back picks. That seemed even more prudent after Jason took Stanton right in front of me. McCutchen has the second-highest WAR total among outfielders eligible for this draft and also was the best option among No. 8 prospects.
Round 4
13. Mayo: Bryce Harper, OF, No. 3 in 2012
14. Ratliff: Eric Hosmer, 1B, No. 8 in 2011
15. Callis: Troy Tulowitzki, SS, No. 9 in 2007
16. Rosenbaum: Javier Baez, SS, No. 7 in 2014
Mayo: Harper has the fifth-most WAR among outfielders, but he's got a lot more baseball to play. I tried to keep more of an eye on future performance in this draft and this gave me both current WAR (31.5) and potential projected WAR (around 60).
Ratliff: There were only four first basemen available in this draft, and taking Lindor as my No. 10 slot player in the first round meant Prince Fielder (also a No. 10) was off the board for me. Fielder finished his career with a 23.6 WAR, and I had Hosmer projected to finish at 28.6, and I didn't want to get stuck with either of the other two (Casey Kotchman, 7.5 WAR; Justin Smoak, 7.7), so I selected Hos and got what I thought was the best first baseman.
Callis: This was both a defensive and offensive move. The No. 9 options were bad after Tulowitzki (I couldn't take Gerrit Cole because I had Verlander), but it also guaranteed me the best first baseman in Fielder because the others available come from slots I've filled (Casey Kotchman at No. 5, Justin Smoak at No. 9). Thanks, Jason, for helping set that up by taking Hosmer.
Rosenbaum: Once I was over being annoyed with Jason for helping set up Jim to get the best first baseman in the Draft -- which meant I was now locked into taking either Kotchman or Smoak in a later round -- I realized I had an opportunity to land one of the better shortstops on the board. That left me with a decision between taking either Machado (No. 6, 36.9 WAR) or Baez (No. 7, 16.6), and I ultimately chose the latter because: a) Baez is just so much damn fun; and b) there were other No. 6 players I had my eye on at the time.
Round 5
17. Rosenbaum: Rickie Weeks, 2B, No. 8 in 2005
18. Callis: Vladimir Guerrero Jr., 3B, No. 1 in 2019
19. Ratliff: Justin Upton, OF, No. 7 in 2007
20. Mayo: Justin Smoak, 1B, No. 9 in 2010
Rosenbaum: With very few quality second basemen still available after Jonathan and Jim's selections of Torres and Moncada, I went with the next-best remaining option in Weeks, who had the highest WAR (11.7) of anyone at the position and came with round flexibility as a former No. 7 and No. 8 overall prospect.
Callis: The best value was clearly Cole Hamels, but if I took him I risked getting stuck at third base. There were other palatable lefty options (Madison Bumgarner at No. 10 or 6, David Price at No. 1), so I took Vlad Jr. to shore up the hot corner.
Ratliff: Considered taking Hamels here, but that would have locked me in to far worse options at third (Mike Moustakas instead of Ryan Zimmerman), outfield (Cameron Maybin instead of Upton) and likely right-handed pitcher (probably Trevor Bauer instead of Gerrit Cole). That trio would have netted me -60 PWAR comparatively. I had Hamels projected at 69, which means I need 10 WAR out of MacKenzie Gore to make this decision a good one. I'll take that bet.
Mayo: Jim mentioned earlier not wanting to get boxed into certain picks in certain slots. When Jason took Hosmer in Round 4, that limited what my options would be at first and if I didn't take Smoak here, it could have seriously messed up how I had laid out the rest of my draft. I couldn't take Fielder, as Jim discussed, and at least Smoak is still an active player (while the fourth option, Casey Kotchman, is not).
Round 6
21. Mayo: Evan Longoria, 3B, No. 2 in 2008
22. Ratliff: Gerrit Cole, RHP, No. 9 in 2013
23. Callis: Victor Robles, OF, No. 8 in 2017
24. Rosenbaum: Jo Adell, OF, No. 6 in 2020
Mayo: Had Mike not taken Bryant in Round 3, I might have filled my third-base slot then. But it ended up working out for me with Longoria having by far the most WAR of any player at the hot corner in this draft (outperforming Ryan Zimmerman by nearly 17) and he's also the best No. 2 prospect (topping Alex Gordon by almost 18 points).
Ratliff: No one could take any of my final three picks, and I knew I'd get one of three comparable outfielders next with my No. 1 slot (Shohei Ohtani, Jason Heyward or Andrew Benintendi), so I snagged Cole. An alternate plan had me taking Stephen Strasburg here then David Price, Joey Gallo, Cameron Maybin and Nick Senzel, but if anyone had taken Maybin, it would have completely blown up my team.
Callis: Hamels actually made it back to me, but Mike already has a lefty, so I can wait another round. The pickings in the outfield and at No. 8 were starting to get slim, so I continued my youth movement with Robles.
Rosenbaum: I had hoped to get either Robles or Adell with this pick before Jim drafted Robles one spot ahead of me, thus forcing me to take Adell. The fact that Adell hasn't reached the Majors was a non-factor for me since he has one of the highest offensive ceilings of any prospect on our Top 100 list.
Round 7
25. Rosenbaum: Austin Meadows, OF, No. 10 in 2017
26. Callis: Cole Hamels, LHP, No. 6 in 2004
27. Ratliff: Shohei Ohtani, RHP/OF, No. 1 in 2018
28. Mayo: Manny Machado, SS, No. 6 in 2012
Rosenbaum: This was the point when I realized I was locked into taking a catcher, first baseman and right-handed pitcher with my final three picks, and after running through some hypothetical scenarios, I knew which guys I would likely end up with. And while I didn't have much flexibility with my seventh-round pick as a result, I still feel as though I got good value in Meadows (3.6 WAR), a breakout player in 2019 who should only get better.
Callis: This draft was strange. Hamels wound up being my second-best player, slightly ahead of Acuña, and I had him rated seventh overall, and I got him in the seventh round.
Ratliff: I had my choice between Ohtani, Heyward and Benintendi here and opted for Ohtani -- for the fun factor and because it gives me a second ace-level right-hander that no one else has.
Mayo: Things were more or less locked in at this point, but I was largely able to get the guys I wanted in the last few rounds. Even though I was the last player to pick a shortstop, I got the one with the second-highest WAR, one who will surpass the leader (Tulowitzki). Lindor might catch him, but Manny has a lot more production in him, too.
Round 8
29. Mayo: Madison Bumgarner, LHP, No. 10 in 2010
30. Ratliff: MacKenzie Gore, LHP, No. 5 in 2020
31. Callis: Jason Heyward, OF, No. 3 in 2009
32. Rosenbaum: Felix Hernandez, RHP, No. 3 in 2005
Mayo: I had been eyeing Hamels as my lefty, but then I wouldn't have been able to take Machado. And if Bumgarner is the consolation prize, then something has gone very well for me in this draft as he's currently the top WAR-accruer among No. 10 prospects (Lindor will pass him) and fourth among all lefties eligible.
Ratliff: The No. 5 slot was by far the worst, and after just four picks in this draft, five of the top seven options were eliminated for me. There were so few palatable options that I had more or less made up my mind early on that I'd be going with Gore, one of three picks -- along with Adell and Rutschman -- who has yet to play in the big leagues.
Callis: I had a bunch of similarly rated outfielders available with this pick because I could have shifted Vlad Jr. to the No. 3 slot if needed. Ohtani would have been a fun pick but Jason got him, and I considered Eloy Jimenez and Luis Robert before opting for the production that Heyward already has banked.
Rosenbaum: Jim (Verlander) and Jason (Cole) had already taken right-handed pitchers at this point, and Jonathan had already filled his No. 3 prospect slot, so I knew going into this pick that I'd be able to get King Felix, the third-best righty in the draft based on WAR (50.1).
Round 9
33. Rosenbaum: Matt Wieters, C, No. 2 in 2009
34. Callis: Adley Rutschman, C, No. 4 in 2020
35. Ratliff: Ryan Zimmerman, 3B, No. 6 in 2006
36. Mayo: Zack Greinke, RHP, No. 4 in 2004
Rosenbaum: Part of my reasoning for taking Adell in the sixth round -- beyond the fact that he's a top-ranked prospect with power potential -- was that it guaranteed I'd be able to get Wieters, the highest-WAR (18.4) backstop in the draft, in a later round.
Callis: After two rounds, I had Rutschman all to myself because Jason and Jonathan had catchers and Mike had Kershaw for his No. 4 slot. That's fine with me, because I bet Rutschman comes close to matching or exceeds Posey's career production.
Ratliff: I valued Bryant, Torres and Zimmerman very similarly based on projected career WAR, so I was happy to have Zimmerman fall in my lap here.
Mayo: I figured out by the end of Round 2 that Greinke was mine for the taking because everyone had either taken a right-hander (Verlander to Jim) or their No. 4 prospect (Posey to Jason; Kershaw to Mike), so I could wait to take him. He actually has more WAR than Verlander and trails only Trout among all prospects available in this draft.
Round 10
37. Mayo: Colby Rasmus, OF, No. 7 in 2008
38. Ratliff: Gavin Lux, 2B, No. 2 in 2020
39. Callis: Prince Fielder, 1B, No. 10 in 2005
40. Rosenbaum: Casey Kotchman, 1B, No. 5 in 2005
Mayo: At this point, I was stuck into taking the best OF/No. 7 prospect, with Rasmus (19.8 WAR) and Travis Snider (4.3 WAR) the only two who qualified. I know Jim thinks he has me beat in future production overall, and only time will tell, but I feel confident that my active players will more than easily land me the title.
Ratliff: Only seven second basemen have been among MLB's top 10 prospects since we started doing rankings in 2004: Lux, Moncada, Weeks, Torres, Senzel, Brendan Rodgers and Dustin Ackley. Weeks and Ackley posted career WARs of 11.7 and 8.1 respectively, and the rest are still largely to be determined. Lux could very well end up being the best of the bunch.
Callis: Not only did I force the best first baseman to wind up on my team, I also was able to take him with my final pick. I'm spotting Jonathan a little more than 100 accumulated WAR and while he had a great draft too, I think my guys will accomplish more than his when they're all done.
Rosenbaum: I became locked into taking Kotchman (7.5 WAR) several rounds earlier when it became clear that Jim would, by default, have to take Fielder. Oh well. I'm pleased with how my (weird) draft played out.