Floodgates open after Pomeranz struggles
D-backs set visitors record with 18 runs at Oracle Park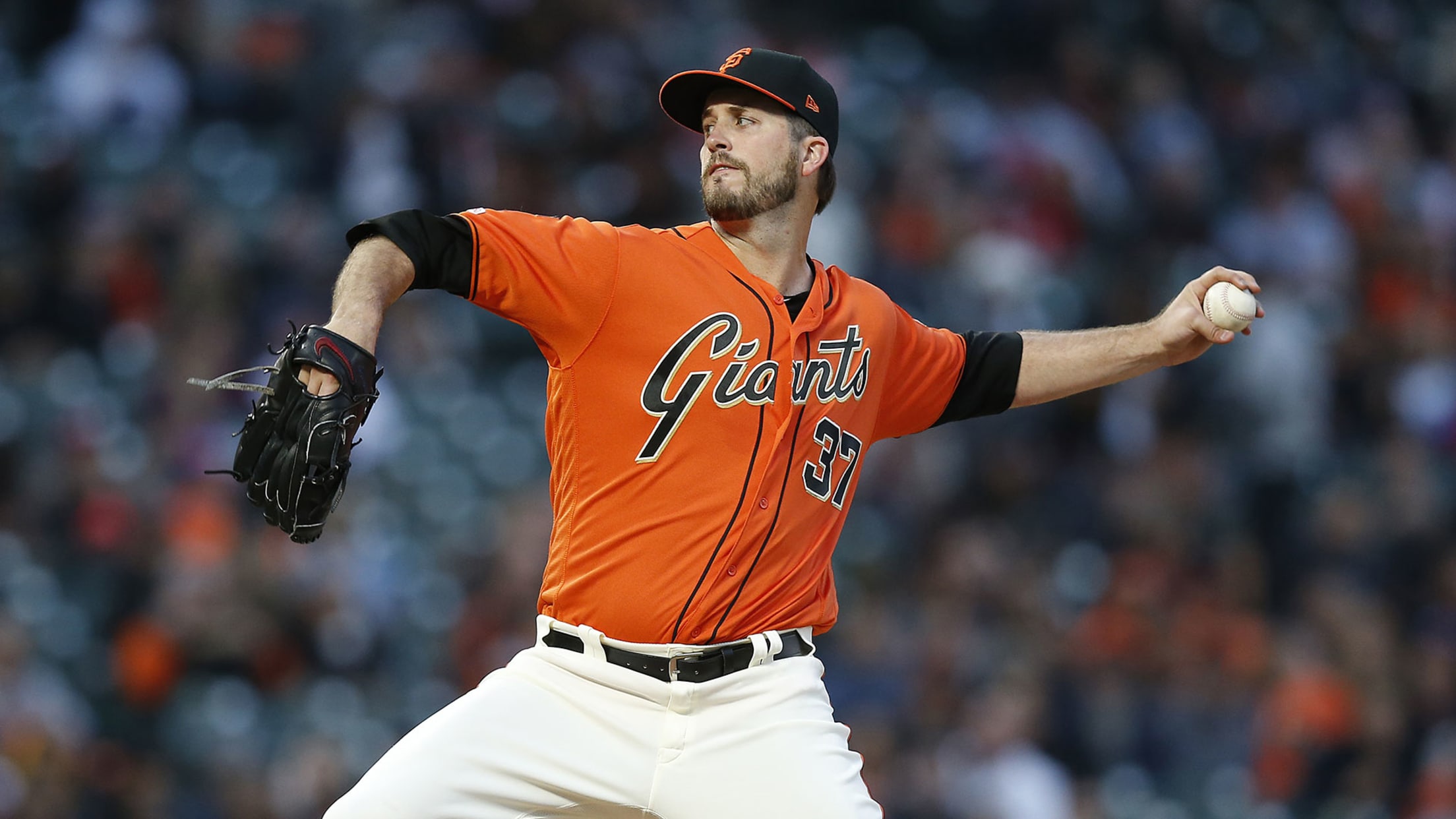 SAN FRANCISCO -- On his fifth pitch of the game, Drew Pomeranz saw Ildemaro Vargas crush a high fastball over the left-field fence for a solo home run. The night didn't get much better for the Giants left-hander, who couldn't get past the third inning in Friday's 18-2 rout by
SAN FRANCISCO -- On his fifth pitch of the game, Drew Pomeranz saw Ildemaro Vargas crush a high fastball over the left-field fence for a solo home run. The night didn't get much better for the Giants left-hander, who couldn't get past the third inning in Friday's 18-2 rout by the D-backs at Oracle Park.
The D-backs' 18 runs were the most by a visitor in the 20-season history of Oracle Park, surpassing the 17 runs the Rockies scored on May 5, 2016. By the seventh inning, restless fans were calling for infielder Pablo Sandoval to take the mound, chanting, "Let Pablo pitch!"
"It started off rough and gradually got worse," manager Bruce Bochy said. "They just swung the bats. When it didn't leave the park, they found holes. It was their night."
Pomeranz surrendered five runs on eight hits over 2 2/3 innings and was chased from the game after D-backs starter Robbie Ray drove in two runs with a bases-loaded single in the third. He threw 76 pitches and departed with the Giants trailing, 5-2.
It marked a continuation of efficiency issues that have plagued Pomeranz, who has managed to pitch more than five innings only once in his nine starts this season and now has a 6.45 ERA over 37 2/3 innings this year.
"I feel like my stuff has been pretty good," said Pomeranz, who recorded six of his eight outs via strikeout. "I just have haven't been getting the job done. It's pretty frustrating."
After their bullpen pitched seven innings in Thursday's extra-inning loss to the Braves, the Giants were once again forced to lean heavily on their relievers against the D-backs. Trevor Gott, Nick Vincent and Derek Holland combined to cover the remaining 6 1/3 innings, with each giving up runs.
"That's on me first, setting the game off on a bad tone and being out in the third inning," Pomeranz said. "That can't happen."
The Giants signed Pomeranz to a one-year contract with a $1.5 million base salary over the offseason, a move that was viewed as a potential bargain. While Pomeranz posted a 6.08 ERA in an injury-shortened season for the Red Sox last year, the Giants were hoping he'd be able to recapture the form that earned him an All-Star selection with the Padres in 2016.
That hasn't been the case thus far. Pomeranz has yielded home runs at a rate far eclipsing his career norms, with 22.9 percent of his fly balls going out for homers, up from 13.5 percent in 2018. Entering Friday, that was the ninth-highest ratio in the Majors among pitchers with at least 35 inning pitched. Eight of his nine home runs allowed have come on fastballs.
The Giants are already without two members of their Opening Day rotation after demoting Dereck Rodriguez to Triple-A Sacramento and moving Holland to the bullpen. Pomeranz's spot suddenly appears tenuous as well.
Shaun Anderson and Andrew Suarez seized starting spots after being called up from Sacramento, and Pomeranz's struggles could soon compel the Giants to give Tyler Beede or Rodriguez the same opportunity. Beede has allowed 11 runs in 6 2/3 innings with the Giants this year, but he made a case for another look by striking out eight over seven innings of one-run ball for Sacramento on Friday night.
"He had that great [six-inning] outing in Toronto, but he works pretty hard out there," Bochy said of Pomeranz. "He runs some deep counts. That's kind of been his history. He comes out full throttle. The pitches I'm sure caught up with him tonight.
"We need some length from some of these starters. That's what we've got to get better at, because it's going to catch up to this 'pen, overusing them and getting them up. That's an area we need to get better and he needs to get a little better at."
Maria Guardado covers the Giants for MLB.com. She previously covered the Angels from 2017-18. Follow her on Twitter.