Struggling to find mechanics, Pomeranz to 'pen
Johnson to remain in rotation until Rodriguez returns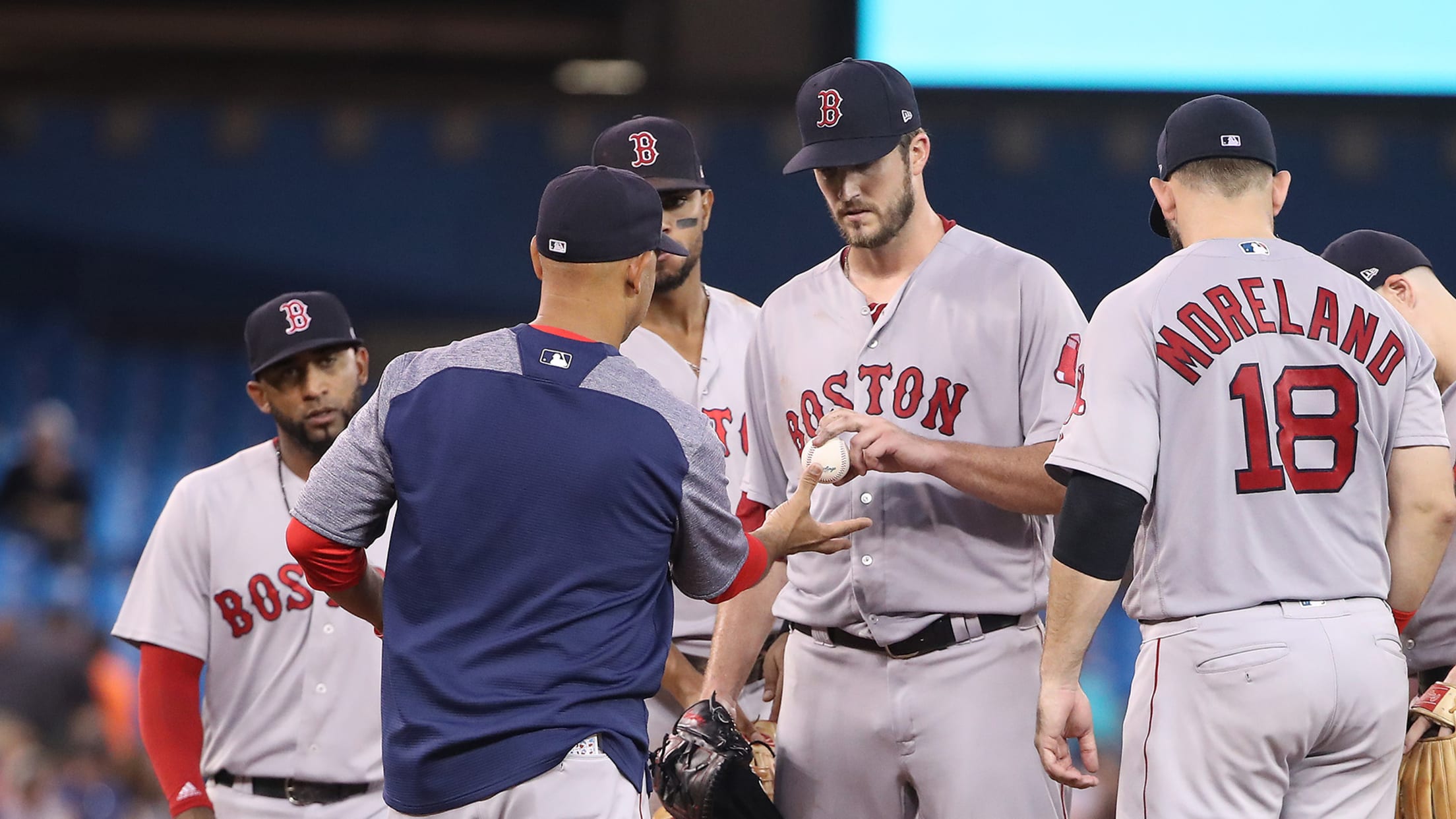 TORONTO, ON - AUGUST 7: Drew Pomeranz #31 of the Boston Red Sox exits the game as he is relieved by manager Alex Cora #20 in the fifth inning during MLB game action against the Toronto Blue Jays at Rogers Centre on August 7, 2018 in Toronto, Canada. (Photo by Tom Szczerbowski/Getty Images) (Tom Szczerbowski/Getty Images)
TORONTO -- Red Sox lefty Thomas Pomeranz, who has been in a fight to find his mechanics all season, has been moved to the bullpen, manager Alex Cora announced on Thursday.Lefty Christopher Johnson, who won both of his spot starts while filling in for injured ace Chris Sale, will stay
TORONTO -- Red Sox lefty Thomas Pomeranz, who has been in a fight to find his mechanics all season, has been moved to the bullpen, manager Alex Cora announced on Thursday.
Lefty Christopher Johnson, who won both of his spot starts while filling in for injured ace Chris Sale, will stay in the rotation as the No. 5 starter at least until Eduardo Rodriguez (right ankle sprain) returns.
The Red Sox are playing a day-night doubleheader on Saturday in Baltimore, and there's a chance the second game could be a "bullpen" game involving Pomeranz.
How did Pomeranz take the news?
"He took it," Cora said. "He understands. Like I told him, he's still a big part of what we're trying to accomplish either in the bullpen or back in the rotation. We'll see. We need this guy to be good, and he knows it. He's working hard to do that. He threw a bullpen today. They kept talking about mechanics. They're trying to get it where he's comfortable and he's productive. Drew Pomeranz is an important piece of this team."
After going 17-6 with a 3.32 ERA last season, Pomeranz is 1-5 with a 6.31 ERA in 11 starts in 2018. He started the season on the disabled list with a left forearm flexor strain and went back on the DL on June 5 with left biceps tendinitis.
"Sometimes we get caught up in the mechanics part of it; sometimes it's stuff," Cora said. "Like I told him today, there's been a few starts where the breaking ball's good and the fastball is not good. The last one the fastball was good, the breaking ball wasn't good. Hopefully we're close."
Pomeranz has spent many hours with pitching coach Dana LeVangie, assistant pitching coach Brian Bannister and bullpen coach Craig Bjornson trying to cure whatever is holding him back.
"He's working," Cora said. "Bannister, Dana and Craig, especially Craig with the lefty, he was very important with Dallas [Keuchel's] mechanics in Houston. He sees a few things with Drew about that. At the end of the day, he competes with what he has. We believe he'll find it. He's going to be good."
Perhaps Pomeranz will have better success in shorter stints as a reliever.
"I don't know, there's a few guys that have done it," Cora said. "Sonny Gray the other day, he was great out of the bullpen, he was more aggressive, actually. In front of his fastball, it looked like he had a little more. If that's the case, that'll be great."
As for Johnson, he will start one of the two games in Philadelphia next week. In eight starts this season, Johnson is 3-1 with a 3.21 ERA.
Sale airs it out in bullpen
Sale passed the final test before his return on Sunday against the Orioles, throwing an aggressive bullpen on Thursday afternoon.
"Today, I got ready like a start and then basically threw my pregame throwing in the bullpen," Sale said. "Sat down, warmed up, threw another set. We were getting after it pretty good. You have to test it. I'm not going to go out there and throw 75 or 80 percent in the bullpen when I'm out there throwing 110 percent in the game. You've got to get after it a little bit and see where you're at, and it felt good."