Pomeranz pleased with first spring start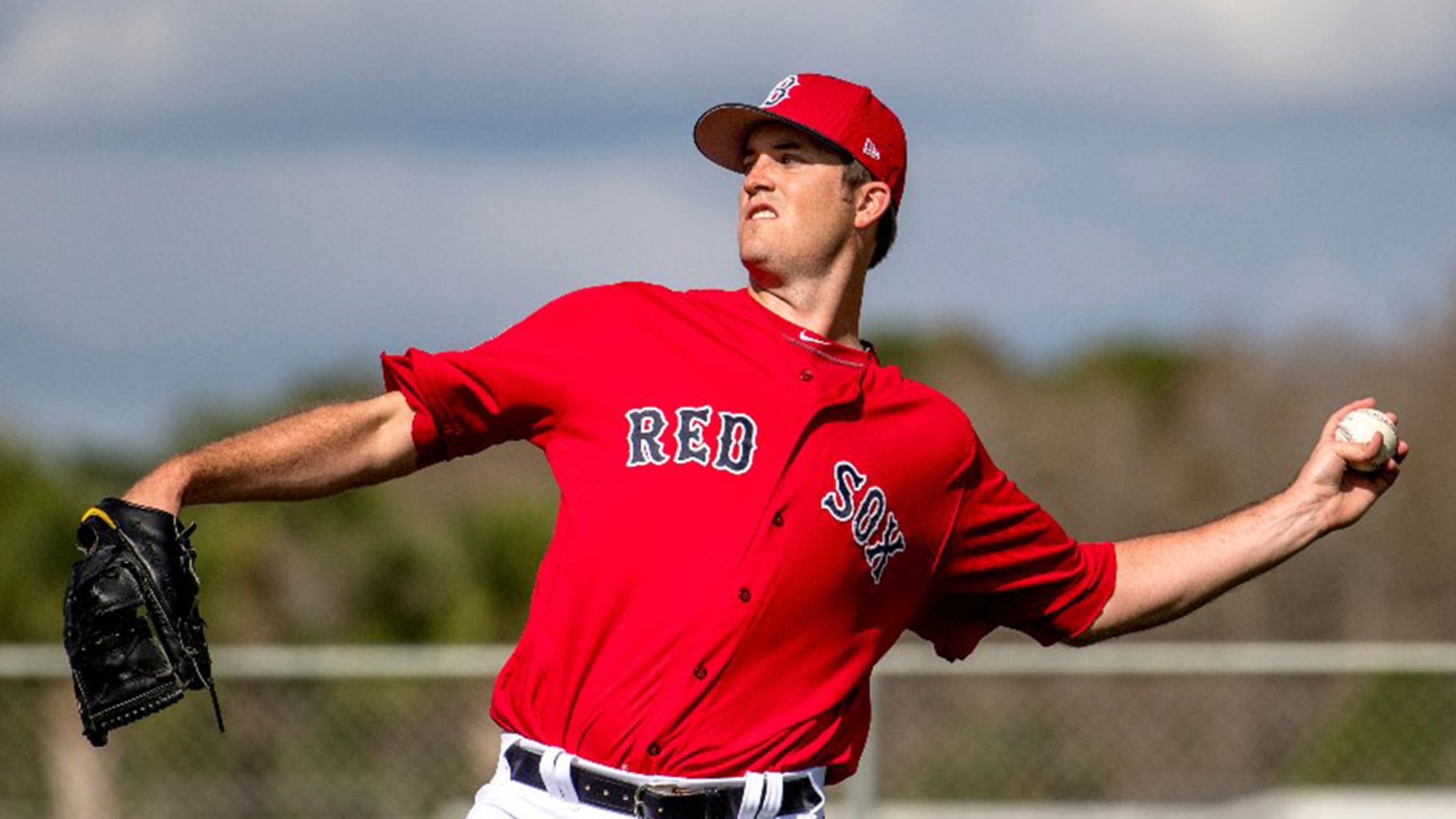 Drew Pomeranz's spring debut was delayed by an offseason stem cell treatment his pitching elbow. (Red Sox)
FORT MYERS, Fla. -- Left-hander Thomas Pomeranz finally got into a Spring Training game, the last of the Red Sox starting pitchers to do so, and just a day after knuckleballer Steven Wright made his Grapefruit League debut.But it wasn't exactly a warm welcome he was given by the Blue
FORT MYERS, Fla. -- Left-hander Thomas Pomeranz finally got into a Spring Training game, the last of the Red Sox starting pitchers to do so, and just a day after knuckleballer Steven Wright made his Grapefruit League debut.
But it wasn't exactly a warm welcome he was given by the Blue Jays.
Pomeranz, who had been delayed after a stem cell treatment into his pitching elbow in the offseason, was hit hard by Toronto. He went two innings, giving up two runs on two hits in the Red Sox's 5-4 win over Toronto. He threw 35 pitches, 22 for strikes.
Apart from the results, Pomeranz was satisfied with his initial outing this spring.
• Spring:Tickets | Ballpark | 40-man roster | NRIs
"[I felt] pretty good for the first outing," he said. "Just looking to get out there, feel good, try to throw strikes. Results aside, I'm pretty happy with how I felt out there.
"It's the first time being in a game. It's kind of like that point in the year, you just want to get out there, get back to being in that rhythm, kind of like you get during the season. Nothing. Just felt like the first one being out there, just like always."
Manager John Farrell was also satisfied with Pomeranz's first outing.
"Going into today, my thoughts were if he comes out of the two innings, almost a building block in today," Farrell said. "Set aside the bottom-line results, he came out of it and he felt good physically, so that's a positive. Given what he's come through in the offseason, and the slower, more gradual build-up to today, so first step, physically fine, that's a positive."
Pomeranz had been vying with Wright and left-hander Eduardo Rodriguez for the last two spots in the rotation. But, with the news Tuesday morning that left-hander David Price is likely to start the season on the disabled list, it is imperative for Pomeranz and others in the group of depth starters for the Red Sox to step up.
"I don't know what his situation is, but he's a big part of this team," Pomeranz said. "He's a guy that I look up to as a left-handed pitcher. Having Price around is such a great thing for us, just to be able to pick his mind. Just kind of talk to him about outings and all that."
In the first inning, Melvin Upton Jr.'s first home run of the spring, a solo shot which cleared the replica Green Monster in left field, gave the Blue Jays the lead.
"It was just a fastball that stayed over the plate," Pomeranz said. "Like I said, I'm out there trying to throw strikes. Obviously I'm trying to beat him as well, but in my mind, it's getting ready for the year.
But Pomeranz also gave up some hard-hit balls for outs, including leadoff hitter Kevin Pillar's laser-beam lineout to left and Steve Pearce's fly ball to deep left, before Justin Smoak grounded out to end the inning.
In the second, Anthony Alford's one-out triple to right and Darwin Barney's sacrifice fly gave the Blue Jays a 2-0 lead before Pomeranz got Ryan Goins to ground out, ending the inning.
"You've just got to kind of go out there knowing where you're at," he said. "I'm happy with the way the ball is coming out of my hand.
"I missed a couple times. That's going to happen early. But there's a fine line between getting yourself ready and competing still. That's what Spring Training is for. We're here trying to get it all to come together right as the season starts."
Pomeranz, who was acquired in a July trade with the Padres, went 3-5 with a 4.59 ERA in 14 appearances (13 starts) for the Red Sox last season. In September, Padres GM A.J. Preller was suspended for 30 days without pay for not disclosing Pomeranz's complete medical information to the Red Sox.
Despite the delay, Pomeranz is confident he will be ready for the start of the season.
"This is my first one," he said. "I think I've got three, four, however many more. Just go out there, get that one out of the way, and we'll get the rest from here."
This and that: Reliever Tyler Thornburg, who has been sidelined with a dead arm, is expected to throw from a mound on Wednesday. "Nothing to say he won't be ready for Opening Day," Farrell said. "But, we've got to wait til he gets on the mound and repetitively gets on the mound." … Dustin Pedroia went 1-for-1 with a single, walk and sacrifice fly. He is now hitting .400 in Spring Training. ... Joe Kelly, Matt Barnes, Robby Scott and Noe Ramirez combined to pitch four scoreless, hitless innings with two walks and five strikeouts … Right-hander Shawn Haviland had an impressive Grapefruit League debut. He entered during the ninth with a run in and runners on the corners. Haviland faced four batters, striking out three with one walk. "He's got a good curveball he threw," Farrell said. "Kind of an exciting end to the game. Some of these games kind of get a little deflated. But that was a little excitement there. He made some good pitches."
Maureen Mullen is a contributor to MLB.com.