Pomeranz set for return to Red Sox rotation
Left-hander will start tonight against the A's in Oakland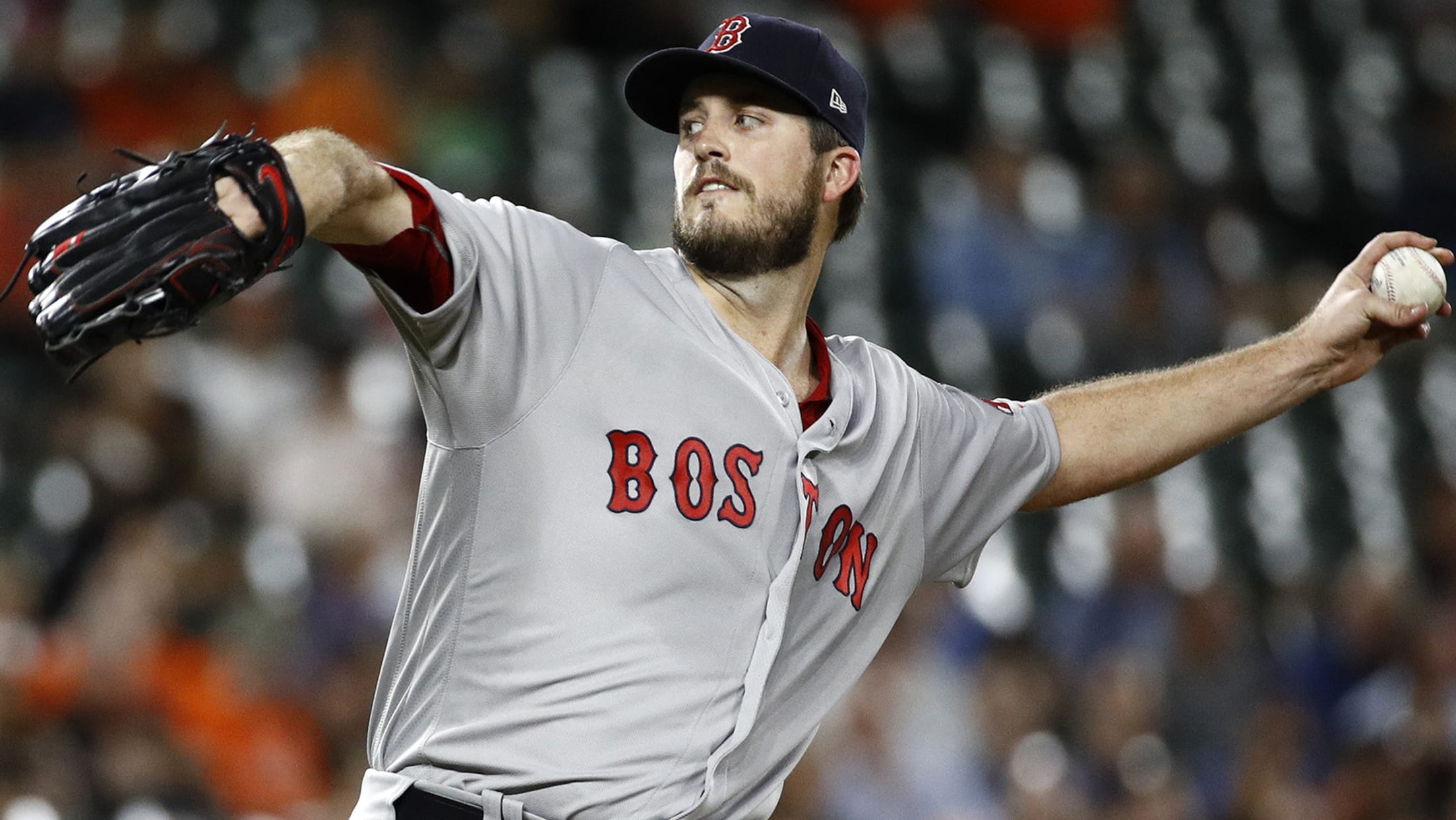 Drew Pomeranz will make his first start of the 2018 season on Friday vs. the A's. (AP) (Patrick Semansky/AP)
ANAHEIM -- The Red Sox will add to their strong rotation tonight, when Thomas Pomeranz returns to a staff that already has some of the best left-handers in the Majors. Pomeranz will start the opener of a three-game series against the A's in Oakland.After recovering from a forearm strain that
ANAHEIM -- The Red Sox will add to their strong rotation tonight, when Thomas Pomeranz returns to a staff that already has some of the best left-handers in the Majors. Pomeranz will start the opener of a three-game series against the A's in Oakland.
After recovering from a forearm strain that he sustained in his first Spring Training start, Pomeranz is ready to take back his spot in a rotation that has been strong in his absence. Red Sox starters have a 12-1 record and a 1.98 ERA over 100 innings.
And now, here comes Pomeranz, a 17-game winner last season, who allowed two or fewer runs in a Major League-leading 23 starts.
"We always talk about [Chris] Sale and [David] Price as the top lefties in the league, and last year, [Pomeranz] was one of those guys," manager Alex Cora said. "Stuff-wise, we know what he can do. He has a fastball at 94-95 [mph], and that breaking ball. So he's one of the best in the league, too, and we look forward to having him."
The Red Sox were ready to bring back Pomeranz, who will be a free agent at the end of the season, last week. But the lefty requested an additional Minor League rehab start to return to the level he expects of himself.
"The velocity wasn't there in the first few [starts], and he wasn't repeating his delivery," Cora said. "He was the one who brought it up, too. He said 'I need more.'"
Pomeranz made one start with Triple-A Pawtucket and one with Double-A Portland, going 1-0 with a 3.72 ERA over 9 2/3 innings.
While Pomeranz shouldn't have to push himself too far with a Red Sox bullpen that has been effective, Cora said the left-hander could reach 100 pitches.
However, the odds Pomeranz reaches that mark remain slim. Sale hasn't thrown more than 93 pitches in any of his four starts, and Price has reached 91 pitches, but he hasn't thrown more than 78 in any other start.
Pedroia to join team at home
Second baseman Dustin Pedroia will leave extended spring training and rejoin the Red Sox in Boston next week, as he did last homestand, but his return to action remains undecided. Pedroia has been out after undergoing left knee surgery in October.
Cora may have given a hint as to when the veteran second baseman could potentially return.
"He's doing everything, but it's like the beginning of Spring Training for him," Cora said.
That seemed to suggest that his return could be six weeks away. So how often does Cora hear from Pedroia?
"Besides texting me every hour, he's doing a lot," Cora said. "I know he's doing his work and preparing, but for those kids down there, it has to be great. You have a Dustin Pedroia teaching you the game."
Walden optioned to Triple-A
Right-hander Marcus Walden was optioned to Pawtucket following Thursday's 8-2 win over the Angels to make room for Pomeranz.
Walden, 29, made his first career Major League Opening Day roster after attending Spring Training with the Red Sox as a non-roster invitee. He has appeared in seven big league games over two stints with Boston, posting a 4.09 ERA in 11 innings and a .220 opponent batting average with 10 strikeouts and three walks. Walden earned Pawtucket's Most Valuable Pitcher Award in 2017, his first season in the Red Sox organization. In 218 career Minor League games (117 of them starts), he is 46-45 with a 3.84 ERA.
Doug Padilla is a contributor to MLB.com.