Reliever Smith requires Tommy John surgery
Young right-hander was battling for Mets bullpen job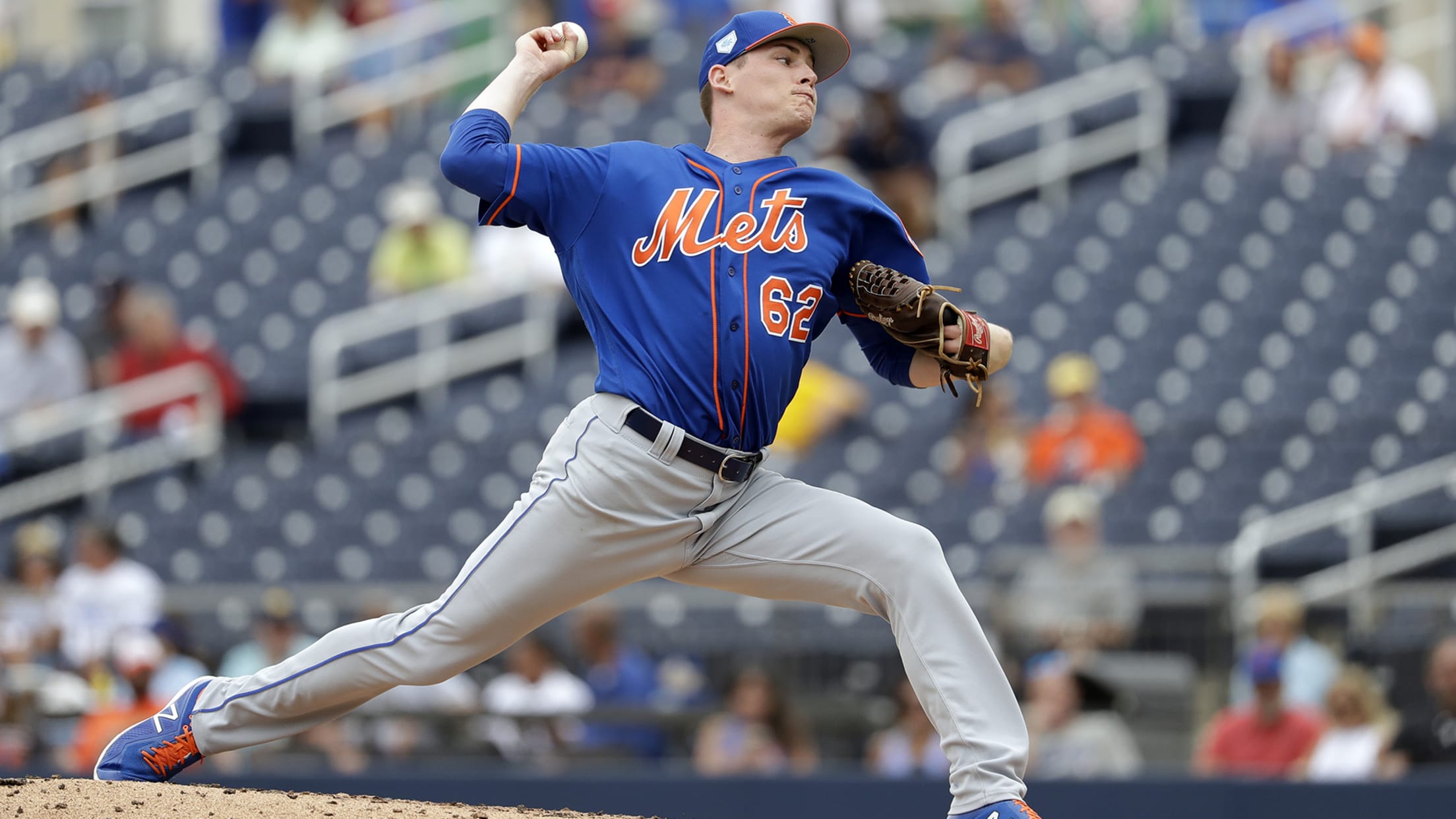 WEST PALM BEACH, Fla. -- One of the Mets' brightest young relievers won't be pitching anytime soon. Drew Smith has a torn ulnar collateral ligament in his right elbow and will undergo Tommy John surgery on Tuesday, which will cause him to miss the entire 2019 season, the Mets announced
WEST PALM BEACH, Fla. -- One of the Mets' brightest young relievers won't be pitching anytime soon.
Drew Smith has a torn ulnar collateral ligament in his right elbow and will undergo Tommy John surgery on Tuesday, which will cause him to miss the entire 2019 season, the Mets announced on Monday. Smith, 25, had been one of more than a half-dozen relievers fighting for one or two open jobs in New York's bullpen.
"It's a tough loss for us," Mets manager Mickey Callaway said. "He did a great job for us at the end of the season last year, and looked to be in a really good spot this year. That's a tough one for us. The good thing is we have other options that will continue to pitch well for us in Spring Training, and show us what they can do."
Coming over to the Mets from the Rays in a 2017 trade for Lucas Duda, Smith made his Major League debut the following year, posting a 3.54 ERA in 27 appearances. More than anyone else in New York's bullpen, Smith earned consistent accolades from Callaway as a future setup man or even a closer.
Smith entered this spring with a chance to make the Opening Day bullpen, firing four innings without allowing an earned run in Grapefruit League play to help his cause. But a bout of elbow discomfort led to an MRI in New York, which revealed the ligament tear. Smith could conceivably make it back in time for Opening Day 2020, but not earlier.
"It's a long, tedious process to get through something like that," Callaway said. "It's not fun. It's not glamorous. But it's something that takes a lot of focus, and you have to make sure you do it the right way. I'm sure knowing Drew, he's going to handle it the right way."
Smith's absence increases the chances for Hector Santiago, Tyler Bashlor, Daniel Zamora and others to claim a spot in the Opening Day bullpen. The Mets are committed to Edwin Diaz, Jeurys Familia, Seth Lugo, Justin Wilson and Robert Gsellman for five of their projected seven spots. Luis Avilan is a strong favorite to earn a job as well, leaving one open slot for a cadre of hopefuls.
"The other guys, it's time to get up there and show us what you can do," Callaway said. "There are spots to be had. Someone needs to step up and take it."
From the trainer's room
• Third baseman Todd Frazier fielded ground balls, ran and threw on Monday at the Mets' Port St. Lucie complex. Frazier continues to make progress from a strained left oblique, but with only 17 days until Opening Day, he may not have enough time remaining to avoid the injured list.
• Outfielder Yoenis Céspedes began playing catch on Monday as he continues to rehab from multiple heel surgeries, and he was "throwing 100 [mph]," according to Callaway. A greater test for Cespedes won't occur until he attempts to start running; the Mets have not revealed a timetable for that.
Roster cuts
The Mets optioned two more pitchers, right-handers Corey Oswalt and Walker Lockett, to Minor League camp. Two prominent pieces of the Mets' rotation depth, Oswalt and Lockett will have more opportunities to stretch out as starters in Minor League games. Both are ticketed for Triple-A Syracuse's rotation.
Forty-nine players remain in big league camp.
Up next
Jacob deGrom will make the fourth of his six spring starts when he takes the mound at 1:05 p.m. ET on Tuesday against the Marlins in Jupiter. deGrom has struck out nine batters in seven Grapefruit League innings, with a 3.86 ERA. Also scheduled to appear are bullpen candidates Santiago, Zamora, Bashlor and Kyle Dowdy.