Storen's dad immersed him with Reds early on
Righty's father Mark was longtime area sports broadcaster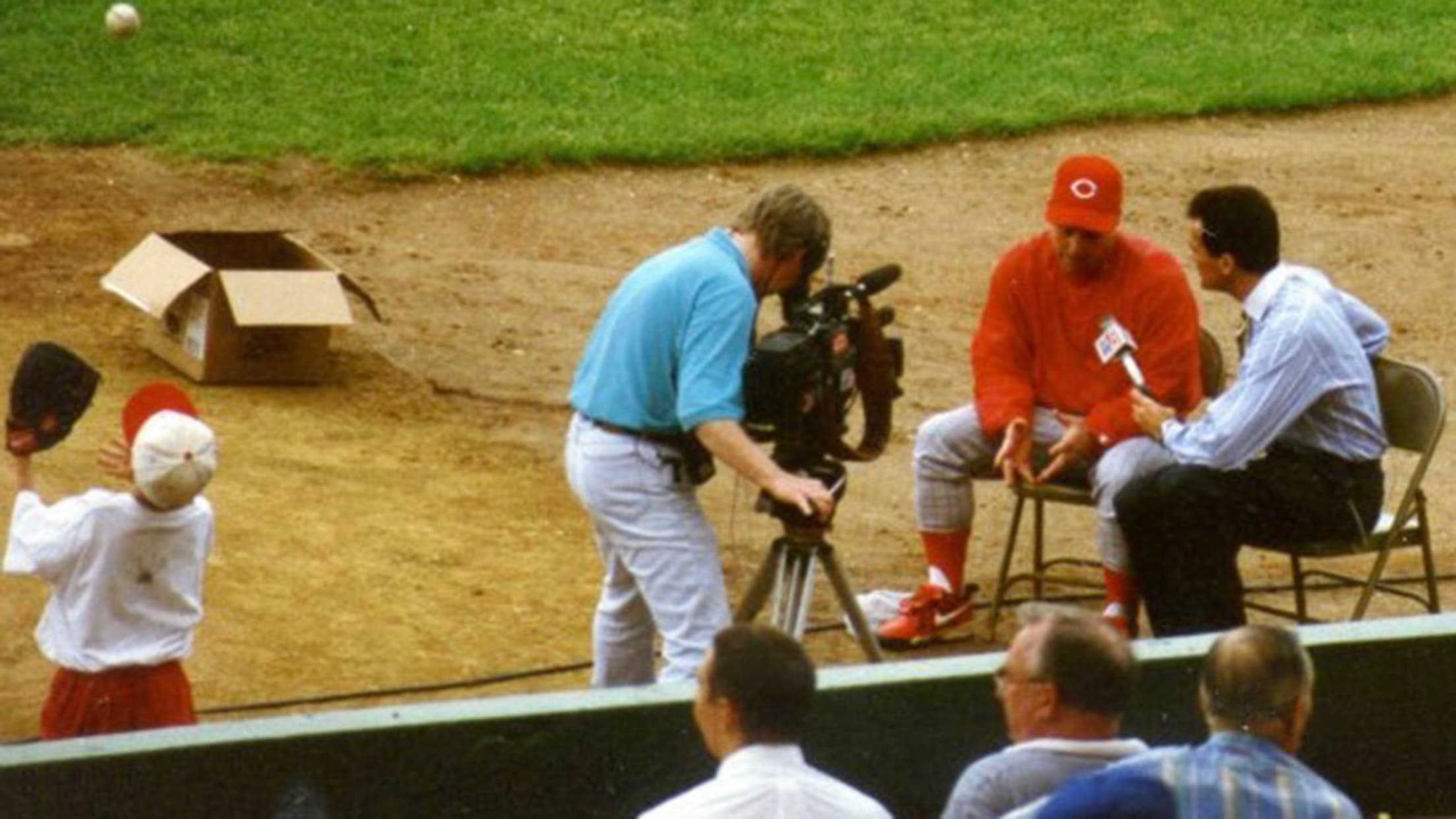 Drew Storen (left) shadowed his father Mark (right), often commiserating with Reds players such as Aaron Boone. (Mark Storen)
CINCINNATI -- By the time Drew Storen made his Major League debut on May 17, 2010, with the Washington Nationals, he was well ready. This was a moment more than a decade in the making.Storen, now a reliever for the Reds, had gotten the professional experience long before then. His
CINCINNATI -- By the time Drew Storen made his Major League debut on May 17, 2010, with the Washington Nationals, he was well ready. This was a moment more than a decade in the making.
Storen, now a reliever for the Reds, had gotten the professional experience long before then. His father, Mark, was a broadcaster at WISH-TV in Indianapolis, and on days when he was scheduled to cover the Indianapolis Indians -- then the Reds' Triple-A affiliate -- he would bring Drew along and let him soak it all in.
"I got to see what it was like to be in this light, and it just fueled my dreams even more," Drew said. "So I'm always thankful that my dad stuck his neck out for me and took me along to all those things."
:: Father's Day 2017 ::
While his father worked, Drew made the most of his unique opportunity. He played catch with former Reds third baseman Aaron Boone. He even learned his current fastball grip from the Indians' pitching coach.
All of it was part of Mark's plan.
"I tried to take him to Colts camp and Pacers games and Indians games and just expose him to those types of situations and let him actually meet guys who were playing at that level, so that eventually those were situations that he would have already been in and not be overwhelmed by them," Mark Storen said.
Drew also served as a bat boy for the Montreal Expos from 2000-04 when they would stop in Cincinnati or St. Louis. In '07, he was drafted out of Brownsburg (Ind.) High School by the Yankees in the 34th round of the MLB Draft.
Instead of signing, Drew chose to play baseball for Stanford. Two years later, the Nationals made him the the No. 10 overall pick in the 2009 MLB Draft. For Mark, it was an affirmation of the amount of time his son put in and his own choice to introduce him to the pro ball environment at a young age.
"It was always a strange thing for me, because I always had to question whether I thought he was really good because of my being around professional athletes and knowing what kind of ability they had, or if it was because I was his dad ..." Mark said. "You can want it for your kid all you want, but until they get it and until they want it, it's not going to happen.
"And he realized at a young age that he was going to have to work much harder than everybody else if he was going to make it, and he always did that work."
After spending six seasons with Washington, Drew was traded twice in 2016 -- first to the Blue Jays in the offseason and then to the Mariners less than a week before the Trade Deadline. He became a free agent after the season, and on January 3, he signed with the Reds -- an organization he already had tremendous ties to.
"It was meaningful for me to see him wear that uniform, because I had worked for the Indianapolis Indians in the '70s and [saw] a lot of members of the Big Red Machine-era teams come up through Triple-A and have success at the big league level," Mark said. "So I always have that connection."
This season, Drew has had the chance to play for the team he spent so much time around as a kid, and with a former high school teammate in catcher Tucker Barnhart. And two and a half months in, Drew is on pace to have his best year since 2014.
If you were to ask Drew how he's managed this success, he'd point you to the man who gave him the experience all those years ago.
"My dad's big thing was, 'Just do one thing every day to get better,'" Drew said. "'If you can do that, it's like putting aside a dollar every day. And if you do that, it's going to add up a lot over time' ... I could be here all day and say all the great things he's done for me, but he just really taught me that if you really want it, you've got to work for it."
Jeremy Vernon is a reporter for MLB.com based in Cincinnati.