Pedey still aiming for 2018 return
Moreland returns to lineup; Sale nearly ready to throw again; Cora shows brotherly love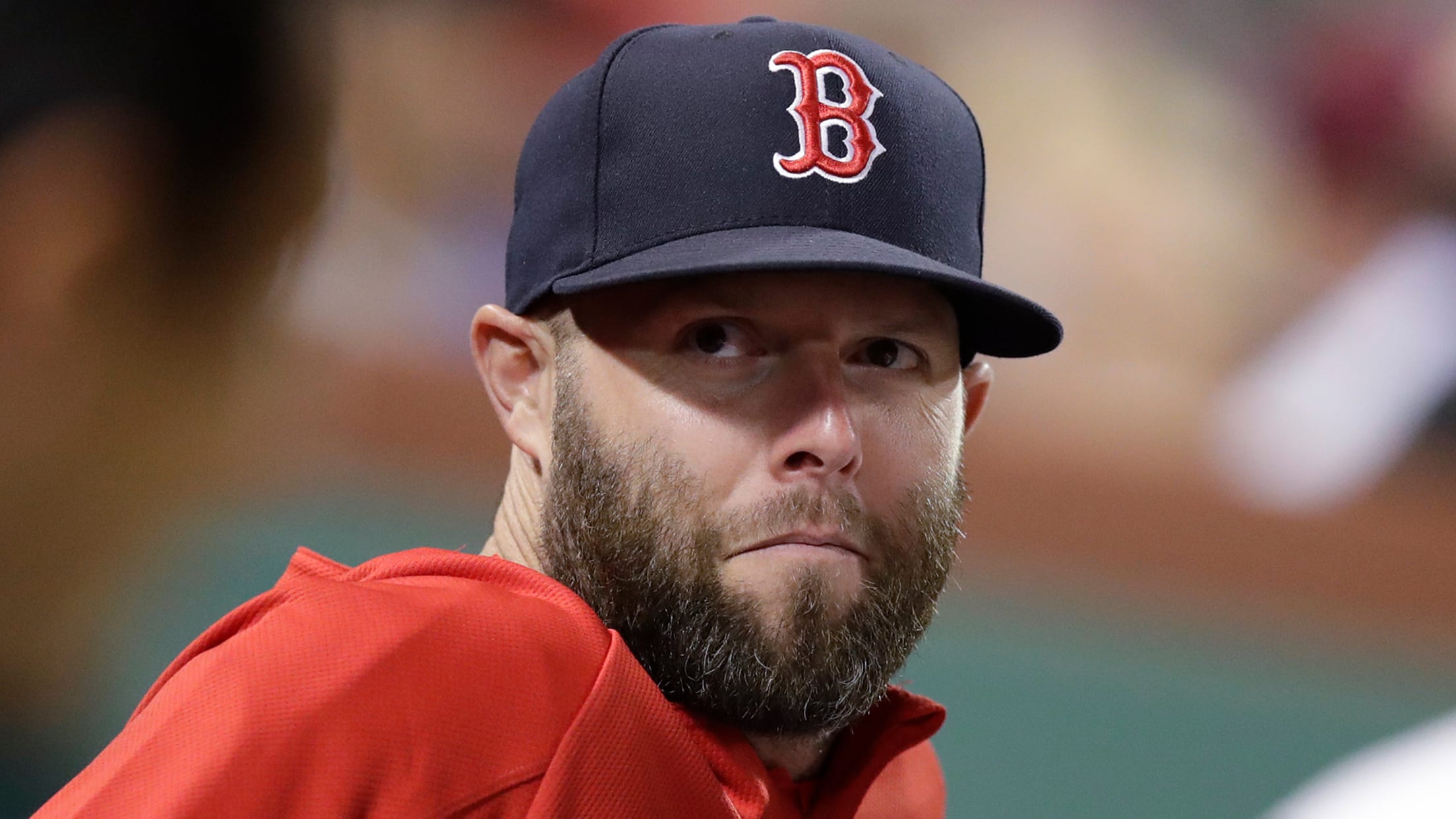 ST. PETERSBURG -- With exactly a week to go before September, Dustin Pedroia still hasn't ruled himself out for a return this season. And neither has his manager."He feels that he's going to contribute this year," Red Sox manager Alex Cora said. "I feel the same way. Just a matter
ST. PETERSBURG -- With exactly a week to go before September, Dustin Pedroia still hasn't ruled himself out for a return this season. And neither has his manager.
"He feels that he's going to contribute this year," Red Sox manager Alex Cora said. "I feel the same way. Just a matter of how much time we have. We don't have anything set as far as timetables, but we're feeling good with the progress."
Since late July, Pedroia -- who would have been Pedey for Players Weekend -- has been training in Arizona, where he has an offseason home.
:: Players' Weekend presented by Valspar Stain ::
"He's feeling OK," Cora said. "Having good days, bad days. Mostly good days. It's different now, he's kind of learning how to run, using other muscles. You get used to doing something a certain way, all of a sudden they're teaching you to do it right, quote unquote. It's not that easy."
Pedroia underwent a microfracture procedure and a cartilage replacement on his left knee in the offseason. He made a brief return to action for Boston, playing three games from May 26-29.
The Red Sox essentially acquired his replacement on July 30 when they got Ian Kinsler (Bootsie) from the Angels. But Pedroia isn't one to give up.
• Shop Red Sox Players' Weekend gear
Through the use of modern technology, Boston even conferenced in Pedroia to a pregame hitters' meeting last week.
"I can't tell you what he said, but it was something like, 'Score 10, and this and that.' They answered the bell," Cora said.
Whether or not Pedroia is cleared to return to action, Cora does expect his second baseman will rejoin the team at some point down the stretch.
"We're talking about it. Probably," Cora said. "I don't want to set a day or whatever, but like I told him, I said, 'Hey man, if this happens, it happens,' you know? 'If you can contribute on the field, that would be great.' But if we run out of time, I know he can contribute here in the dugout, so it will be good for him to be around. Yeah, he'll be back. When? We don't know yet."
Moreland makes a quick return
First baseman Mitch Moreland (2-Bags) lived up to his reputation as being perhaps the toughest player on the team when he returned to the lineup just two days after ramming his left knee into a concrete surface at the base of a camera well at Fenway Park.
After Friday's game, Cora asked Moreland to text him Saturday morning to let him know his availability. Moreland told Cora before leaving the park Friday night that a text wasn't necessary, and he'd be good to go.
Moreland batted sixth and played first on Saturday against Rays lefty Ryan Yarbrough.
Sale could resume throwing soon
Ace Chris Sale (The Conductor) hasn't picked up a baseball since returning to the 10-day disabled list one week ago with mild inflammation in his left shoulder, but Cora feels that day could be coming soon.
"[He's] feeling better. Not throwing yet, but everything is trending positive. Hopefully it will stay this way," Cora said. "Tomorrow is Sunday, day game, so I don't think he's going to be throwing tomorrow, but hopefully when we get home, we'll start going."
Brotherly love
Pirates third-base coach Joey Cora had one of the more humorous nicknames for Players' Weekend, "I'm The Brother." There are many times when fans or autograph seekers call Joey "Alex," and vice versa.
"People call him Alex. It happens to me here, like, 'Joey! Joey!' I'm like, 'Joey's in Pittsburgh.' But I think it was cool," Alex Cora said. "Very genuine. And he cares. His second favorite team is the Red Sox. We know that. We'll see. Hopefully they make it [to the playoffs]. If not, well, he'll be around. We'll see him a little bit."
😂😂😂 pic.twitter.com/Xr1RTLCYl7

— Alex (@ac13alex) August 25, 2018
Alex went with "AC" on his jersey this weekend. Did he know what Joey had planned?
"It was a surprise," Alex said. "But it was a hit in the family. I'm the boring one. I put 'AC.' He put that, and he beat me in that one."