Dusty the manager meets Dusty the turtle
Nationals skipper visits non-profit sea turtle hospital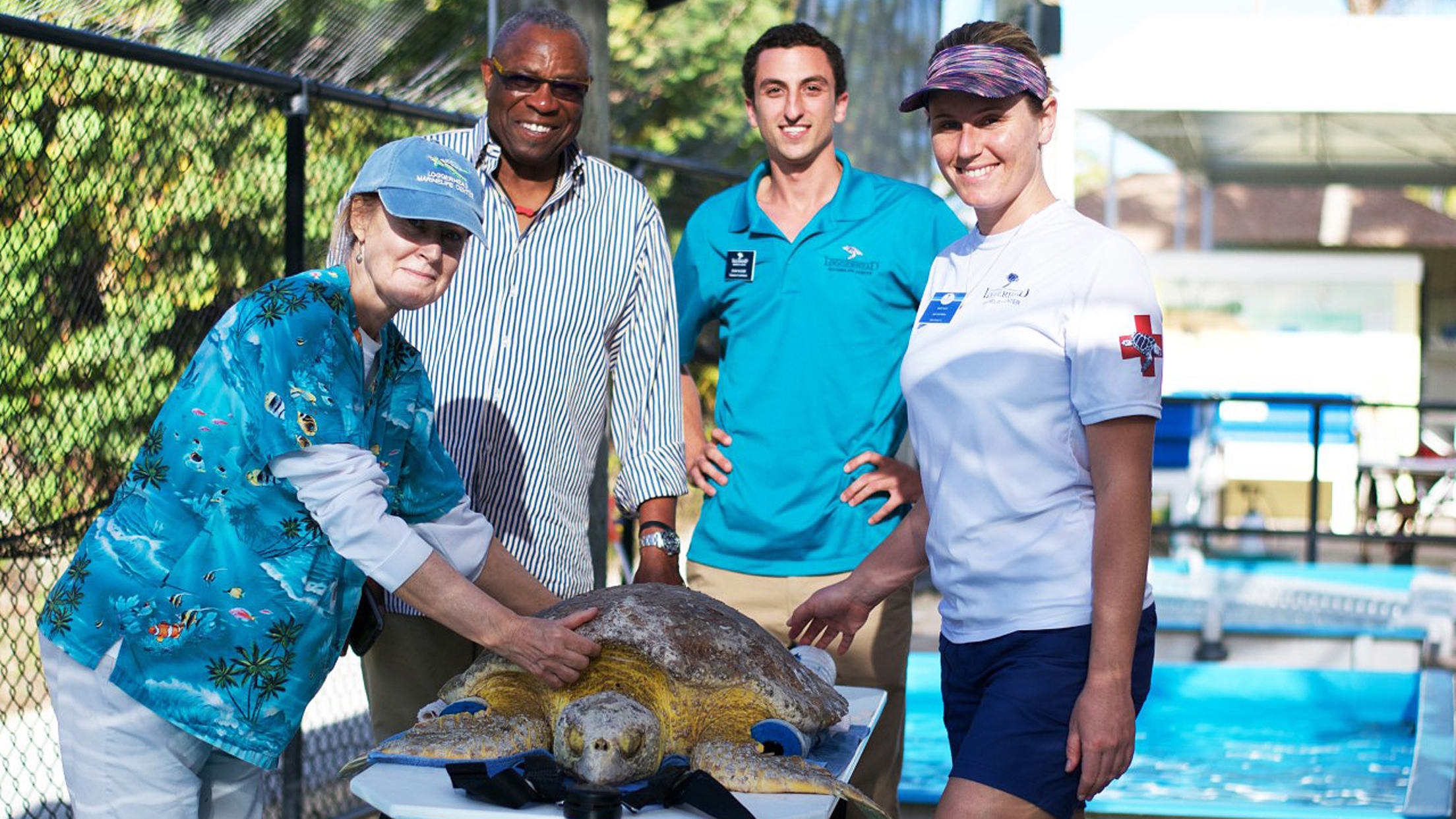 WEST PALM BEACH, Fla. -- Dusty Baker loves turtles. He has turtle artwork in his office and stone turtles at the front door of his house. Turtle mosaics are at the bottom of his pool -- a big green turtle representing him, a mermaid for his wife, a green one
WEST PALM BEACH, Fla. -- Dusty Baker loves turtles. He has turtle artwork in his office and stone turtles at the front door of his house. Turtle mosaics are at the bottom of his pool -- a big green turtle representing him, a mermaid for his wife, a green one for his daughter and a brown loggerhead for his son. His appreciation for turtles dates back almost 15 years ago, on a trip to Hawaii after he was diagnosed with cancer. There Baker learned the Hawaiian word for turtle, Honu, and that turtles signify "good luck, endurance and long life."
A few weeks ago, during his drive from the Nationals' Spring Training facility to his spring home in Juno Beach, Fla., he noticed the Loggerhead Marinelife Center, a non-profit sea turtle hospital that promotes conservation of ocean ecosystems with a focus on threatened and endangered sea turtles, according to its Facebook page.
Baker had to stop in and check it out. It was a few minutes after 5 p.m. ET, but he was unaware the center had just closed, especially because the door was unlocked. Barbara Toomey, a gift store sales associate, was busy taking care of her closing procedures and thought she had locked the door when she noticed Baker. Once he began talking about his love of sea turtles and their significance in his life she sought to get permission to give him a brief tour. Usually, the center is strict about not having people around after closing because it's one of the feeding times for the turtles, but Toomey found him so passionate about the subject.
"He was like a big kid," she recalled with a laugh. "It was pretty cute."
Toomey took down Baker's contact information to set up a full tour. The center also had a surprise for him upon his return; on the night of Baker's first visit, they had received a sick turtle covered in barnacles and leeches that had been rescued about a mile off the shores of Port St. Lucie. They decided to nickname him Dusty.
"The passion for the sea turtles, that's the main reason why we kind of wanted to get a turtle named after him," Toomey said. "We could tell that it means a lot to him personally."

Baker arrived a few days later for his full tour with Evan Nader, a volunteer coordinator. Nader called himself a "Dusty fan" although he admitted he was also a Mets fan, and tried to be conscious of not talking too much baseball during the tour. That was hardly an issue considering Baker kept him busy, asking questions about turtles on everything from their nesting habits to hatchlings and incubation periods.
And when Baker came across Dusty the turtle, who was still debilitated and lethargic at the time, he led the room in a silent prayer.
"I was with him for an hour and it felt like it went by immediately," Nader said. "It spoke volumes of his character and how caring he was about another animal."
Dusty the turtle has a ways to go toward recovery. Typically, most turtles spend about four to six months in the hospital before they are released back into the wild. He was very thin for a loggerhead turtle upon arrival and was given parental nutrition, antibiotics and vitamins to help him regain full strength.
Baker had his cousin and another friend visit the center earlier this week, and he would like to check on Dusty the turtle at least once a week if possible.
"It's cool, I'm a nature boy and into nature and preservation of what God gave us," Baker said. "They're beautiful animals."