Phillies recall Garcia, option De Los Santos
Right-hander allows 1 run in Major League debut on Monday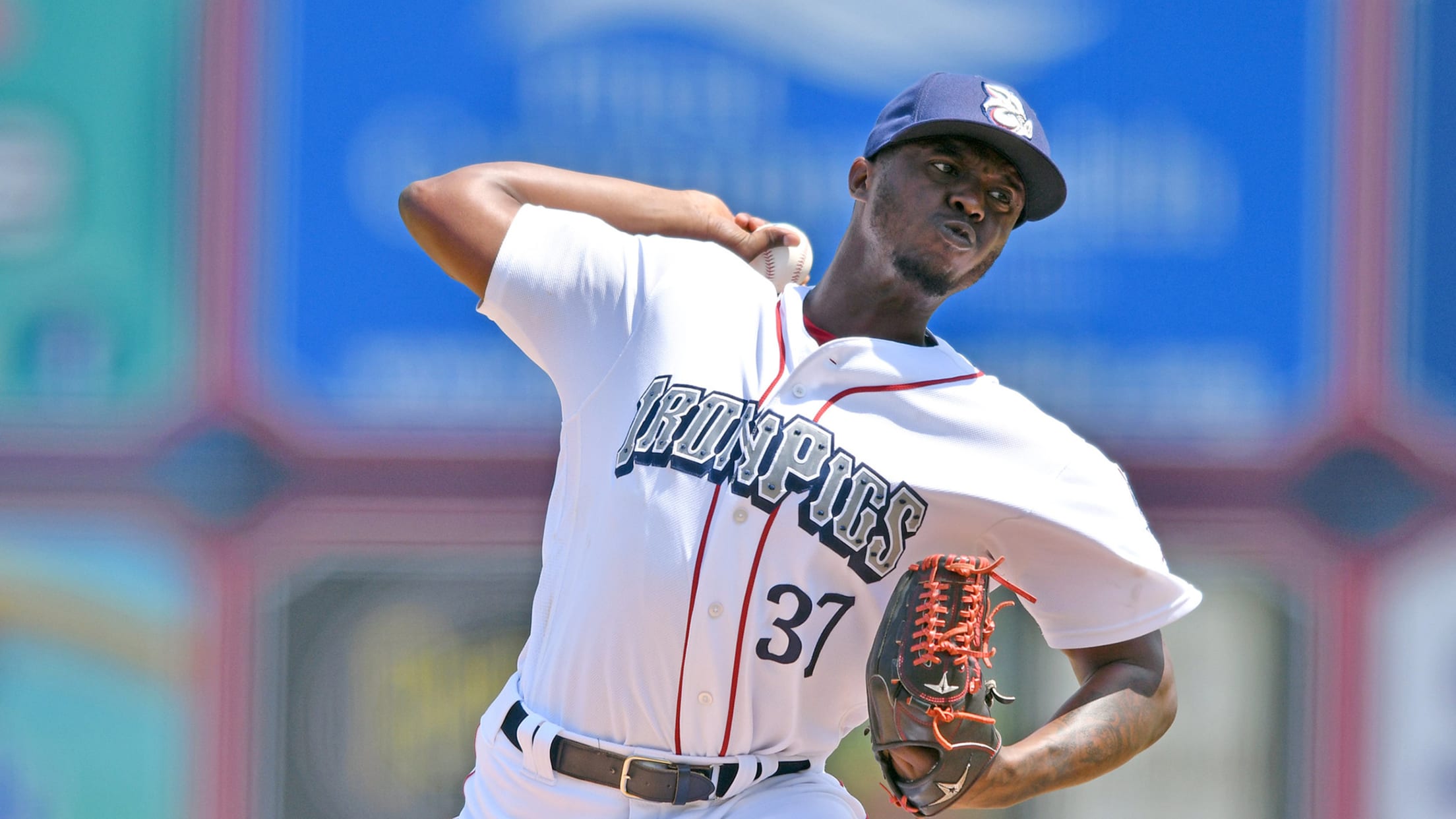 ST. LOUIS -- The Phillies called up right-hander Edgar Garcia from Triple-A Lehigh Valley before Monday's game against the Cardinals. The 22-year-old Garcia was 1-1 with a 1.65 ERA and three saves in 13 games this year for the Ironpigs. He had 23 strikeouts to just six walks in 16
ST. LOUIS -- The Phillies called up right-hander Edgar Garcia from Triple-A Lehigh Valley before Monday's game against the Cardinals.
The 22-year-old Garcia was 1-1 with a 1.65 ERA and three saves in 13 games this year for the Ironpigs. He had 23 strikeouts to just six walks in 16 1/3 innings.
"He has a good slider," Phillies manager Gabe Kapler said. "And his slider has been good in Triple-A, and it's definitely improved -- as has his fastball command -- and I think the timing is right to give him a look in some leverage situations, if possible. You've got a fairly heavy right-handed hitting lineup for the Cardinals and I think it will be valuable to have him for this series."
Garcia was on a team bus heading back from Buffalo when he got the news. He said his mother cried when he called his parents in the Dominican Republic to tell them he had been called up to the Majors.
Showtime. #RingTheBell pic.twitter.com/NajhWTvyVd

— Philadelphia Phillies (@Phillies) May 6, 2019
"To be honest with you, I feel very happy that it happened," Garcia said through an interpreter. "I didn't think it was going to happen this quickly, but I was just focused on working really hard and just getting the job done to be ready for the call."
Righty Enyel De Los Santos was optioned to Lehigh Valley following Sunday's 7-1 win over the Nationals.
Garcia was named an Eastern League midseason All-Star in 2018. He finished fourth among Eastern League relievers in opponents' batting average (.204) and fifth in strikeouts per nine innings (10.26).
As for that slider, Garcia knows it's his best pitch.
"Don't know how frequently I throw it, but I can tell you I have a lot of confidence and a lot of faith in my slider," Garcia said. "I can throw it in any count."
Kapler said before the game that the Phillies would try to get Garcia his first big league action in a low-leverage situation -- and one just so happened to present itself on Monday.
Garcia took over for starter Vince Velasquez with no outs in the fifth inning, and the Phillies trailing, 5-0. He promptly retired Marcell Ozuna on a flyout in foul territory down the right-field line. Garcia allowed one run off two hits and a walk in his one inning of work.
Kingery progressing
Scott Kingery took grounders at shortstop on Monday as he continues to recover from a right hamstring strain.
"They are not full-speed ground balls -- just a little bit to his left, a little bit to his right, a lot of balls right at him and some tag plays at second base," Kapler said. "But that is a good step in the right direction."
There is no timetable for Kingery's return, and Kapler didn't rule out a rehab assignment.
"It might make some sense to get some at-bats," Kapler said. "Not as much because, 'Oh we're concerned that he's going to hurt himself at the Major League level, and not the Minor League level,' but more to just kind of get him back into a rhythm. Also, he has not experienced this kind of injury before, so building his confidence by allowing him to play might be sensible."