Mujica finding new way for old foe Ausmus
Former hard-throwing reliever recalls strikeout that wasn't against current manager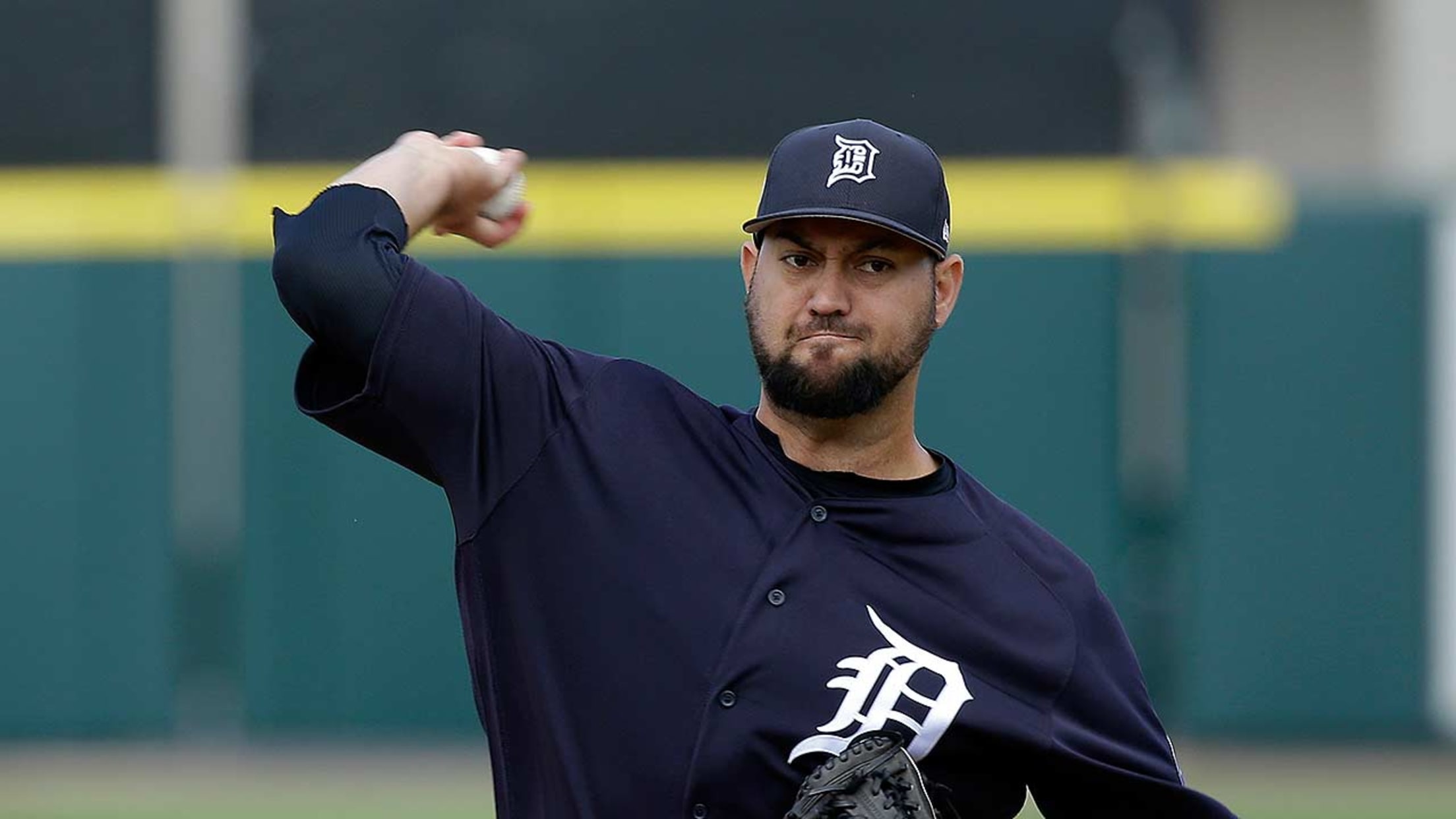 Edward Mujica knows he needs to hit the corners if he's going to make it back to the Majors. (AP)
LAKE BUENA VISTA, Fla. -- Tigers manager Brad Ausmus has a shrinking list of active pitchers he faced as a hitter. Edward Mujica is on it. And he has a story about it.Twice Mujica faced Ausmus during the skipper's final season as a player in the Majors in 2010. The
LAKE BUENA VISTA, Fla. -- Tigers manager Brad Ausmus has a shrinking list of active pitchers he faced as a hitter. Edward Mujica is on it. And he has a story about it.
Twice Mujica faced Ausmus during the skipper's final season as a player in the Majors in 2010. The first time ended with a strikeout, a nasty splitter that Ausmus still remembers. The second one should have been a strikeout too, according to Mujica.
"The pitch was right down the middle, 3-2 count," Mujica said. "I was two years in the big leagues, almost three. He was possibly retiring right after the season. I see the umpire the whole way and I asked him, 'Hey, what was the pitch?' And he said, 'The pitch was good, it was right down the middle. But Ausmus is retiring right after the season, and I can't strike him out on a 3-2 count.'"
Mujica told Ausmus the story last week. They're still laughing about it.
"Now I'm here," Mujica said, "playing with him."
They've both made their transitions since then. Ausmus shed the catching gear and moved into the manager's office. Mujica is still pitching, still just 32, but he's a different pitcher.
Back then, he was a Padres reliever who threw hard and threw strikes, challenging hitters to catch up with his fastball. Mujica is still throwing strikes, but he doesn't throw nearly as hard, so he tries to throw to spots.
Mujica spent last year at Triple-A with the Phillies, Royals and Twins before signing a Minor League deal with the Tigers over the winter. He's allowed six runs in four innings this spring. If he's going to make it back to the big leagues, it'll be on the corners of the strike zone.
"When you throw hard, you can pound the strike zone with your fastball and your breaking pitch," Mujica said. "Right now I've been throwing 90-92 [mph], and I'm trying to get most of the corners, don't leave pitches in the middle. Back in the days, you'd throw 94-95 down the middle and challenge the hitter. Now I have to concentrate and throw to all four corners."