This prospect is making his case for SD's roster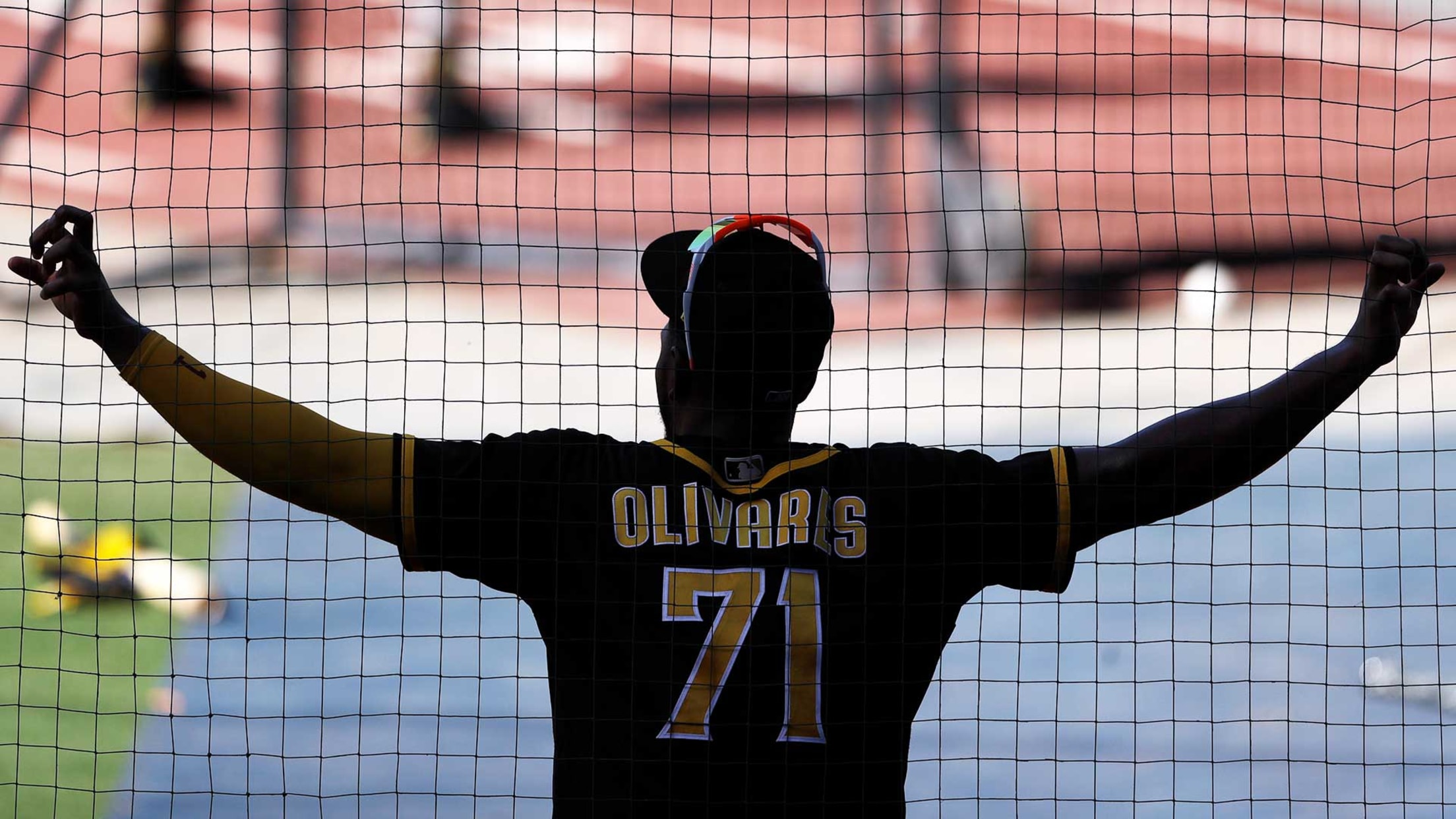 SAN DIEGO -- Looking for a surprise Padres roster candidate? Look no further than outfield prospect Edward Olivares. According to multiple people in attendance at the team's nightly intrasquad games, Olivares has been an early standout. On the heels of an impressive Spring Training in which he batted .389/.421/.722 over
SAN DIEGO -- Looking for a surprise Padres roster candidate? Look no further than outfield prospect Edward Olivares.
According to multiple people in attendance at the team's nightly intrasquad games, Olivares has been an early standout. On the heels of an impressive Spring Training in which he batted .389/.421/.722 over 11 games, the 24-year-old speedster could be working his way into the outfield mix.
"He's made a good impression in Spring Training, and maybe even a better impression in the short look of Summer Camp so far," said manager Jayce Tingler.
In a loaded Padres farm system, it's been easy to overlook Olivares, who checks in as the team's No. 20 overall prospect. But he was a standout at Double-A Amarillo last season, batting .283/.349/.453 with 18 homers and 35 steals while playing all three outfield positions.
"The way he runs stands out, the way he defends all three spots," Tingler said. "His at-bats, he's been as good as anybody at looking at pitches outside the zone. For a young kid, he hasn't been swinging it wildly. On 2-2, 3-2 counts, he's been disciplined, he's drawing walks, he's hitting the ball the other way. For those reasons, he's going to continue to earn those opportunities."
Olivares is still on the fringes of the roster picture. But with clubs permitted to carry 30 players for the first two weeks of the season, his speed and versatility might prove useful.
Of course, Tommy Pham's status will play a major factor in the team's outfield construction. At this point, it'd be unfair and unproductive to speculate on his arrival. Pham, who gave the club permission to divulge his diagnosis, was the Padres' lone positive coronavirus test at the start of camp. He remains asymptomatic, Tingler said.
Still, one person in attendance noted that Olivares has excelled to the point where he'd be opening eyes for a roster spot "even if Pham was here."
Hosmer could wear mask on defense
Padres first baseman Eric Hosmer indicated he's open to the possibility of wearing a mask at first base, given the regular close contact with opposing baserunners at the position.
"It's something I'd definitely consider, and maybe one of these intrasquad [games] would be a good time to try it out," Hosmer said. "Whatever we can do to make it as safe as possible and to make others as safe as possible on the field, I know everyone's going to make an effort on that."
Hosmer also noted that he's read the parts of MLB's safety manual that apply to him, and he's likely to change his behavior slightly in between pitches. But he acknowledged that he's still searching for the right balance of safety and the ability to do his job.
As for the shortened 60-game schedule (which was unveiled Monday night), Hosmer quipped: "This is like in PlayStation when you just simulate the long season and get right to the important part. This has a similar feel to that."
Strahm plays it cautious
Left-hander Matt Strahm will play this season, but he plans to be a bit more cautious during Summer Camp because his wife, Megan, is pregnant.
"If my wife wasn't pregnant, it would be a different story for me, but not knowing what this could do to us in the future is what is scaring me," Strahm said. "All I'm looking for is to make sure everyone is tested within those 48 hours. I've voiced my concerns to the staff that if that doesn't come in, I'll more than likely practice on my own."
Thus far, that hasn't been an issue in Padres camp, and Strahm said everything has gone smoothly.
"The Padres have done a great job, all around," he said. "It's going to take us as a collective group to get through this season without any hiccups."
Worth noting
• Closer Kirby Yates was a late arrival at Padres camp as he tended to a non-coronavirus-related family issue. He has passed through all necessary testing protocols and is slated to throw an inning in Tuesday night's intrasquad game.
• Chris Paddack worked four scoreless frames against a lineup of mostly prospects during Monday's intrasquad game at Petco Park. Paddack, currently the favorite for the Opening Day nod, is hoping to be built up to six innings by his first regular-season outing.
• In that same game, top prospect MacKenzie Gore struggled over three frames, facing a lineup with mostly Padres big leaguers. Gore (like fellow pitching prospect Luis Patiño) is viewed mostly as a depth option outside the rotation mix. But he's still managed to impress a few veterans.
"Facing him last night, it didn't feel like facing a 21-year-old prospect," Hosmer said. "It felt like facing a big leaguer."
• Strahm said the Padres' camp protocols have actually made him and his fellow pitchers more productive. For the most part, those pitchers work out and go through PFPs at the University of San Diego, but they report to Petco Park when they're scheduled to throw a bullpen session or in that night's intrasquad game.
"We're getting all the work in that we need to get in, and what I like about it is there's no standing around watching 30 other guys while we're waiting," Strahm said. "They're doing a great job spacing everything out."