Ellington, Nicolino keeping track of hurricane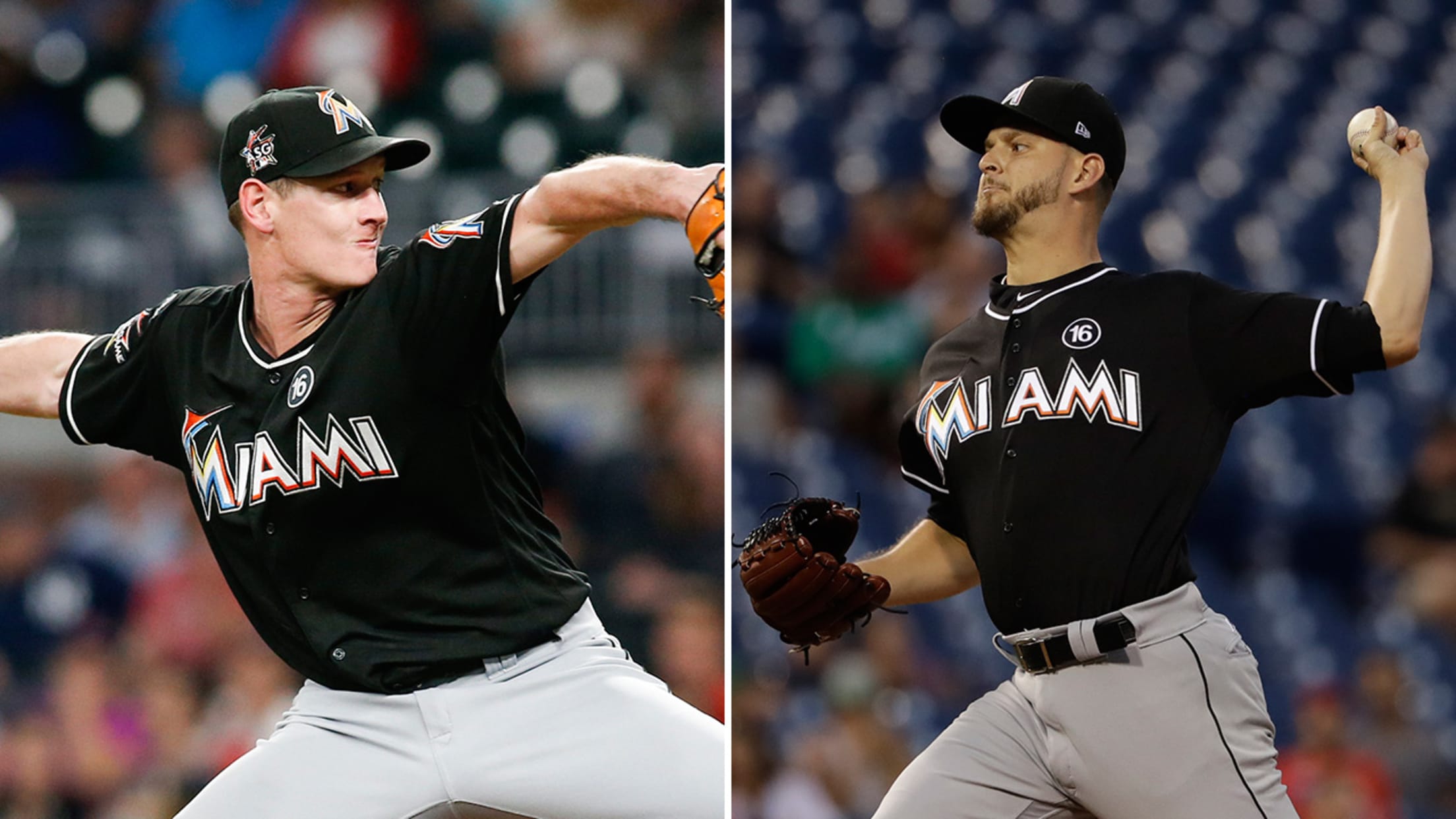 Brian Ellington's (left) and Justin Nicolino's hometowns are preparing for Hurricane Irma. (AP)
ATLANTA -- The wrath of a major hurricane is something Marlins reliever Brian Ellington doesn't take lightly.A Gainesville, Fla., native, Ellington and his family were impacted by Hurricane Matthew last October. Almost a year later, they are bracing for one of the most powerful storms on record: Hurricane Irma."With Hurricane
ATLANTA -- The wrath of a major hurricane is something Marlins reliever Brian Ellington doesn't take lightly.
A Gainesville, Fla., native, Ellington and his family were impacted by Hurricane Matthew last October. Almost a year later, they are bracing for one of the most powerful storms on record: Hurricane Irma.
"With Hurricane Matthew, we had two boats washed onto the street," Ellington said. "We had a 36-foot boat and a 22-foot boat washed onto the street. We're expecting [Irma] to be pretty bad."
A threat to the entire state, Hurricane Irma churned closer to South Florida on Saturday. Miami-Dade, Broward and West Palm Beach counties are bracing for hurricane-force winds, storm surge, possible tornados, heavy rain and flooding.
The Florida Keys and the west coast of the state are more in the direct path of the eye of the storm. Southwest Florida, Tampa and Central Florida are facing a major hurricane, with winds of more than 110 mph expected.
Our thoughts are with our city, our state and our community.

We are with you. ❤️ pic.twitter.com/HAtL3Mt1Vc

— Miami Marlins (@Marlins) September 8, 2017
Ellington's family is inland, in Alachua County.
"There's some stuff coming, for sure," Ellington said. "That county, it's designed well, it's engineered well. It's kind of been built to withstand some flooding. My dad was an engineer for a long time, and he helped build a lot of the city."
Ellington's family owns several boats that they docked about 40 minutes away in the Gulf of Mexico.
In recent days, the family moved some of the boats to Alachua County.
"We had to leave one boat over there, it was too big to trailer," Ellington said. "We'll see. My family is hunkered down. We have generators."
Marlins lefty Justin Nicolino, who grew up in Orlando, lived several years in Clearwater before moving to Jupiter, Fla., in 2015.
My thoughts and prayers are to everyone back home and everyone evacuating for this storm! Be safe and stay strong through this time!

— Justin Nicolino (@J_Nicolino22) September 9, 2017
"We built a lot of good relationships over in that area," Nicolino said. "We still have family and friends who live over there. I have old teammates who live over there. I'm wishing nothing but the best, and hoping everything is OK, and everyone stays safe."
Where Nicolino used to live is now in a mandatory evacuation zone.
"I know a lot of people who evacuated," Nicolino said. "I've seen a lot of people who are getting out of there, the best way they can. You're praying and wishing nothing but the best for everyone over there -- for everyone's houses, the businesses and the buildings there. Obviously, it's not fun to go through."