Eloy eager to improve his game in Triple-A
Baseball's No. 3 prospect set to fine-tune areas that need work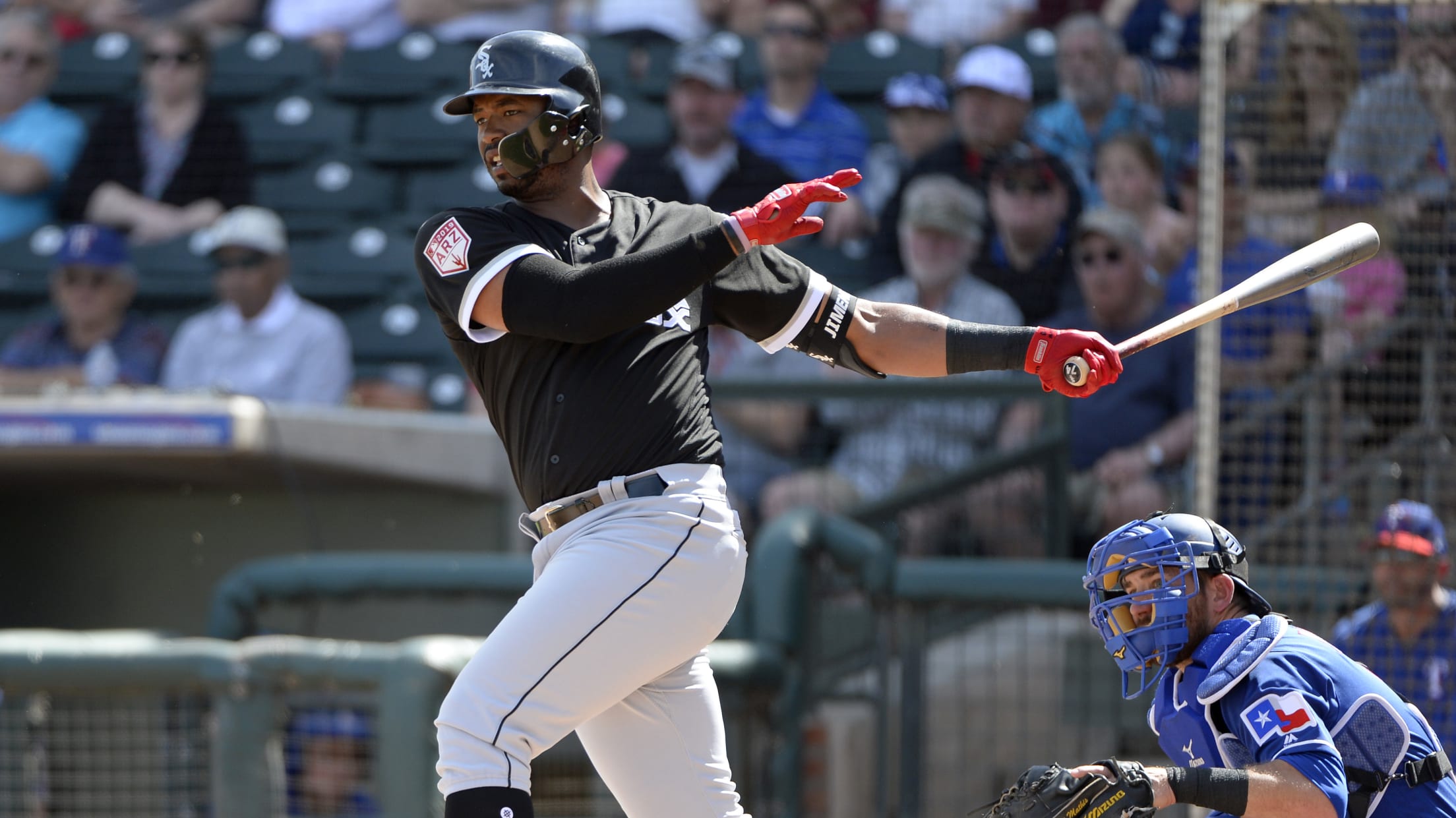 GLENDALE, Ariz. -- Eloy Jimenez, the White Sox top prospect and baseball's No. 3 prospect overall, according to MLB Pipeline was accepting of the White Sox decision to option him to Triple-A Charlotte on Wednesday. But the young outfielder has no doubt he'll be ready for the big leagues when
GLENDALE, Ariz. -- Eloy Jimenez, the White Sox top prospect and baseball's No. 3 prospect overall, according to MLB Pipeline was accepting of the White Sox decision to option him to Triple-A Charlotte on Wednesday. But the young outfielder has no doubt he'll be ready for the big leagues when the club is ready for him.
"I tried to do too much," Jimenez said of his pressing at the plate. "I think that's why I didn't have ... good results. But I'm going to keep working and I'm going to try and control that."
The 22-year-old has made a meteoric rise through the Minors since being signed by the Cubs at age 16 out of the Dominican Republic and moving across town in a trade for Jose Quintana in 2017. He hit .355 (75-for-211) with 12 homers and 33 RBIs in 55 games for Charlotte after a midseason promotion in 2018, and he slashed .337/.384/.577 between Double-A and Triple-A last season.
"I was trying to compete to break with the team, but I knew that [starting the season in Charlotte] was a possibility," Jimenez said on Saturday, making his first comments since the roster move. "I accept it, and I'm going to work hard. When they give me the chance, I'm going to be the best player I can be."
Given that his bat was his ticket to the Majors, Jimenez struggled uncharacteristically in the Cactus League, hitting .154 (4-for-26) with a homer, three RBIs, nine strikeouts and no walks while playing in nine of the team's first 18 games.
"It was OK," Jimenez said of his hitting throughout the spring. "I was seeing the ball well, but the results weren't really good. But I'm feeling good."
Known for his ability to recognize pitches and make adjustments during the game, Jimenez never got his swing in sync during Spring Training -- acknowledging trouble with his timing that he's never experienced before.
"It's the first time," Jimenez said of his spring-long timing issues. "But it was good [that it happened] here in Spring Training."
The White Sox have high expectations for Jimenez -- and even his teammates have heralded him with superlatives, going so far as to call him, "the Babe Ruth of our generation." Jimenez acknowledged he may have put a little too much pressure on himself to live up to those kinds of expectations and welcomed the encouragement of the organization.
"They just told me, 'Keep playing hard, keep doing what you're doing,'" Jimenez said. "'We like it.'"
The White Sox haven't lost any confidence in their top prospect, with general manager Rick Hahn reiterating that Jimenez will shape the White Sox for years to come. Manager Rick Renteria concurred, saying Jimenez needs to shift his focus to regular playing time, getting ready for the season and tuning his craft without worrying about competing for a role on the Opening Day roster.
"We want him to play," Renteria said. "We want him to get as many at-bats as possible, continue to work out in the outfield. Here, we were playing him approximately every other day or every third day, and he needs to get his timing back on track. For him, I don't think it'll take long. Once he gets two or three, four games under his belt, he'll be fine. And, hopefully, somewhere here in the near future we get to see this young man."
While all of the attention around Jimenez has been on his bat, he has not made the same impression with the other aspects of his game. His speed, glove and arm are all considered below average, and Jimenez left camp determined to sharpen all of his tools.
"I'm going to work on all my game, defense, running bases, hitting," Jimenez said of his plans for his time in Charlotte, noting the areas he feels he needs to address before he makes his Major League debut. "I feel really close."
There is little doubt around the organization that Jimenez is on target for a 2019 callup and a chance to tear through big league pitchers as he has done at every step in the Minors.
Owen Perkins is a contributor to MLB.com.