Top prospect Jimenez sidelined with hip injury
Robert diagnosed with thumb sprain; Abreu looks to rebound in July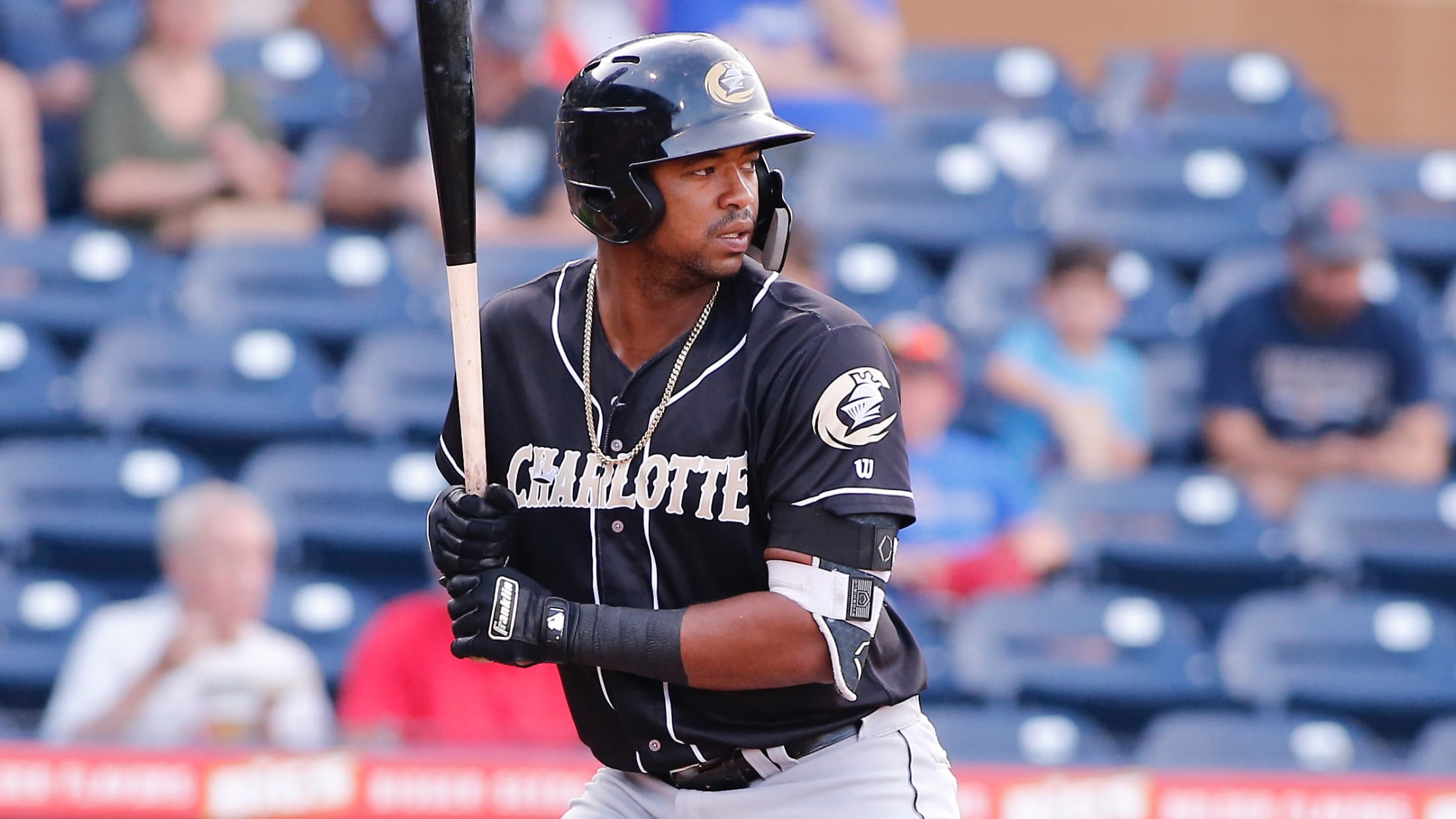 CINCINNATI -- The White Sox announced on Wednesday that an MRI has revealed Eloy Jimenez has a strained left abductor muscle in his left hip. Jimenez left Sunday's game with Triple-A Charlotte after his second at-bat, which resulted in a flyout. He immediately showed signs of discomfort.The White Sox top
CINCINNATI -- The White Sox announced on Wednesday that an MRI has revealed Eloy Jimenez has a strained left abductor muscle in his left hip. Jimenez left Sunday's game with Triple-A Charlotte after his second at-bat, which resulted in a flyout. He immediately showed signs of discomfort.
The White Sox top prospect is expected to return to game action in about two weeks. Jimenez is his hitting .293 with a pair of home runs in 12 games since being promoted from Double-A Birmingham.
Jimenez was acquired from the Cubs in July 2017 as part of the trade that sent Jose Quintana to the Cubs.
Robert to DL with thumb sprain
White Sox prospect Luis Robert underwent an MRI in Chicago on Monday and has been diagnosed with a moderate sprain to a ligament in his left thumb. Robert has been placed in a splint and is expected to miss 4-8 weeks. He was placed on the seven-day disabled list on Sunday retroactive to June 29 and last played in a game on June 28.
The White Sox third overall prospect has nine hits in eight games since being promoted to Class A-Advanced Winston-Salem on June 21. Robert is hitting .293 with no home runs and nine RBIs in 21 total games in the Minor Leagues this season.
Abreu looking to put rough June behind him
Jose Abreu is on pace to become the first White Sox first baseman to start for the American League at the All-Star Game since Frank Thomas in 1996, but the Chicago slugger is also looking to put a rough month of June behind him. Abreu hit .212 with three home runs and 16 RBIs in June but still led all AL first basemen with a .474 slugging percentage entering Monday.
"Yes, absolutely," Abreu said. "We had a little bit of bad stretches in a rough month of June. I learned. I learned a lot from that month, but I'm glad that's in the past. This is a new month. I'm just happy."
White Sox manager Rick Renteria thinks Abreu may have been chasing a bit too much and saw some good signs from the slugger in Sunday's series finale with the Rangers.
"Yeah, I think yesterday, after he ended up driving the ball to right-center field, he knows that he's got to stay through the middle of the diamond," Renteria said. "That's the type of hitter he is. Pulling is not necessarily what he wants to try to do in his approaches. When he stays through the middle of the diamond, probably like most hitters, you wind up having a better direction, and you stay on the ball a lot longer."
Abreu got the month of July off to a nice start, going 2-for-3 with a triple and three RBIs in the win over the Rangers. He's hitting .271 with 12 homers and 50 RBIs on the season.
"It was tough, but it's done," Abreu said. "I'm happy I started this month in a good way and I also hope to keep that up."
Brian Rippee is a reporter for MLB.com based in Cincinnati.