Jiménez keeping spirits high for Summer Camp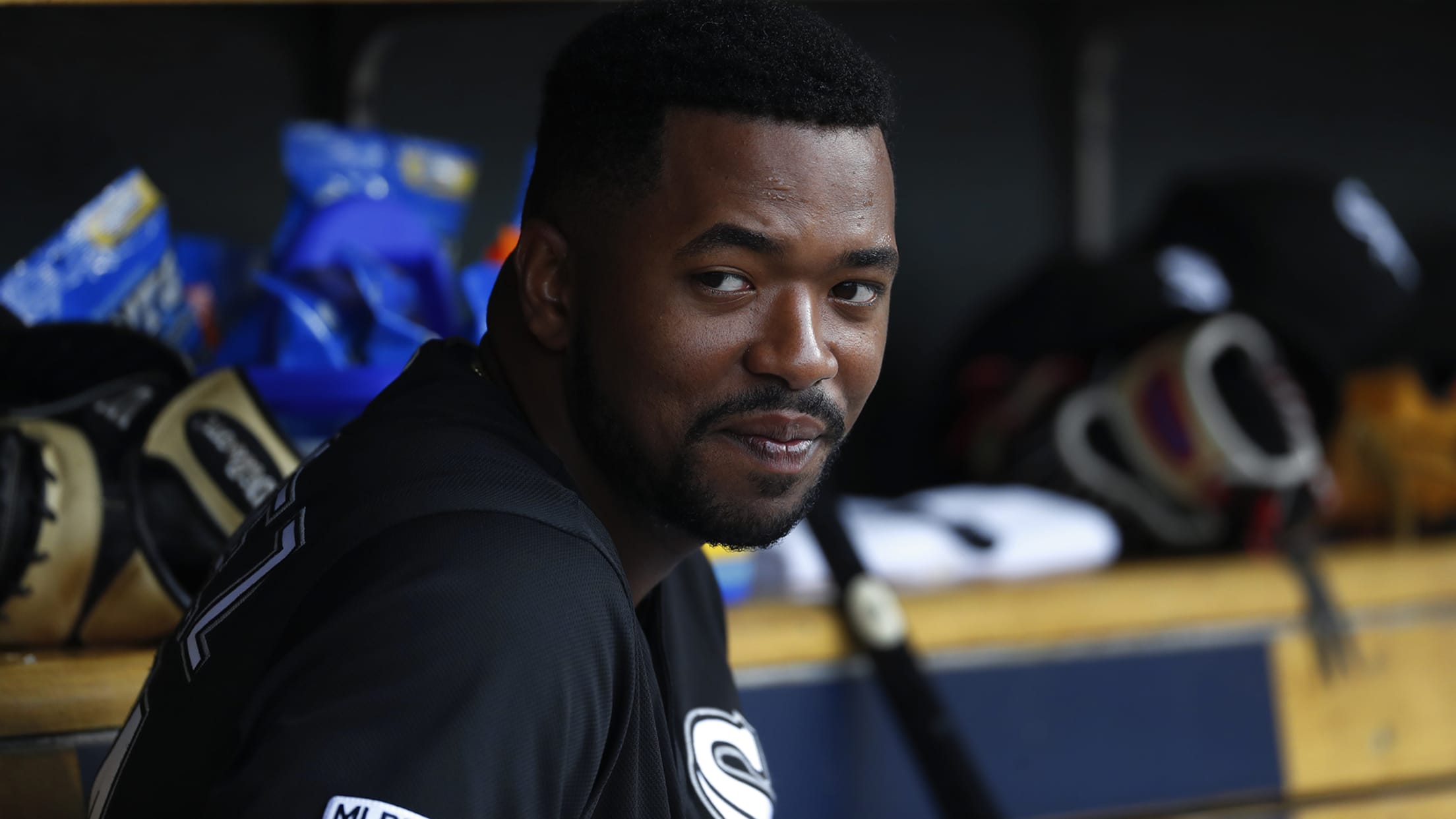 CHICAGO -- The social distancing and coronavirus pandemic protocol set forth in great detail by Major League Baseball doesn't exactly fit with Eloy Jiménez's high-wattage, hands-on personality. Take the White Sox left fielder's Zoom call Saturday as an example of his upbeat demeanor already in mid-season form despite it being
CHICAGO -- The social distancing and coronavirus pandemic protocol set forth in great detail by Major League Baseball doesn't exactly fit with Eloy Jiménez's high-wattage, hands-on personality.
Take the White Sox left fielder's Zoom call Saturday as an example of his upbeat demeanor already in mid-season form despite it being Day 2 of Summer Camp at Guaranteed Rate Field. Jiménez greeted the assembled media crew with a thumbs up, a broad smile and a welcome for everyone.
Jiménez even took the time to comment on one reporter's mustache, grown during the postponement, before that reporter was able to ask a question. Jiménez ranges from the life of the party to the loveable younger brother -- a thorn in the side if you ask José Abreu, who was the frequent 2019 target of Jiménez's playful nature.
Staying six feet away or hiding his smile behind a mask just isn't in Jiménez's repertoire, although he's quickly learning to adjust.
"It's hard because you know as a baseball player like me, I'm joking around a lot," Jiménez said. "Now, we need to keep distance. Too many rules, but we need to get used to them until this pandemic slows down a little bit. But it's really hard.
"I think this is for now, six feet distance. It's going to be just for now. Later, it's going to be better."
• Notes: Contention, safety, Anderson's glove
Even the often dire nature coming from coronavirus news can't dampen Jiménez's spirits. That optimism rates as just one of Jiménez's positive attributes and, in terms of baseball results for a White Sox squad transitioning from rebuild to contention, his on-field results have a slightly higher level of importance.
After adjusting to life in the Majors not just as a rookie but a highly touted prospect in '19, Jiménez lifted a .241 average and .785 OPS posted before the All-Star break into a .292 mark and .870 OPS over 60 second-half contests. It was Jiménez's September, though, when he really connected.
In 24 September games and 107 plate appearances, Jiménez produced a .340/.383/.710 slash line with nine home runs, eight doubles, 19 runs scored and 25 RBIs. He carried that momentum into Spring Training '20 and hopes to have not lost a step during the almost four-month layoff.
"At the beginning [of 2019], I was just worrying about I needed to play hard and I needed to do this, and I needed to do that," Jiménez said. "But at the end, I just said I'm going to play hard and if it's happening it's happening. If it's not, another day. That helped me a lot, that got me out of the pressure and just go and have fun."
"As we watch him work right now, first of all, his talent is going to be the dictating factor," White Sox manager Rick Renteria said. "His mindset is right. You see him out there, he's moving around good. We're very optimistic that he's going to be able to continue what he's been doing in the past."
• No. 3 prospect Kopech absent from camp's start
Saturday's Zoom featured Jiménez discussing a desire to someday become a Gold Glove winner defensively, as well as his mentoring of center fielder Luis Robert, the No. 3 prospect in the game, per MLB Pipeline. He added two thumbs up and another wide smile when questioned about playing these 60 games in warm weather and avoiding the harsh Midwest conditions witnessed during April and even parts of May, while explaining he was ready for baseball after this long absence.
"It was hard to focus, to keep the focus on, but this is what I do. This is what I like," Jiménez said. "If we are going to play, I'm happy. I have fun to do it. I know when I was at home just working out a little bit, but now I'm going to have full time working and be ready to play.
"I'm feeling good. First couple of days in this weather is humid, you know. It's good, but I'm going to be better and better and better past the week. I'm happy to be back in Chicago and I'm happy to be back with my boys."