White Sox prospect quartet forms brotherhood
Jimenez, Robert, Adolfo and Basabe have become close in Minors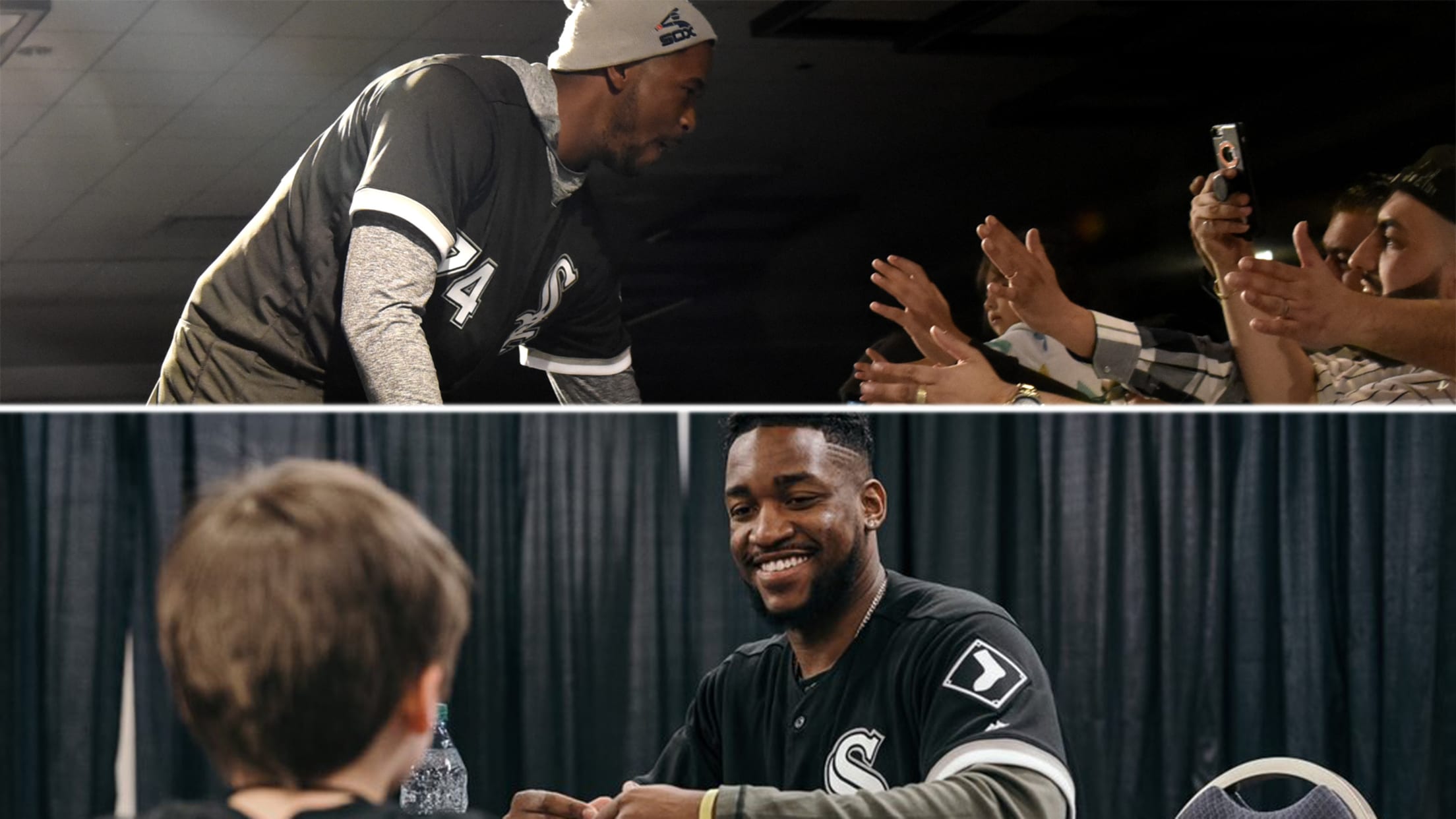 CHICAGO -- Take a look at one of Eloy Jimenez, Luis Robert, Micker Adolfo and Luis Basabe's Instagram accounts, and there's a good chance the other three will be featured frequently.The quartet rates as a big part of the White Sox future, as the organization moves into Year 3 of its
CHICAGO -- Take a look at one of Eloy Jimenez, Luis Robert, Micker Adolfo and Luis Basabe's Instagram accounts, and there's a good chance the other three will be featured frequently.
The quartet rates as a big part of the White Sox future, as the organization moves into Year 3 of its rebuild. Some combination of the four could make up the team's big league outfield for years to come. But their bond goes well beyond one of teammates.
"We don't treat each other as teammates. We treat each other as brothers," Adolfo said during weekend SoxFest activities. "That's really important. We care about each other."
Robert, 21, worked out with Adolfo, 22, in the Dominican Republic after he first joined the organization. They played together this past season at Class A Advanced Winston-Salem with Basabe, 22.
Jimenez, 22, has moved further ahead of this trio after arriving from the Cubs in the Jose Quintana trade in July 2017. He is ranked as the White Sox No. 1 prospect and No. 3 in all of baseball by MLB Pipeline and will be a key component in the South Siders' lineup at some point this year.
Even with the hoopla surrounding his top prospect status, Jimenez maintains an even-keel demeanor. He talked at SoxFest about his quest to become a good all-around player and not just an offensive force; he hit .337 with a .961 OPS, 22 home runs and 75 RBIs between Double-A Birmingham and Triple-A Charlotte in 2018.
Jimenez was asked what outfield position he feels most comfortable defensively, and he answered with a smile, "I feel comfortable when I'm in the lineup." And when questions arose concerning the chase for a potential American League Rookie of the Year honor in '19, Jimenez said it was too early to discuss such accolades.
"Yeah, I have a couple goals every year," he said. "Just be better in the strike zone and learn about the zone more and try to hit for average, hit homers and bring RBIs."
"We think the world of his future," White Sox general manager Rick Hahn said. "Obviously, he's still extremely young and he's going to have to take that next step at the big league level. And based upon what we've seen from other players, it's not always smooth. There's going to be some setbacks, there's going to be some hardship and developmental hiccups along the way. In terms of a guy who has a very strong likelihood of being a premium talent on a championship-caliber team for a long time, Eloy's on that list for sure. And he's not alone."
Hahn mentioned that similar praise for Robert could be delivered at next year's SoxFest as he moves closer to his White Sox debut. Adolfo, meanwhile, is on schedule in his recovery from Tommy John surgery last July after starting to hit one week ago. He hopes to be able to serve as a designated hitter at some point during Spring Training.
These four don't represent close to all the outfield talent accumulated in the rebuilt system, and they don't figure to all arrive in the Majors at the same time. But none of them seem too far away from reaching the big leagues.
"That's the way I also see our relationship," said Robert, who also was in attendance for SoxFest, through interpreter Billy Russo. "It's definitely like a brotherhood."