Eloy shares wisdom with DR academy prospects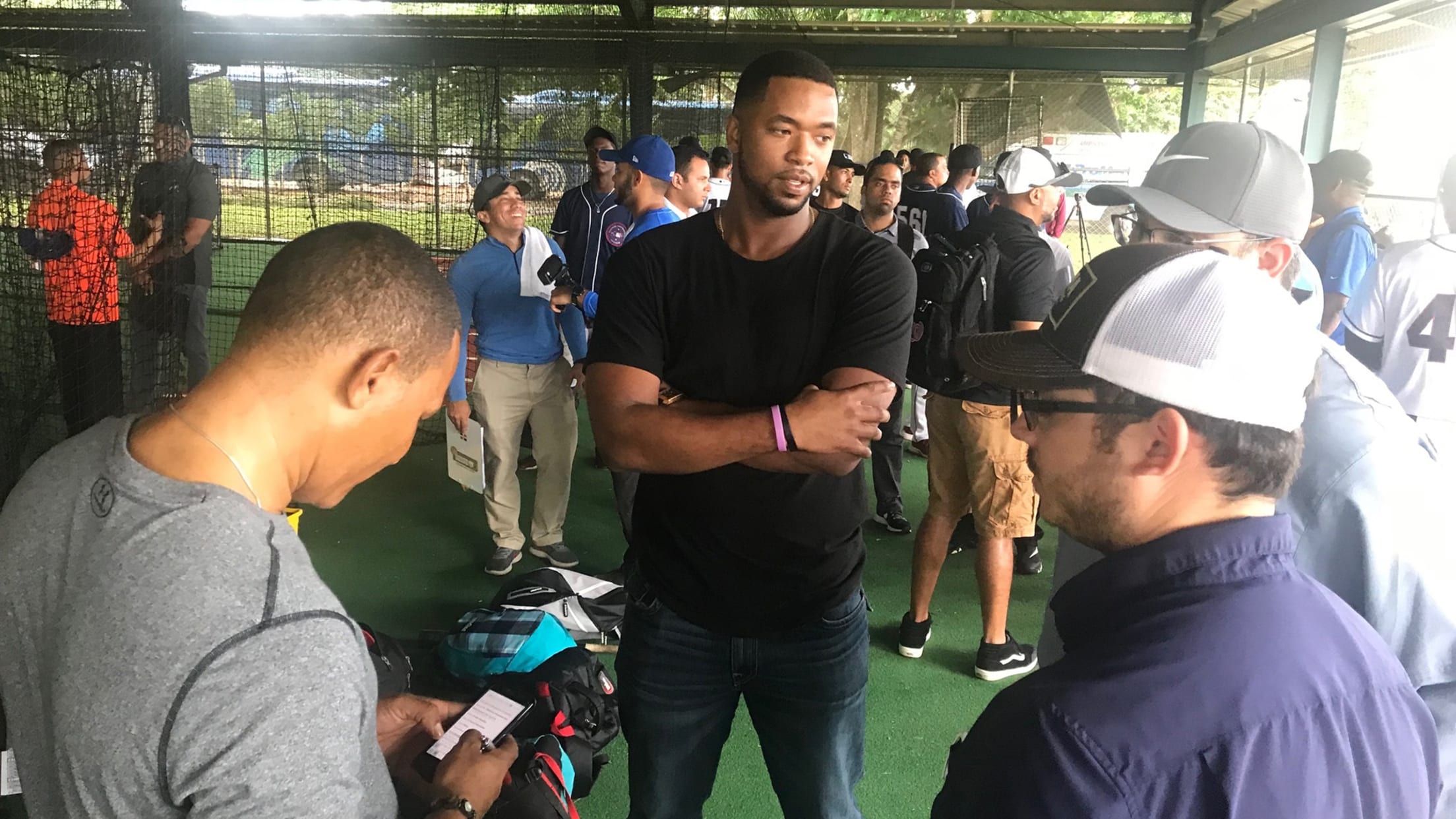 BOCA CHICA, Dominican Republic -- Eloy Jimenez has been here before -- lots of times, actually -- and he knows what it feels like to walk around this place.Jimenez remembers the delicious and hearty food, the weight room just off the main sidewalk and, of course, the batting cages."So many
BOCA CHICA, Dominican Republic -- Eloy Jimenez has been here before -- lots of times, actually -- and he knows what it feels like to walk around this place.
Jimenez remembers the delicious and hearty food, the weight room just off the main sidewalk and, of course, the batting cages.
"So many memories," Jimenez said in Spanish.
:: Complete prospect coverage ::
The White Sox top prospect -- and ranked No. 3 in the game by MLB Pipeline -- Jimenez says he basically grew up at the Cubs' academy in the D.R. before and after they signed him back in 2013, and it will always be a special place. So when he was asked to come back to his old stomping grounds to visit with the prospects at MLB's national showcase for players from the island on Thursday, Jimenez leaped at the chance to speak to the teens.
• Debut Trainer Partnership showcase draws raves
"I'm here for the kids, because I have been where they are," Jimenez, 21, said. "I know my words can encourage them and change their lives. I had so much good advice and guidance when I was their age. It's only right for me to come back here and share what I know with them, because so many people helped me along the way."
Jimenez arrived at the complex at noon on the final day of the showcase, the first event under the new Trainer Partnership Program between Major League Baseball and local trainers. He met with the 45 prospects and posed for photos. Jimenez also shook hands with trainers, MLB officials and Cubs personnel on hand scouting the event.

Jimenez, who participated in MLB showcases like the one this week before he signed with the Cubs for $2.8 million, looks back fondly on his days as an amateur. He was acquired as part of a five-player deal that sent Jose Quintana to the Cubs in July 2017.
"I never really felt pressure, even then, because I just saw it as a competition," Jimenez said. "I just wanted to go out there and do my best and let what happened happen. I still think the same way."
Jimenez hit a combined .337 with 22 home runs, 28 doubles, 75 RBIs and a .961 OPS at Double-A Birmingham and Triple-A Charlotte this season. In 211 at-bats with the Knights, he hit .355 with a .996 OPS, 12 home runs and 33 RBIs.
The White Sox felt it was in the club's best interest not to call up Jimenez on Sept. 1, when rosters expanded.
"It's not something I was comfortable with, because I felt I was ready and could help the team, but that's not something I could control," Jimenez said. "I'll be here all winter, and I'm going to keep working hard, getting my body ready and be ready for Spring Training."
Jimenez spent most of his time chatting up the young prospects at the showcase. He also sent a message to any White Sox fans who wonder why he is at the rival Cubs' academy.
"The White Sox fans have been so good to me," Jimenez said. "I love them, and I want them to know I'm working hard. Look at my shirt -- it's black. I'm wearing our color."