Andrus being coy about returning next season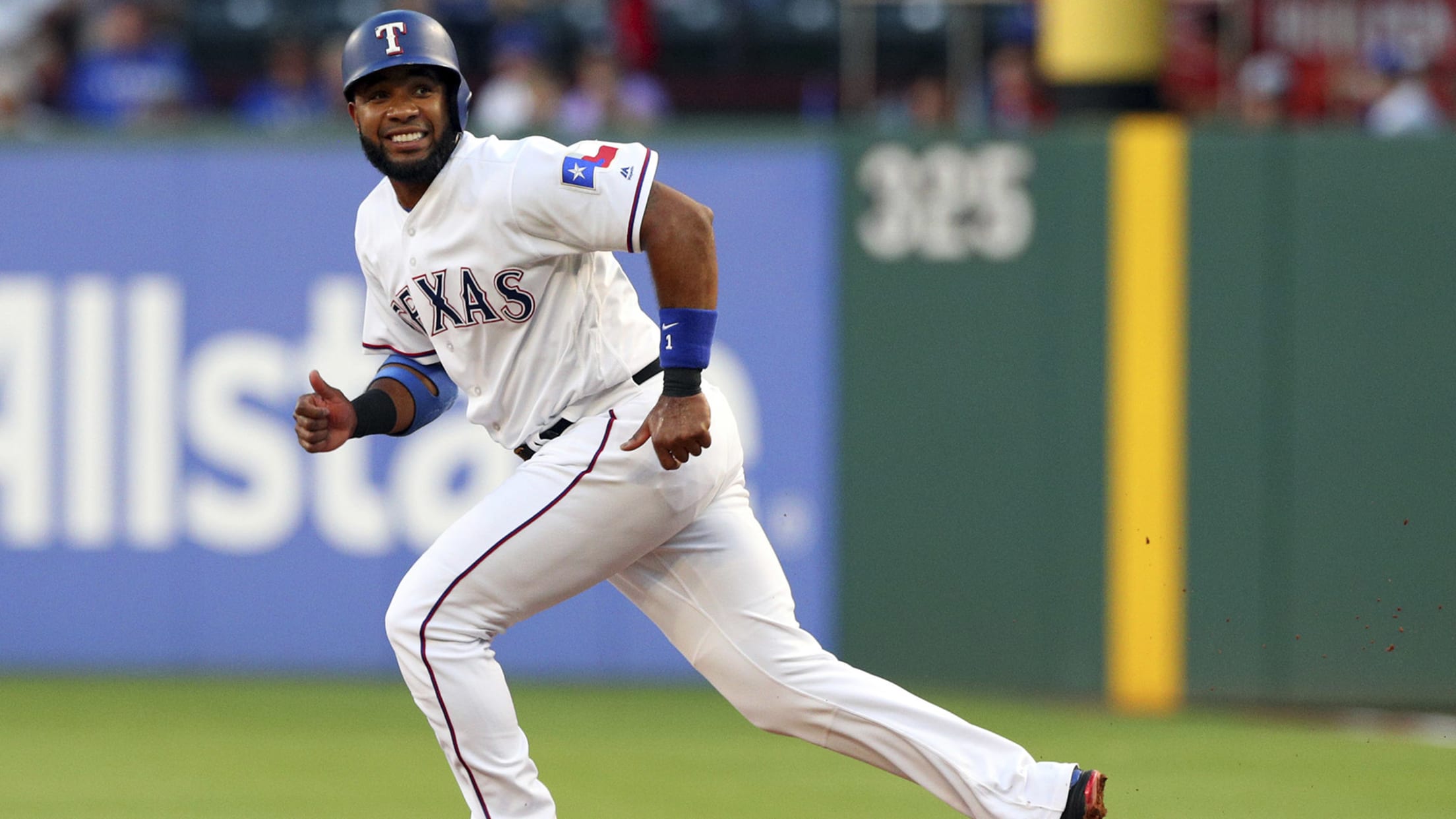 Texas Rangers shortstop Elvis Andrus (1) runs to second base in a baseball game against the Minnesota Twins Friday, Aug. 31, 2018, in Arlington, Texas. (AP Photo/Richard W. Rodriguez) (Richard W. Rodriguez/AP)
ANAHEIM -- Elvis Andrus was talking about Adrian Beltre on Monday, saying he has encouraged his veteran teammate to put off retirement and come back in 2019.Reading between the lines, it sounded as if Andrus was also saying that he is intent on staying with the Rangers next season and not
ANAHEIM -- Elvis Andrus was talking about Adrian Beltre on Monday, saying he has encouraged his veteran teammate to put off retirement and come back in 2019.
Reading between the lines, it sounded as if Andrus was also saying that he is intent on staying with the Rangers next season and not using the opt-out clause in his contract.
So, Andrus was asked point blank if he has already made his decision to return. He is scheduled to earn $15 million next season.
"Yeah, for sure. Where do you want me to go?" he said with a smile, before pointing to reporters and saying they were the real reason he wanted to wear a Rangers uniform again.
While all the clues of an Andrus return are there, the shortstop ultimately admitted he likely would wait and make things official when the fall and winter arrive.
"I'll take it into the offseason," said Andrus, who also has an opt out after next season.
While the year has not met Andrus' standards, his return would be treated with open arms. The two-time All-Star is batting just .266 with a .705 OPS, in line with his career mark of .706 but not the well-above average he posted in each of the past two seasons.
After never playing less than 145 games in a season, he entered Monday's game against the Angels with just 80. He missed 59 games with a right elbow fracture, with the Rangers going 25-34 in those contests.
But the Rangers are more than willing to give Andrus a do-over on this one. His upside is hard to match, and nobody thinks a healthy Andrus will be anything less than a key contributor.
"He's a Ranger, we love having him, he's a good player and he's been a tremendous player," manager Jeff Banister said. "You look at the things he's done for us, he's a leader inside the clubhouse. The playing portion of it, this has been a challenging year, but coming into this year, he has put together some really outstanding years."
Rangers general manager Jon Daniels sounded optimistic that Andrus will return.
"Just the way the season has played out with the injury especially, I felt it was more headed that way," said Daniels, who is with the team in Anaheim. "Hey, if he hits 15 home runs the rest of the way, I think he reserves the right to change his mind. But yeah, with injury and missing time that would have been my expectation."
If Beltre doesn't return, Andrus' role as a clubhouse leader would only be heightened. The Rangers would welcome that as they look to turn the page on 2018.
So was he joking about that return in 2019?
"You'll have to wait and see if I was joking or not," Andrus said. "I've got to keep it interesting in here, man."
Sampson's reward near
One day away from his return as a Major League starter, right-hander Adrian Sampson looked at his jersey hanging in his Angel Stadium locker and was able to let himself feel a sense of pride.
"That's nice," he said. "It's got my name on the back and Texas on the front. That's what it's all about and being around these guys and knowing where we're at. It's just another day at the yard, but looking back at it, [Tuesday] will be something I never forget."
Sampson made his Major League debut as a starter for the Mariners in 2016. After just one game, he had surgery to repair a torn flexor tendon in his right elbow. Although he pitched in relief Friday, getting roughed up by the A's, Tuesday will feel like more of a triumphant return.
"It will be fun to watch him go out and start a game," Banister said. "It is a testament to him and what he has worked for."
Rangers beat
• OF Ryan Rua, who has been on the disabled list since July 28 because of back spasms, was placed on the active roster.
• 2B Rougned Odor was not in the Rangers' starting lineup for the opener of the three-game series against the Angels.
Doug Padilla is a contributor to MLB.com based in Los Angeles.