Andrus committed to 'It's All Me' campaign
Rangers shortstop enters 4th year with Taylor Hooton Foundation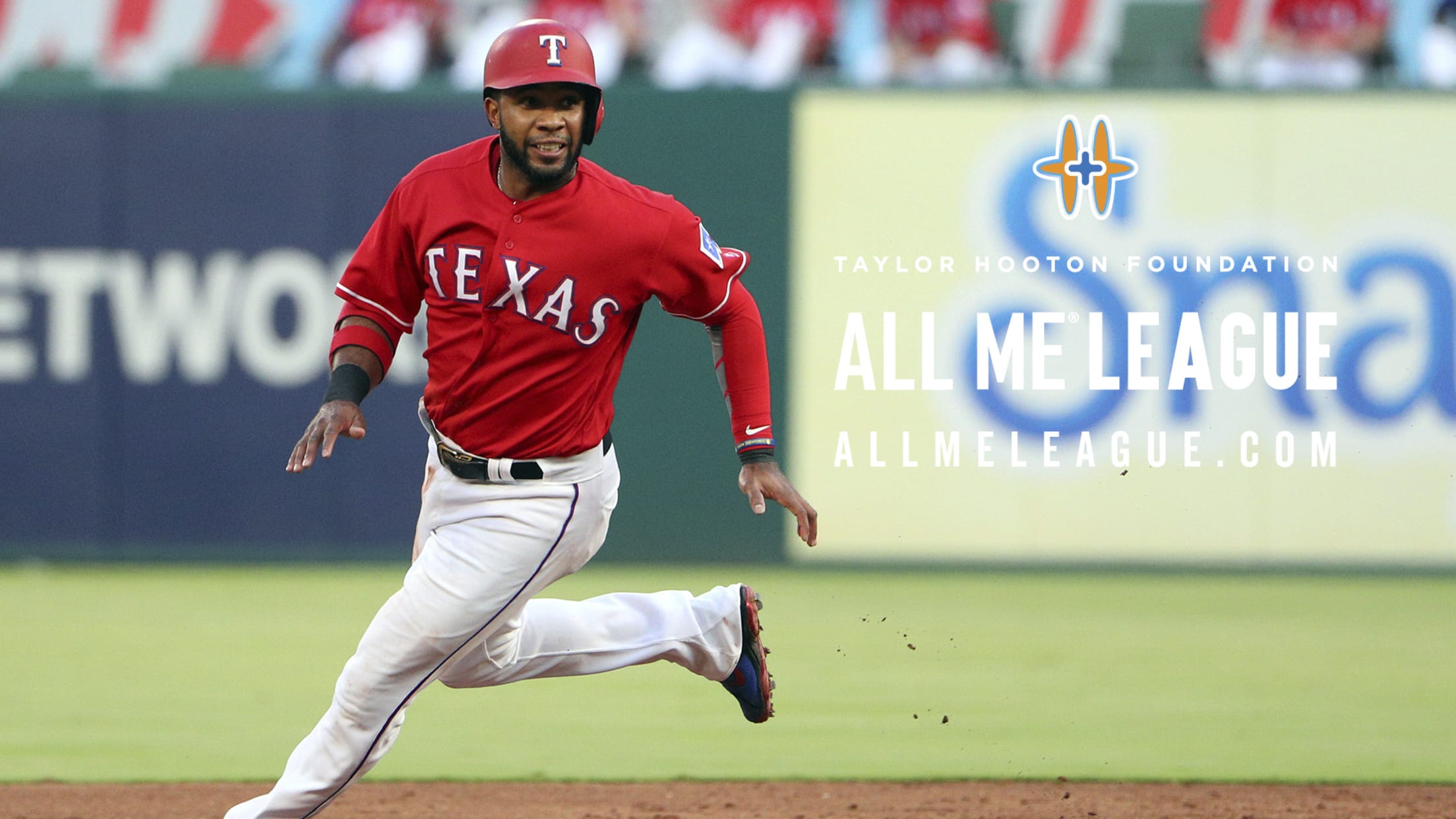 Texas Rangers Elvis Andrus (1) runs the bases in a baseball game against the Baltimore Orioles Thursday, Aug. 2, 2018, in Arlington, Texas. (AP Photo/Richard W. Rodriguez) (Richard W. Rodriguez/AP)
ARLINGTON -- Rangers shortstop Elvis Andrus matched his career-high 16-game hitting streak with a triple in Sunday's series finale against the Orioles at Globe Life Park.The longer streak Andrus has going is that he's entering his fourth year of involvement with the Taylor Hooton Foundation as the Rangers' member of
ARLINGTON -- Rangers shortstop Elvis Andrus matched his career-high 16-game hitting streak with a triple in Sunday's series finale against the Orioles at Globe Life Park.
The longer streak Andrus has going is that he's entering his fourth year of involvement with the Taylor Hooton Foundation as the Rangers' member of the advisory board of active players from throughout Major League Baseball. The foundation is one of the advocates against the appearance and performance-enhancing substance use by children in this country.
"It is super important to give kids knowledge that shows they can achieve anything in life without cheating," Andrus said. "During my whole career, hard work paid off. Just trying to teach them the right way to go and help them."
Andrus, as he does with all of his community endeavors, takes an active role in the Hooton Foundation. He has been a board member since 2015.
In addition to their participation in the public-service-ad campaigns since 2015, members of the "Advisory Board" also take part in the THF's educational activities in their local communities. Board members have also provided their input on the most effective ways to educate North America's young people about the dangers of anabolic steroids and other appearance and performance-enhancing drugs.
"We did a clinic earlier this year, we brought a bunch of kids to the stadium and talked to them," Andrus said. "I talked to them briefly, the story about me and everything I went through, it was kind of cool for them to get to know us and we were able to give them a lot of information about supplements that can actually help you without using steroids."
This year, board members are participating in the THF's 2018 public-service campaign, "It's All Me." For the campaign, a print PSA featuring each of the Foundation's "Advisory Board" members has been created and will be made available to each player's respective team for its program/magazine and other team platforms for the '18 season. In addition, It's-All-Me-themed print PSAs will appear in Major League Baseball's All-Star-Game, League Championship Series and World Series programs.
Andrus said the best part of being on the board is getting to speak with and interact with kids.
"In the beginning, they start out not paying 100 percent," Andrus. "But as soon as you start giving out the information and everything about supplements, doing it right the other way instead of trying to cheat and use something that is going to hurt your body in the future. In the end, they have fun, they get to go to the cage and the tee, it's a lot of fun to work with them."
Rangers beat
• Reliever Austin Bibens-Dirkx was optioned to Triple-A Round Rock to make room for right-hander Drew Hutchson on the 25-man roster. Hutchison started against the Orioles on Sunday after agreeing to a contract on Saturday night.
• With the addition of Hutchison, the Rangers will go with a six-man rotation for now, manager Jeff Banister said. Ariel Jurado's next start is Thursday at Yankee Stadium.
• Isiah Kiner-Falefa entered Sunday with a .302 batting average in 13 games when he has been the Rangers' catcher. Only three other players have at least 50 plate appearance and a batting average of .300 or better as a catcher: Kevan Smith of the White Sox (.307), J.T. Realmuto of the Marlins (.306) and Buster Posey of the Giants (.302).