Hernandez soaking up Hawaii experience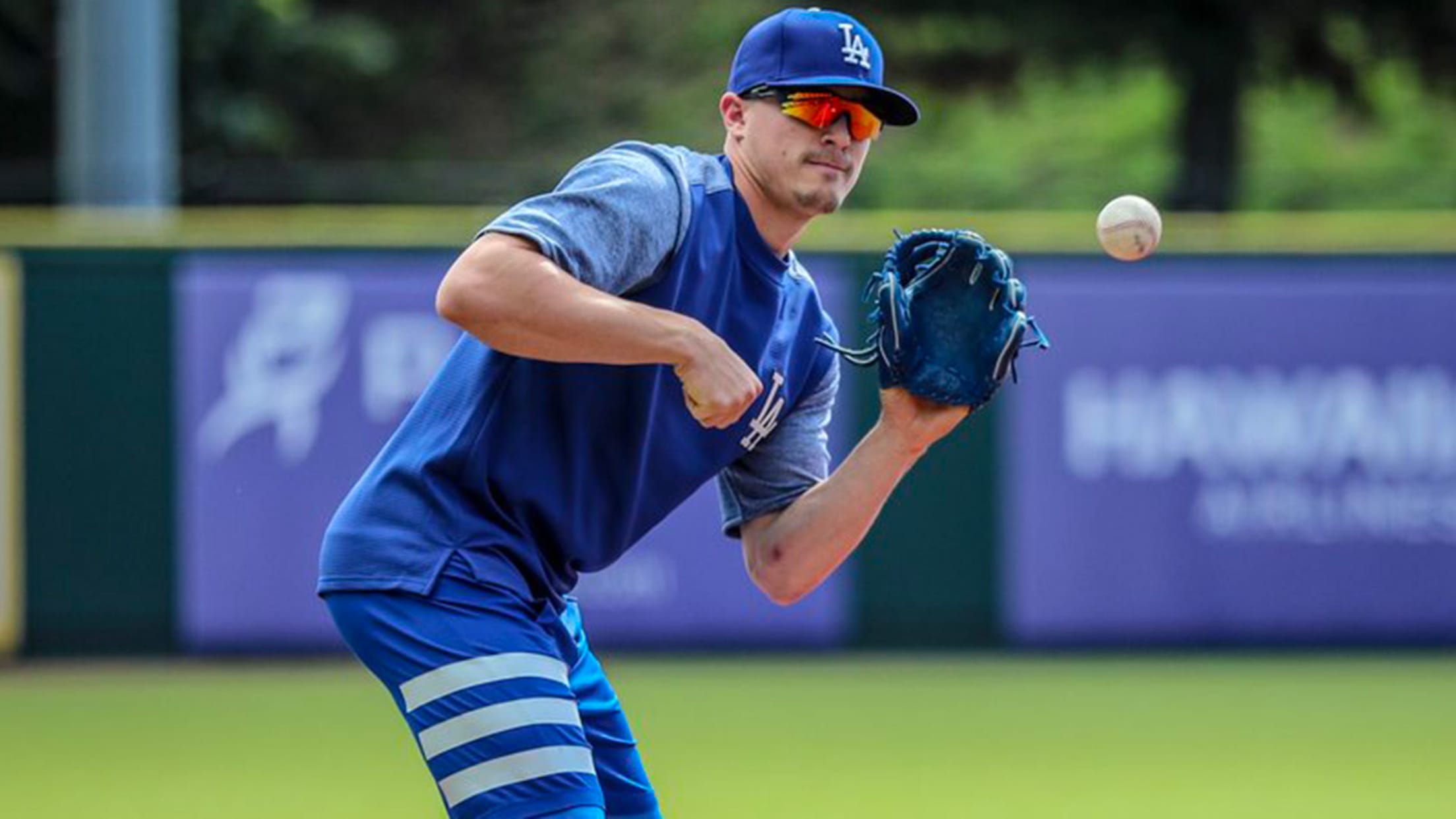 Enrique Hernandez has earned some time to rest and recuperate after helping the Dodgers navigate long postseason runs to the World Series in back-to-back seasons.However, instead of starting his offseason immediately following his team's loss to the Red Sox, Hernandez continues to hone his craft as one of baseball's elite
Enrique Hernandez has earned some time to rest and recuperate after helping the Dodgers navigate long postseason runs to the World Series in back-to-back seasons.
However, instead of starting his offseason immediately following his team's loss to the Red Sox, Hernandez continues to hone his craft as one of baseball's elite utility players. Hernandez has become a mainstay on a talented Los Angeles roster with his ability to play around the diamond.
Hernandez is part of the Major League squad taking part in the Hawaii Workout, a brief weekend trip that included training sessions at Les Murakami Stadium on the University of Hawaii at Manoa campus in Honolulu. He is joined on the team by 2018 All-Stars such as Cardinals catcher Yadier Molina, Marlins catcher J.T. Realmuto, Mariners outfielder Mitch Haniger and Reds third baseman Eugenio Suarez, as well the Nationals' Juan Soto and the Braves' Ronald Acuna Jr., both standouts as rookies this past season.
Players, coaches and support staff are spending the weekend on Oahu before heading to Japan for the 2018 Japan All-Star Series as the MLB squad faces off with counterparts from Nippon Professional Baseball in seven games from Nov. 8-15. On Sunday, players engaged in light warm-up drills, bullpen sessions and batting practice before an excited crowd that included an array of youth baseball players and their families.
"In a perfect world, I'd like to play shortstop or second every day, but being versatile has kept me in the big leagues, and it's something I take a lot of pride in," said Hernandez. "It's something that's not very easy to do, and I've gotten used to it."
Hernandez explained that while in Hawaii, he spent time with the catchers as they warmed up and game-planned for the upcoming trip to Japan. In addition to getting to know the backstops, Hernandez said that he also attempted to learn more about the way a catcher's mind works -- insight that could come in handy when stepping into the batter's box and anticipating opposing pitch selections.
Yadi Molina, catcher.
JT Realmuto, catcher.
Robinson Chirinos, catcher.
Kiké Hernandez, catcher?#LetKikéCatch pic.twitter.com/WVE77yEeCK

— Cut4 (@Cut4) November 4, 2018
"I'm not a catcher, but by listening to [them] talk, I feel like I've learned a few different things, and hopefully when I step up to the plate, that changes things a bit," Hernandez said. "Coming here to Hawaii with all the big names we have on the roster, and hearing all the kids call my name because there are so many Dodgers fans here, it's really awesome. I'm getting goosebumps right now as I speak, and it's something that I don't take for granted."
Blue Jays outfielder Kevin Pillar, like Hernandez, is using this trip as a way to connect with fellow Major Leaguers. The wall-climbing, home run-robbing specialist explained that playing in the outfield often isolates him from his counterparts, and that interactions usually are confined to brief exchanges at home plate and upon reaching first base.
"It's a huge opportunity to interact with guys I don't usually have a chance to talk to," Pillar said. "To watch these guys hit and go about their work, hopefully I can take some things home with me and apply it to my offseason [preparation]. It's beautiful here; we wouldn't be doing this outdoors in Toronto right now."
Throughout the weekend, players and coaches made it clear that future visits to Hawaii -- including potential exhibition and Spring Training games -- would be a welcome addition to the schedule.
"It would be great, I think guys would love it," said All-Star Series manager Don Mattingly, skipper of the Marlins, who also helmed the Dodgers from 2011-15. "It depends where you're traveling from, and obviously it would be a lot easier coming from the West Coast and Arizona when making that trip, but it does seem like a place where you can do that. Teams like to get out of their 'home areas,' whether it be Arizona or Florida, to give guys a different atmosphere."
The All-Star Series extends a long-time tradition that dates back to 1908, and will mark the 37th time that Major Leaguers have toured Japan for exhibition games. The series will be played in Tokyo, Hiroshima and Nagoya, and MLB Network will provide extensive coverage, including live game telecasts.
Kyle Galdeira is a contributor to MLB.com.