Ramirez might join possible 6-man rotation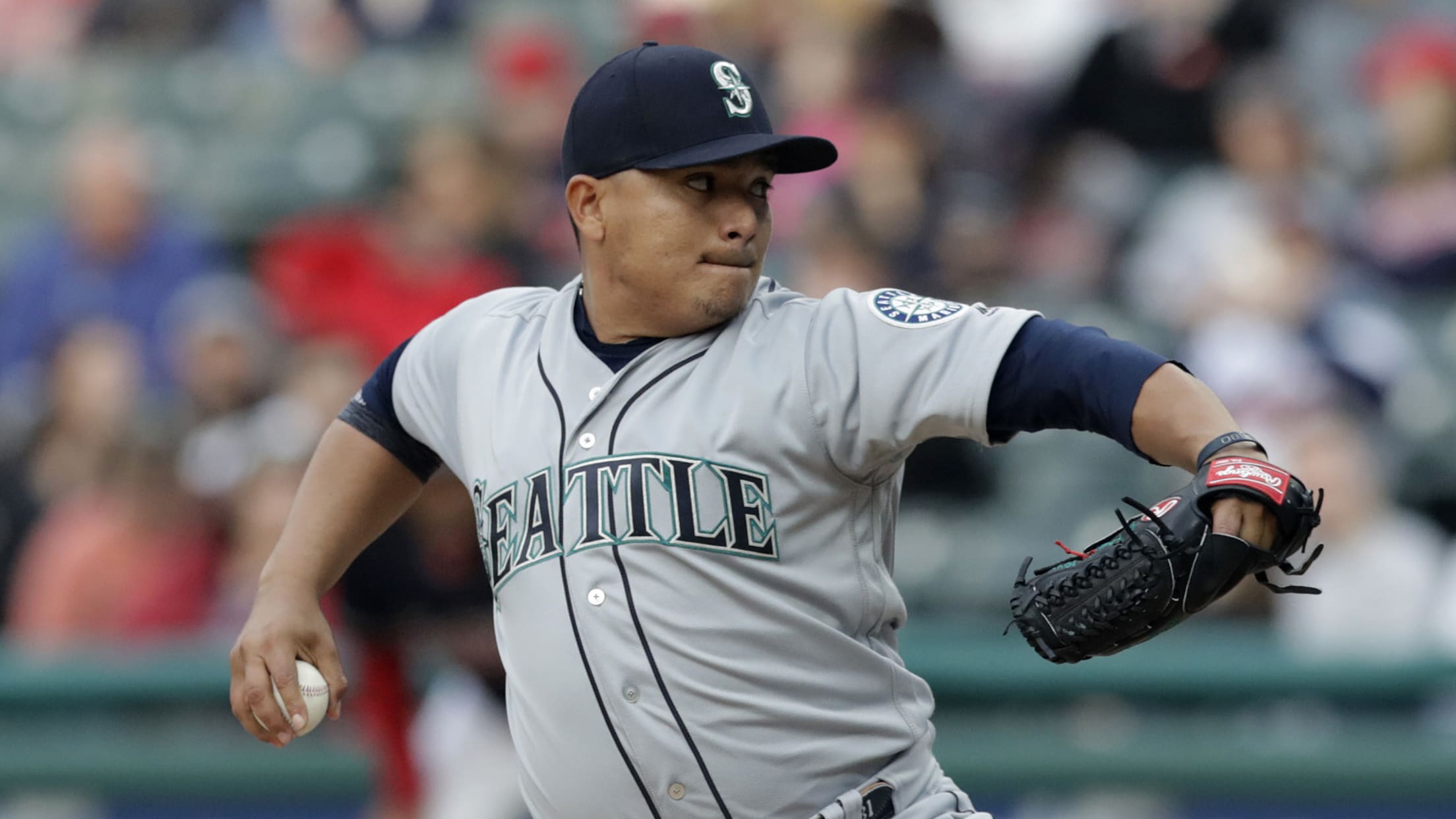 Seattle Mariners starting pitcher Erasmo Ramirez winds up during the first inning of the team's baseball game against the Cleveland Indians, Friday, April 27, 2018, in Cleveland. (AP Photo/Tony Dejak) (Tony Dejak/AP)
ANAHEIM -- With the Mariners just starting a stretch of 20 games in 20 days through mid-August, this would be the time the club might opt to add a sixth starter into the rotation to keep their five-man group fresh.Whether general manager Jerry Dipoto acquires another starter prior to Tuesday's
ANAHEIM -- With the Mariners just starting a stretch of 20 games in 20 days through mid-August, this would be the time the club might opt to add a sixth starter into the rotation to keep their five-man group fresh.
Whether general manager Jerry Dipoto acquires another starter prior to Tuesday's non-waiver Trade Deadline, that may well happen. But the new addition could be a guy who was added at last year's deadline instead of this year's, as right-hander Erasmo Ramirez is close to coming off a three-month stint on the disabled list.
"We continue to monitor how Erasmo is moving along," manager Scott Servais said prior to Saturday's game against the Angels. "He's been throwing great so far. That could certainly play into the mix."
But with James Paxton set to come off the 10-day DL on Monday to face the Astros, Servais said the current rotation of Paxton, Marco Gonzales, Mike Leake, Felix Hernandez and Wade LeBlanc hasn't shown any signs of hitting the wall.
"All of our guys got significant down time around the break," Servais said. "We set it up that way, we've brought them out of the break and haven't pushed anybody well over 100 pitches. Game situations have dictated to get guys out and go to the bullpen at certain times.
"I think our guys are fine. I don't see anybody really fatiguing or laboring or feeling bad about it. If we get to that point, then we'll have the discussion. But it's nice to see Erasmo coming along the way he is."
Ramirez has thrown five scoreless innings with just one hit over his first two rehab outings and will be stretched out further on Monday at New Orleans. After that, the Mariners could bring him back either as a sixth starter or long man in the bullpen.
Ramirez was acquired from the Rays last year in a trade for Steve Cishek on July 28 and wound up being one of the Mariners' best starters down the stretch with a 3.35 ERA and opponent's batting average of .224 over his final nine outings.
The 28-year-old was expected to open this season as Seattle's No. 4 starter, but he dealt with arm injuries all spring and made just two starts in April before being shut down with a shoulder issue.
Dipoto could still choose to acquire a starter via trade as well, with the deadline now three days away.
Worth noting
• Paxton played some light catch on Saturday and is expected to be ready for Monday's return against the Astros, though Servais acknowledged he'd likely be on a shorter pitch count after lasting just two-thirds of an inning in his last start on July 7 and then skipping his expected Tuesday return due to tightness in his lower back.
"We'll monitor him," Servais said. "I don't know if we'll see him run out there and throw 110-115 pitches, but it'll be good to get him back out there."
• Right-handed reliever Sam Tuivailala was expected to arrive around game time on Saturday and be added to the roster on Sunday after being acquired from the Cardinals in a Friday trade for Minor League reliever Seth Elledge.
Tuivailala last threw in a game on Tuesday, tossing 24 pitches in 1 2/3 innings and getting the win in the Cardinals' 4-2 victory at Cincinnati.
"He's been throwing an inning here or there. He hasn't been overworked," Servais said. "The National League kind of dictates when you use these guys, based on when the pitchers' spot hits and all that other stuff. He should be fresh and able to come in and contribute right away."
The Mariners will need to make a roster move to open a spot for the 25-year-old, with long reliever Casey Lawrence a likely candidate to be returned to Triple-A Tacoma.