Sogard having trouble recovering from foot injury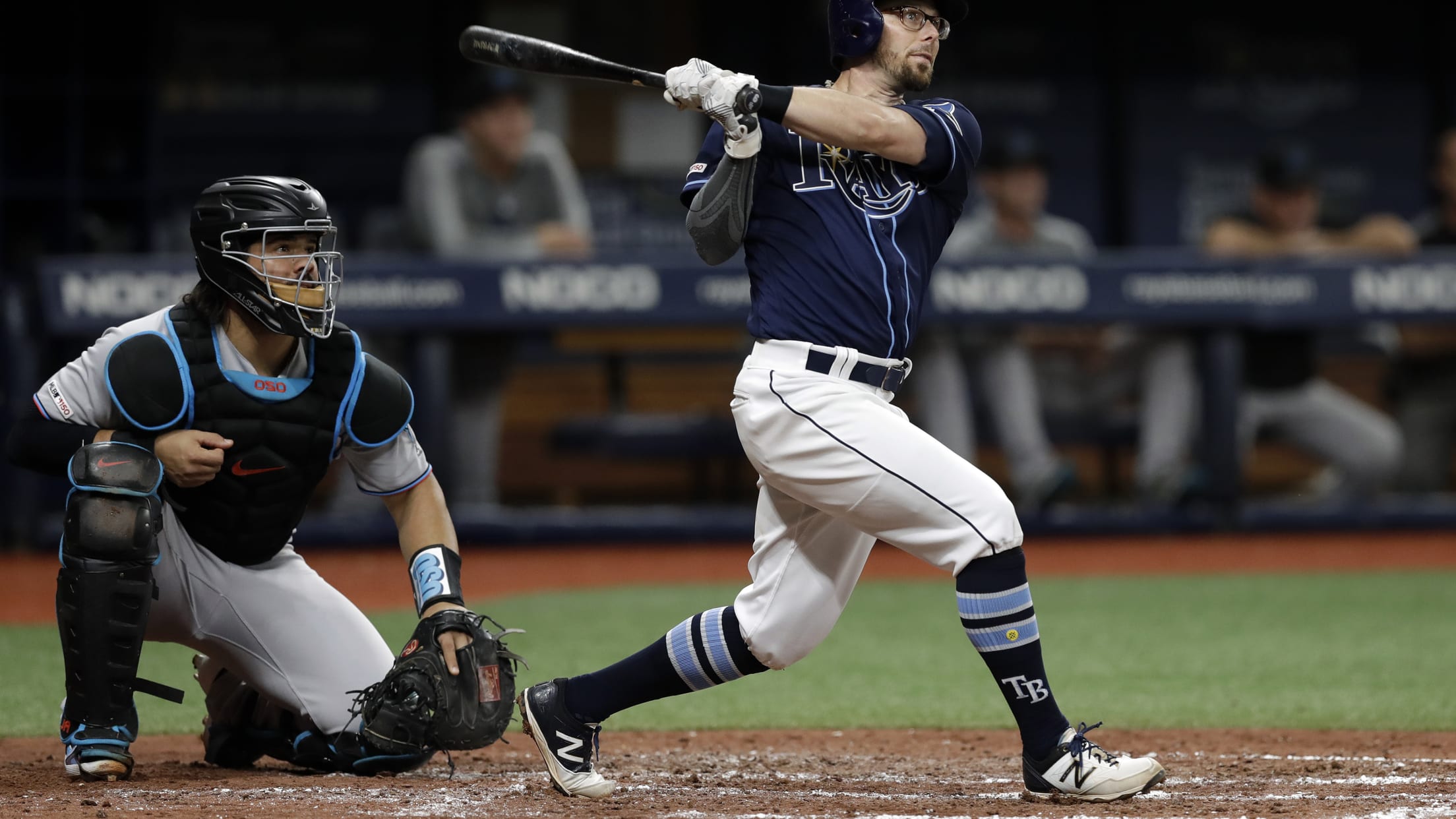 ST. PETERSBURG -- Eric Sogard was one of the main acquisitions the Rays made at the Trade Deadline this year, but there's a possibility that the infielder won't be able to return to the lineup in the regular season due to a deep bone bruise on his right foot. "Hasn't
ST. PETERSBURG -- Eric Sogard was one of the main acquisitions the Rays made at the Trade Deadline this year, but there's a possibility that the infielder won't be able to return to the lineup in the regular season due to a deep bone bruise on his right foot.
"Hasn't quite turned the corner for whatever reason," said Rays manager Kevin Cash. "He's getting treatment and stuff like that, but not very encouraging at this moment."
Sogard fouled a ball off his foot on Sept. 6 and hasn't been able to consistently get on the field. The 33-year-old infielder was able to make three pinch-hit appearances during the series against the Rangers two weeks ago and even got a start at second base against the Angels on Sept. 14.
Unfortunately for Sogard, he aggravated the injury against the Angels and has only appeared in one game since, missing eight consecutive contests.
"He's tried to kind of get his legs," Cash said. "It's just not there for him."
There's no timetable for Sogard's return, and with four games left in the regular season, including Wednesday's game against the Yankees, it appears that Sogard is in danger of missing the next couple of games.
"I kind of almost sprained something in [the foot], which is kind of causing that discomfort," Sogard said. "It's something that they say could turn the table overnight at a point and be good to go. But it's kind of just day by day."
Playoff odds
With just four games remaining in the regular season, the Rays have a solid chance of making the postseason in a tight American League Wild Card chase.
Entering Wednesday, Baseball Reference gave the Rays a 65.2 percent chance to be one of the two AL Wild Card teams. FanGraphs was even more generous to Tampa Bay, giving it a 70.2 percent chance of playing in the AL Wild Card Game on Oct. 2.
The Rays entered Wednesday with a half-game lead over the Indians for the second AL Wild Card spot, and they were just a half-game behind the A's for the top spot.
Of the three teams in contention, the Indians have the toughest remaining schedule, playing three of their last five games -- all on the road -- against the Nationals, who are one of the five NL postseason teams. Tampa Bay closes the series against New York on Wednesday before enjoying a Thursday off-day and finishing the season against the Blue Jays in Toronto. The A's have one game remaining against the Angels and then four vs. Seattle, all on the road.
Juan Toribio covers the Rays for MLB.com. Follow him on Twitter @juanctoribio.