Brewers bring Kratz back on 1-year deal
Milwaukee has 12 remaining players eligible for arbitration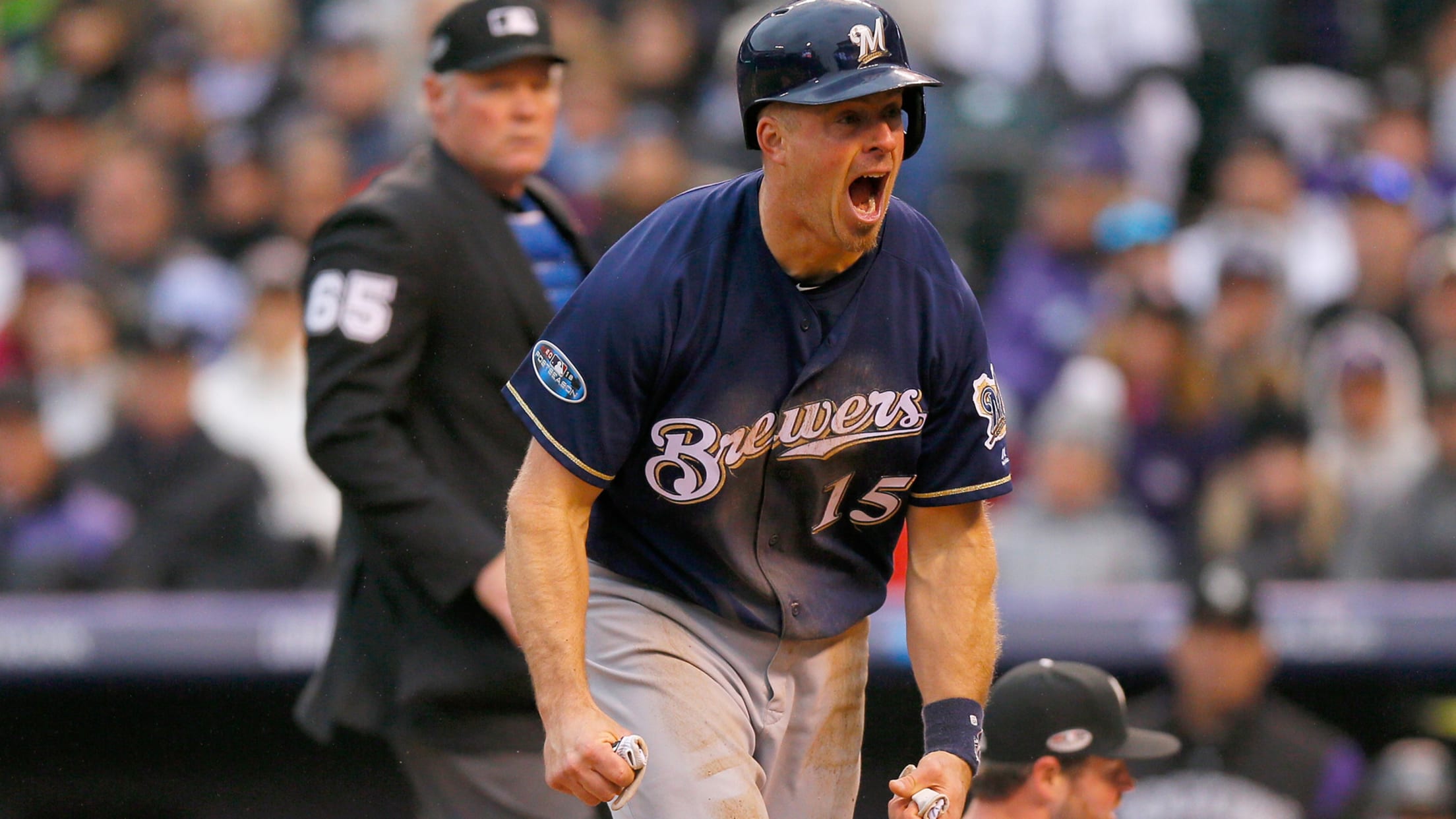 MILWAUKEE -- After the most fulfilling of his 17 professional seasons, Erik Kratz is coming back for another year with the Brewers.The veteran catcher agreed Tuesday to a one-year contract for 2019, days ahead of the Friday deadline for teams to tender contracts to their arbitration-eligible players or release them
MILWAUKEE -- After the most fulfilling of his 17 professional seasons, Erik Kratz is coming back for another year with the Brewers.
The veteran catcher agreed Tuesday to a one-year contract for 2019, days ahead of the Friday deadline for teams to tender contracts to their arbitration-eligible players or release them into free agency. Kratz was one of those eligible players for the Brewers, who have a whopping 12 remaining: Hitters Hernan Perez, Manny Pina, Tyler Saladino, Domingo Santana, Jonathan Schoop and Travis Shaw; and pitchers Xavier Cedeno, Zach Davies, Junior Guerra, Dan Jennings, Corey Knebel and Jimmy Nelson.
Kratz's new deal will pay $1.2 million in the Major Leagues, MLB Network insider Jon Heyman reported.
At the moment, it appears he will again share time behind the plate with Pina. The Brewers' 40-man roster also includes catching prospectJacob Nottingham, coming off a season in which he made his Major League debut.
Milwaukee acquired Kratz from the Yankees' Triple-A affiliate on May 25 for a player to be named (Minor League infielder Wendell Rijo), and in his age 38 season while playing for his 12th organization, Kratz made the most of the opportunity. He made 54 regular-season starts and emerged as the Brewers' primary catcher down the stretch and into October, when Kratz logged his first career postseason plate appearances.
Kratz made the most of those, too, going 5-for-8 with two critical RBIs in the National League Division Series against the Rockies, along the way becoming the oldest position player to start his postseason debut since Milwaukee native Lave Cross did so at age 39 for the 1905 Philadelphia Athletics.
"We played together in rookie ball," Kratz joked.
The only more veteran Brewers catchers were Gregg Zaun, who celebrated his 39th birthday with the Brewers in 2010, and Rick Dempsey, who played past his 42nd birthday with the Brewers in 1991.
"Retirement is not on my radar as in, 'Yep, this is when I'm going to do it,'" Kratz said during the postseason. "I haven't had a good enough career to retire. I'm just going to quit. I'll just be out. That's what's going to happen."
But he's not out yet.