Breaking down top potential fits for Moustakas
Moose available deep into free agency for 2nd straight year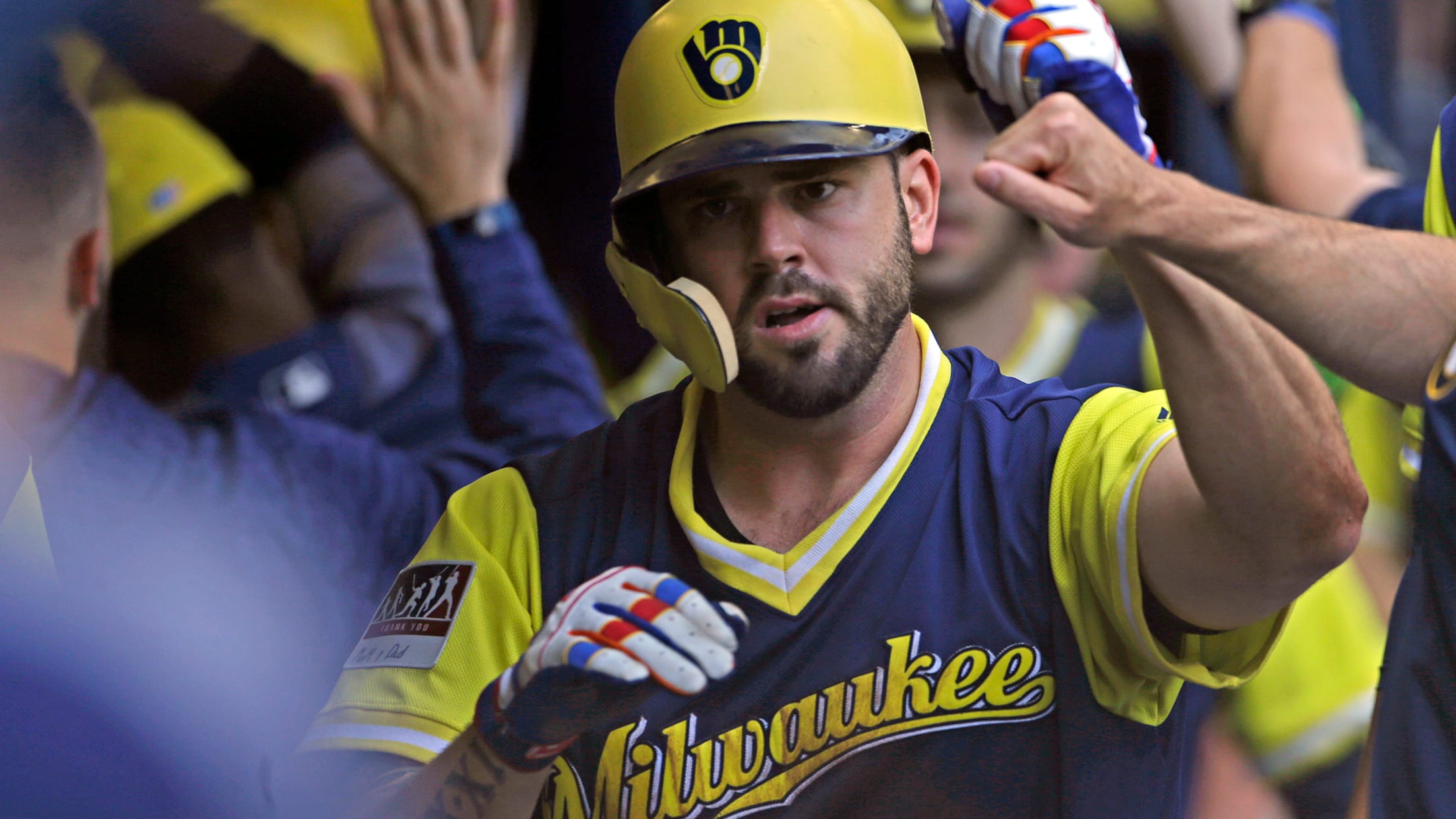 As Spring Training commences across the Majors, Mike Moustakas finds himself in all too familiar territory. The veteran third baseman -- he of 30-homer potential -- remains jobless deep into the offseason for the second straight year, perhaps as one of the more reflective embodiments of what's been yet another
As Spring Training commences across the Majors, Mike Moustakas finds himself in all too familiar territory. The veteran third baseman -- he of 30-homer potential -- remains jobless deep into the offseason for the second straight year, perhaps as one of the more reflective embodiments of what's been yet another incredibly slow-moving market.
Moustakas appeared to be in line for a hefty pay day last offseason when he was one of the top free-agent hitters, but he remained without a job just weeks ahead of Opening Day, at which point he re-signed with the Royals on a one-year, $6.5 million deal -- well below what any pundit would've forecasted and astronomically below the $17.4 million qualifying offer he rejected.
Will Moustakas find more financially laden future, perhaps of the multiyear variety? Nearly all of the teams that have been linked to him -- most prominently, the Phillies, White Sox, Padres and Brewers -- have also been pursuing Manny Machado, which suggests that they may view Moustakas as a Plan B. That context is essential in examining where Moustakas might be a strong fit.
• The latest Moustakas free-agent rumors
Each of those clubs is in need of a third baseman, which can be illuminated using FanGraphs' depth-chart projections; forecasts that scale each team's positional breakdown by projected Wins Above Replacement. For context, Moustakas has a 2.8 projected fWAR for 2019.
With that in mind, here is a pros and cons breakdown of each of the club's to which Moustakas has been most notably linked, and how he might fit.
PADRES
Projected 3B WAR: 1.4 (29th in MLB)
Current third basemen: Ty France, Ian Kinsler, Greg Garcia
Pros: Moustakas is a Southern California native and has received backing from Eric Hosmer, which are good things, but most prominently, the Padres greatly need a third baseman. They've had marginal production at the hot corner since trading away Chase Headley in 2014, as their accumulated 9.7 fWAR and 97 wRC+ from 2015-18 both ranked 21st in that span, and their .726 OPS was below league average for what's supposed to be an offensively productive position. San Diego made a play for Machado earlier this month to play third, but it's unclear if the club was simply doing due diligence, and given that Machado is reportedly sitting on a seven-year, $175 million offer from the White Sox, Moustakas could be had for far more feasible commitment.
Cons: The Friars may be more inclined to sign Machado, as MLB.com's AJ Cassavell points out, even if they'd be committing to a far more lucrative deal to do so, which would essentially eliminate any need for Moustakas.
WHITE SOX
Projected 3B WAR: 1.6 (28th in MLB)
Current third basemen: Yolmer Sánchez, José Rondón, Leury García
Pros: The White Sox are entering the fourth year of their rebuild and looking to return to relevancy. They've been as in on Machado and Harper as any club, while also adding veterans such as Jon Jay, Yonder Alonso and Kelvin Herrera to bridge the gap to their talented farm system. Over the course of their rebuild, the White Sox have posted a .720 OPS (sixth-worst), 40.3 fWAR (fifth-worst) and 536 homers (ninth-fewest), which all indicate they could benefit from a boost to their lineup. Moustakas has posted an .800 OPS or better in three of the last four seasons and homered 95 times in that stretch. If Moustakas were to sign with Chicago, his 2.8 projected fWAR would trail onlyEloy Jiménez for the club high, and Jimenez (MLB Pipeline's No. 3 overall prospect) hasn't even reached the Majors.
Cons: Moustakas to Chicago would only be a possibility if the club fails to sign Machado. He also doesn't necessarily represent a vast improvement to some of the club's other gaping offensive issues, like its strikeout rate, which last year was an MLB-worst 26.3 percent, and on-base percentage, which was fifth-worst at .302. Moustakas posted respective figures of 16.2 percent and .315 in '18.
PHILLIES
Projected 3B WAR: 2.5 (22nd in MLB)
Current third basemen: Maikel Franco, Scott Kingery, Mitch Walding
*Pros: *Philly faces a significant question mark relating to Franco after he regressed to a minus-0.4 fWAR season in '18, and its only left-handed hitters slated for everyday play are Nick Williams and Odúbel Herrera, both of whom are projected in the bottom half of the order. Citizens Bank Park could be a haven for a southpaw slugger like Moustakas -- lefties have hit 364 home runs there since Statcast™ came online in '15, fifth-most for any ballpark in that span.
Cons: The Phils could be more inclined than any of Moustakas' suitors to stand pat -- even if they fail to land Machado. Earlier this week they acquired J.T. Realmuto to fill their middle-of-the-order need, and the club could also be inclined to wait a little longer for Franco to blossom into the player they hoped he'd always become. Plus, if the Phils sign Moustakas, they would likely need to trade Franco.
BREWERS
Projected 3B WAR: 2.7 (18th in MLB)
Current third basemen: Travis Shaw, Hernán Pérez, Hernán Pérez, Tyler Saladino.
Pros: Moustakas and Milwaukee know each other, and MLB Network insider Ken Rosenthal even wrote over the weekend that a reunion between both clubs seems "inevitable" the longer Machado and Bryce Harper remain available. Moustakas proved to be a valuable piece in the Brewers' late-season surge to the National League's best record and postseason run. And though Shaw proved to be a below-average defender at second, Milwaukee could be inclined to move him there to inject Moustakas' 30-homer potential. After all, it worked last season.
Cons: Milwaukee has the incredibly talented Keston Hiura (MLB Pipeline's No. 20 overall prospect) waiting in the wings to play second base long term, which would keep Shaw (under club control through 2021) at third. Milwaukee would likely only want Moustakas on a one-year pact, which would put the veteran right back into free agency next offseason -- one year older and with diminished value.