Every uniform number ever, ranked by value
The most valuable jersey number is ...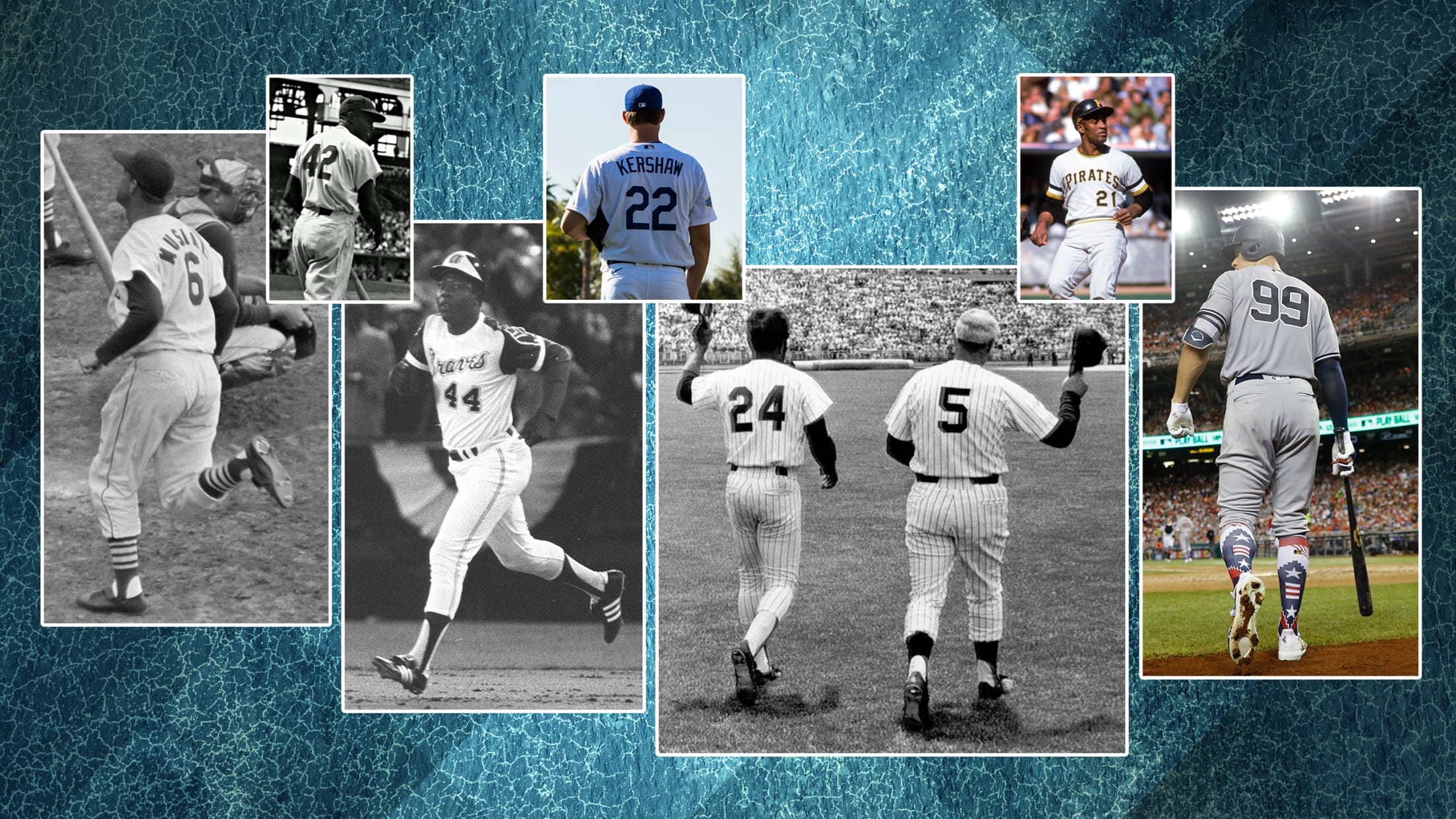 As we count down the days for baseball to return, let's break for something frivolous. Let's talk about uniform numbers. Not necessarily the players wearing those numbers, as you've certainly seen many lists of in the past. (Like: "Ozzie Smith was the best No. 1, and Hank Aaron was the
As we count down the days for baseball to return, let's break for something frivolous.
Let's talk about uniform numbers. Not necessarily the players wearing those numbers, as you've certainly seen many lists of in the past. (Like: "Ozzie Smith was the best No. 1, and Hank Aaron was the best No. 44," and so on.) No, let's talk about the numbers themselves. Which numbers have been the most productive? Maybe it's No. 27. Or No. 44. How about 3? Maybe, it's 3. There are 101 different options, counting 0 and 00 separately. See? We told you: Frivolous.
In order to find out, let's swing over to Baseball-Reference.com and dig into their uniform number database. Let's see how many Wins Above Replacement each uniform number has piled up over the century or so that numbers have been in place. (That last part is important; after an initial brief experiment or two in the 1910s and '20s, the '29 Yankees were the first to commit to it full-time, meaning most of Babe Ruth's best years are not included here, coming as they did with no uniform number.)
As far as we know, no one's ever done this before. Unfortunately, there's not really any such thing as a record of per-game uniform numbers -- even if there were you don't really want to split WAR on a per-game basis -- and also some players have had multiple numbers in a season. That's going to make this something more of a "very good estimate" than "an exact accounting," but let's put two rules into place to account for that:
• If a player gets traded and changes numbers in a season, each number gets the appropriate WAR credit. (Example: In 2008, Manny Ramirez piled up 2.5 WAR wearing No. 24 for the Red Sox, then 3.5 WAR wearing No. 99 for the Dodgers after being traded in July. We can split the same credit for No. 24 [2.5 WAR] and No. 99 [3.5 WAR] here.)
• If a player switches numbers within a season for the same team, the number he wore most in his career receives the full credit. (Example: In 1951, Willie Mays briefly wore No. 14 for his first few weeks before changing to his now-iconic No. 24. Because he wore 24 the most during his career, that number gets full credit for the season, while 14 gets nothing.)
Perfect? No, but close enough, and after running the numbers on that, we have a list of 98 digits, counting 0 and 00 as separate numbers, and acknowledging that 86, 89 and 92 are the three numbers that haven't yet ever been worn. (You can see the full list of thousands of results here, if you'd like.)
Take that list of 98 numbers ordered by value, and it looks like this. That's 5 at the top, and the official number of Twitter on the bottom.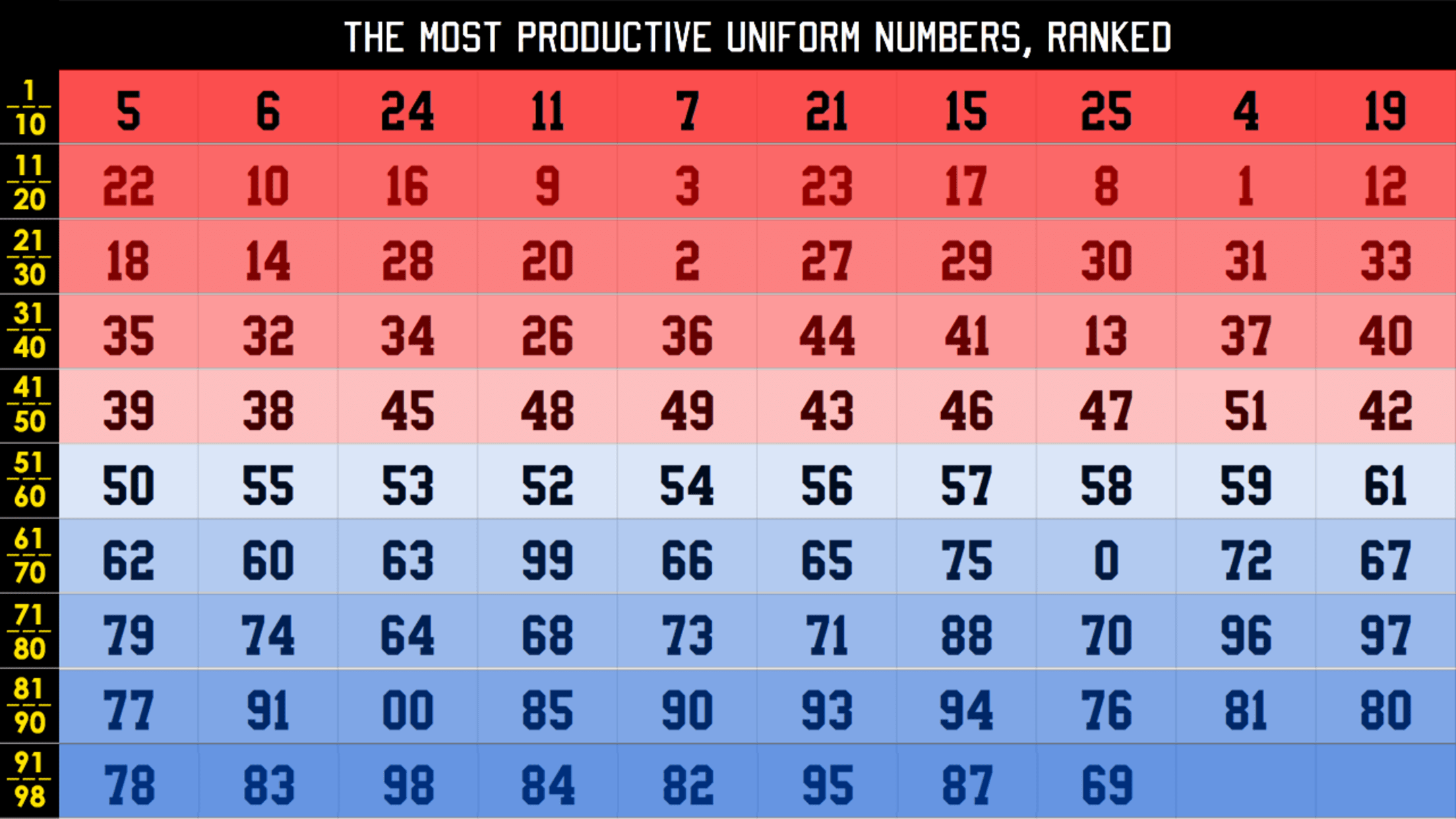 Or how about this view? Aside from "the best players, and the most players, usually wear the lowest numbers," which you already knew, look at how many players are actually afraid of wearing No. 13. Look at how value totally peters out into the highest numbers, before a slight uptick at 99. Look at a graph that is actually showing you uniform numbers, ranked, by WAR.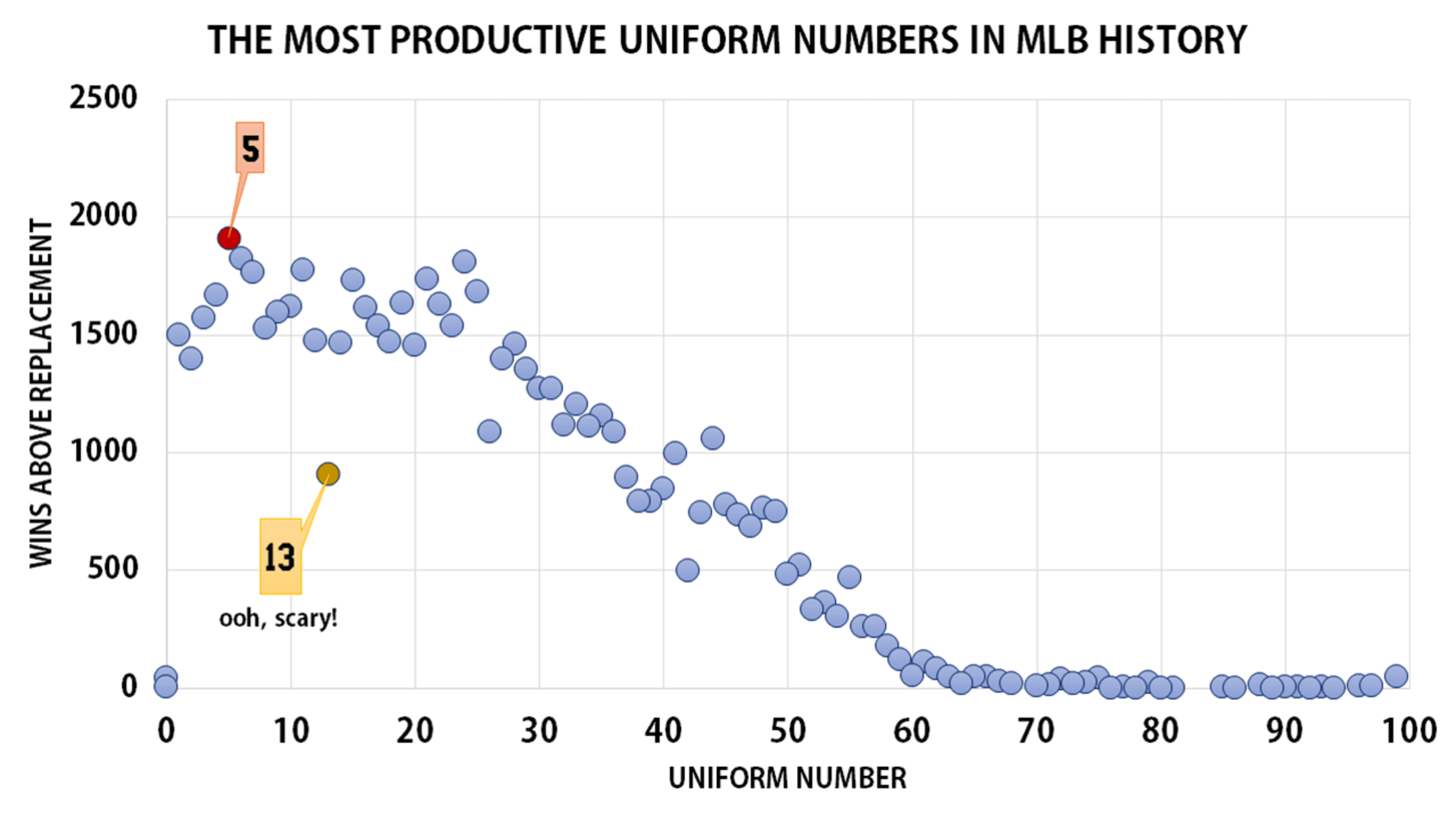 There are stories in each of those numbers. How did we get there? Who was most important while wearing each number? Let's break it down into groups, based on the rules we outlined above.
This, we cannot stress enough, is a list of uniform numbers. Don't say you weren't warned. Enjoy.
THE TOP 10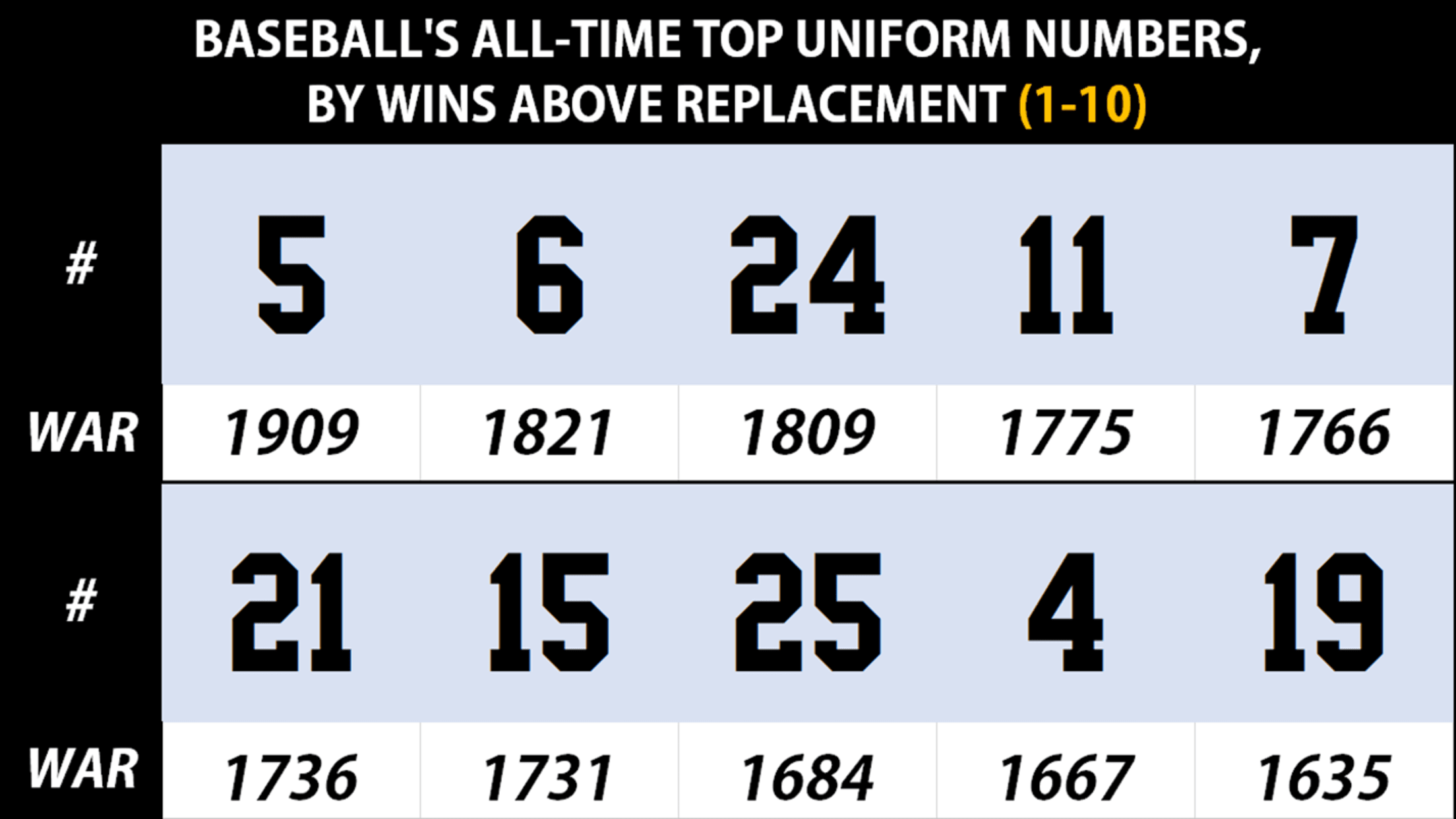 No. 5
1,909 WAR
Notable names: Albert Pujols, George Brett, Jeff Bagwell, Brooks Robinson, Johnny Bench, Joe DiMaggio
To be honest, we were surprised by this, since most pitchers don't wear single-digit numbers, and so we figured a number that both hitters and pitchers would wear would be at the top. Then again, No. 5 is a total murderers' row. In addition to those legends already named, there's Lou Boudreau, Hank Greenberg, Nomar Garciaparra, Freddie Freeman and on and on. Forty-eight different players put up at least 10 WAR wearing No. 5. Hank Aaron didn't, but 1.4 WAR of his legendary career counts here, because he wore it for his rookie season in 1954 before switching to his now-iconic 44.
No. 6
1,821 WAR
Notable names: Stan Musial, Al Kaline, Sal Bando, Willie Wilson, Tony Oliva
The half-dozen doesn't have quite the star power that 5 does, but it's even deeper; 57 different players put up at least 10 WAR with the 6, including Marcus Stroman, one of the few single-digit pitchers. After wearing 7 after being traded to the Mets last summer, he'll wear 0 in 2020, which is even more rare. Did you know Musial briefly wore 19 in Spring Training? Did you know Mickey Mantle actually wore 6 for months as a rookie? Neither did we.
No. 24
1,809 WAR
Notable names: Willie Mays, Rickey Henderson, Ken Griffey Jr., Miguel Cabrera, Dwight Evans
Now we're talking, so far as stars go. But Henderson only spent about two-thirds of his career in the two-four (for example, he wore No. 35 the year he stole 130 bases), so the full value of his career isn't applied here. That's also true of Griffey (who wore 30, 3 and 17 after leaving Seattle), Ramirez and Barry Bonds, who wore 24 as a Pirate before turning to 25 with the Giants.
No. 11
1,775 WAR
Notable names: Edgar Martinez, Barry Larkin, Luis Aparicio, Toby Harrah, Carl Hubbell
That's four Hall of Famers listed there, plus Paul Waner and Lefty Gomez spent part of their careers with 11 as well. The most accomplished current 11 is probably Ryan Zimmerman or Brett Gardner, though Yu Darvish and J.T. Realmuto are better bets to perform going forward. Of course, they might all be dwarfed by Rafael Devers someday.
No. 7
1,766 WAR
Notable names: Mickey Mantle, Iván Rodríguez, Craig Biggio, Kenny Lofton, Joe Mauer, J.D. Drew
There can't be many more iconic combinations of player and number than Mantle and 7, right?
No. 21
1,736 WAR
Notable names: Roger Clemens, Warren Spahn, Roberto Clemente, Sammy Sosa, Arky Vaughan
The first number to get a big boost from pitchers. Three all-time inner-circle legends top this list, though it would have ranked even better had Clemens not worn 12 and then 22 for the Yankees and Astros. He contributed 101 WAR to 21 with Boston and Toronto, then 38.5 more WAR to 22, by our formula.
No. 15
1,731 WAR
Notable names: Dick Allen, Carlos Beltrán, Tim Hudson, Dustin Pedroia, Red Ruffing, Thurman Munson
Allen, the 1964 NL Rookie of the Year and '72 AL Most Valuable Player, briefly wore 32 at the beginning of his career and 60 at the end, but he's identified most with 15, and he remains one of history's most underrated players.
No. 25
1,684 WAR
Notable names: Barry Bonds, Jim Thome, Rafael Palmeiro, Buddy Bell, Tommy John, Mark McGwire
Remember, this is only accounting for Bonds' time with San Francisco, since he was 24 (and briefly 7) with Pittsburgh.
No. 4
1,667 WAR
Notable names: Lou Gehrig, Mel Ott, Luke Appling, Duke Snider, Paul Molitor
When uniform numbers first came into existence, they were often assigned in accordance with lineup spot, which is why you see a few cleanup hitters atop the list here. Gehrig was already 111 homers into his career by the time the Yankees even starting wearing numbers, though, so this isn't his full career value.
No. 19
1,635 WAR
Notable names: Robin Yount, Tony Gwynn, Joey Votto, Bob Feller, Billy Pierce
Votto's still got a chance to top Gwynn in total career value, but he's not very likely to catch up to Yount.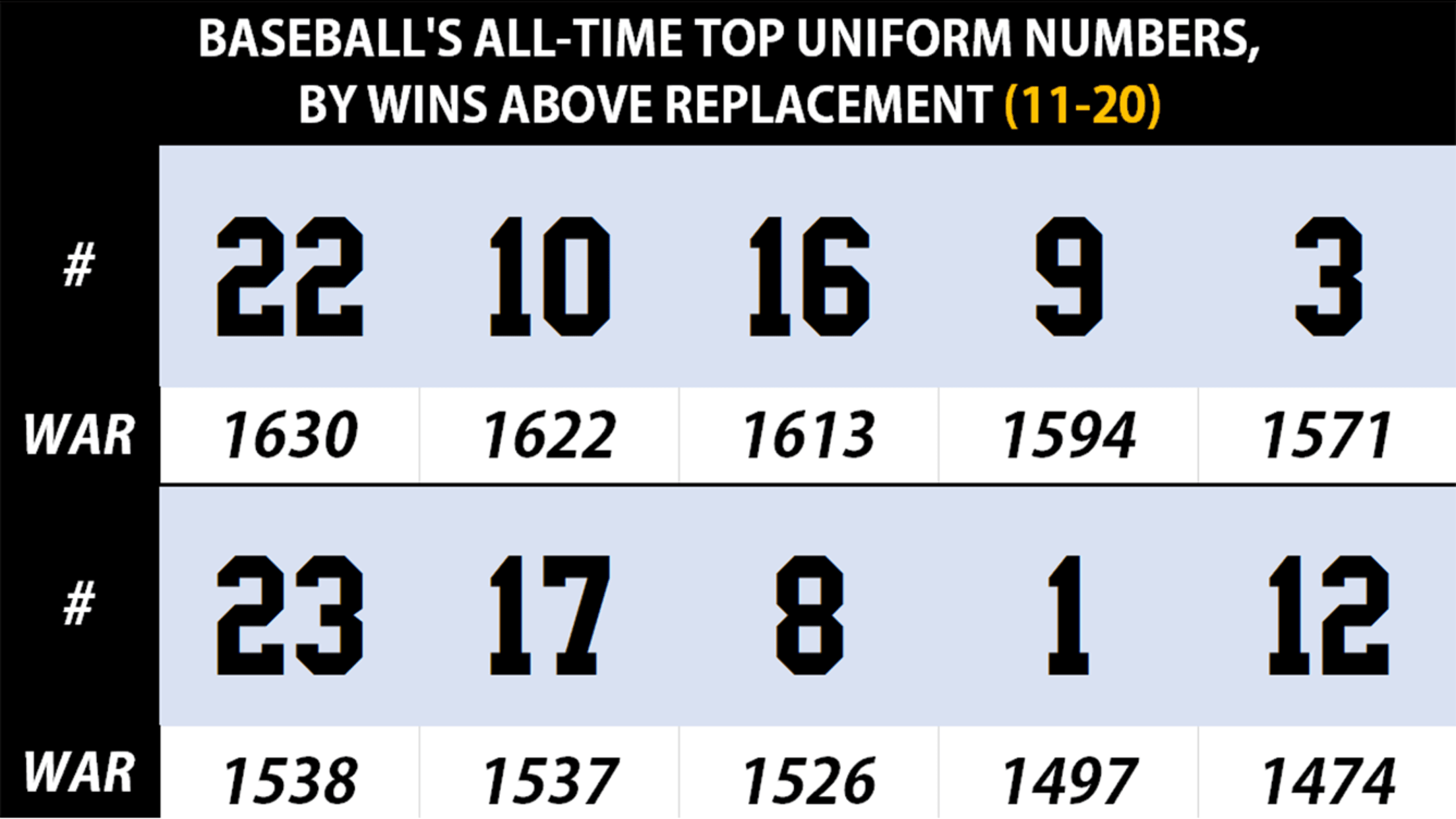 No. 22
1,630 WAR
Notable names: Jim Palmer, Clayton Kershaw, Will Clark, Brad Radke, Andrew McCutchen
Kershaw is essentially tied with Palmer for No. 1 on this list, and with just another good start or three, he'll be the greatest 22 to ever play.
No. 10
1,622 WAR
Notable names: Chipper Jones, Lefty Grove, Ron Santo, Ron Cey, Andre Dawson
Jones briefly wore 16 when he arrived in the Majors, but soon switched to 10 to follow in his father's footsteps.
No. 16
1,613 WAR
Notable names: Hal Newhouser, Whitey Ford, Dwight Gooden, Ted Lyons, Frank Viola
You might not remember Newhouser, but the Detroit native is the only pitcher to win back-to-back Most Valuable Player Awards, doing so for his hometown Tigers in 1944 and '45.
No. 9
1,594 WAR
Notable names: Ted Williams, Reggie Jackson, Enos Slaughter, Minnie Miñoso, Graig Nettles
You'd think that a list headlined by Williams would rank higher, but he's carrying this group by himself, as he alone is worth nearly 10% of all No. 9 WAR ever. Jackson was a legend as well, of course, but about a third of his value came wearing 44, and after Slaughter, this one quickly turns into a list of very good players, not all-time greats.
No. 3
1,571 WAR
Notable names: Jimmie Foxx, Alan Trammell, Alex Rodriguez, Harmon Killebrew, Willie Davis
"Where's the Babe?" you yell incredulously. He's in the top 10, but again, the Yankees didn't add numbers until 1929, by which time he was already 34 years old and 470 homers into his career.
No. 23
1,538 WAR
Notable names: Ryne Sandberg, Ted Simmons, Don Mattingly, Robin Ventura, Luis Tiant
It remains entertaining that if you were to watch a replay of the famous "Pine Tar Game" in 1983, you'll see a young Mattingly there ... wearing No. 46, as he did briefly at the beginning of his career.
No. 17
1,537 WAR
Notable names: Todd Helton, Lance Berkman, Mark Grace, Dizzy Dean
Grace wore 17 for most of his 13 seasons with the Cubs, but it's pretty clear he's not going to be the most famous North Sider with the number. No matter what else happens, that's always going to be Kris Bryant.
No. 8
1,526 WAR
Notable names: Carl Yastrzemski, Cal Ripken, Jr., Joe Morgan, Gary Carter, Yogi Berra, Willie Stargell
This one starts out hot -- just look at all those Hall of Famers -- before falling off somewhat. Berra and fellow Yankee Hall of Fame catcher Bill Dickey each wore 8 in pinstripes; it was retired in honor of each of them in 1972.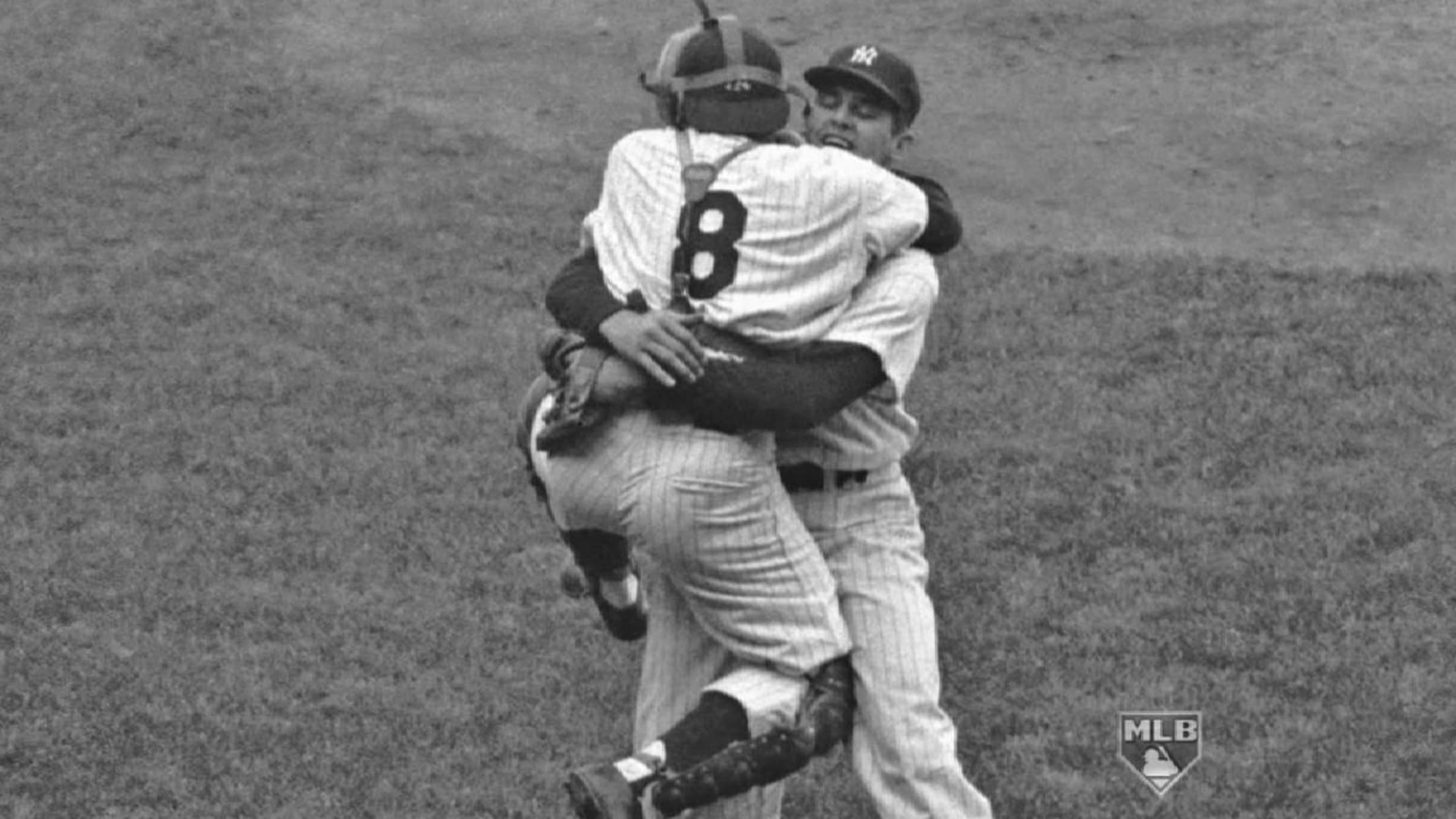 No. 1
1,497 WAR
Notable names: Ozzie Smith, Lou Whitaker, Pee Wee Reese, Richie Ashburn, Bobby Doerr
Sometimes, numbers take on a personality, and that's pretty clear true with the No. 1, which is almost universally worn by speedy middle infielders or defensively gifted center fielders. That might be changing somewhat today with the powerful Carlos Correa, but you're more likely to find a Jarrod Dyson or Garry Templeton than you are a Ruth or Gehrig here.
No. 12
1,474 WAR
Notable names: Roberto Alomar, Mark Langston, Steve Finley, Dusty Baker, Alfonso Soriano
Not yet on the top of this list: Francisco Lindor. He'll be there soon.
No. 18
1,469 WAR
Notable names: Mel Harder, Johnny Damon, Ben Zobrist, Gene Tenace, Jason Kendall
Let's safely assume you don't remember Mel Harder. He spent 20 seasons pitching for Cleveland, from 1928-47, then was their pitching coach from '48 through '63. For nearly four decades, you could find Harder active and in uniform for the same team. More recently, 18 has become known in the Majors as being the favored number of Japanese pitchers, as Hiroki Kuroda, Kenta Maeda, Hisashi Iwakuma, Daisuke Matsuzaka and Yusei Kikuchi have all worn it.
No. 14
1,464 WAR
Notable names: Pete Rose, Ernie Banks, Jim Bunning, Ken Boyer, Jim Rice
No. 28
1,458 WAR
Notable names: Bert Blyleven, Cesar Cedeno, Wilbur Wood, Buster Posey, Nolan Arenado
No. 20
1,454 WAR
Notable names: Mike Schmidt, Frank Robinson, Don Sutton, Jorge Posada, Lou Brock, Josh Donaldson
No. 2
1,398 WAR
Notable names: Derek Jeter, Charlie Gehringer, Troy Tulowitzki, Nellie Fox, Red Schoendienst
Alex Bregman is storming up this list; he wears 2 in part to honor Jeter, and in part because he was drafted second overall in 2015, behind Dansby Swanson.
No. 27
1,398 WAR
Notable names: Juan Marichal, Vladimir Guerrero, Kevin Brown, Mike Trout, Giancarlo Stanton, Carlton Fisk
This one just "feels" like an iconic baseball number, and for these names listed, it is. Let's see how much further Trout can push it up the list.
No. 29
1,352 WAR
Notable names: Adrián Beltré, Rod Carew, John Smoltz, Mickey Lolich, Ken Singleton
This particular author's favored number.
No. 30
1,272 WAR
Notable names: Tim Raines, Willie Randolph, Orlando Cepeda, Mel Stottlemyre, Nolan Ryan
Ryan only wore 30 for the Mets and Angels, not at all for the Astros or Rangers, with whom he spent 14 seasons wearing 34.
No. 31
1,271 WAR
Notable names: Greg Maddux, Fergie Jenkins, Chuck Finley, Dave Winfield, Mike Piazza
Like Dickey and Berra sharing 8 for the Yankees, Maddux and Jenkins each have 31 retired for the Cubs.
No. 33
1,204 WAR
Notable names: Larry Walker, Eddie Murray, José Canseco, Ron Hunt, Jim Barr
In case you're wondering if numbers matter, do recall what Sports Illustrated wrote about Walker in 1993:
"He wears number 33 and he was married on Nov. 3 at 3:33 and his phone number has as many threes in it as he can get the phone company to give him, and he takes three swings in the batter's box before he hits, six if he feels tight, or nine or 12, any multiple of three."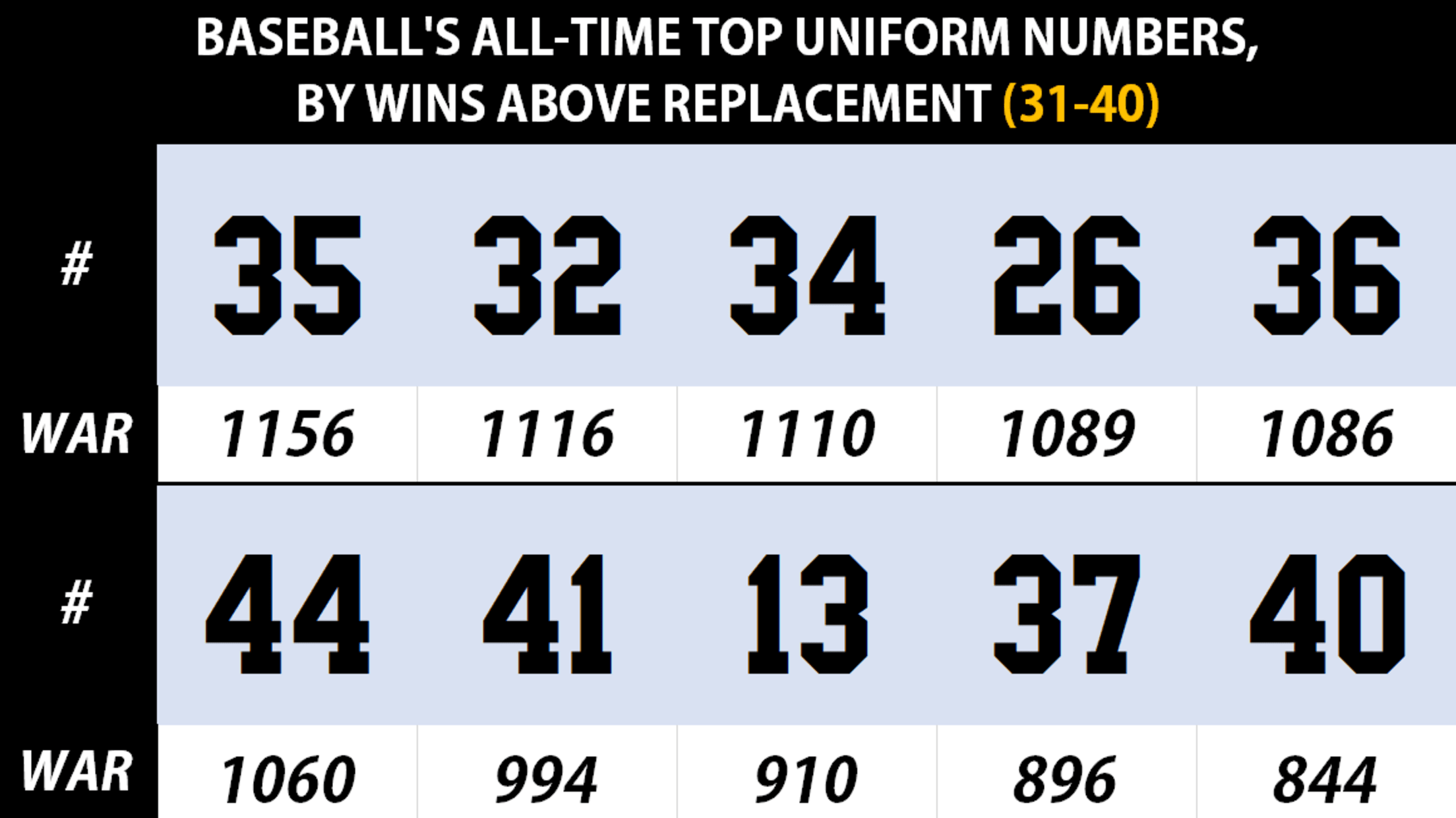 No. 35
1,156 WAR
Notable names: Phil Niekro, Mike Mussina, Frank Thomas, Justin Verlander, Cole Hamels, Rickey Henderson
Why does Verlander wear 35? He's been asking for it since college at Old Dominion, in part because of his childhood affinity for "the Big Hurt," Thomas.
No. 32
1,116 WAR
Notable names: Steve Carlton, Sandy Koufax, Roy Halladay, Milt Pappas, Jon Matlack
This one may not rate quite as high as some others, but 32 just looks like a baseball number, doesn't it?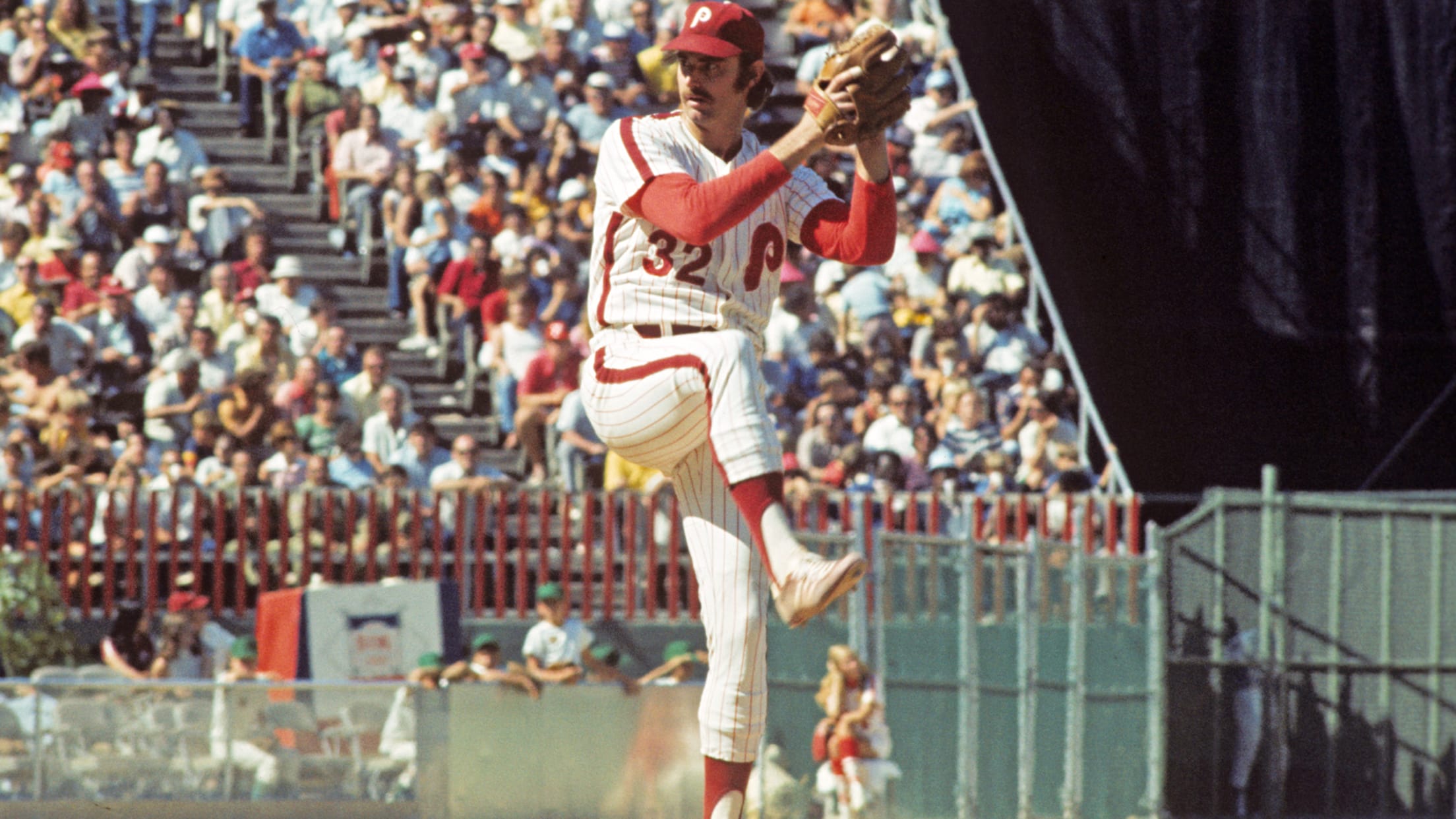 No. 34
1,110 WAR
Notable names: David Ortiz, Kirby Puckett, Félix Hernández, Fernando Valenzuela, Nolan Ryan
No. 26
1,089 WAR
Notable names: Wade Boggs, Chase Utley, Billy Williams, Amos Otis, Boog Powell
No. 36
1,086 WAR
Notable names: Gaylord Perry, Robin Roberts, Jerry Koosman, Jim Kaat, Tom Gordon
No. 44
1,060 WAR
Notable names: Hank Aaron, Willie McCovey, Roy Oswalt, Paul Goldschmidt, Jake Peavy
Aaron was the first and only player to wear No. 44 for the Atlanta Braves, carrying it over with the team from Milwaukee, and he was the first player to have his number retired by two teams when the Brewers did so in 1977.
No. 41
994 WAR
Notable names: Tom Seaver, Eddie Mathews, John Lackey, Darrell Evans, Pat Hentgen
No. 13
910 WAR
Notable names: Alex Rodriguez, Omar Vizquel, Dave Concepción, Lance Parrish, Manny Machado
The unlucky 13, at least in the eyes of some players. It's not a coincidence that as we're in the midst of a glut of high 30s and mid 40s here, 13 stands out like a sore thumb. Vizquel, as well as fellow Venezuelan shortstop Ozzie Guillen, each claimed they wore 13 to honor Concepción, a nine time All-Star who was the shortstop on the Big Red Machine Cincinnati teams of the 70s. Machado had an entirely different reason: His favorite number was 3 growing up, and his favorite player was Chipper Jones, so his 3, plus Jones' 10 ... 13.
No. 37
896 WAR
Notable names: Dave Stieb, Kenny Rogers, Keith Hernandez, Stephen Strasburg
Note that this is only St. Louis Hernandez. When he was traded to the Mets in 1983, they'd already retired 37 for Casey Stengel, so Hernandez took 17.
No. 40
844 WAR
Notable names: Bartolo Colon, Madison Bumgarner, Frank Tanana, Andy Benes, Rick Sutcliffe
Bumgarner should keep his 40 with Arizona, having made a deal with reliever Andrew Chafin after signing with the D-backs.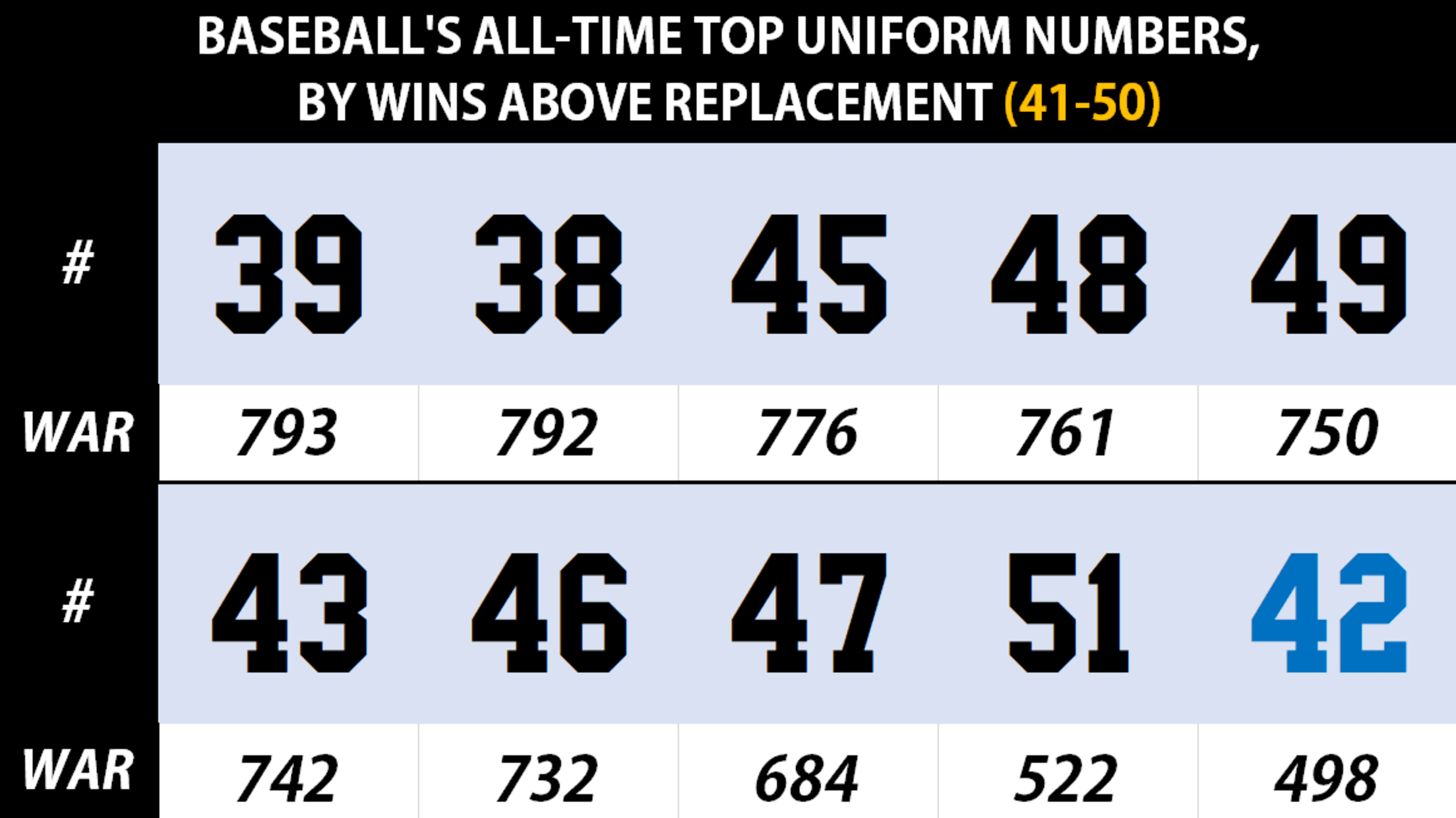 No. 39
793 WAR
Notable names: Dave Parker, Roy Campanella, Mike Greenwell, Kevin Kiermaier
Parker wore 39 for six teams over 19 seasons, but he's best-known for doing it with the Pirates. Pittsburgh's current 39 is pitcher Chad Kuhl, who said in 2018 that he "felt bad taking 39 because of Dave Parker," and that he "tried to change it, but they said it was too late to change it."
No. 38
792 WAR
Notable names: Curt Schilling, Carlos Zambrano, Gary Nolan, Rick Aguilera
No. 45
776 WAR
Notable names: Bob Gibson, Pedro Martínez, Steve Rogers, John Candelaria
How does a number led by those two legendary aces not rank higher? Because beyond them, it's relatively thin. Also included on the Top 10 here are Kelvim Escobar and Stan Bahnsen, and you don't know who Stan Bahnsen is.
No. 48
761 WAR
Notable names: Rick Reuschel, Torii Hunter, Sam McDowell, Jacob deGrom, Travis Hafner
No. 49
750 WAR
Notable names: Ron Guidry, Tom Candiotti, Charlie Hough, Tim Wakefield, Larry Dierker
Forty-nine: The official number of knuckleballers everywhere.
No. 43
742 WAR
Notable names: Dennis Eckersley, Johnny Antonelli, Raúl Mondesí, Gary Peters, Ken Forsch
No. 46
732 WAR
Notable names: Andy Pettitte, Jim Maloney, Kevin Gross, Burt Hooton, Ryan Dempster
No. 47
684 WAR
Notable names: Tom Glavine, Jack Morris, Bruce Hurst, Howie Kendrick, Johnny Cueto
Glavine was handed 47 seemingly at random in his first Spring Training. "I was just happy it wasn't the other way around, happy it wasn't a 74," he later joked.
No. 51
522 WAR
Notable names: Randy Johnson, Ichiro Suzuki, Bernie Williams, Willie McGree, Trevor Hoffman
Johnson wore 51 with Seattle from 1989-98 -- save for a brief game with 15 here and 34 there -- and then Ichiro wore it as a Mariner from 2001-12. That's nearly a quarter-century, with one team, on the backs of two legends. Not a bad run for the five-one in the Pacific Northwest.
No. 42
498 WAR
Notable names: Jackie Robinson, Mariano Rivera, Mo Vaughn, Dave Henderson, Bruce Sutter
This is the one number, obviously, that's never going to change, because it has been retired sport-wide in honor of Robinson. (No, the stats that pile up each April 15, when every player wears 42, are not credited to the number. It will be 498 WAR forever.)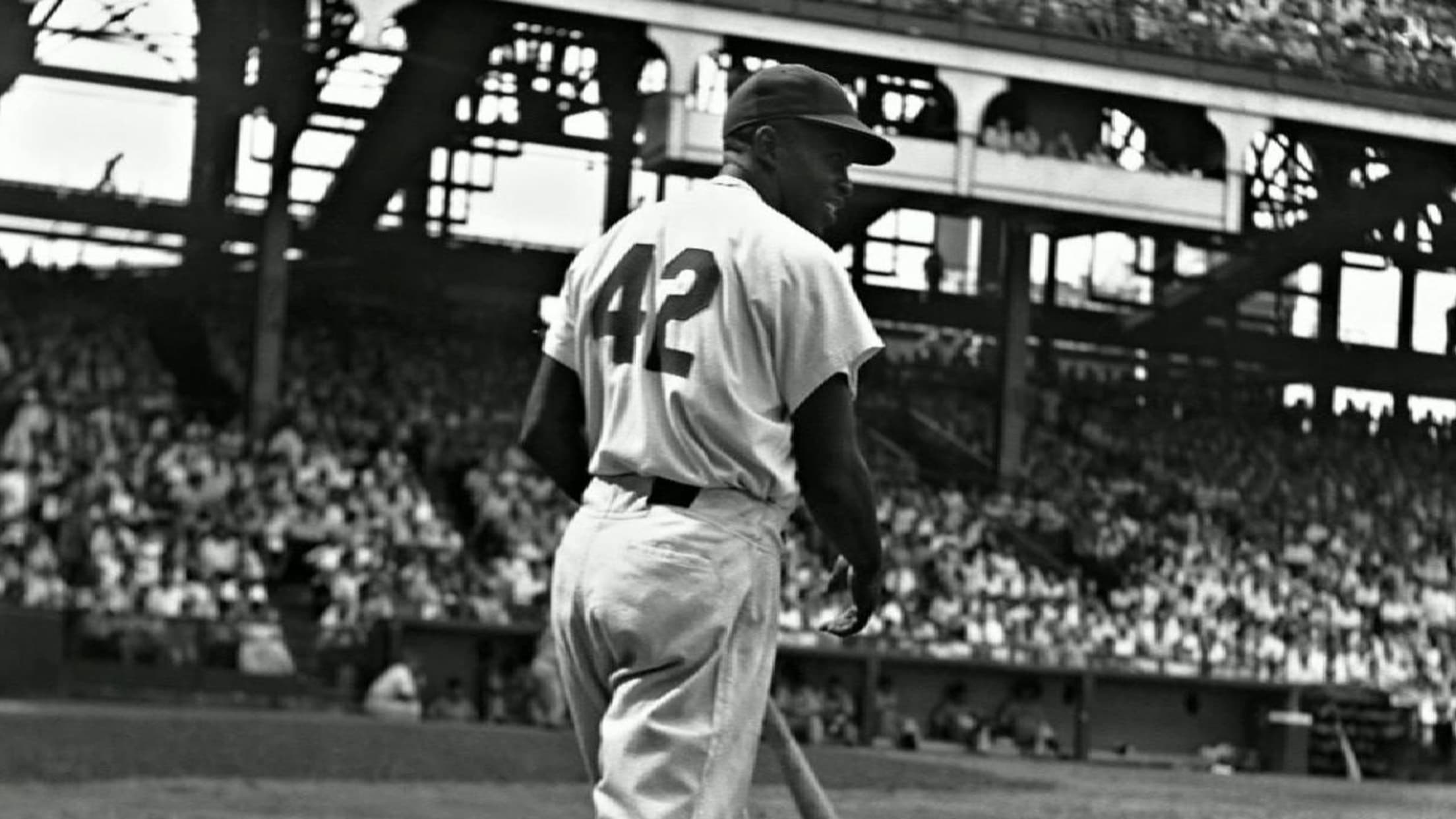 OK, it's time to lightning round this by showing all of the 51st-through-75th-ranked numbers together here. As you'd expect by this point, we're starting to get into numbers that just aren't worn that often, though there are still some exceptions to this rule.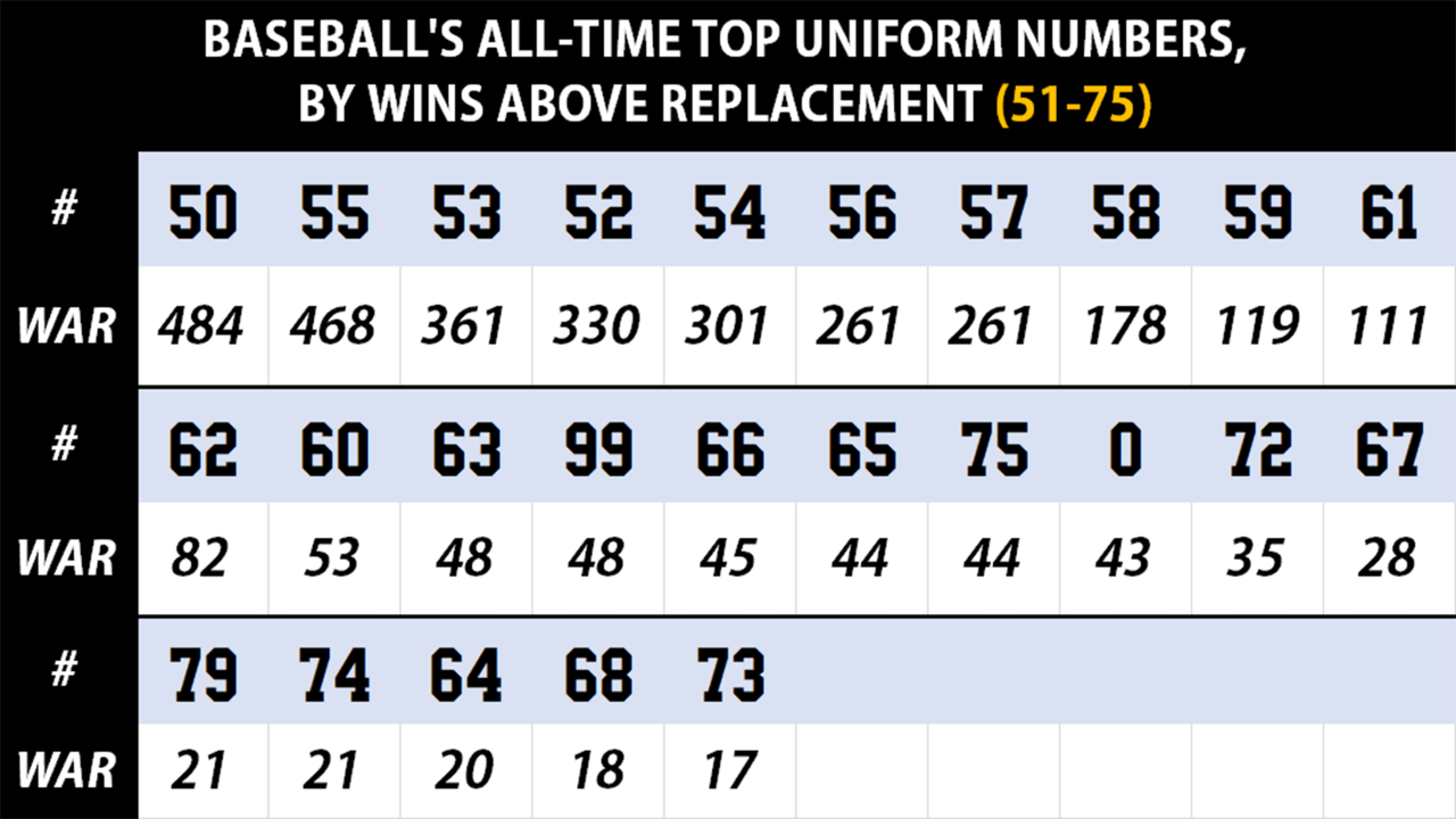 Lots of 50s, 60s and 70s here, as you'd expect, and some big stars wore some of those. In February, Mookie Betts was asked why he wears 50. "I keep No. 50 because no one wants it," he said. OK then. He's already the greatest player ever to wear it.
Mark Buehrle, for example, put up 60.2 WAR in his 56, and Johan Santana posted 52 WAR in his 57. Jonathan Papelbon (23.3 WAR) was a strong 58, and Livan Hernandez, Bronson Arroyo, and Chan Ho Park all found success in 61. Can you think of 66 without thinking about Yasiel Puig, who has nearly half the total WAR value of the number all by himself? Can you think of 74 without thinking of Kenley Jansen, who has nearly 80% of the total value by himself? (For now, anyway. Eloy Jiménez is going to have something to say about that.)
No. 54 is especially interesting because it's a pitcher's number, and only a pitcher's number. The top 34 names on our No. 54 list are arms, until you get to Junior Félix, an outfielder who wore it for a single season as a rookie for the 1989 Blue Jays.
What's most interesting about this group are the two numbers that are a little different -- 99 and 0. For years, 99 was an outcast, worn briefly by players you don't remember (Darren Clarke in 2007), or players who reveled in being different (Turk Wendell on and off from 1997-2004, Manny Ramirez with the Dodgers and White Sox in 2008-10).
But over the past few seasons, two of baseball's biggest stars have normalized the nine-nine -- first Hyun-Jin Ryu with the Dodgers and now the Blue Jays, then Aaron Judge with the Yankees. It's not weird anymore.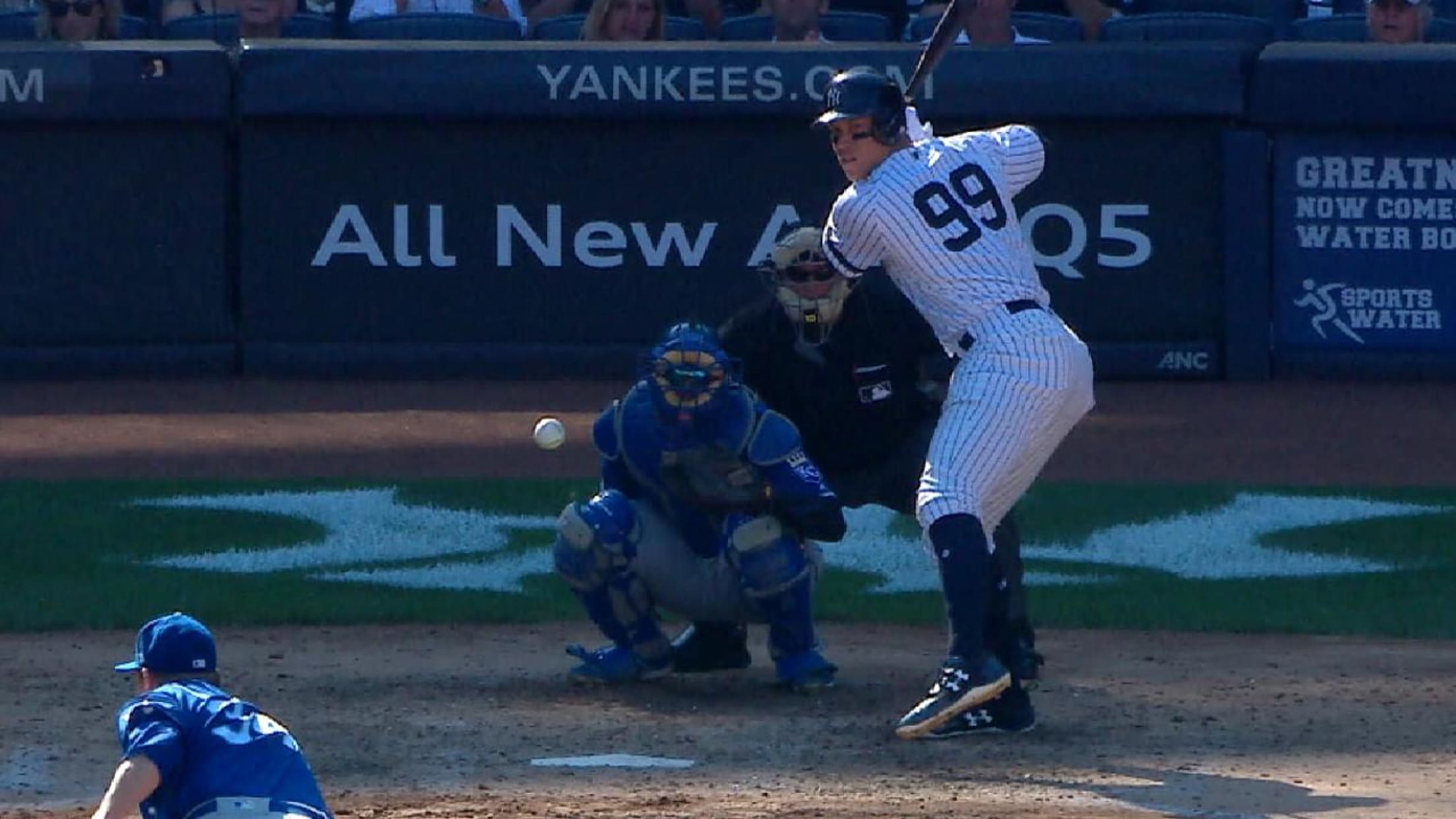 As for the 0, note that this is different than the 00. Seattle outfielder Mallex Smith explains that he chose it because he has "zero cares" about how others feel about him, which we respect, but most of the 0s do it as a play on their own names, considering it not a "zero" so much as an "O." That began with Al Oliver, and others like Adam Ottavino, Oddibe McDowell, Junior Ortiz and Rey Ordóñez have followed suit.
Le's finish this off with the final group ...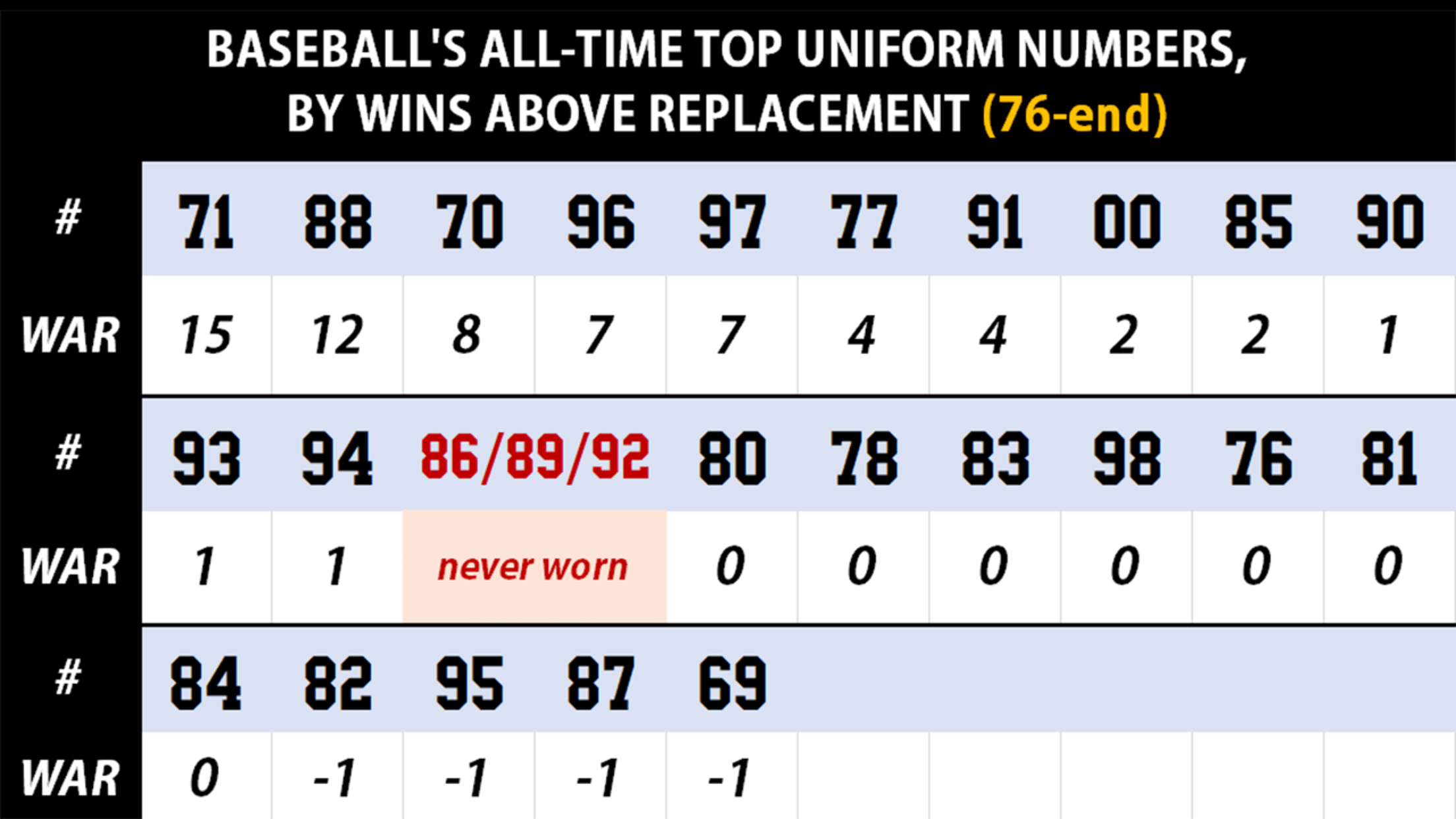 And, of course, we reach the end of the line. Only seven players have ever even posted 4 total WAR in one of these numbers.
97 Joe Beimel, 2005-15 (6.9 WAR)
71 Josh Hader, 2007-19 (6.8 WAR)
96 Bill Voiselle, 1947-50 (5.7 WAR)
88 Rene Gonzales, 1987-96 (4.3 WAR)
91 Alfredo Aceves, 2008-14 (4.2 WAR)
88 Albert Belle, 1999-00 (4.1 WAR)
70 George Kontos, 2011-18 (4.0 WAR)
(Voiselle wore 96, an unheard-of number back in those days, to honor his hometown: Ninety Six, South Carolina. As we said: Every number, a story.)
You can also see here that the double-zero is rarer than the regular zero; although Bobby Bonds, Jack Clark and Don Baylor all wore it briefly -- very briefly -- no one's donned it since Brian Wilson with the Dodgers in 2014.
Now, could Reds pitcher José De León save the 87 from negative-WAR obscurity? (He did make their 60-man player pool.) Will anyone get around to wearing 86, 89 or 92? Will we look back in five years talking about the first triple-digit number, or emoji number? It's 2020. Look around. Anything's possible.