Here is every Trade Deadline deal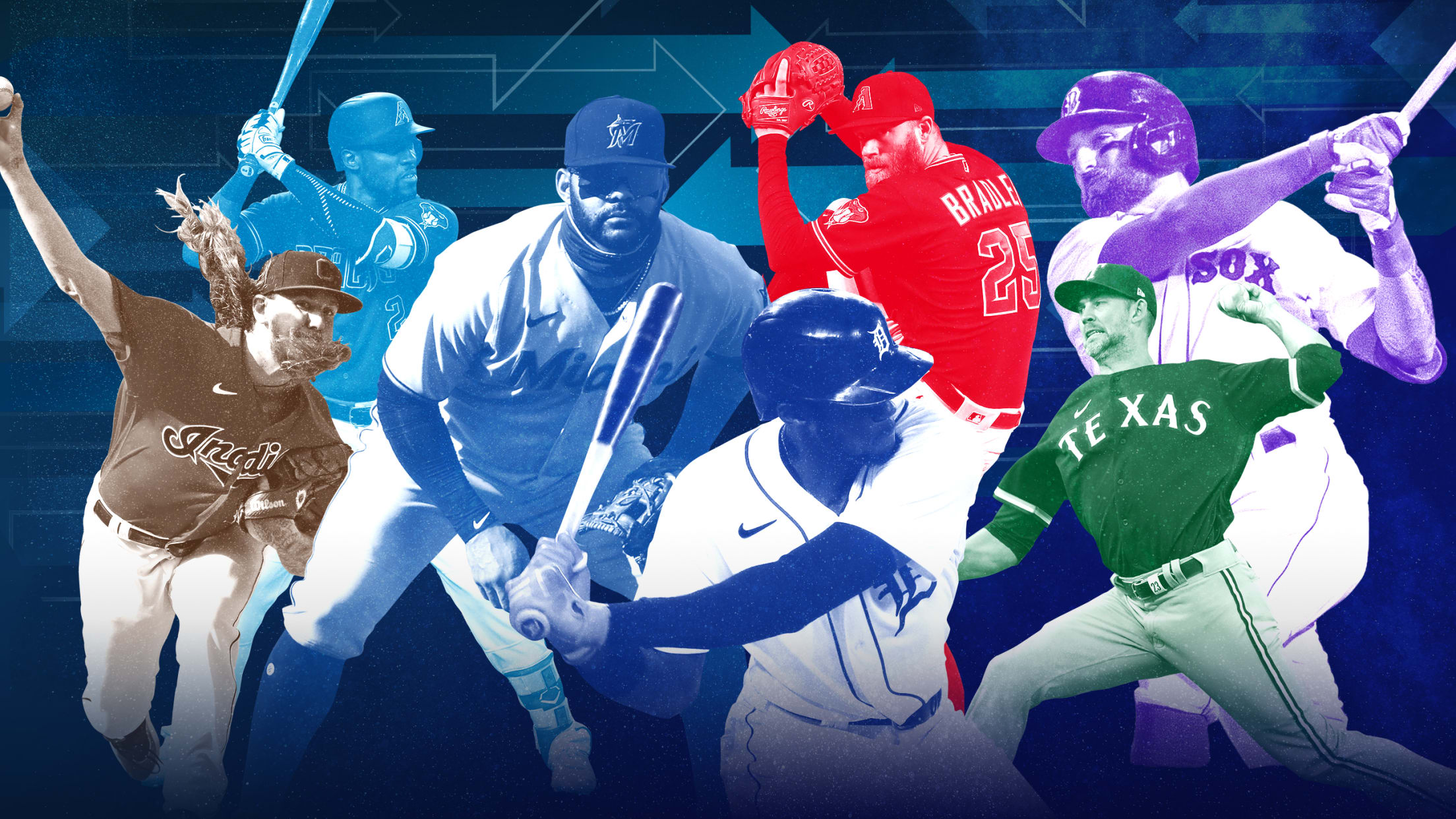 Here is every deal that went down prior to the Trade Deadline on Aug. 31.
Here is every deal that went down prior to the Trade Deadline on Aug. 31.
Aug 31: Padres acquire RHP Mike Clevinger, OF Greg Allen and a PTBNL from Indians for C Austin Hedges, OF Josh Naylor, RHP Cal Quantrill, INF Gabriel Arias, LHP Joey Cantillo and INF Owen Miller
The Padres were MLB's busiest team leading up to this year's Deadline, and their biggest move was to acquire a frontline starter in Clevinger, a 29-year-old righty with two years of team control remaining after 2020.
Hedges was expendable after San Diego added catchers Jason Castro and Austin Nola in separate trades on Sunday, and the Padres will send Cleveland their Nos. 7, 9 and 11 prospects in addition to Naylor and Quantrill.
Clevinger was involved in some controversy earlier this season when he and teammate Zach Plesac broke team protocols, but it's unclear how big of a role the incident played in the Indians' decision to deal Clevinger, who has been one of the game's best pitchers over the past four seasons, posting a 152 ERA+. More >
Aug. 31: Marlins acquire OF Starling Marte from D-backs for LHP Caleb Smith, RHP Humberto Mejía and a PTBNL
After acquiring Marte from the Pirates for two Minor Leaguers and international bonus pool money in the offseason, the D-backs flipped the veteran outfielder to the Marlins for three players. Marte, who has a $12.5 million club option with a $1 million buyout next season, owns a .311/.384/.443 slash line over 33 games this season.
The Marlins are in the thick of the postseason race, entering Monday with a 14-15 record, tied with the Phillies for the second automatic playoff berth in the National League East. Miami was able to use its pitching depth to nab the 31-year-old Marte, sending Smith and Mejía to Arizona along with a player to be named later.
Smith, a 29-year-old who is under control through 2023, has shown promise in recent seasons, striking out 10 batters per nine innings. Mejía, 23, made his big league debut earlier this season and has logged a 5.40 ERA in 10 innings spanning three starts. More >
Aug. 31: A's acquire LHP Mike Minor from Rangers for two PTBNL
The American League West-leading A's get the rotation piece they were looking for in Minor, who has struggled to the tune of a 5.60 ERA this season but had a 3.59 ERA with 200 K's in 208 1/3 innings last season.
Minor's fastball velocity is down a couple of ticks in 2020, but he fired six scoreless innings with six strikeouts against the Dodgers his last time out to boost his trade value. The left-hander can become a free agent after this season. More >
Aug. 31: Blue Jays acquire LHP Robbie Ray from D-backs for LHP Travis Bergen and cash
After acquiring Taijuan Walker last week, the Blue Jays picked up another veteran starter Monday. A free agent after this season, Ray once again has a high strikeout rate (27.9%), but he also has allowed an MLB-worst 31 free passes in 31 innings. Walks have been a persistent problem for Ray, who has issued a base on balls to nearly 11% of the batters he has faced in his career.
In exchange for Ray, Arizona gets back Bergen, a 26-year-old lefty who has made 22 appearances in MLB with a 5.06 ERA over 21 1/3 innings. Like Ray, Bergen has struggled with his command, allowing 4.6 BB/9 in Triple-A and posting a 4.2 mark in the big leagues. More >
Aug. 31: Blue Jays acquire INF/OF Jonathan Villar from Marlins for a PTBNL
Villar will give Toronto some middle-infield depth with shortstop Bo Bichette on the injured list, and he could slide over to play third when Bichette returns. The soon-to-be free agent also has experience at second base, and he played a couple games in center field for the Marlins earlier this season.
Villar produced 24 homers, 40 stolen bases and a .792 OPS over 162 games a year ago for the Orioles, who traded him to Miami in the offseason. He has collected two homers and nine steals over 30 games in 2020, but he also has been caught stealing five times and posted a .660 OPS. More >
Aug. 31: Reds acquire RHP Archie Bradley from D-backs for OF Stuart Fairchild and UTIL Josh VanMeter
With Raisel Iglesias and Michael Lorenzen struggling, the Reds were in need of another late-inning reliever as they attempt to make a playoff push. Bradley fits that description, having served as the D-backs' closer since last season.
Bradley was one of several veterans the D-backs traded on Monday, along with Starling Marte, Robbie Ray and Andrew Chafin. The right-hander will look to rebound after starting off with a 4.22 ERA and a 1.50 WHIP over his first 10 appearances this season. He is under team control through 2021, so he could help the Reds beyond this year.
Fairchild, 24, was ranked as the Reds' No. 11 prospect prior to the trade. VanMeter, meanwhile, is a 25-year-old who has played 109 games for Cincinnati over the past two years, posting a .683 OPS and appearing at five different positions. More >
Aug. 31: Rockies acquire OF Kevin Pillar and cash from Red Sox for a PTBNL and international bonus pool money
Pillar signed a one-year deal with the Red Sox in February and gave them an above-average bat (109 OPS+) and solid glove (+1 outs above average) over 30 games. The veteran has primarily played right field in Boston -- with Jackie Bradley Jr. installed in center -- but he may return to his original position in Colorado.
Pillar has started more than 700 games in center field over eight big league seasons, earning a reputation for spectacular catches and racking up 60 career defensive runs saved. Meanwhile, the contending Rockies have been using Garrett Hampson and Sam Hilliard in center since David Dahl went on the injured list about three weeks ago.
Pillar, a free agent after this season, owns a career OPS of .704, but a .773 OPS against left-handed pitching. More >
Aug. 31: Cubs acquire OF Cameron Maybin from Tigers for INF Zack Short
A veteran of 14 seasons, the 33-year-old Maybin is joining his ninth big league club. He becomes the second right-handed bat the Cubs have added in two days, as they traded for José Martínez on Sunday. Maybin will shore up the team's outfield situation while it awaits the return of Steven Souza Jr. from the injured list.
Albert Almora Jr. has been serving as the Cubs' fourth outfielder, but he is just 5-for-30 (.167) with one RBI, nine strikeouts and a .465 OPS in 2020. Maybin, meanwhile, had a .726 OPS over 45 plate appearances for the Tigers after recording an .858 OPS with the Yankees last season. More >
Aug. 31: Dodgers trade RHP Ross Stripling to Blue Jays for two PTBNL
Stripling joins Taijuan Walker, Robbie Ray, Jonathan Villar and Daniel Vogelbach among the Blue Jays' Deadline acquisitions. The right-hander was a valuable swingman for the Dodgers from 2016-19, recording a 3.51 ERA while averaging 8.8 K/9 and 2.1 BB/9 over 136 appearances (52 starts), but he has struggled in 2020. Over 33 2/3 innings spanning seven starts, the 30-year-old has posted a 5.61 ERA, yielding an MLB-worst 12 home runs and striking out only 27 batters with 11 walks.
It's possible Stripling could start for the Blue Jays, but the additions of Walker and Ray give Toronto the option of using him out of the bullpen. More >
Aug. 31: Mets acquire C Robinson Chirinos from Rangers for cash and a PTBNL, and INF Todd Frazier for a PTBNL
With Tomás Nido on the injured list, the Mets were in need of another catcher, and they'll take a chance on Chirinos, who is a nine-year veteran. After spending last season with the Astros, the 36-year-old returned to the Rangers on a one-year deal with a $6.5 million club option ($1 million buyout) for 2021, but he has been unable to find his swing so far this season (.367 OPS in 49 PAs). Chirinos had 71 homers with a .792 OPS (106 OPS+) from 2015-19.
In a separate deal with Texas, the Mets brought back Frazier, a New Jersey native who spent 2018-19 with the club before signing with the Rangers. The "ToddFather" also has a team option for 2021 valued at $5.75 million with a $1.5 million buyout. Over 31 games, he has gone deep two times while posting a .702 OPS. More >
Aug. 31: Mets acquire RHP Miguel Castro from Orioles for LHP Kevin Smith and a PTBNL or cash
Castro adds another solid arm to New York's bullpen after the club placed Steven Matz and Dellin Betances on the injured list Sunday. The hard-throwing righty has recorded a personal-best 13.8 K/9 and 2.9 BB/9 over 15 2/3 innings this season and is under control through 2022.
In exchange for the 25-year-old Castro, the O's receive Smith, a left-hander who was ranked as the Mets' No. 12 prospect and reached Double-A last season. The rebuilding Orioles also traded Mychal Givens to the Rockies and Tommy Milone to the Braves on Sunday. More >
Aug. 31: Phillies acquire RHP David Phelps from Brewers for three PTBNL
Phelps found himself on the move at the Deadline for the second straight season, joining Brandon Workman and Heath Hembree as additions to the Phillies' bullpen. The 33-year-old went from the Blue Jays to the Cubs on July 30 last year and was a solid acquisition for Chicago (3.18 ERA in 24 appearances). Now, the Phillies will hope for more of the same as they try to fight their way into the postseason.
Phelps has been excellent this season, posting a 2.77 ERA with a career-best 13.8 strikeouts-per-nine-inning mark over 12 games in Milwaukee. He mixes it up with a four-seam fastball, sinker, cutter and curveball, recording at least four K's on each pitch this season. The eight-year veteran spent time as a starter early in his career with the Yankees, but he has made 165 of his 171 appearances out of the bullpen since 2016, posting an overall ERA of 2.85 in that time.
He also has a $4.5 million club option for 2021, meaning he could contribute in Philly beyond this season. More >
Aug. 31: Padres acquire RHP Taylor Williams from Mariners for a PTBNL
After adding Mike Clevinger, Trevor Rosenthal, Mitch Moreland, Jason Castro, Austin Nola, Dan Altavilla, Austin Adams and Greg Allen, San Diego had one more move to make before the Deadline, trading for Williams, who recorded six saves in seven chances for the Mariners this season.
The righty has dealt with control problems during his career, and 2020 has been no different, as he has walked seven batters and thrown six wild pitches in 13 2/3 frames. However, Williams also has fanned a career-best 12.5 batters per nine innings this year. Williams had a 3.00 ERA over his first 12 innings before allowing five runs in the bottom of the ninth inning against the Friars last Thursday. More >
Aug. 31: Cubs acquire LHP Andrew Chafin and cash from D-backs for a PTBNL or cash
Chafin is currently on the 10-day injured list with a sprained finger on his left hand, and he might still be a couple weeks away from being ready to join Chicago's bullpen. The veteran has recorded an 8.10 ERA in 11 appearances this season, but he owns a lifetime 3.68 mark over seven seasons.
Chafin has been most effective against lefties over his career (.616 OPS) but has held his own against righties as well (.696). Along with fellow acquisition Josh Osich, he will give Cubs manager David Ross another southpaw option in the bullpen, to go along with Kyle Ryan, who has a 5.91 ERA this season, and José Quintana, who has worked in relief since making his delayed debut on Aug. 25. More >
Aug. 31: Cubs acquire LHP Josh Osich from Red Sox for a PTBNL or cash
One of two left-handed relievers the Cubs acquired Monday, along with Andrew Chafin, Osich has limited same-sided batters to a .665 OPS in his career (.892 vs. RHB). However, he has allowed two homers to lefties and six homers overall over 15 2/3 innings this season, which has contributed to his 5.74 ERA. More >
Aug. 31: Reds acquire OF Brian Goodwin from Angels for LHP Packy Naughton and a PTBNL
Goodwin became expendable for the Angels after the club called up top prospect Jo Adell, but he turned out to be a savvy pickup for the club, which selected him off waivers from the Royals in March 2019. In 166 games with the Halos, Goodwin batted .258/.327/.469 (110 OPS+) with 21 homers and 64 RBIs while spending time at all three outfield spots.
Now, the 29-year-old left-handed batter gives the Reds some added outfield depth with Nick Senzel on the injured list. Though Nick Castellanos has been raking while serving as the everyday right fielder, Shogo Akiyama has struggled, and the club has recently been starting 28-year-old rookie Mark Payton in left. And with Goodwin not set to reach free agency until after the 2022 season, he also could help Cincinnati beyond this year.
Naughton was the Reds' ninth-round pick in 2017 and reached Double-A last season, where he posted a 3.66 ERA in 19 starts. More >
Aug. 31: Giants acquire LHP Anthony Banda from Rays for cash
Banda gives the Giants another left-handed option on their pitching staff. The 27-year-old owns a career ERA of 5.96 over 18 games (five starts) since making his debut for Arizona in 2017 and had allowed eight earned runs over seven relief innings for Tampa Bay this season.
However, he also has extensive rotation experience, having started 129 games in the Minor Leagues, including 47 at Triple-A. Banda was ranked as the Rays' No. 21 prospect by MLB Pipeline as recently as 2019. More >
Aug. 30: Padres acquire C Austin Nola, RHP Austin Adams and RHP Dan Altavilla in exchange for OF Taylor Trammell, C Luis Torrens, RHP Andres Muñoz and INF Ty France
The Padres made a late-night deal to cap a busy day, and it was a big one, involving seven players. San Diego further bolstered its catching depth with Nola, who can also play first base and other positions around the field. He has been hitting well so far in 2020, slashing .306/.373/.531 in 29 games for Seattle; he's also under team control through the 2025 season.
Trammell was the Padres' No. 5 prospect per MLB Pipeline, and No. 60 overall. He has a lot of upside and both Torrens and Muñoz could be intriguing pieces for the future in Seattle. France, meanwhile, is hitting .309 in 61 plate appearances this season.
Aug. 30: Padres acquire C Jason Castro from Angels for RHP Gerardo Reyes
The Padres continued to make a flurry of moves as the Trade Deadline approached, adding Castro in hopes of improving the anemic offensive output San Diego has received out of the catching position so far in 2020. Castro is hitting just .192, but his on-base percentage of .323 represents a significant upgrade from what the Padres have been getting from their catchers in that department. Reyes, 27, made his Major League debut for San Diego last year, posting a 7.62 ERA in 27 relief appearances.
Aug. 30: Rockies acquire RHP Mychal Givens from Orioles for 1B/3B Tyler Nevin, SS Terrin Vavra and PTBNL
Givens, a veteran reliever, is in the midst of a career year. The 30-year-old, who pitched at least 63 innings in each of the past four seasons, had a 1.38 ERA in 12 appearances for Baltimore. His 19 strikeouts in 13 innings come with a career-best 37.3% K-rate that ranked 19th in the Majors entering Sunday (minimum 10 innings). With Baltimore losing 10 of its last 12 coming into the day, Givens now jumps back into postseason position with the Rockies, whose 5.81 reliever ERA is the third highest in MLB. Givens isn't set to reach free agency until after next season, so he could be a key cog in the Colorado bullpen through at least 2021.
Vavra (No. 7) and Nevin (No. 14) both ranked among the Rockies' top 30 prospects, per MLB Pipeline, and now join Baltimore's rebuilding project. MORE>
Aug. 30: Padres acquire 1B/DH Mitch Moreland from Red Sox for 3B Hudson Potts, OF Jeisson Rosario
Moreland is mashing like never before in 2020, batting .328/.430/.746 with eight home runs and 21 RBIs in 22 games. The 34-year-old veteran remains a big-time threat against right-handed pitching, and with Boston entering Sunday in last place at 11-22, it made sense to deal him to a contender. The 20-15 Padres are that team, sitting firmly in playoff position, and while Eric Hosmer figures to continue holding down first base, San Diego hasn't established a regular DH, getting a relatively modest .254/.326/.431 line from that spot. Moreland, with championship experience from the 2018 Red Sox, can step into that role for the stretch drive and into October. With a $3 million club option for 2021, he also may not be purely a rental.
By parting with Moreland, meanwhile, Boston adds some much-needed young talent. At the time of the deal, Potts ranked 16th and Rosario 19th in a highly touted Padres farm system. MORE>
Aug. 30: Cubs acquire DH José Martínez from Rays for two PTBNL
In a trade between two first-place teams, Chicago acquired some right-handed thump in the form of Martínez, whom they know well from his time with the Cardinals from 2016-19. Martínez, who was dealt to Tampa Bay this past offseason, had only a .239/.329/.388 line in 76 plate appearances this season but owns a .946 career OPS against left-handed pitching. That was attractive for the Cubs, who currently have righties Kris Bryant and Steven Souza Jr. on the injured list.
For the Rays, the trade opened a roster spot for outfielder Randy Arozarena, who was subsequently recalled from the team's alternate training site. The speedy 25-year-old was traded to the Rays alongside Martínez but had spent this entire season on the COVID-19 related injured list. MORE>
Aug. 30: Braves acquire LHP Tommy Milone from Orioles for two PTBNL
Atlanta needed help in a rotation that has lost Mike Soroka and Cole Hamels and received disappointing performances from other starters. The Braves, still leading the NL East at 18-14 entering Sunday, now add a veteran southpaw in Milone, who has been enjoying his best season since at least 2015. In six starts for Baltimore, the well-traveled 33-year-old had posted a 3.99 ERA, with 31 strikeouts and only four walks in 29 1/3 innings. The move also should allow Atlanta to move either Josh Tomlin or Robbie Erlin back to the bullpen after both were forced into a thinning rotation in recent weeks. MORE>
Aug. 29: Padres acquire RHP Trevor Rosenthal from Royals for OF Edward Olivares and a PTBNL
A year ago, Rosenthal was released twice and posted a 13.50 ERA while walking more than 30% of the batters he faced. But after signing a Minor League deal with the Royals and making the club's roster, he emerged as one of the top relievers on the trade market this season, compiling a 3.29 ERA with 21 strikeouts across 13 2/3 innings for Kansas City while routinely challenging triple-digits on the radar gun. The Royals were able to flip the impending free agent for Olivares, who was ranked as San Diego's No. 20 prospect, and a player to be named later. The PTBNL is a way around this year's roster rules stipulating that only players on a team's 60-man player pool can be traded.
Rosenthal will shore up a Padres relief corps that was thought to be a strength prior to the season but has dealt with injuries and ineffectiveness. More >
Aug. 28: Athletics acquire INF Tommy La Stella from Angels for second baseman Franklin Barreto
La Stella is versatile, having manned first, second and third base already for the Angels this season. He's also in the midst of a career-best season, slashing .273/.371/.475 entering Friday for a 130 OPS+. Oakland has not gotten a lot from its second basemen -- Chad Pinder and Tony Kemp entered Friday hitting a combined .229 with two homers in a platoon -- so the first-place A's appear to have made their powerful offense even more dangerous. This could be a half-season rental, as La Stella is set to become a free agent after the 2020 season.
Barreto, once a top prospect in the A's organization, has had trouble finding regular playing time since coming over from the Blue Jays in the 2014 Josh Donaldson trade. More >
Aug. 28: White Sox acquire OF Jarrod Dyson from Pirates for international signing bonus pool money
Dyson gives the White Sox another veteran with postseason experience as well as someone who could fill in as a defensive replacement or pinch-runner late in games. The 36-year-old has hit just .212 with a .296 on-base percentage since the beginning of 2018, but he has stolen 50 bases in 57 attempts (87.7%) during that time, including four steals without being caught in '20. More >
Aug. 27: Rays acquire OF Brett Phillips from Royals for SS Lucius Fox
The Rays added to their outfield depth with Phillips, who has played multiple games in each outfield spot already this season. Fox entered the 2020 season as the Rays' 26th-ranked prospect. He made it to Triple-A towards the end of the 2019 Minors season, playing 15 games at the level. According to his MLB Pipeline prospect profile, he is a "rangy, above-average defensive shortstop with good hands and an above-average arm."
Aug. 27: Blue Jays acquire RP Taijuan Walker from Mariners for PTBN or cash
The Blue Jays made their second trade in a week, acquiring Walker to aid the team's pitching. With three starters currently on the injured list -- Matt Shoemaker, Nate Pearson and Trent Thornton -- the deal gives them one more arm in the rotation. Walker had a 4.00 ERA in five starts with the Mariners this season. This was his first season back in Seattle after signing with the team in February. The Mariners drafted Walker 43rd overall in 2010, then traded him to Arizona in November 2016. He made just four starts at the Major League level in 2018-19 combined for the D-backs, undergoing Tommy John Surgery in 2018.
Aug. 24: Blue Jays acquire 1B/DH Daniel Vogelbach from Mariners for cash
Vogelbach was an All-Star after hitting .238 with 21 homers and an .881 OPS in the first half of 2019, but he faded in the second half (.162 AVG, 9 HR, .626 OPS) and has continued to struggle in '20 (.094 AVG, 2 HR, .476 OPS). Seattle designated the 27-year-old slugger for assignment on Aug. 19. Vogelbach joins a crowded group of first basemen and designated hitters in Toronto, with youngsters Vladimir Guerrero Jr. and Rowdy Tellez occupying the two spots for most of this season. More >
Aug. 23: Giants acquire INF Daniel Robertson from Rays for cash
Robertson was part of the Rays' 60-man player pool, but he didn't appear in a big league game in 2020 before being designated for assignment. A 26-year-old who can play second base, third base and shortstop, Robertson has hit .231/.340/.352 in his career. The Giants DFA'd Hunter Pence to make room on the 40-man roster for Robertson, who has reported to the team's alternate training site. More >
Aug 21: Phillies acquire RHP David Hale from Yankees for RHP Addison Russ
One of two trades the Phillies made Friday to acquire bullpen help, this deal brings the 32-year-old Hale to Philadelphia. The right-hander owns a lifetime 4.23 ERA, but he has posted a 3.09 mark in 43 2/3 innings out of the bullpen over the past two seasons. The Yankees DFA'd Hale on Monday when they activated Aroldis Chapman from the injured list. In exchange for Hale, New York picks up Russ, a 25-year-old righty who had a 2.54 ERA with 81 strikeouts in 56 2/3 innings with Double-A Reading last season. More >
Aug. 21: Phillies acquire RHP Brandon Workman and RHP Heath Hembree from Red Sox for RHP Nick Pivetta and RHP Connor Seabold
In the bigger of the two deals they made Friday to bolster their struggling bullpen, the Phillies pick up Workman and Hembree from the last-place Red Sox. Workman emerged as Boston's closer last season during a breakout year in which he recorded a 1.88 ERA and 104 K's over 71 2/3 innings. The 32-year-old could step in as the Phillies' closer in place of Héctor Neris, who has three blown saves and a 6.75 ERA in 2020. Hembree, meanwhile, brings a career 3.60 ERA to Philadelphia, albeit with a 5.59 mark over his first 9 2/3 frames in 2020. Workman is eligible for free agency this offseason, while Hembree is under control through 2021.
The Red Sox get back two righties in Pivetta, a 27-year-old with three-plus years of control remaining, and Seabold, a 24-year-old who was ranked as the Phillies' No. 23 prospect. The Phillies had high hopes for Pivetta last season after he had a 3.79 FIP over 164 innings in 2018, but he lost his rotation spot and finished '19 with a 5.38 ERA. More >