Facing jams a 'privilege' to Stammen
Fifth-inning work was a key to Wednesday night's win over the Giants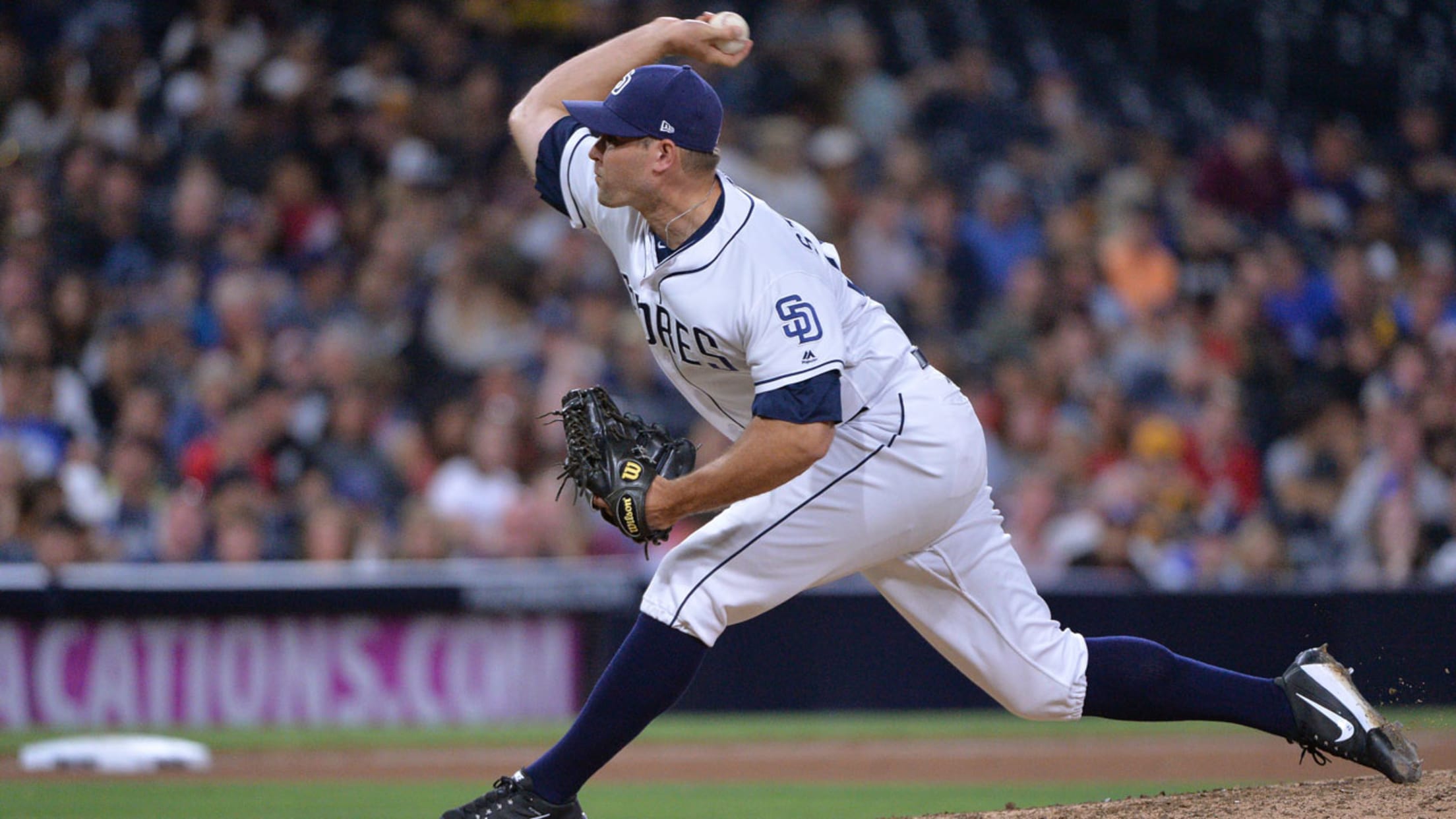 Bill Center, longtime sportswriter for U-T San Diego, is an employee of the Padres.Few things can be more stressful for a relief pitcher than walking into a bases-loaded situation. But Craig Stammen says he welcomes the opportunity. Actually, opportunities. For Wednesday night marked the seventh time this season
Bill Center, longtime sportswriter for U-T San Diego, is an employee of the Padres.
Few things can be more stressful for a relief pitcher than walking into a bases-loaded situation.

But Craig Stammen says he welcomes the opportunity. Actually, opportunities. For Wednesday night marked the seventh time this season that Stammen has entered a Padres game with the bases loaded.

And Wednesday marked the sixth time he walked off the mound with none of the three runners having scored. The one time it didn't happen was due to an error.

"It's one of the best feelings in baseball when you're walking off the field after getting out of one of those jams," Stammen said Wednesday night. "It's a privilege to be called to step into that situation. The best thing going for me, I throw strikes."

Stammen was summoned into Wednesday night's situation when the Giants loaded the bases with one out against starter Travis Wood in the fifth. Stammen's effort became a key moment as the Padres went on to defeat the Giants 5-0 in the rubber match of a three-game series at Petco Park.

First, he struck out Hunter Pence for the second out of the inning. Then he retired Pablo Sandoval on a fly out to center.

"Stammen has done it time and time again," said Padres manager Andy Green. "It's great to have a weapon like that."

Stammen retired all five Giants he faced to pick up his second win of the season. And his 1 2/3 perfect innings started 4 2/3 innings of excellent relief by the Padres bullpen, which retired 14 of the 16 Giants they faced climaxing with left-hander Brad Hand getting a four-out save.

NOTE WORTHY:

--Since the Giants defeated the Padres nine straight times to open the 2016 season, the Padres have gone 19-7 against San Francisco and are 9-3 over the last 12 games.

--SS Erick Aybar, who has been on the disabled list since July 23 with a fracture in his left foot, was 0-for-2 with a walk and a RBI Wednesday night in his first rehab outing in the Arizona Rookie League. "The hope is he's back with us in a couple of days," said Padres manager Andy Green as the Sept. 1 roster expansion date approaches. "That will add to some of our depth as well. We're excited about him returning." The Padres had expected Aybar to miss the rest of the season. Aybar started 75 of the Padres first 96 games at short and was hitting .227.

--LF Jose Pirela was 1-for-4 with a homer Wednesday night that upped the Padres lead to 2-0 in the sixth inning Wednesday night. He has hit safely in nine of his last 11 games, going 12-for-41 with a double, a homer, four RBIs and five runs scored.

--RF Jabari Blash was 2-for-2 with two walks, a run scored and a RBI Wednesday night. Blash has hit safely in five of his last seven games, going 6-for-17 with five walks (a .500 on-base percentage) with two homers, four RBIs and four runs scored.