Key offseason FAQs facing Wilpon, Mets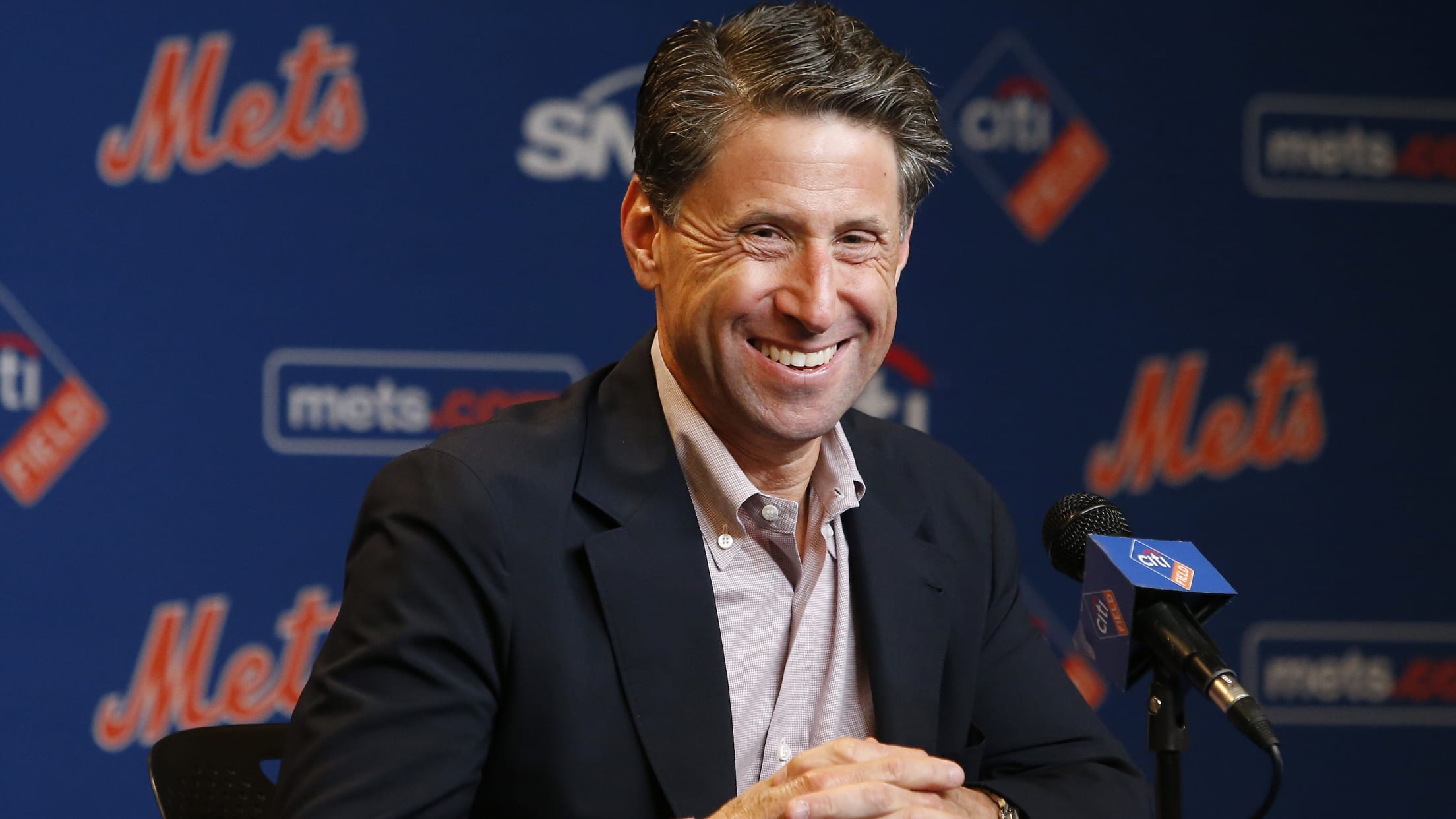 New York Mets COO Jeff Wilpon holds a news conference before a baseball game between the Mets and the Miami Marlins, Sunday, Sept. 30, 2018, in New York. (AP Photo/Jason DeCrow) (Jason DeCrow/AP)
NEW YORK -- Welcome to the offseason, which promises to be a busy one for the Mets. Their GM search is already in process. Their search for a new bullpen will begin soon. In the interim, here's a slate of frequently asked questions heading into the winter:When will the Mets
NEW YORK -- Welcome to the offseason, which promises to be a busy one for the Mets. Their GM search is already in process. Their search for a new bullpen will begin soon. In the interim, here's a slate of frequently asked questions heading into the winter:
When will the Mets hire a general manager?
The team hopes to have a new head of baseball operations in place by the GM meetings, which are scheduled for the first full week of November. Chief operating officer Jeff Wilpon and assistant GM John Ricco are requesting permission to interview candidates this week, though their ability to do so quickly will depend on how many of those candidates are involved in the playoff race.
Who's up for the job?
Keeping their options open, the Mets have already been linked to as many as a dozen candidates. Among them are (in alphabetical order) Tony LaCava, Gary LaRocque, Jason McLeod, Doug Melvin, Perry Minasian, Kim Ng and J.J. Picollo. About the only obvious candidates who have no chance at the job, according to Wilpon, are the Mets' three in-house executives: Ricco, J.P. Ricciardi and Omar Minaya. Reports Thursday were that Blue Jays vice president of baseball operations Ben Cherington has also withdrawn from consideration.
Is Mickey Callaway safe?
According to Wilpon, that's up to the Mets' next GM. But Wilpon also said he wants to keep Callaway, Ricco, Ricciardi and Minaya in New York, so he has incentive to hire a GM who feels the same way. Realistically, it seems all but certain that Callaway will be back for a second season.
Who are the Mets' free agents?
Relievers AJ Ramos and Jerry Blevins, catcher Devin Mesoraco, outfielder Austin Jackson and infielder Jose Reyes are all headed for free agency. None are likely to re-sign, though Blevins and Mesoraco could return under the right circumstances. Ramos is rehabbing from shoulder surgery and unlikely to be a significant factor wherever he ends up.
Who is up for arbitration?
This is where things get interesting. Jacob deGrom, Noah Syndergaard, Zack Wheeler, Steven Matz, Rafael Montero, Michael Conforto, Travis d'Arnaud, Wilmer Flores and Kevin Plawecki are all due to hit arbitration this winter. Many of them will receive significant raises over their 2018 salaries -- deGrom in particular can expect a sizeable jump from the $7.4 million he made this year -- which should elevate the Mets' payroll before they sign a single free agent.
Who are the Mets' non-tender candidates?
Montero, who is rehabbing from Tommy John surgery, seems automatic. d'Arnaud is an interesting case, given that he made $3.48 million this season and is recovering from Tommy John surgery, with no guarantee of a quick return. The Mets may at least consider non-tendering both d'Arnaud and Flores, who made $3.4 million this year and is becoming expensive for a bench bat.
• 5 questions about the 2019 Mets
Who might the Mets pursue in free agency?
No matter what happens, the Mets will sign a Major League reliever. They're likely at least to consider the top of the market, which includes current or former closers Craig Kimbrel, Andrew Miller, Adam Ottavino, Bryan Shaw, Zach Britton and Jeurys Familia. In a perfect world, the Mets would acquire multiple pitchers from that group, though their payroll may prohibit it.
The Mets would also do well to acquire a catcher, though that appears to be a more difficult task. Among free agents, only Wilson Ramos and Yasmani Grandal are obvious upgrades from their in-house options; if the Mets whiff on those two, they may have to get creative behind the plate.
Do the Mets have any extension candidates?
Wheeler is a year away from free agency. deGrom is two. Syndergaard and Conforto are three. All of them would normally be obvious extension candidates, if not for the fact that the Mets have shown a reticence to talk money with their younger players in recent years. They would need to undergo a philosophical shift -- and perhaps the new GM can institute that -- for any extension talk to become real.
Who must be added to the 40-man roster?
The Mets have been in a 40-man crunch for almost a year now, but at least they won't have to protect a slew of players from the Rule 5 Draft this winter. Of their Top 30 prospects according to MLB Pipeline, only 21st-ranked David Thompson is eligible for the draft.