Father's Day meaningful for Mariners, Red Sox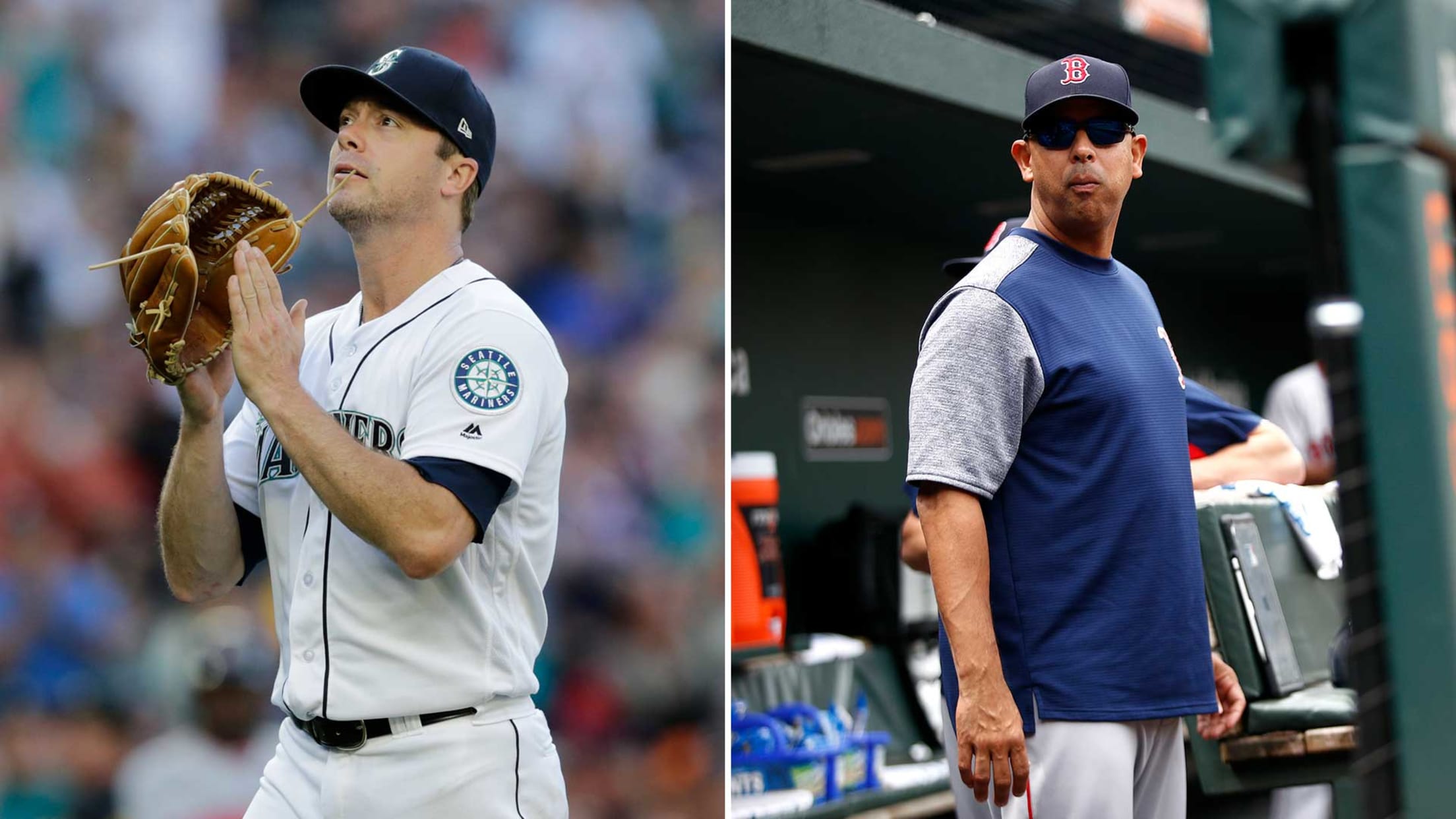 SEATTLE -- For Mariners pitcher Wade LeBlanc, the "No. 1 Dad" trophy in his locker said it all. For Red Sox manager Alex Cora, the tears in his eyes spoke volumes as well.Father's Day is an important day across Major League Baseball, and a sold-out Safeco Field crowd relished a
SEATTLE -- For Mariners pitcher Wade LeBlanc, the "No. 1 Dad" trophy in his locker said it all. For Red Sox manager Alex Cora, the tears in his eyes spoke volumes as well.
Father's Day is an important day across Major League Baseball, and a sold-out Safeco Field crowd relished a sunny Sunday celebrating the occasion. The Mariners and Red Sox took time in their own ways to honor dads everywhere while wearing blue caps and wristbands and other reminders of the battle against prostate cancer.
Cora was 13 when his father died from colon cancer. Jose Cora was the president of the Little League in the town Alex grew up in in Puerto Rico. Alex Cora got emotional when talking about his dad before Sunday's game, his first Father's Day as a Major League manager.
"It's a great day, it's a tough day for me," Cora said. "One thing throughout my years, and I've matured a lot, earlier in my life, I was kind of upset that I lost my dad at 13. Now I'm happy that I had him for 13 years.
"He means the world to me. I know he's very proud. I always have a tough time today because, for what I've done, and being here, it's amazing, and he's a big part of it."
In the other clubhouse, LeBlanc, like many of the young fathers playing the game, delights in his role in his growing family.
• Shop Father's Day gear
LeBlanc likely will never win a Cy Young Award and he's well beyond Rookie of the Year consideration. But the two-foot tall trophy sitting in his locker means even more to the 33-year-old pitcher.
The gift is from his sons, Jackson and Eli, who made the trip to a trophy store with his wife and engraved the perfect message: "Happy Father's Day, No. 1 Dad."
LeBlanc, who pitched nearly perfectly in Saturday's 1-0 victory over the Red Sox, beams with pride when hoisting the trophy, which is topped by a bronzed baseball player, a right-handed hitter in home-run pose.
"They didn't have a pitcher or a left-handed hitter, so you take what they have, I guess," laughed the southpaw hurler.
LeBlanc works diligently at his craft and is having an exceptional season for the Mariners. He savors his role as "No. 1 Dad" even more, but knows that job requires just as much effort.
"I have a long way to go to earn that trophy," LeBlanc said. "That's a pretty tall order. That's not just a daily thing, but I hope so. I hope I'm on my way."
All the Mariners and Red Sox recognized Father's Day by wearing blue caps, wristbands and ribbons on their jerseys, while many also ordered up special blue bats, gloves and cleats to support Major League Baseball's "Keep Dad in the Game" program to raise awareness and funds to battle prostate cancer.
Scott Vanderflute and Kelly Bolender, two prostate cancer survivors and friends from the Seattle area, took part in the pregame ceremonies.
MLB Charities has pledged $50,000 to the Prostate Cancer Foundation for research and fans can join the cause by pledging a donation for each home run hit through Sunday at HomeRunChallenge.org.
MLB will again donate all royalty payments from the sales of specialty caps and apparel to the Prostate Cancer Foundation and Stand Up To Cancer.