Vazquez utilizes HOFer Hoffman's 'Hells Bells'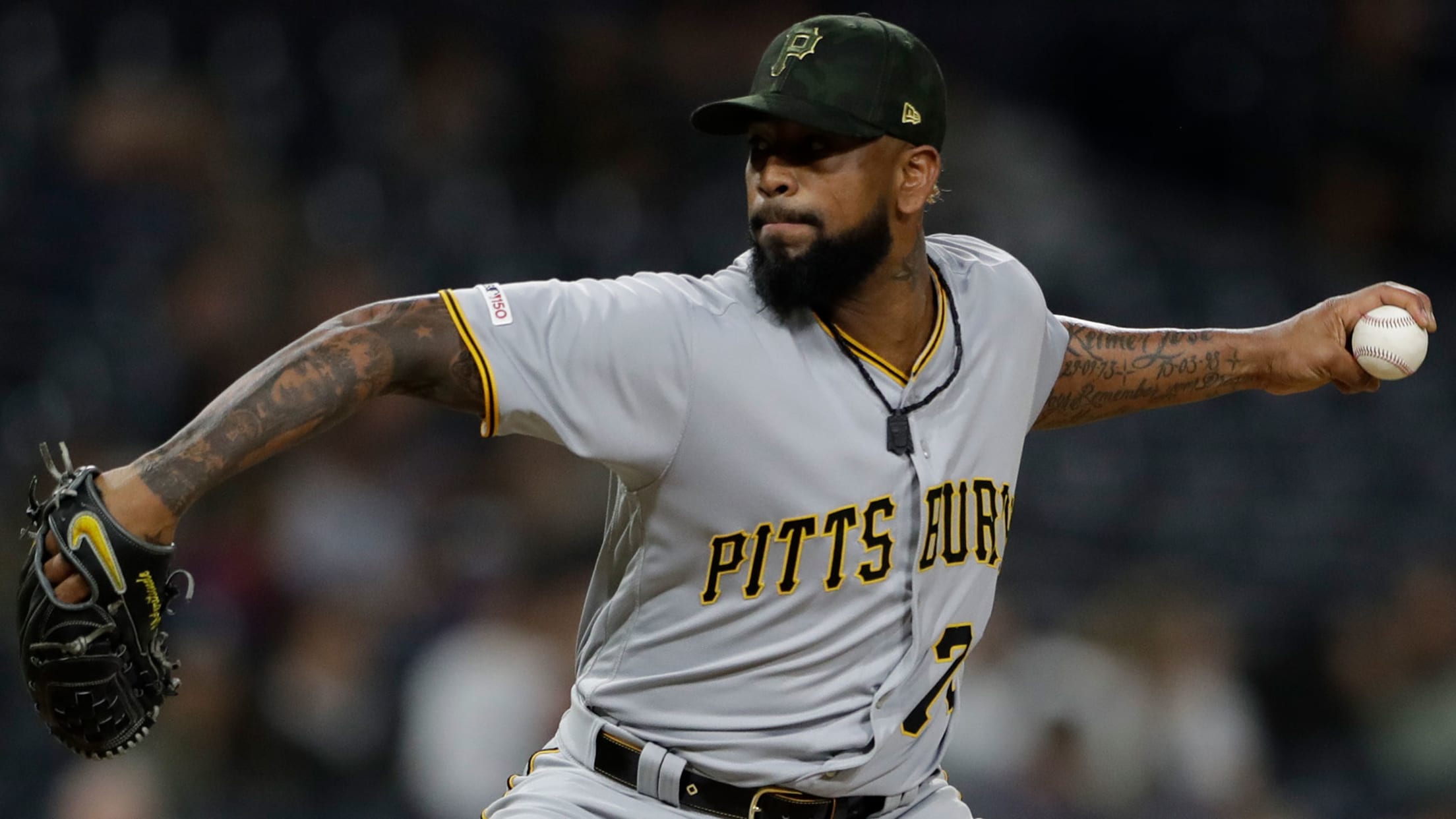 PITTSBURGH -- Like most closers, Felipe Vazquez receives a special introduction whenever the bullpen door swings open in front of him. There's a highly produced video on the scoreboard, a catchy song with a memorable opening beat, the whole deal. For Players' Weekend, Vazquez borrowed a Hall of Fame closer's
PITTSBURGH -- Like most closers, Felipe Vazquez receives a special introduction whenever the bullpen door swings open in front of him. There's a highly produced video on the scoreboard, a catchy song with a memorable opening beat, the whole deal.
For Players' Weekend, Vazquez borrowed a Hall of Fame closer's entrance.
When Vazquez trotted from the Pirates' bullpen to the mound Friday night, he did so with a familiar tolling bell and guitar riff ringing through the sound system at PNC Park. Vazquez entered the game to AC/DC's "Hells Bells" as a tribute to seven-time All-Star Trevor Hoffman and his 601 career saves.
"I've been playing my song for a few years now. This is just for a couple days, just to do something different," Vazquez said. "I just went with that because I thought it was cool. I saw a video of [Hoffman] when he was coming out. Why not?"
Manager Clint Hurdle's tenure in Colorado overlapped with Hoffman's time in San Diego, so he heard the song plenty of times at the start of the ninth inning. Back then, it usually meant Hurdle's Rockies were about to lose.
"Whenever I heard it, I knew that it wasn't good. One of my least favorite songs," Hurdle said, smiling. "I liked it at one time, until I started to hear him play it. Then it went right to the bottom of the list. In the Minor Leagues, yeah, it'd pump you up. Then once I got to the big leagues -- he's playing this song? Then I watched him pitch time after time after time after time, and it usually didn't end well. [Vazquez using it] was fresh. I liked that."
It had the intended effect for Vazquez, too. With the Pirates trailing by a run, the All-Star lefty recorded three quick outs and gave the Bucs a chance to walk off and win against Reds closer Raisel Iglesias in the bottom of the ninth.
"I like the intro a lot. For a closer, 'Nightmare,' it kind of goes together," Vazquez said. "I was having chills when I was coming out. It was kind of scary for me -- not scary, but something different. When I was running in, I was getting pumped up just hearing the song."
It might have been even better, Vazquez admitted, if he had been entering to lock down a save. But those have been hard to come by lately, as the Pirates dropped 30 of their first 39 games in the second half and Vazquez has recorded only two saves (along with two wins) during that stretch.
So Vazquez, who hasn't been charged with an earned run since July 5, is finding ways to ramp up his adrenaline even in non-save situations.
"You have to find a way to get pumped up," Vazquez said. "When I come in like that, we're down by one, we've got one more chance to win the game. So I've got to keep the game at that."
Around the horn

• Former Pirates catcher Francisco Cervelli cleared release waivers Saturday and immediately signed a Major League contract with the Braves, as expected. Cervelli joined Atlanta's lineup right away, batting seventh and starting behind the plate Saturday. It was Cervelli's first Major League game since May 25 with the Pirates, before he went on the injured list with a concussion.
"Two months ago, I was like in a little jeopardy about if I'm catching or not. I feel like a lucky man," Cervelli told reporters after joining the Braves in New York. "Just the fact that I went to Triple-A and played baseball, it doesn't matter where it is. I played there like a kid again. Now, I feel more grateful to be picked up by a team in first place and they like to win. That's the whole idea. I'm here to celebrate every moment and give everything I've got."
• Pirates catcher Jacob Stallings started Saturday night for the 14th time in Pittsburgh's last 24 games, with Elias Diaz getting the other 10 starts. The Bucs have been pairing up Stallings with starters Joe Musgrove, Chris Archer, Trevor Williams and Mitch Keller, while Diaz has been behind the plate primarily for Steven Brault and Dario Agrazal.
Expectt that split to continue over the final month of the season.
"We're basically looking to them to share time," Hurdle said.
Adam Berry covers the Rays for MLB.com and covered the Pirates from 2015-21. Follow him on Twitter @adamdberry.