MRI reveals no further injury for Hernandez
Felix: 'There's a lot of miles on this arm'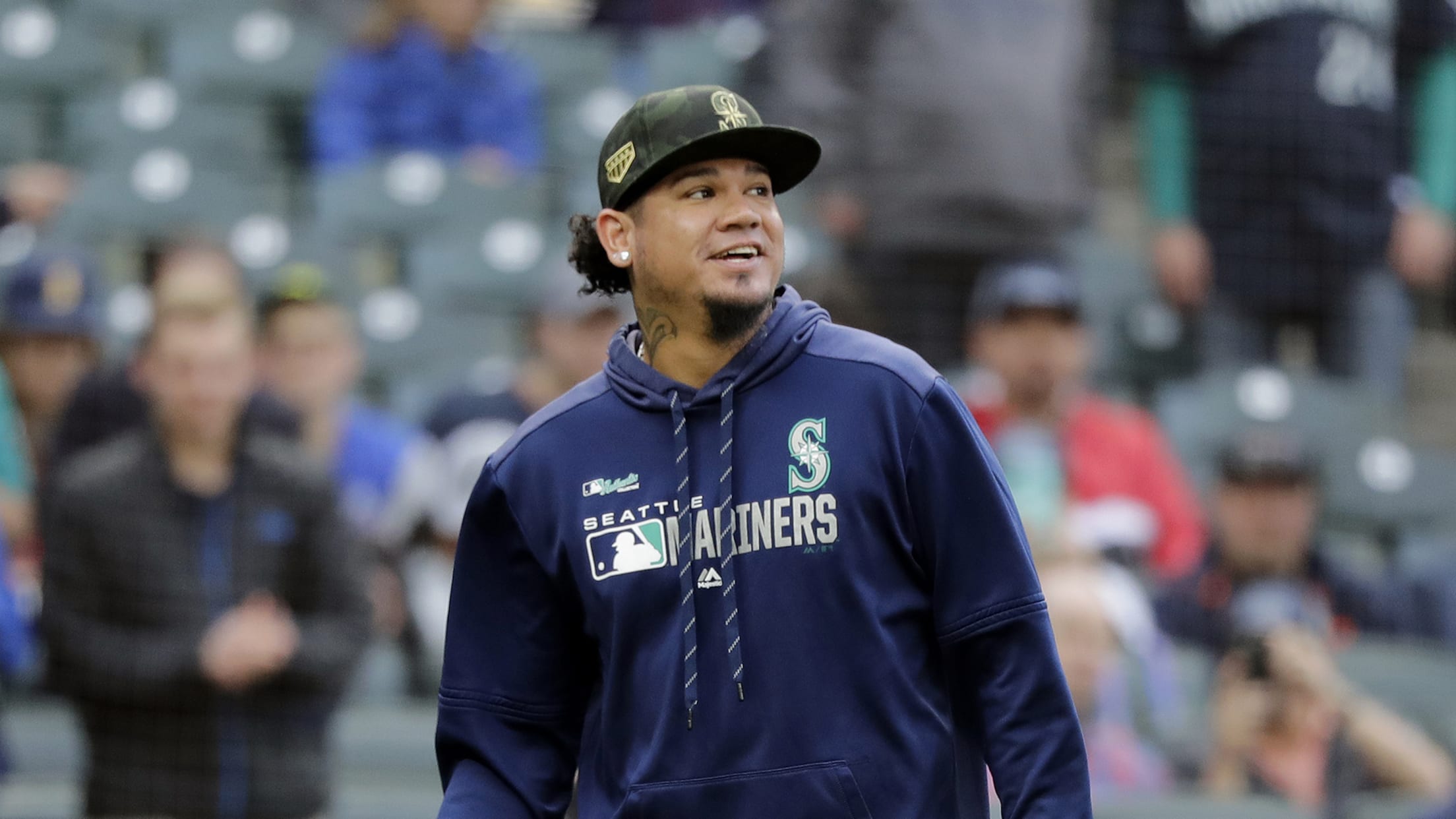 SEATTLE -- While issues with his sore right shoulder continue to slow Felix Hernandez's return, the veteran right-hander got good news from his latest MRI test on Wednesday, and he said he'll continue pushing to get back in the Mariners' rotation this season. Hernandez said the latest setback -- coming
SEATTLE -- While issues with his sore right shoulder continue to slow Felix Hernandez's return, the veteran right-hander got good news from his latest MRI test on Wednesday, and he said he'll continue pushing to get back in the Mariners' rotation this season.
Hernandez said the latest setback -- coming in his first Minor League rehab start for Triple-A Tacoma last Friday in San Antonio -- was in a different spot than the right lat strain that had sidelined him for five weeks. He acknowledged that his frustration is growing.
"There's a lot of miles on this arm. We'll see," Hernandez said. "It is frustrating. But I'm hanging in there. There's still a lot of season left. A lot of games."
Hernandez is only 32, but he started pitching in the Majors for the Mariners at 19, and he is in his 15th season in the big leagues. He was a workhorse for most of his career, throwing 190-plus innings in 10 straight seasons from 2006-15 and 200-plus each of the final eight years of that run.
But injuries began cropping up over the past four seasons, and Hernandez has made just eight starts this season, posting a 1-4 record and a 6.52 ERA in 38 2/3 innings. He said he's spent far too much time in a crowded training room this year for a club that has been hit hard by injuries.
"It's crazy," Hernandez said. "We love the game, so we want to be out there to help. But it is what it is. Injuries always happen in this game."
Manager Scott Servais said the MRI results were encouraging.
"There really were no significant findings different than what we've seen in the past there, so that's a good thing," Servais said. "It was just a shoulder fatigue-type situation. He'll get back to doing his strengthening exercises and probably pick up a ball in a few days and start building up again."
Hernandez likely will throw a few bullpen sessions before taking another shot with Tacoma or another Minor League affiliate.
"The biggest thing is he just has to feel good," Servais said. "Once you get into a game, no matter what level you're pitching at, you pick up the intensity. So we'll try to get a little more intense in the bullpens before he goes out on another rehab [assignment], and we'll get him back as soon as we can."
Tuivailala to throw Friday in Everett
Right-handed reliever Sam Tuivailala is seeing a light at the end of the tunnel in his road back from a ruptured right Achilles tendon, as the 26-year-old will begin a new Minor League rehab stint at Class A Everett on Friday night at the AquaSox's home opener against Salem-Keizer.
Tuivailala had to abort an earlier rehab stint with Tacoma when his right shoulder began having some range-of-motion issues after he'd worked all spring to return from his Achilles surgery. But after three weeks of rehab with the Mariners, he's ready to return to game action.
"My body is feeling good and I'm ready to get back out there," said Tuivailala, who threw a strong 30-pitch bullpen session on Tuesday at T-Mobile Park. "It's been long. It's been like a wave. You have good days and bad days, but I'm just excited to get back out there. My body is feeling better, so I'm just happy about that."
Servais said Tuivailala likely will need about three outings with Everett before advancing back to Tacoma, which would appear to put him on track for a potential return to the Mariners in mid-July.
Strickland's return slowed
Veteran closer Hunter Strickland's rehab schedule initially had him on pace to come off the 60-day injured list on Wednesday, but the 30-year-old had to have a pocket of fluid drained from the injured area surrounding his strained right lat muscle after trying to throw live batting practice last week.
Strickland said he needed to have a second PRP injection this week to promote the healing process again after his initial comeback stalled, just as he appeared ready to begin throwing in Minor League games.
Strickland said he'll likely begin doing some light throwing again on Friday and start building toward his return once again.
"I won't have to go back to square one, because the strength and everything is still there, they're just hoping that pulling this fluid will get me over that hump and stop putting pressure on that tendon," Strickland said. "It's a process. I started throwing BP and felt it. I wasn't ready yet.
"I felt unbelievable throwing long toss and bullpens and things like that. If all went as planned, today would have been the day I'd have been activated, so it's frustrating. But what can you do? You can only keep moving forward."