Felix's fastball receives rude welcome in Bronx
Hernandez surrenders 3 HRs, all before fourth out recorded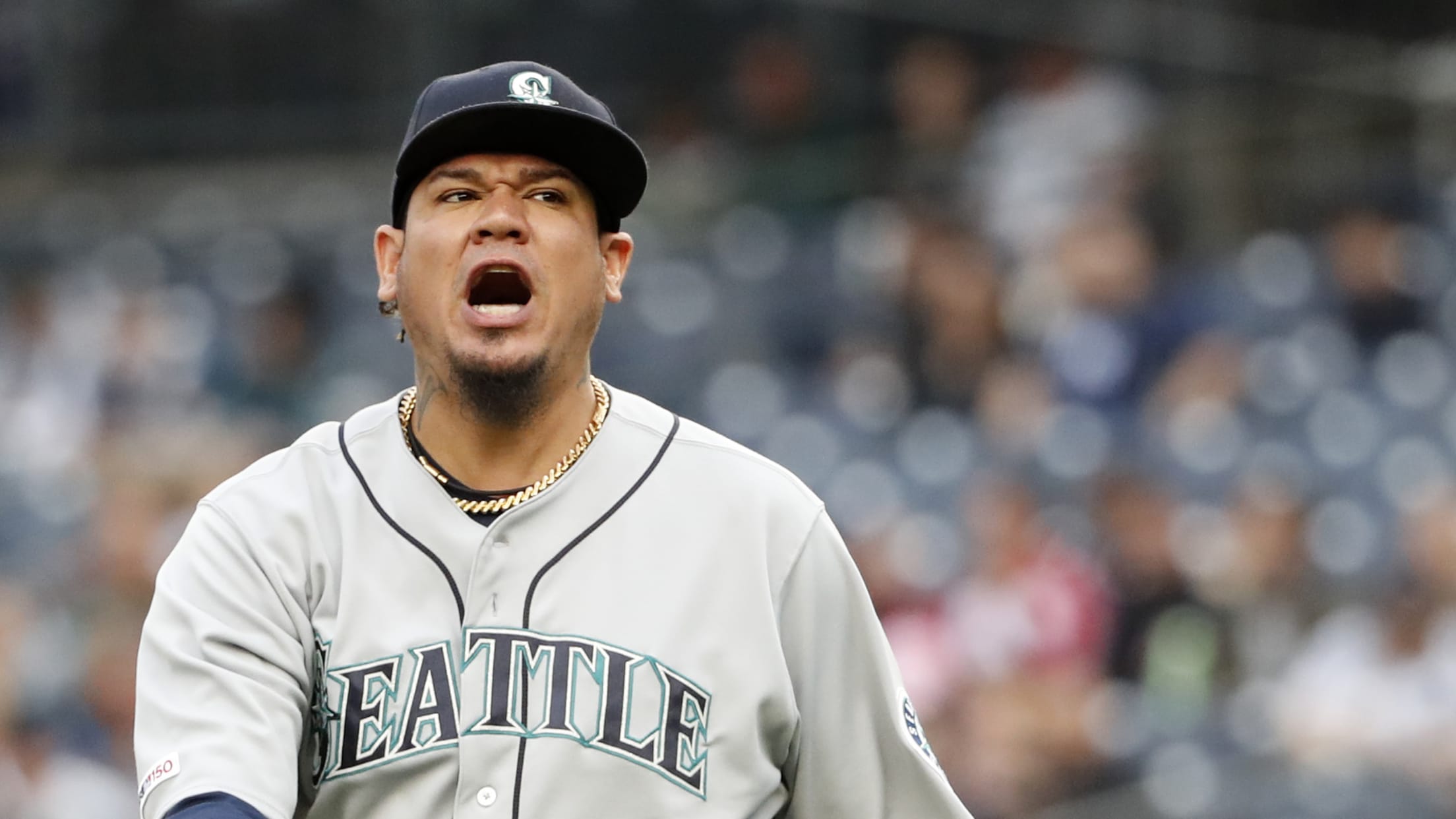 NEW YORK -- Félix Hernández has pitched many outstanding games against the Yankees over the years. This was not one of them. The Mariners' former ace has attempted to revive his career this season by changing up his pitch usage and approach, but the Yankees were having none of that
NEW YORK -- Félix Hernández has pitched many outstanding games against the Yankees over the years. This was not one of them.
The Mariners' former ace has attempted to revive his career this season by changing up his pitch usage and approach, but the Yankees were having none of that on Monday as they unloaded for seven runs (six earned) on eight hits in five innings -- including three home runs in the first two frames -- and rolled to a 7-3 victory in the opener of the four-game series.
The 33-year-old Hernández had pitched better of late, relying more on his curveball in lieu of the once-feared hard changeup, which no longer has much separation from a fastball that now tops out at 89-90 mph.
But the Yankees didn't wait for Hernández to get far into his repertoire as Luke Voit ripped a two-run homer off a first-pitch fastball before he'd gotten an out in the first. Brett Gardner led off the second with a solo shot on a 1-2 fastball and -- following an error by third baseman Ryon Healy -- Yankees rookie Thairo Estrada launched his first career homer on a first-pitch heater.
"They just hunted the fastball, and if I can't locate my fastball, it's going to get hurt," said Hernández, who took his first loss at Yankee Stadium in seven starts since 2012.
But Hernández, in the final season of a contract paying him $27 million a year, no longer pitches like in 2012, and Mariners manager Scott Servais said Hernández needs to continue mixing his pitches better early in games.
"They were real aggressive against his fastball," Servais said. "I think all three home runs were off the fastball and not in good spots in the strike zone. They were up a little bit. But he didn't get into what he does or what he's been doing where he uses his curveball to go back and forth. Give them credit, they were on it and didn't miss it."
Hernández has thrown the curveball 34 percent of the time this year, up from 28.5 percent last year and 14 percent back in his heyday in 2010 when he was a Cy Young Award winner. The slower pitch has been effective as a change of pace to keep hitters off-balance, but by the time he got to it consistently Monday, the damage was done.
"They were really aggressive," Hernández said. "And I was missing in the middle of the plate and they got good pitches to hit. It's one of those nights when you don't have your best stuff. After the third inning I started mixing the breaking ball in. ... I did mix it in the first inning, but it was in the middle of the plate. Just an off day. The fastball location was not good."
By the time Hernández steadied himself, the Mariners were down 6-0 and in for a long night in the Bronx, where the former American League Cy Young Award winner had gone 7-2 with a 1.99 ERA in 12 prior starts.
Since the new Yankee Stadium opened in 2006, Hernández was 6-1 there with a 1.44 ERA and just one home run allowed in 68 2/3 innings over 10 games. But the Yankees tripled that homer total before Hernández could get his fourth out of Monday's game, with the three dingers equaling the most he's given up in a game in his career.
Hernández dropped to 1-3 with a 5.20 ERA in seven starts this season and 1-11 with a 5.89 ERA in 18 outings since July 1.
The Mariners, who lead the Majors in home runs, chipped away against CC Sabathia with a two-run blast by Domingo Santana in the fourth and a solo poke by Dee Gordon in the fifth. But they went 0-for-3 with the bases loaded in the fifth and sixth innings and couldn't close the gap any further.
The loss dropped Seattle to 1-3 on the start of its 10-game road trip and 6-16 since opening the year with a surprising 13-2 start.
Good sign for Santana
The Mariners' left fielder snapped an 0-for-12 slump with his fourth-inning homer, his first long ball since April 27. The 408-foot blast hiked his season totals to seven homers and a team-leading 32 RBIs, second most in the American League.
The 27-year-old, who has struggled defensively, also made an excellent running catch of a 105-mph line drive off the bat of Miguel Andujar to help out Hernández in the fifth.
"I thought Domingo's at-bats were better," Servais said. "A little more patient, hit the ball to right field, which is really his strength. He needs to stay with that and he made a really nice catch in left field, too."
Santana had hit just .159 with two homers and six RBIs over his last 15 games, so the opposite-field homer was a welcome sight for a club whose entire offense has fallen off dramatically during that span.
"Especially off CC, he's throwing a lot of cutters in and I was trying to push him over the plate," Santana said. "He threw me a backdoor cutter, and I put a good swing on it."