Felix feels good despite rocky spring debut
Encarnacion won't start until next week; Mallex still mending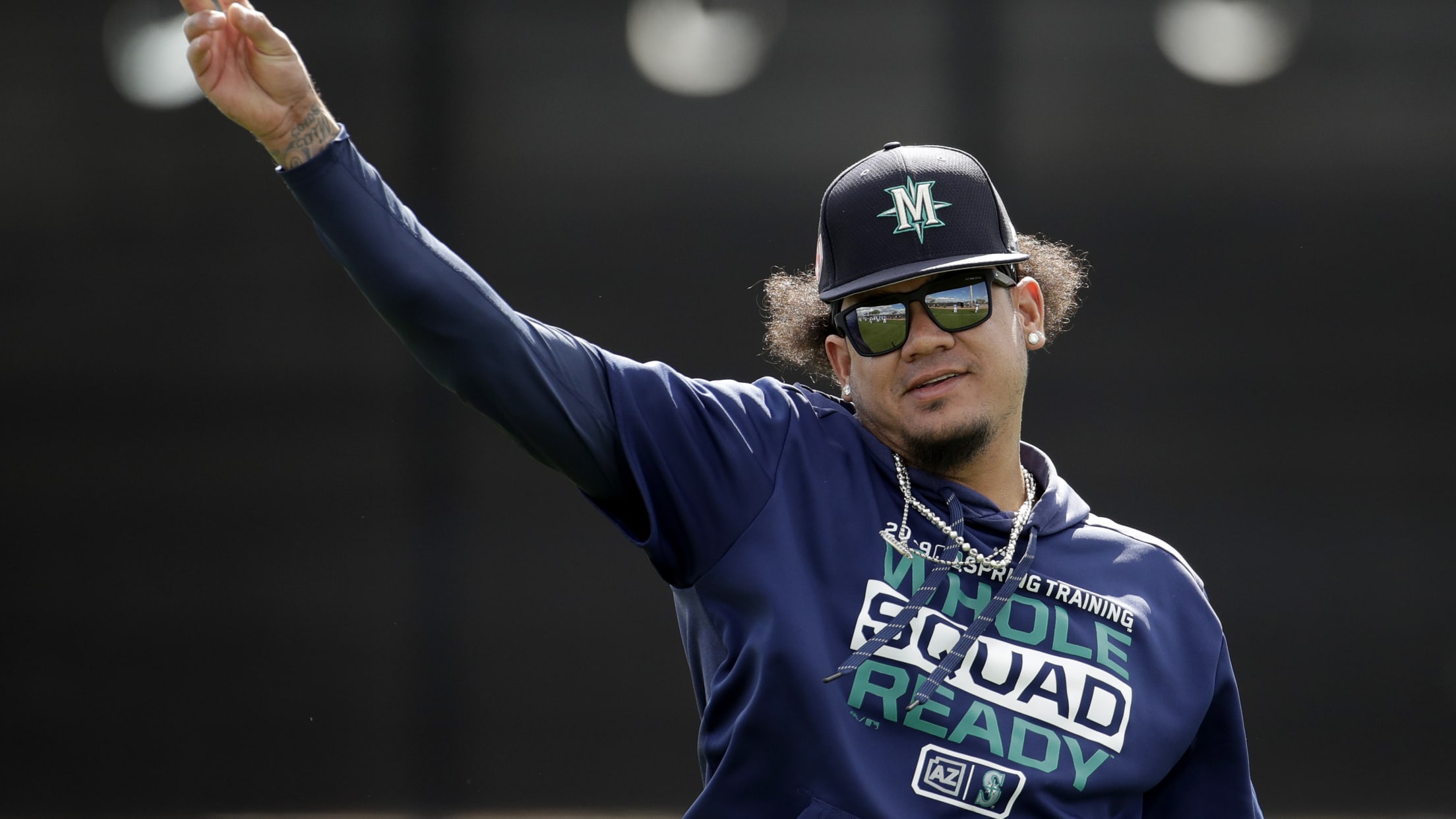 PEORIA, Ariz. -- Felix Hernandez's spring got off to a rocky start on Saturday as he allowed four runs in a rough second inning during the Mariners' 6-4 loss to the Padres, but the veteran right-hander said his arm felt strong and he wasn't worried about the odd flurry of
PEORIA, Ariz. -- Felix Hernandez's spring got off to a rocky start on Saturday as he allowed four runs in a rough second inning during the Mariners' 6-4 loss to the Padres, but the veteran right-hander said his arm felt strong and he wasn't worried about the odd flurry of events in his 42-pitch outing.
Pitching out of the stretch even with no runners on base, Hernandez worked around an error by second baseman Shed Long for a solid first inning before things went south in the second.
A leadoff double, swinging bunt, hit by pitch, passed ball for a run, RBI single off Hernandez's glove, sacrifice fly and bloop base hit to left led to his departure with just one out.
The final line of 1 1/3 innings with four runs on four hits and one strikeout came courtesy of some tough luck, though some of it was self-inflicted. Hernandez fielded the swinging bunt that he felt was clearly foul, a play he felt changed the whole inning. He took blame for the passed ball on new catcher Omar Narváez, saying it was a cutter that didn't cut.
But the biggest blow came when Hernandez couldn't make a play on the hard comebacker off his glove by Allen Craig that could have been an inning-ending double play if fielded cleanly.
"I never saw it," Hernandez said. "And I had the second baseman right behind me. Double play and we get out of it. But I felt good. I think I did a pretty good job. My arm and body felt real good."
Manager Scott Servais acknowledged it was a mixed result for Hernandez, who is trying to bounce back from the worst season of his 14-year career after going 8-14 with a 5.55 ERA.
"I thought he threw the ball pretty good in the first inning," Servais said. "He had a good changeup in the bottom of the zone. He wasn't as sharp the second inning. He's got things to work on, like we all do at the time of the spring. He'll get the ball again in five days and keep building on that."
As for pitching from the stretch his entire outing, Hernandez said that was an experiment he began toying with this winter.
"It's early, so we'll see what's going on," he said. "I just feel like I'm going straight to the plate. Not too much movement. From the windup, I do a lot of stuff. From the stretch, I just [lift] my leg up and straight to the plate."
Encarnacion holding back initially
Edwin Encarnacion won't be penciled into Cactus League lineups for a few more days as the veteran designated hitter wants to fine tune his timing in the batting cage before beginning game action. Servais said the recent rainy weather that limited batting practice opportunities further delayed Encarnacion's debut.
"I'm way OK with him taking a few extra days," Servais said. "He wants to make sure he's 100 percent and feels good. There's no rush. You'll probably see him DH a couple of games before we get him over at first base. There's nothing medically wrong with him. Just talking to him, this is what he wants to do going forward. He's got a pretty good track record. It's all about getting ready for when we get to Tokyo."
The three-time All-Star doesn't have any health issues, Servais said, but Encarnacion just prefers the slower routine.
"He's 36 years old," Servais said. "It's just about feeling good and making sure he's got his legs under him. I compare him a little bit to Nelson Cruz. Nelly would play, but would kind of slow play early in camp until he'd ramp it up closer to the real games. I have no concerns."
Mallex still mending
New center fielder Mallex Smith continues catching fly balls and doing some light work, but he'll likely need another week or more before being cleared to begin swinging a bat and eventually throwing as he works back from a strained right elbow.
That timetable makes it increasingly unlikely the speedster will be ready for the Opening Series against the A's in Tokyo March 20-21, though he might have a shot at the home opener in Seattle against the Red Sox on March 28.
Pitching plans for upcoming games
The Mariners will start Wade LeBlanc in Sunday's 12:10 p.m. PT road game against the Rockies at Salt River Fields in Scottsdale, with Yusei Kikuchi set for his Mariners debut in Monday's 12:10 p.m. PT contest against the Reds in Peoria.
That will complete the first set of games for the five expected rotation members, with Marco Gonzales then making his second spring start Tuesday against Texas in Peoria.
Dunn deals in debut
Justin Dunn, the Mariners' other top new pitching acquired from the Mets, threw a scoreless inning in relief in Friday's 8-1 win over the A's and looked impressive in the process.
"I liked what I saw," Servais said. "He's getting his mentality of a power pitcher. We saw some of that stuff yesterday. It's 94-95 mph and the nice thing about Justin is we don't have to rush him. We can let him develop, let his secondary pitches develop and how he's attacking guys and really get into who he is. He's off to a really good start."
Next up
LeBlanc makes his spring debut on Sunday when the Mariners travel to Salt River Fields in Scottsdale for a 12:10 p.m. PT game against the Rockies. Top rookie prospect Justus Sheffield will pitch an inning or two in relief.